Portable Restroom Trailers for Rent in Nevada
Welcome to Las Vegas, the city that never sleeps!
But no matter where you are, you're going to need a bathroom, right? (Especially if you never sleep.)
Whether you're setting up a concert venue right on the strip, or you're training recruits at Nellis Air Force Base, you need a way to make sure that everything will run smoothly. And when we say everything, we mean everything.
There are plenty of people heading through the shops, the Arts district, and of course the casinos of Las Vegas. And while those places all have restrooms, the places that many people are visiting outside of those areas may not.
Like Ice Age Fossils State Park or Old Las Vegas Mormon Fort State Park. Or you could venture slightly out of the area to Zion National Park or Death Valley. Each of these areas definitely needs restroom facilities for visitors, and maybe even places to sleep as well, right?
Why You Need Portable Restroom Trailers near Nevada
So, you're the next big thing when it comes to concert venues in Vegas. You're planning on an extended stay that will draw in plenty of huge crowds. And you want to make sure that those crowds are going to be comfortable, right? What do you do?
The base is filling up. Your new recruits are on their way and it's time to get down to business. You need everyone to be able to do their business without long lines because there's work to be done in training. What do you do?
As the spring turns into summer and even into the fall, more and more people are hitting the parks for camping, hiking, and other types of adventuring. They're looking to get back to nature. But perhaps not quite 'going to the bathroom in the woods' back to nature. What do you do?
All of these situations are perfect examples of when you need portable restroom trailers for rent Nevada.
Of course, there are plenty of special or important events, venues, and situations where you might need a luxury mobile restroom trailer. For example:
Types of Bathroom Trailers Nevada Has to Offer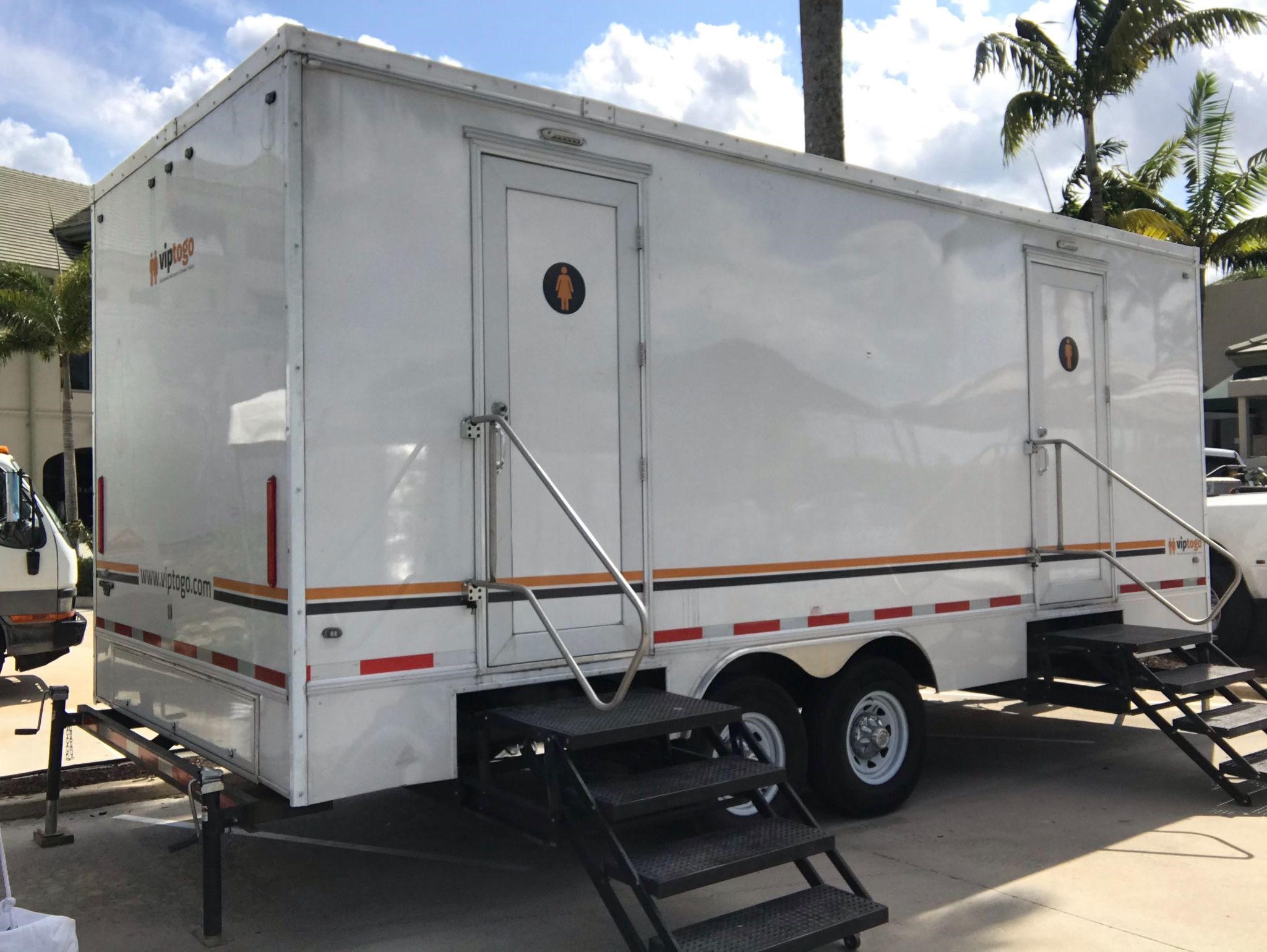 Now, each of these situations is going to present you with a long-term engagement where you need portable toilets that will accommodate potentially large quantities of people for an extended amount of time. Luckily VIP to Go has plenty of portable restroom trailers for rent Nevada.
No matter what you have planned, you already know you need a restroom trailer, or two, or maybe even more, for an extended period of time. You also know that you want something that's going to look great and give your guests/team/recruits/whoever a comfortable and clean environment to take care of their business.
Your only task is going to be determining which of our high end portable bathrooms are going to work best for your situation. Are you looking for something in the way of luxury mobile restroom trailers in Nevada? Well then, you're in the right place.
Some top options for portable restrooms include: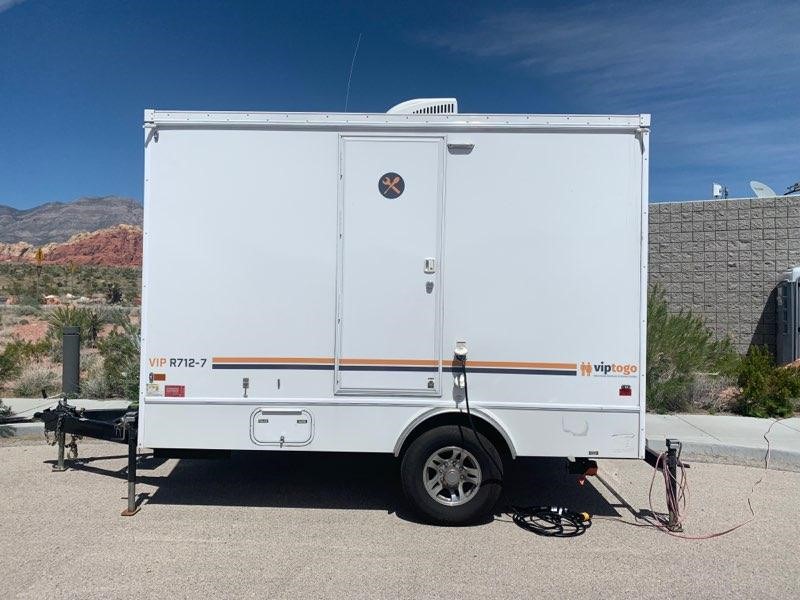 These trailers consist of 2, 3, 5, 8, or 10 stalls in a restroom trailer complete with urinals and sinks to accommodate any user. Each restroom has everything you need to be comfortable and certainly more than what you can expect from a standard portable toilet.
For example, you'll get:
Air conditioning and heat
Men's and women's sides
Stalls and urinals
Luxury lighting
Sound system
100 gallon fresh water tank
Wood interior decor
And more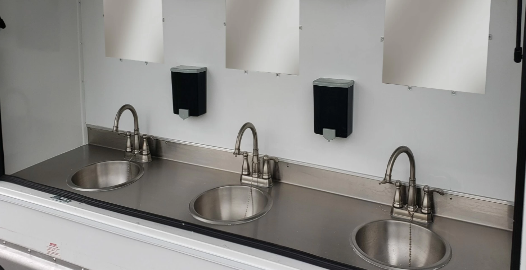 The 12 station sink trailer provides space for everyone to wash up wherever they need to. This is not necessary alongside the restroom trailers, which have their own sinks. But it could be a good option for situations where washing up is certainly necessary outside of the need for a portable toilet.
Sink trailers include:
Hot and cold water
500 gallon fresh water tank
12 sinks
Outdoor lights
Stainless steel basins and counters
All essentials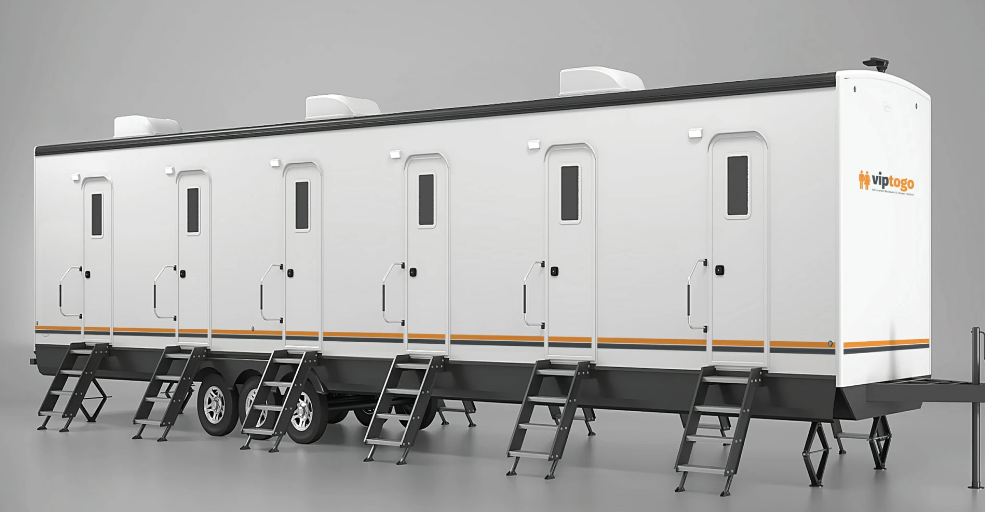 One unique option that VIP to Go has to offer is the bunk suite. This is actually a little hotel room on wheels for your guests to stay in and works great for renting out at campsites for national parks or for those who need a place to stay while assisting with a natural disaster.
Each one includes:
12 private suites
Separate entrances
Air conditioning and heat
Interior and exterior lighting
Closet space in each suite
10" mattress in each suite
Window door and screen
24" Samsung TV in each suite
Electronic locks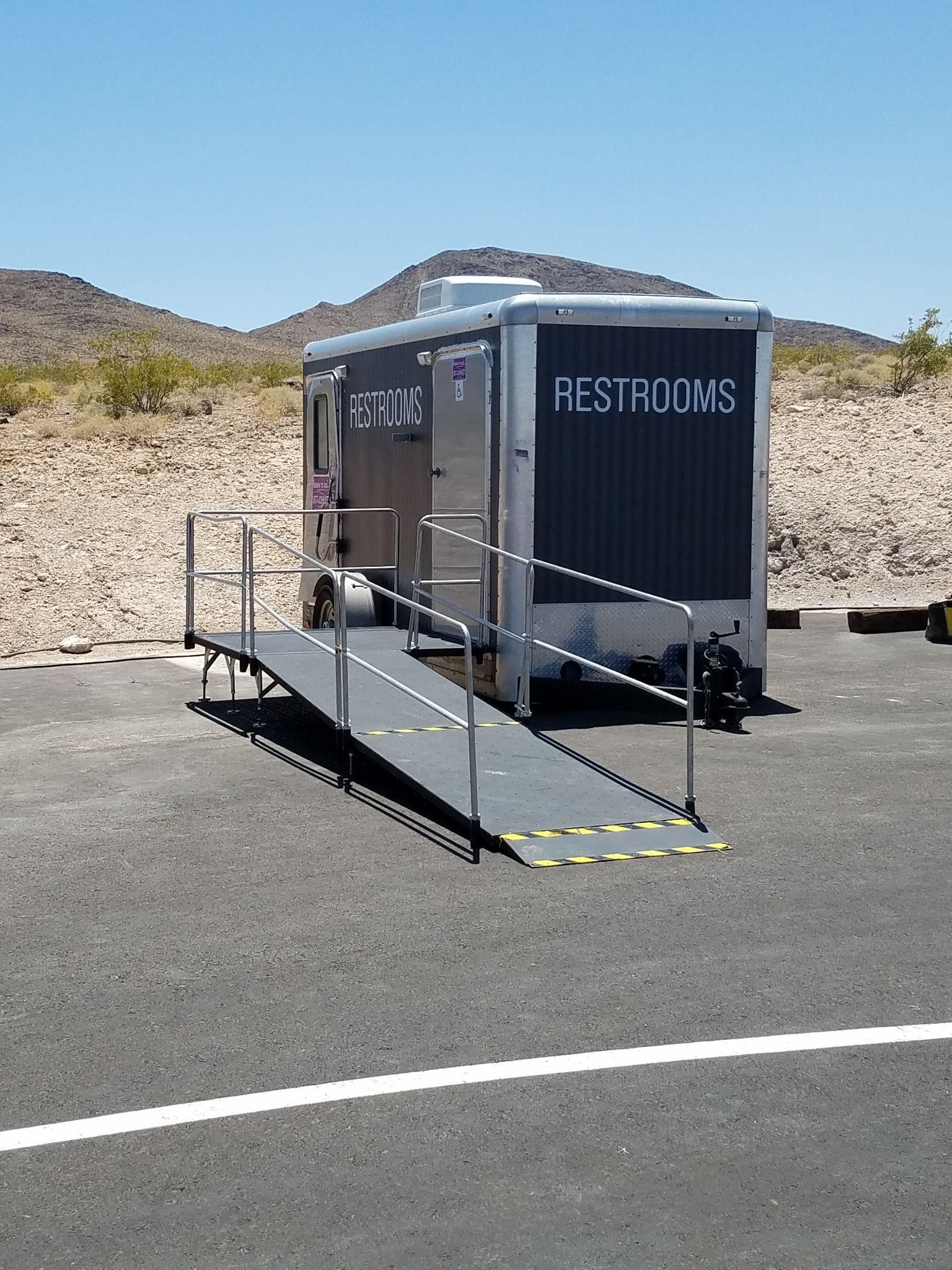 If you're going to have a public event or your trailers are open to the public in general it's important to have ADA compatible options. If you're looking at ADA accessible bathroom trailers Nevada, look no further. You can get single, 2 stall or 4 stall options.
Each one includes:
Stainless steel sink
Skylights
Music and sound system
Interior and exterior lights
Air conditioning and heat
Large mirrors
150 gallon fresh water tank
And more
If you're looking for a way to help your guests or your recruits get clean and ready for anything then you can also check out the eight person shower station that offers everything you need, including:
Private changing area and bench
Air conditioning and heat
Instant hot water
Non-slip rubber floors
250 gallon fresh water tank
Interior and exterior lights
GFI plugs
Finally, if you're looking for a space that's going to offer everything your people need to get ready in the morning you'll want to take a look at the restroom/shower combos available. These are available in 2, 3, or 6 station options and include:
Private rooms with 2-3 stations
Shower, toilet, and sink in each room
All of these options mean that VIP to Go can handle whatever you need.
Setting Up Restroom Trailer Rental Near Nevada
Getting an outdoor porta potty rental may not even have crossed your mind, but if you're hosting any sort of outdoor event it's something that you shouldn't ignore. That's because your guests or anyone else who is going to be there will need a way to take care of themselves.
Whether you're there long enough to need a shower trailer as well or if luxury bathroom trailers are going to suffice is up to you. But having services available is non-negotiable for most.
With VIP to Go you can get long-term luxury mobile restroom trailer rental in Nevada so you can set it and forget it. Because once you set the delivery time, we take care of the rest, including regular cleaning and general maintenance to make sure all of our trailers are functioning properly.
The restroom or shower trailers that you use at your facility say a lot about you, and we want your guests to know that you value them, and you offer an excellent experience, from beginning to end.
FAQs on Portable Restroom Trailers
Is it expensive to rent a portable restroom trailer?
The cost to rent a trailer is going to depend on the specific type of trailer that you need for your space. But the short answer is that it's not going to be too expensive for you to get the trailer that you need. Not to mention, it's going to be a lot more comfortable for your guests, making everyone happier to attend your event.
Are luxury porta potties really worth it?
If you've ever used a standard porta potty at a public place you probably already know the answer to that question. They tend to smell more than a little funky. They're not comfortable. They're small. And they don't have the basic amenities like sinks or flushing toilets. Luxury porta potties resolve all of those issues.
You get space, a real restroom like you'd expect inside your favorite store or restaurant,  flushing toilets, clean sinks, and a whole lot more. So if you want your guests to be comfortable, luxury porta potty rentals are definitely worth it.
Are portable restroom toilets safe to use?
Absolutely.
High end portable bathrooms are absolutely safe and hygienic for you to use. They feature all of the amenities that you need to keep yourself safe and they're designed to be clean and comfortable at the same time.
If you've been searching online for 'restroom trailer rental near me' or 'portable restroom trailers for rent Nevada' you're in the right place. And you can get the options and the features that you're looking for by choosing VIP to Go.
Read More About Restroom Trailers:
Restroom Trailer Myths & The Truth About Portable Bathrooms (viptogo.com)
Nice Porta Potty Options for Weddings | Sanitary Clean Rentals (viptogo.com)