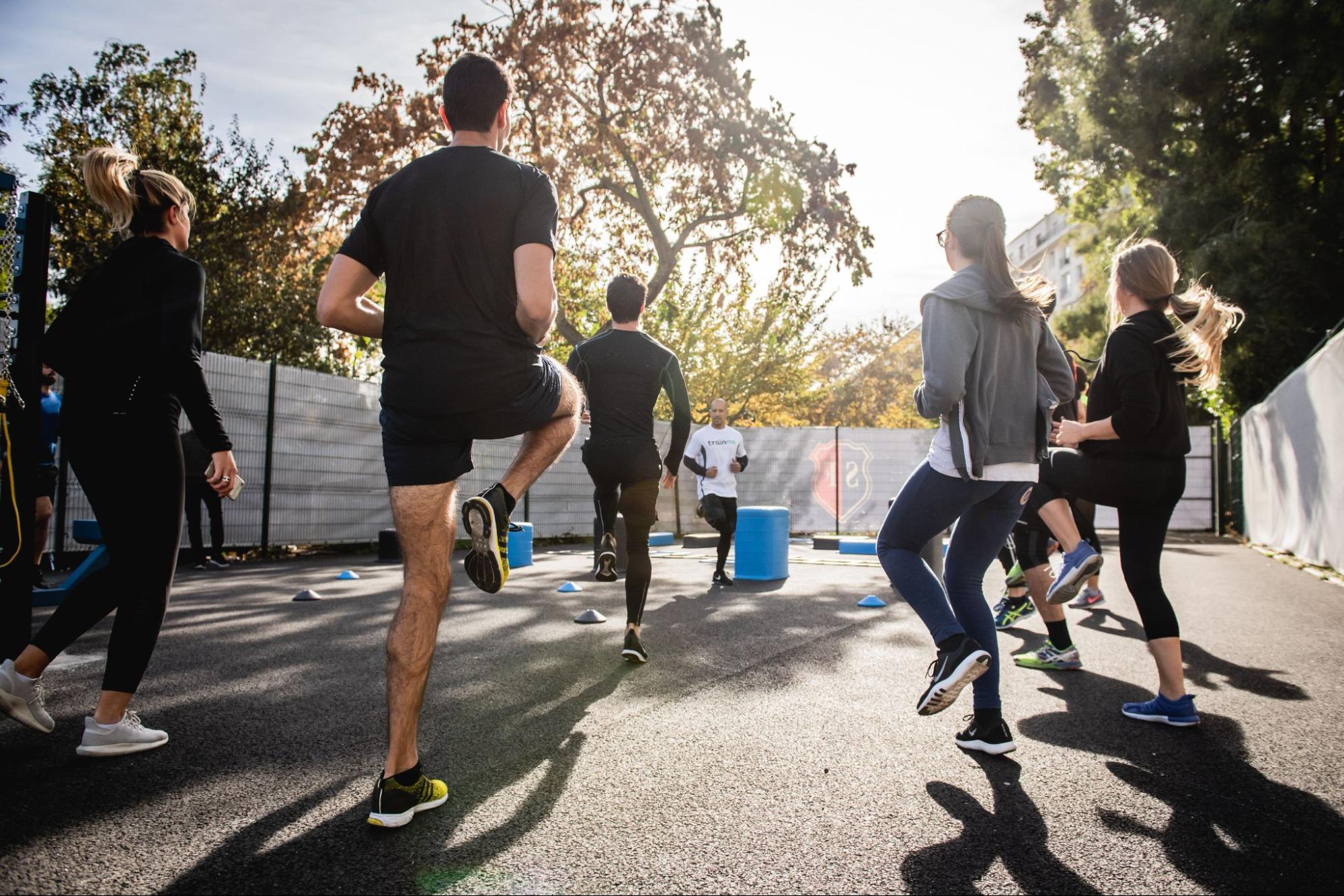 Outdoor Gym Ideas And How VIP-To-Go Fits In The Plan
Being fit is no longer a matter of choice but a compulsion in today's sedentary lifestyle. The US obesity rate has always been on the higher side. However, thanks to social media influencers and fitness experts spreading awareness all over the internet, everyone is becoming cautious of their health today.
As such, this increased awareness is very beneficial for the fitness industry, which is expected to continuously see a lot of growth in the coming years.
So, if you are a fitness freak, this is the best time to turn your passion into a profession. Additionally, the best part is that you do not need to invest a lot in an indoor setup if you are going to opt for an outdoor gym. The reason being that an outdoor setup requires minimal equipment, yet it offers many attractions over an indoor gym that may help you appeal to an exercise-conscious group that can serve as your membership base.
If you are wondering how an outdoor gym can give customers a better workout experience, then let's have a look at some of the benefits offered by an outdoor gym setup.
Indoor Exercise Vs. Outdoor Exercise
Most people in urban areas are used to working out indoors, typically in a structured gym setup. However, the pandemic in 2019 put a halt to many gyms due to the lockdowns. This completely altered the face of the fitness industry forever. With most people opting for alternatives, like calisthenics, running, cycling, etc., outdoor activities grew popular.
Now, this shift to more recreational sports is definitely a boon in disguise as an outdoor gym setup offers much more flexibility and versatility compared to an indoor gym that has space constraints and other technical limitations. Running an outdoor gym setup gives you the freedom to implement some unique outdoor exercise ideas. You can conduct HIIT sessions, stand-up paddleboarding, and even have volleyball tournaments on weekends.
The key is not to stay limited to traditional machinery only. Instead, treat your outdoor gym like an adult fitness park to attract more members.
Not to forget, working out in the open offers a lot of health benefits too. Some other benefits of an outdoor gym setup include:
Reduces Stress and Blood Pressure
Research has proven that working out in an outdoor gym shed can improve your blood pressure more than indoor exercise does. Because outdoor exercises feel less like work and more fun than doing indoor exercises in the gym, this is useful in bringing out your best performance and increases the benefits of your exercise.
Helpful in Insomnia
Working out in the open, especially under the sunlight, is best for people suffering from insomnia. This is because sunlight helps regulate the circadian rhythm and improves the overall sleep quality.
Provides More Sun Exposure
Being exposed to the sun has its own benefits. Other than regulating your sleep, it also helps with vitamin D synthesis. This is essential for regulating your body's normal function and for better bone and muscle health. (However, you must also install an outdoor gym cover to prevent being under the sun for too long.)
Time Saving
People may prefer outdoor workouts in the open or an outdoor gym setup, like an outdoor gym because it saves time. You can conduct es at a nearby park, beach, or hills or even use the stairs. It helps that you have the flexibility of choosing locations in your local vicinity. Instead of going a mile to a gym across town, customers will love to join your es that are closer to their home or offices.
Offers More Variations in Workouts
As a fitness trainer or an outdoor gym tent owner, outdoor workouts are the best way to bring out your skills in fitness training. You can relieve your customers from boring and repetitive indoor workouts by trying new outdoor exercise ideas. For example, you can use the park bench for strength training exercises like incline push-ups and lunges. You can also use the monkey bars to make workouts like pull-ups and hanging sit-ups more challenging.
For exercisers, this will break the pattern for exercisers and challenge their body for faster results. And the best part is that you can perform workouts with or without exercise equipment outdoor.
Conduct Fun Bootcamps
Building an outdoor workout area is a great way for people to socialize too. This brings a fresh change to workout routines, and people will look forward to spending time together with others, especially after being cooped up at home for so long during the pandemic.
Furthermore, you can even conduct fitness boot camps in your own backyard or other natural or recreational settings, which makes performing gruesome physical activities more fun.
Factors to Consider When Building an Outdoor Gym Setup for Business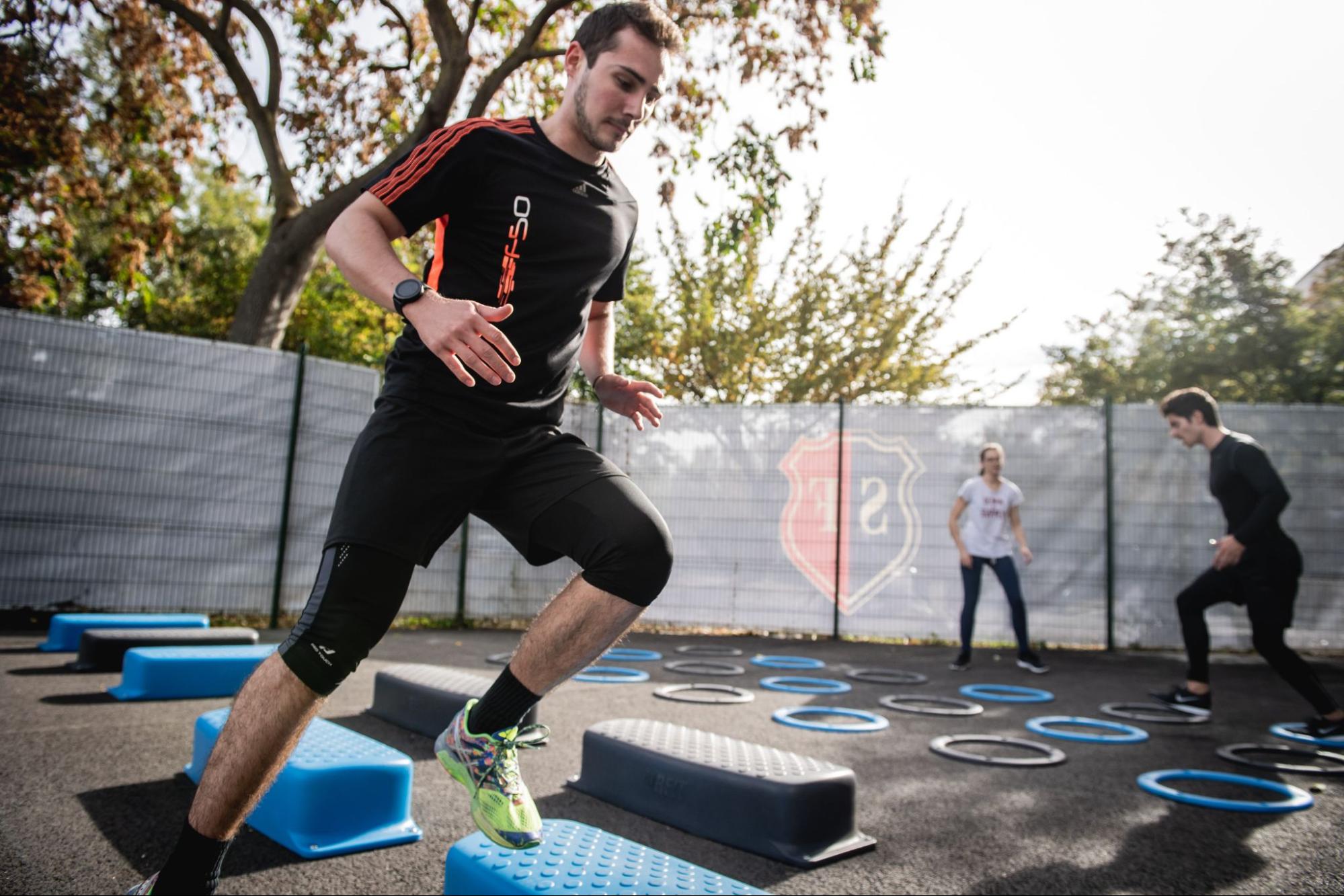 Now, the question is how to build an outdoor gym and what outdoor gym setup will you need?
It is true that by taking advantage of the natural outdoor landscape or parks, an outdoor gym set may require a simpler establishment with bare minimum equipment. However, even the best backyard gym and outdoor gym ideas require you to invest in some equipment. Just as when you are planning for an outdoor business, you need to have an attractive and aesthetic setup, the same holds true for an outdoor gym setup – giving an eye to the detail and aesthetics of your setup will only add to and enhance its appeal.
The good news is that these finishing touches, such as adding colorful banners to the gym exterior or interior, do not necessarily cost much, so that you can earn yourself a professional reputation without having to overspend on the setup.
If you look at it as a business opportunity, you can efficiently commercialize your outdoor workout space. To help you with this, here's a checklist with some factors to consider as you work to implement your outdoor gym ideas into a thriving business:
Location
The location is an important factor since your outdoor gym setup requirements will depend a lot on the physical structure of your chosen location. So, try choosing a location in an area with minimal competition from other exercise programs. If you want to set up the gym in your own backyard without much investment in another property or rental, you can consider that as an option too.
Year-Round Climate
Unlike an indoor setting, weather plays an important role when running an outdoor gym business. This is one of the main drawbacks of an outdoor gym setup if you live in an area with fluctuating weather conditions. After all, you don't want inclement weather to disrupt your schedule.
Hence, it is crucial to have some backup arrangement for 'rainy days'. An outdoor gym canopy or an outdoor shed are some good outdoor gym cover ideas for days when protective cover will provide enough protection.
Noise for the Neighbors
Another factor for running an outdoor gym is maintaining peace in the surrounding areas. There may be a moderate level of noise due to many people working out, created by a combination of music, trainer prompts, conversation, etc, all that may add several decibels to the noise level. Unlike a gym with closed walls, it isn't easy to soundproof an open area.
However, there are ways around it:
Ask your customers to bring their iPod, iPad, or mp3 players and use earphones to listen to music while working out
Try to conduct workout sessions in the morning or evening when noise will not disrupt neighbors
Ensure there are no heart patients in your nearby locality and discuss your business plan with your neighbors ahead of time to gauge their level of receptiveness to the idea
Use silencer pads and bumper plates on your outdoor weight set, like dumbbells, and weight plates
Use polyurethane-coated dumbbells and kettlebells which are less noisy than the iron ones
Tape the bars and racks of the plates to minimize the clanging and banging sounds
Use a lifting platform to reduce the noise of dropping weights and protect your floor
Opt for bodyweight exercises and other activities that are less disruptive in nature
Sufficient Space
You need to have sufficient space to conduct your workout es in groups. If you happen to have a spacious backyard, then it is good. However, if you live in a small apartment and don't have the budget for renting some space, there are other options to consider.
Parks are free spaces that work perfectly for Bootcamp sessions. There is no investment for using them, and you can freely train your clients amidst the various structures of the park. The only downside to this option is that you may have to take equipment back and forth on a daily basis. But if you do not wish to lug heavy equipment, you can simply opt for free-hand, calisthenics es, or other exercises that do not require cumbersome equipment.
Protecting Equipment from Damage
When discussing outside gym ideas, it is natural to worry about the protection of the equipment. This is a considerable investment on your part, and you need to take good care of it to ensure it will last for the long term. One of the common worries when running an outdoor weightlifting gym is will weights rust outside? Yes, they will.
Iron and steel, one of the common materials for weights, oxidize in the presence of water and air. You need to practice wiping them down after use regularly to prevent this. Also, applying some rust-preventing lubricant will retain their quality.
Now let's talk about the machines. You may wonder, can you keep an elliptical outside? It is better to protect them from rust and UV rays, so use a shade or canopy. Also, applying protective paints and lubricants to the machines retain their longevity. You can also go for foldable ellipticals and other portable equipment so you can store them inside once the is over.
Research best short and long–term storage arrangements using online resources and with the manufacturers to ensure you are not compromising the longevity or performance of the equipment.
Equipment Choices for an Outdoor Gym Setup
Apart from conducting bodyweight training es and aerobics, you will also need some equipment for your outdoor gym setup. However, these equipment choices will differ from an indoor gym setup. For starters, you will need less equipment, as you can rely on outdoor elements, like park benches and monkey bars, for working out. Perhaps supplementing with a power tower or an outdoor workout station may be sufficient.
If you still wish to include a few more pieces of equipment, then you can pick from the following:
Arm and pedal bikes
Balance beams
Chin-up bars
Cross trainers
Exercise bars
Horizontal bars
Leg press machine
Rowers
Sit-up benches
Outdoor bikes for exercise
Some weights like dumbbells, barbells, etc.
Canopy/Roof
It Is better to have some parts of the outdoor area covered and some uncovered. This way, you can conduct some workout es under the sun and at the same time also keep your equipment safe from the weather.
You do not need to invest much to achieve this. An outdoor gym canopy or an outdoor gym tent can work perfectly for this purpose.
Flooring
When discussing outdoor gym ideas, it is essential to talk about how to build an outdoor gym floor. The flooring of your gym is a vital factor. Be sure to avoid using any unpaved surfaces as the foundation of your outdoor gym as they tend to be muddy and hard on the knees. Pavement can also be a poor choice for those who may hit the ground roughly. Your students will need a solid grip, especially when lifting heavyweights. Consider cushion mats and other padded or rubber surfaces as protective material that prevent falls while absorbing impact.
Budget and Planning for Initial investment
You must calculate your budget before taking the plunge. Even though running an outdoor gym does not require much investment, you must plan smartly to keep expenses within reason.
So, before investing in a space for your outdoor gym and purchasing equipment, set a realistic budget for your business plan and calculate its potential profitability. Also, keep in mind that you may need a permit to conduct es at a park, and if you are running the business in your own backyard, you will need insurance coverage.
How Toilet/Shower Restroom Trailers Can Add to the User Experience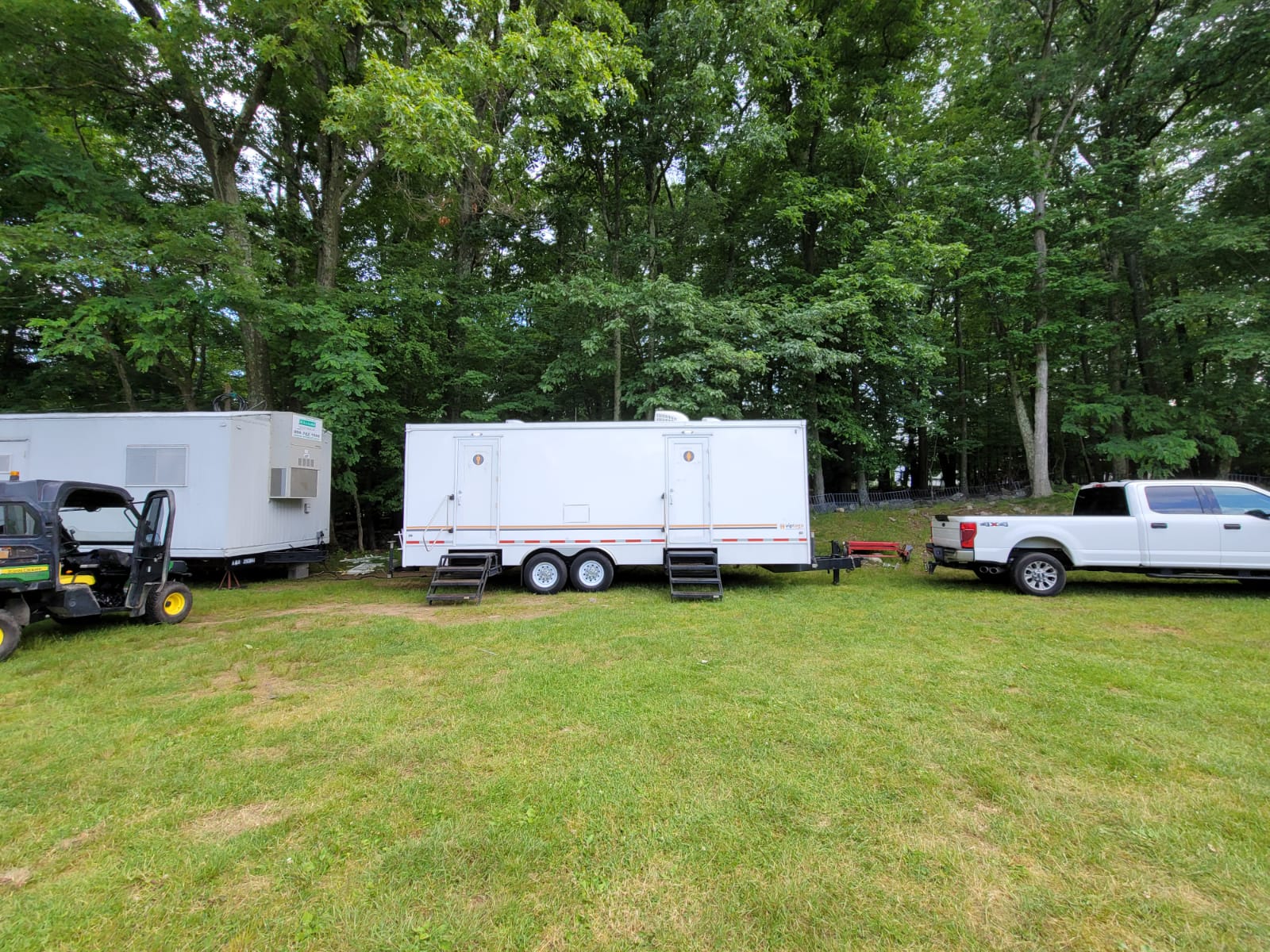 One thing you should never neglect is the amenities of your outdoor gym. Sanitation and hygiene are necessary and integral parts of any gym setup. This can be difficult to implement in an outdoor or backyard setting. However, a portable toilet with shower rental can solve the issue.
The portable restroom trailers for rent are budget-friendly and highly convenient options. After a grueling workout session, your clients may want to get refreshed or even need to go on a toilet break.
Since you may not want to invest in buying a portable restroom, portable shower and toilet rental services can provide high-end options without the upfront commitment. Not to forget, the portable shower rent options will cost you much less compared to the purchase price of a brand-new restroom trailer.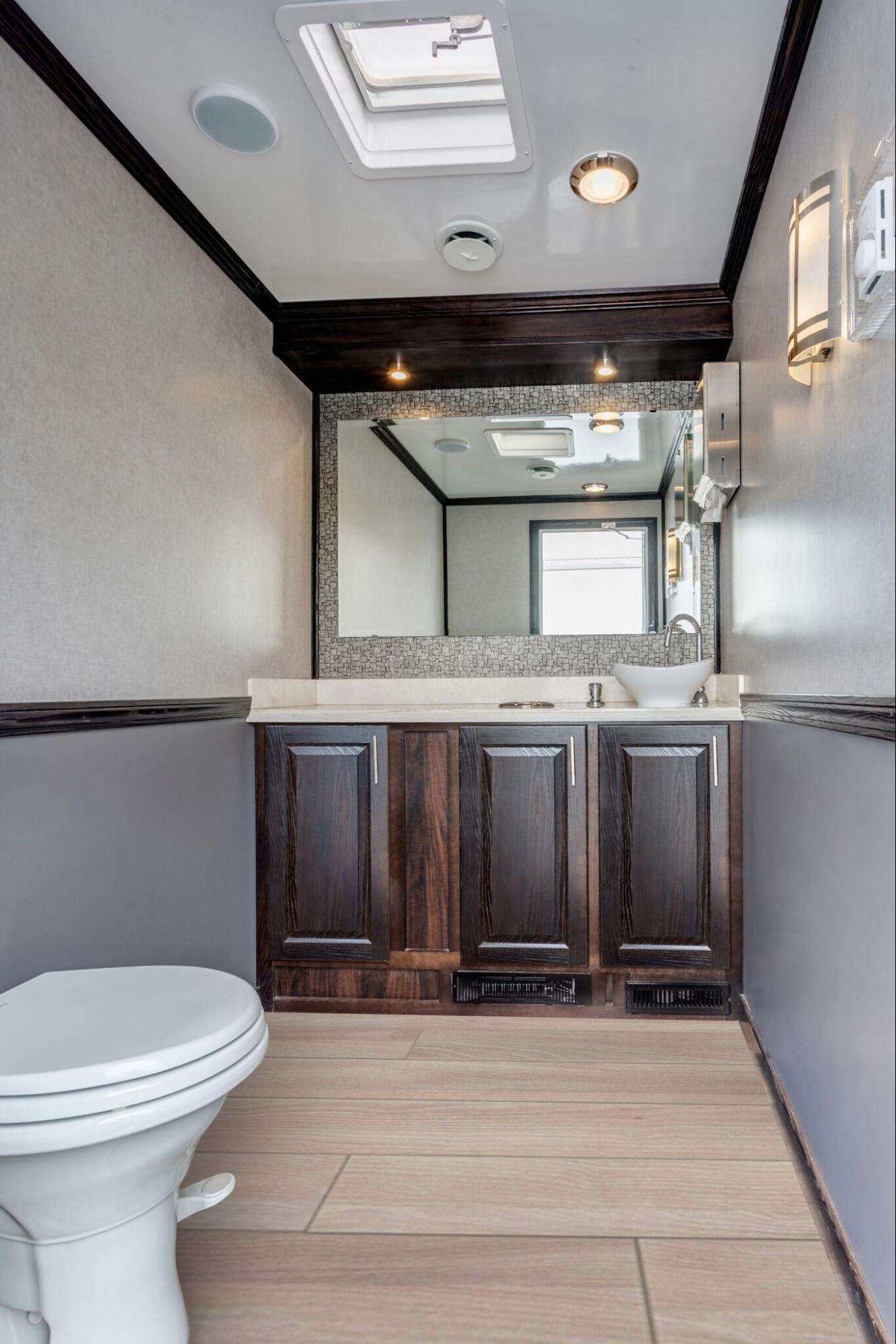 So, simply type "portable bathroom rental near me" or portable shower rentals near me," into your search engine, and you will get an overwhelming number of results.
As a preferred vendor for showers for rent and restroom trailers for rent with a whooping 98% returning customer rate, VIP-to-Go restroom trailers offer the following benefits:
All the trailers run on the standard 110 outlets. Alternatively, you can opt for a gas-powered generator if there is no outlet nearby.
VIP-to-Go offers complete support and flexibility when it comes to trailer delivery time, set up, and pick up for a worry-free experience.
Bathroom trailers come with a large freshwater storage tank that can be utilized when you do not have easy access to a garden hose or a nearby water supply.
Trailer interiors feature a modern luxurious decor, private stalls, heating and air conditioning, and many other impressive features.
The restrooms for rental are cleaned and sanitized before delivery, so they smell fresh and appealing. Regular servicing of the trailers is available and can be set to meet your preferences. The trailers come with a sufficient supply of toilet paper and other supplies to cover your sanitary needs.
Final Words
Implementing all these outdoor gym ideas will help you set up a flourishing gym business in no time. This will help you become profitable in the long run, but more importantly, give you the satisfaction of following your passion and creating a successful fitness business. Also, it will help your customers break out from the monotonous indoor gym routines and find pleasure and satisfaction in a recreational exercise regimen.
All you need to do is ensure you are getting the right equipment, choosing the best location, and investing in amenities like portable shower rental.
So, save this checklist and start working on designing your dream outdoor gym today. For any guidance on the portable toilet rental cost, feel free to get in touch with VIP-to-Go.
FAQs
Can I leave gym equipment outside?
Some smaller gym equipment, especially in the case of weights with a rubber exterior, can be kept outside. However, they may require regular maintenance to retain their quality and prevent rust. However, for specific information about storing gym equipment outdoors, it is prudent to check with the product's manufacturer. As a general word of caution, it is better to keep exercise machines under a shade and not directly under full sunlight.
What is an outdoor gym?
Outdoor gyms are more like an adult fun park. They are different from regular indoor gym setups. Outdoor gyms give you the setup to perform various outdoor activities and incorporate them into your workout sessions.
How convenient are portable restrooms for outdoor gyms?
It is important to maintain proper hygiene when running a gym. Also, you need to offer your customers proper sanitation facilities. However, in an outside gym area, providing this can be difficult.
Portable restrooms for rent make it more convenient for your clients to get refreshed. Also, they do not cost you much. So, if you want a cost-effective, hassle-free sanitation facility for your outdoor gym, VIP-to-Go has the answer.