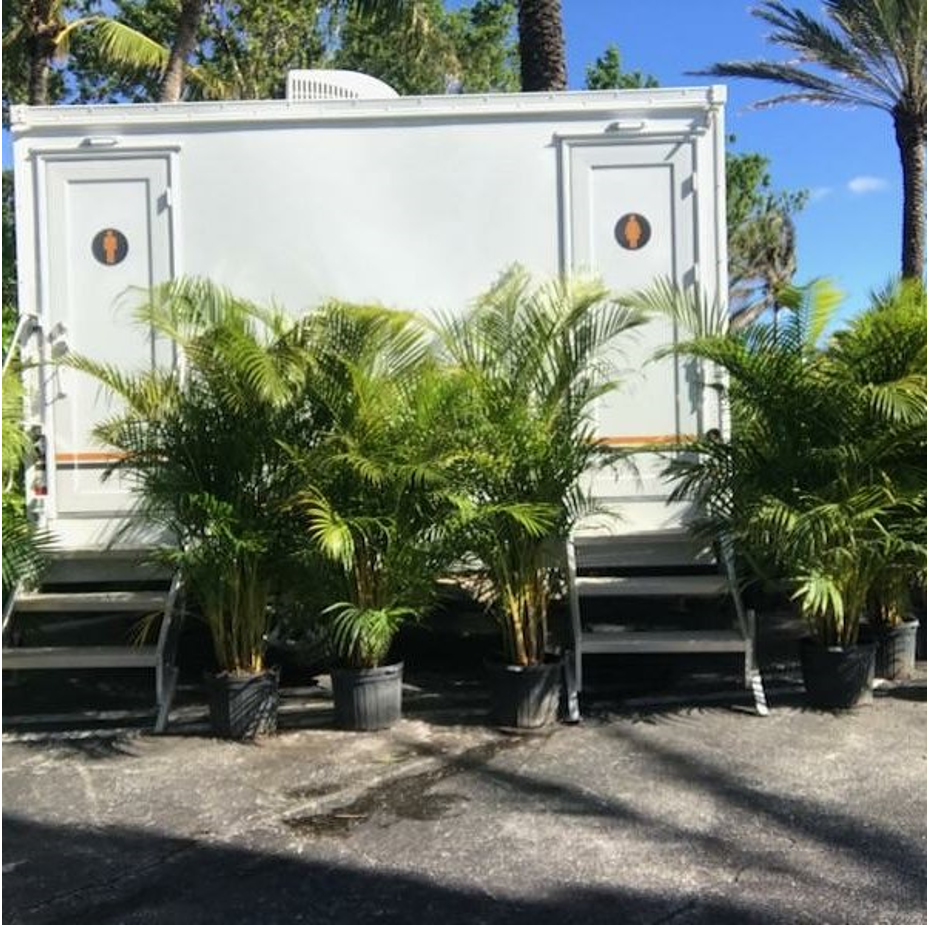 Restroom Trailer Rental Cost: Get Value In Portable Toilets
Are you planning an event outdoors? Or are you planning a large event, such as a wedding, in a unique location such as a barn? Or does the location you are holding an event not have enough restroom facilities for the number of attendees?
These would all be good reasons for you to look into renting a portable bathroom.
And once you're considering renting a portable bathroom, may we recommend that you rent a restroom trailer? Restroom trailers are a much better option than regular porta-potties. Your guest will appreciate nicer portable restrooms.
Wondering what restroom trailer rental costs are in your area? There are a lot of factors to consider when you are budgeting for your event, and portable restroom trailers prices are one of them.
Keep reading to determine what the best portable restroom trailers are for your event, and how much porta potty trailers typically cost for different types of events.
Portable Toilet Rental Cost
When considering the rental of a portable toilet, it's important to understand that the cost can vary significantly based on several factors. These factors include the size of the unit, the layout and floor plan, and the specific location where it will be deployed. For example, larger units with more luxurious amenities will generally cost more than standard single-stall portable toilets. Additionally, the rental duration and the distance for delivery and pick-up can also influence the total cost. It's advisable to discuss your specific needs with a rental company to get an accurate quote that considers all these variables.
What Is a Bathroom Trailer?
No, we aren't talking about porta-potties often seen on construction sites. Restroom trailers bring a portable bathroom to you – with luxury, comfort, and convenience built in.
Our restroom trailers include full, modern bathrooms. Each bathroom has fully functioning flushing toilets, handwashing sinks, mirrors, trashcans, electricity, heating or air conditioning, and secure, locking doors.
When you step into our restroom trailers, you won't feel like you are in a temporary bathroom. You'll feel like you are in a luxurious hotel or spa.
Bathroom trailers are comfortable, up-to-date, and perfectly maintained. They will impress your guests and make using the restroom on the go comfortable rather than scary.
Restroom trailers can be delivered to virtually any location, so long as there is a flat, level location. Delivery trucks need to be able to access the location as well.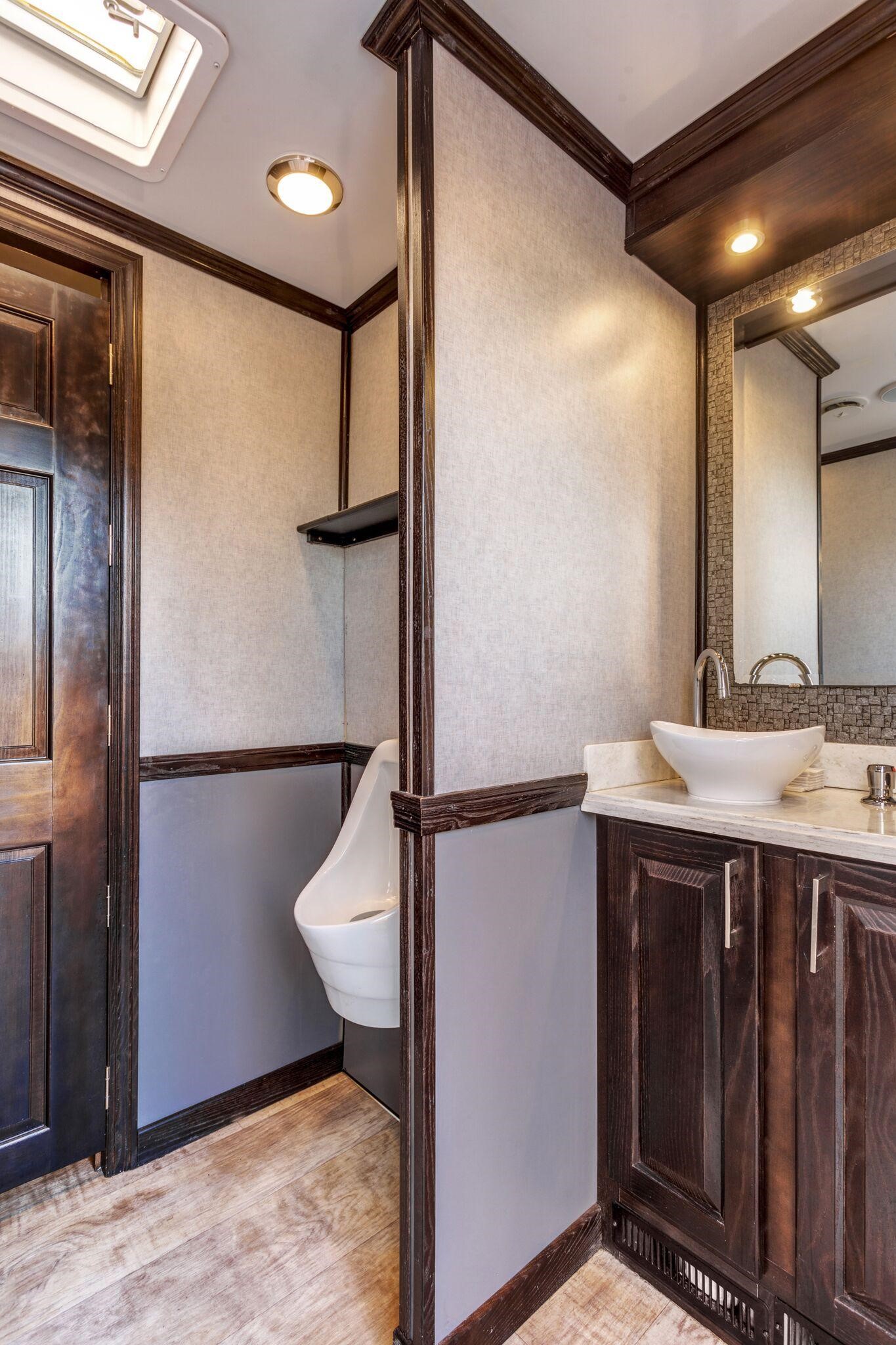 Factors to Consider Regarding Restroom Trailers for Rent
So you understand how important it is to have a restroom trailer rather than a standard porta potty, right? The first step in determining portable restroom trailers prices for your event is by clarifying your specific needs.
How Many People Will Be Attending?
The number of people attending your event will be the biggest factor when determining your restroom trailer rental cost. If you plan to host 150 people or less, you can manage by renting a two-station trailer.
These contain a men's station, featuring both a urinal and a stall, and a women's station with a stall. Both stations have functional sinks and mirrors.
If you plan to have between 151 and 250 people at your event, a three-station trailer would work well. In the three-station trailers, each room has a stall, sink, and mirror. One room will also include a urinal.
Planning an event for 200-400 people? You'd be better off with a five-station trailer. In this trailer, there are two large restrooms. The men's room has a private stall and two private urinals.
The women's room has two private stalls. Each room has one sink. This trailer allows for five people to use the restroom at once between the two rooms.
An event hosting between 400 and 650 people can utilize an eight-station trailer. The eight stations are divided up into two large rooms, one for men and one for women.
And if the event will serve upwards of 1,150 people, a 10-station trailer will work well. Again, these stations are split between a men's and women's room.
Choose Your Trailer Type
Other than size, we have a few different trailer design options. You can choose between Vegas, Rolls Royce, and Stylish.
The layouts of each will be the same, but you may prefer a different aesthetic depending on the type of event you are hosting.
There are also other trailer types available for specific needs. You can rent an ADA-compliant trailer that drops down to rest directly on the ground. A very small ramp allows wheelchairs to easily access the spacious ADA station.
You can also rent a separate hand washing trailer. Our sink trailers feature 12 fully functional sinks with soap dispensers and mirrors. These are great for events serving food, such as a fair, popup market, or cook-off.
Our portable shower rental unit includes showers with private changing areas, instant hot water, and many amenities. Rent a trailer with eight shower stations or choose from our restroom and shower combo units.
Luxury Restroom Trailers
Are you looking to impress your guests? We also offer luxury restroom trailers. These are perfect for weddings, fundraisers, birthday parties, and other occasions when you simply want the best.
Our luxury restrooms trailers include an electric fireplace, music speakers, a flatscreen TV able to play and movie, TV show, or custom videos, and more. Your luxury bathroom could become a highpoint of your gathering.
Location of Your Event
The location of your event will also affect the price of your bathroom trailer rentals. We have the largest restroom trailer fleet in the country and we operate nationwide.
Wherever you are, we can help you. But depending on your exact location, the price may vary.
Electricity and Water
All of our trailers function using a standard garden hose with a minimum water pressure of 40 PSI. If the location does not have a hose, the trailers will work using the large onboard water tanks.
They also require one or two independent and dedicated 20 amp power circuits to power them. These circuits cannot have anything else drawing power from them.
If this is unavailable, then a gas-powered generator would be required. If the client or location does not have this, we may be able to provide them, which can affect the cost.
Servicing
If your event is running all day, multiple days, or simply has a lot of attendees, increased servicing may be necessary. Trailers need to be serviced to ensured waste tanks get emptied, water tanks are full, and restrooms are clean and stocked.
Trailers may need to be serviced daily or consistently throughout the day. When you speak with one of our VIP To Go representatives during your free walkthrough, they can discuss the details of this process and make recommendations.
Length of Event or Job
How long your event will be is another large factor when you rent bathroom trailer. Currently, we offer rentals around the country for events and jobs running six weeks or longer.
We are only able to provide rentals for events shorter than six weeks in the following states; Connecticut, Delaware, Florida, Maine, Maryland, Massachusetts, New Hampshire, New Jersey, New York, Pennsylvania, Rhode Island, Texas, and Vermont.
Longer events will generally enjoy a lower per-day cost than shorter events. There are no added delivery fees.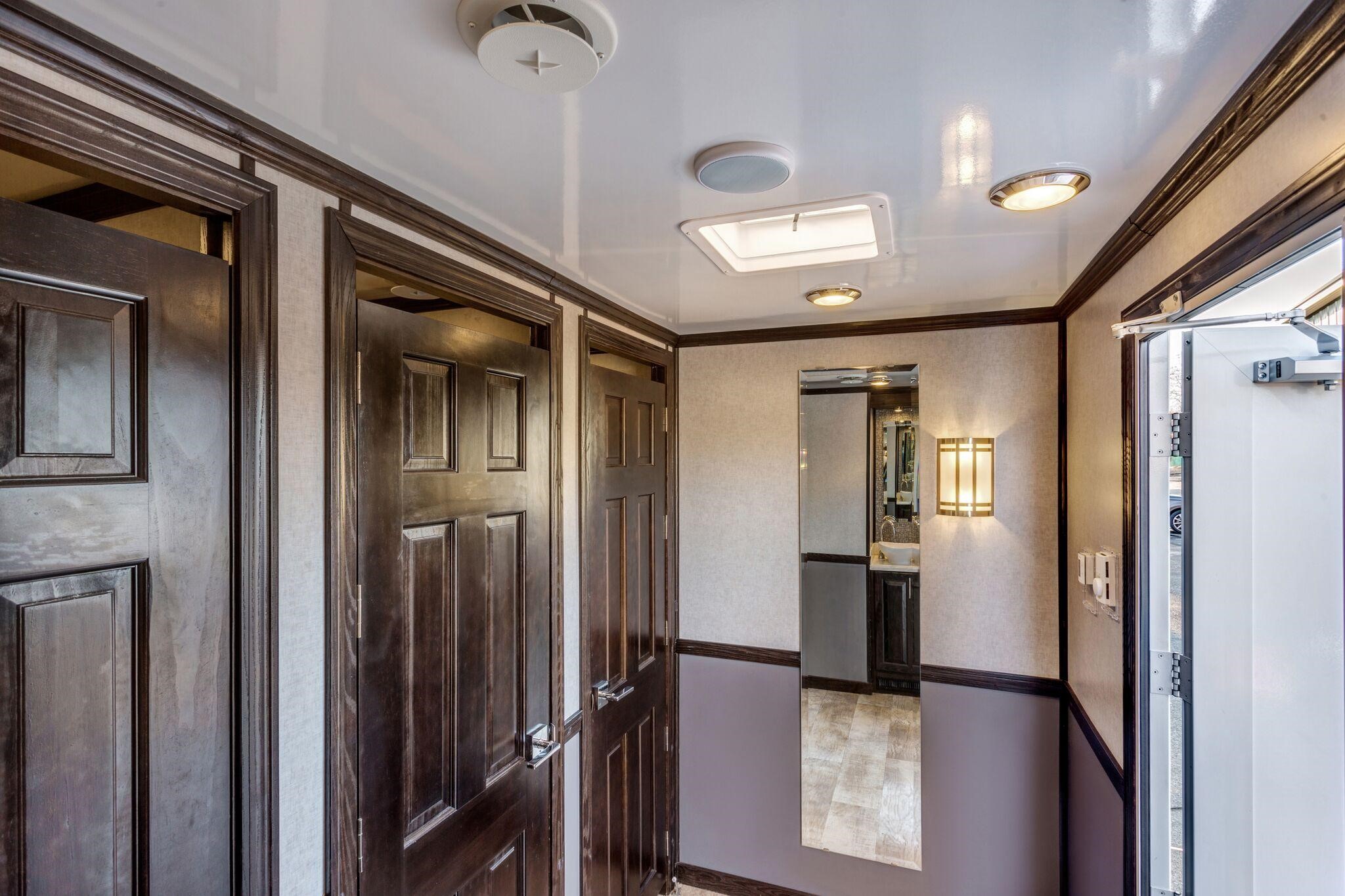 Restroom Trailer Rental Cost
So how much does it cost to rent a restroom trailer? Because there are so many factors, the best way to determine pricing is using our instant quote tool.
Simply add the event address and date(s) to see your all-in-one pricing for each one of our trailers.
For events that run six weeks or longer, our long-term rates goes into effect for discounted portable restroom trailers prices.
How much do luxury portable toilets cost to rent? Contact us today for pricing info regarding our luxury trailers.
Interested in an event shorter than six weeks, outside of one of the states listed above? Call or email us today and we'll see if we can provide a custom quote for your event.
Additional Features to Consider While Renting a Restroom Trailer
The cost of renting a restroom trailer can depend greatly on the additional features you choose. Basic restroom trailers come with standard facilities, but many options are available for added comfort and convenience. These features may include regular cleaning services, which are essential for maintaining hygiene, especially in high-traffic events.
Wheelchair accessibility is another important feature to consider for ensuring inclusivity and compliance with ADA regulations. Modern amenities like Bluetooth features can enhance the user experience, making the restroom more comfortable and pleasant to use. Each of these features, while adding to the cost, significantly improves the functionality and appeal of the restroom trailer for guests.
Restroom Trailer Rental Near Me With VIP To Go
Whatever your needs and wherever you are located, VIP To Go is the standard when it comes to portable restroom trailers. We have been providing portable restrooms around the country for decades.
When you work with us, you'll enjoy our all-in-one pricing. What you see is what you pay, no surprises or hidden fees. There are no additional delivery, setup, cleaning, or tear-down fees.
We can also provide you with a free site walk-through where one of our representatives will determine the best trailers, best location, and additional considerations for your event or job.
On top of that, you can reach us anytime. Our support team is available 24/7 so if you ever experience an emergency and need a trailer, we can help. We pride ourselves on making your rental experience as smooth and easy as possible.
Reasons to Rent a Restroom Trailer
There are a hundred and one reasons to rent portable restroom trailers. One or two-day events usually include destination weddings, such as in the woods, on a farm, or at the beach.
They can also include birthday parties, corporate gatherings, fundraising events, volunteer events, and much more.
Events that usually last a few days can include popup markets, music or cultural festivals, races, retreats, and almost anything else you can think of. This often includes TV and movie sets when location-based shoots are required.
We also provide long-term rentals. This is often used for construction. Many times an existing facility is being remodeled and temporary restrooms are needed.
And if your business has an emergency where water or electricity is unavailable, or if your building has sustained damage, we can provide temporary facilities almost immediately.
Plan Your Event With Confidence
At VIP To Go, we provide restroom trailers of every different style and size that can suit any budget. Whether your event is planned to last six hours, six weeks, or six months, we have a solution for you.
FAQs
What size is a toilet trailer?
Toilet trailers come in various sizes, from compact single-stall units to larger trailers with multiple stalls. The size typically depends on the specific needs of the event or project, with larger sizes available for high-traffic situations.
How much does it cost to rent a porta potty?
The cost to rent a porta potty can vary depending on several factors, including the model, duration of rental, location, and any additional services like regular cleaning. Prices can range from very affordable for basic models to higher for luxury or specialized units. Visit our website for instant quotes on restroom trailer cost.
How much does it cost to rent a portable toilet?
Similar to renting a porta potty, the cost for a portable toilet rental varies based on the type of unit, rental duration, location, and additional services. Standard units are generally more budget-friendly, while luxury or specialty toilets may cost more.
How much is a Porta Potty?
The purchase price of a Porta Potty depends on its features and specifications. Basic models are more affordable, while high-end versions with additional amenities like flushing systems and handwashing stations are more expensive. VIP To Go carries a selection of restroom trailers for when you're looking to upgrade your event with porta potty bathroom trailers that are luxurious and spacious.
What is a porta potty rental?
A porta potty rental refers to the temporary provision of portable restroom facilities. These are commonly used at construction sites, outdoor events, festivals, and wherever permanent restrooms are not available or insufficient. Restroom trailer rental cost typically includes delivery, set-up, and maintenance services. Check out our wide selection of porta potty trailer rentals here.
To see your restroom trailer rental prices, you can get your instant quote here. We look forward to servicing your portable restroom trailer needs!
Contact Us if you have any other questions about your mobile restroom trailer rental.