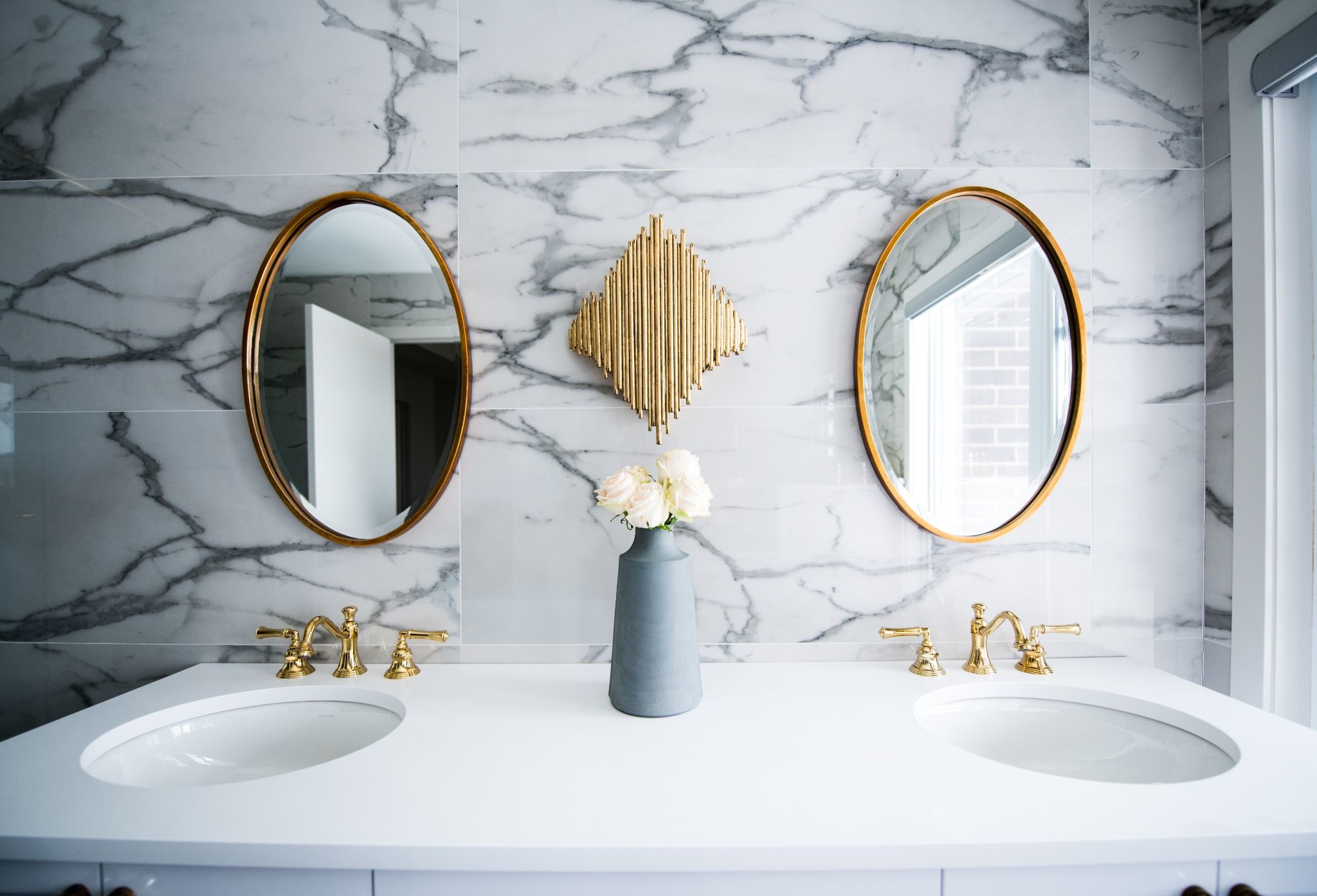 Temporary Bathroom Solutions for Your Next Renovation
Lifestyle changes, growing families, and disrepair are just some of the reasons that people decide to renovate their bathrooms. The planning process can be exciting, as you get to choose fixtures, paint colors, accessories, and so much more. It is only when the contractors and workers arrive that many homeowners begin to consider the impact of remodeling a bathroom has on day-to-day-life.
First and foremost, you lose access to one of the most important areas of your home. You no longer have a convenient shower, sink, or toilet for your needs. Even if you have another bathroom in your home, the sudden change to your daily routine adds to the stress. The workers also need to use the restroom facilities throughout the day, and standard portable toilets are less than ideal. The appearance and upkeep of a temporary bathroom in the form of outdoor porta potty rentals makes your bathroom renovation feel even more overwhelming.
Here are some tips for simplifying your bathroom renovation and ensuring that your family and workers have the necessary restroom facilities, such as a temporary shower solution and temporary bathrooms complete with a temporary bathroom sink, for long-term use.
Planning Your Bathroom Renovation
The goal of planning your bathroom remodeling project is to keep your daily stress to a minimum. Your typical day will change significantly because you will be involved with the project. Contractors may need to meet with you, workers will be working in and around your home, and you will still need to get your family ready for school, work, and activities. The best way to survive a bathroom renovation is to plan weeks in advance for how you will keep the flow of daily life as normal as possible. This includes having a temporary toilet during renovation to cater to your natural needs.
Make sure that you have a good relationship with your general contractor and feel comfortable discussing timelines, budgets, and your family's needs. The contractor should also demonstrate a willingness to take the lead on challenges that arise and find effective solutions quickly. Next, make sure that your family understands how the bathroom remodel will change daily schedules. Last, come up with ways to make your bathroom renovation an opportunity to spend more time together as a family to offset the annoying times. Be sure to have a space where you can watch movies, do crafts, and play games indoors, or make plans for some special outdoor activities and day trips.
Mapping Out Daily Life During a Bathroom Renovation
When you are getting ready for a bathroom remodeling project, take the time to map out a new way of going about your daily routine. Make sure you have easy access to food, clothing, toiletries, linens, and other items that you need during the entire renovation. You may need to set up temporary spaces in your home, such as a temporary bathroom during renovation. Most of all, stay organized. Also, make sure to map out how your family will move about your home, and consider where workers may be at during the project. This should include your indoor and outdoor space. Discuss these special set-aside spaces with your general contractor.
How a Temporary Bathroom Helps
One of the biggest mistakes that homeowners of multiple bathrooms make is that the entire family shifts to just one other bathroom in the home. Depending upon the amount of people you have living in your home, how much time they spend at home, and how often the construction workers will need to use the restroom facilities, this can get dicey. You have multiple bathrooms for a reason. A better solution is to set up a a temporary shower solution and full-service temporary bathroom rental (or better yet, two or more temporary bathrooms) outside your home.
VIP To Go restrooms simplify your bathroom renovation by giving your family clean, safe, and convenient portable bathrooms to shower, wash your hands, use the facilities, and get ready for your day. Luxury toilet trailers also give your guests a place to use the facilities during the remodeling work. Review our immense options on our website – including temporary bathrooms, a temporary bathroom sink, and showers and you'll understand the appeal and sense of pampering that are created by our luxurious temporary bathrooms units. Renting a temporary bathroom trailer that will appeal to your family can go far in minimizing the stress that the construction creates.
VIP is the go-to for your bathroom solutions. You can find luxury toilet trailers that have showers, toilet stalls, sinks, running water, and electricity for lighting. If someone in your home has limited mobility, it is a good idea to have an ADA-compliant portable restroom rental onsite, as well, so portable bathrooms are available with easier access. If you are uncomfortable with the idea of having a standard porta potty rental at your home as a temporary bathroom, speak with the general contractor about setting up other temporary bathroom ideas, including a facility just for the workers, such as a small temporary bathroom trailer with sinks, urinals, and toilets.
Risks and Costs Involved in a Bathroom Renovation
Even with the most qualified and experienced crew working on your home renovation project, the unexpected can always happen, and your family needs to be prepared. One of the biggest risks with bathroom remodeling is problems with the plumbing and electrical systems. Do a walkaround each day with the general contractor to make sure that these systems are either turned off or safely working. Leave the circuit breakers and water valves off when the workers are not onsite.
Another issue that may occur during your bathroom renovation is noise from demolition and construction. Keep children and elderly family members away from the site, and always use high-quality ear plugs. Some family members may also be sensitive to materials that are high in volatile organic compounds, such as paint and adhesives. Have the general contractor seal the area with plastic sheeting, and keep your HVAC system turned off until the project is complete.
Other concerns for your bathroom remodeling are insects, pests, and damage. Older homes may have lead materials and asbestos. Working with contractors and construction professionals who are licensed and experienced in your particular type of bathroom renovation minimizes the risk of these problems. You should also check with your homeowner's insurance company to understand your responsibility and liability for the project.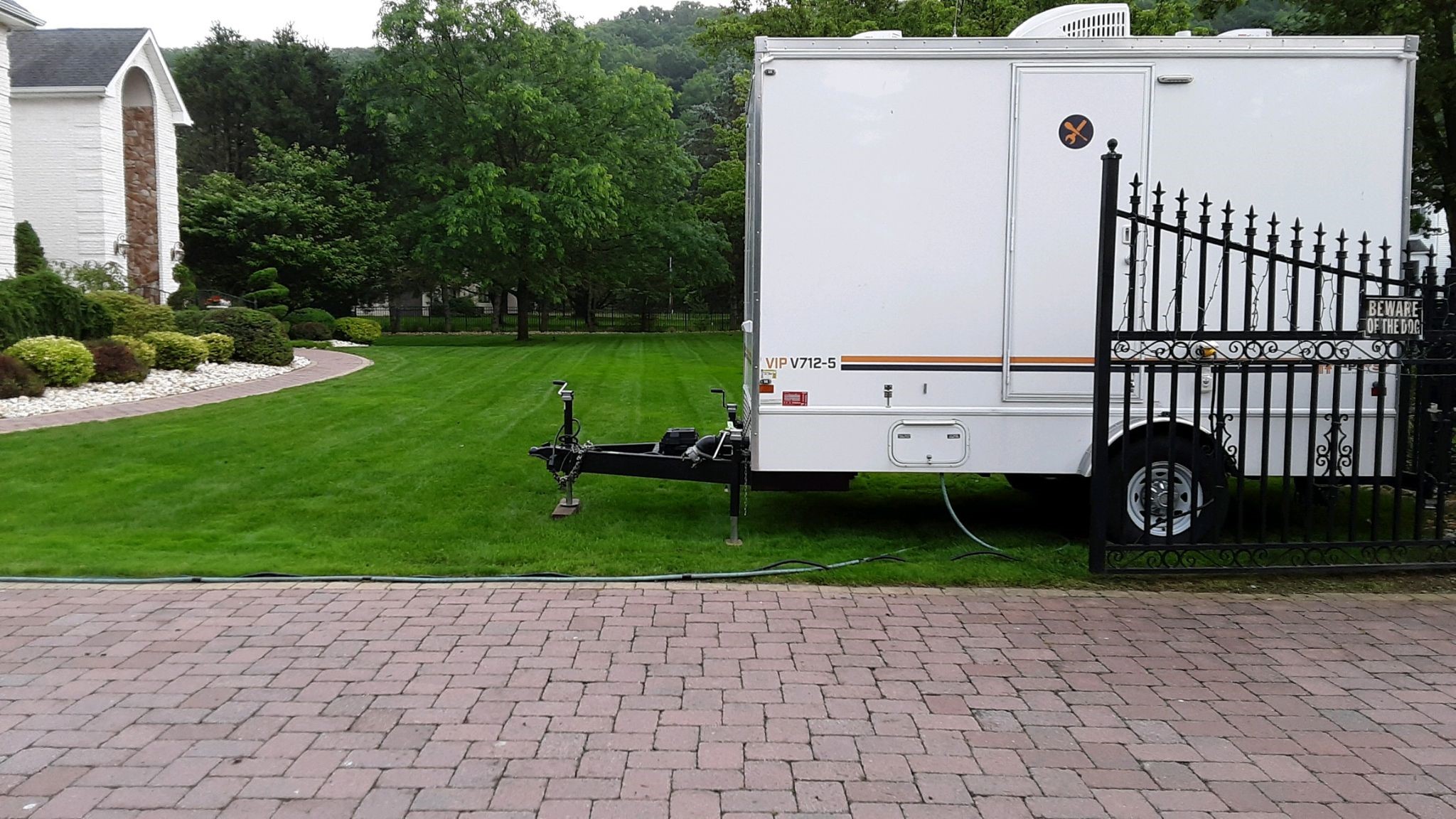 FAQs About Bathroom Renovations and Temporary Restrooms
Where can you set up a temporary shower or temporary bathrooms for a bathroom renovation?
Work with your portable restroom trailer vendor to help you find the best placement on your property for the trailer. This will likely be outside, although you can also find temporary shower in basement units. You can find luxury restroom rentals that are completely self-contained, including a generator for electricity and water tanks for the toilets, showers, and faucets. Be sure to choose a luxury toilet trailers vendor that also provides toilet paper, paper towels, soap, hand sanitizer dispenser, and cleaning services for the temporary bathroom. Reach out to VIP and we can guide you on options for temporary bathrooms.
How do you empty a portable restroom rental?
Luxury portable restroom rentals are superior to the standard plastic porta potty rentals that you see at roadside stops, construction sites, and some parks. Many homeowners are concerned about having a large, noisy truck come to their homes to empty waste from bathroom trailers. Fortunately, in VIP To Go you'll find a vendor who services the toilet trailers with a high level of professionalism and discretion. Your neighbors don't have to know a thing about your restroom service schedule or temporary toilet during renovation. Our temporary bathrooms are discreet and sleek-looking, and will surely satisfy your needs.
What is the best portable shower for the elderly or disabled?
Elderly and disabled family members need ramps to easily access temporary bathroom rentals. Additionally, you should rent an ADA-compliant temporary bathroom that has larger entry doors and interior spaces, handlebars by the toilet and in the shower, and lower countertops and fixtures. VIP To Go is proud to offer a temporary bathroom during renovation specifically designed for those who need assistance.
What size luxury porta potty restroom trailer do you need?
If you are only looking for restroom and shower trailers for your family, we recommend that you get a temporary bathroom size that matches what you have in your home. This includes the number of showers, toilets, and sinks for hand washing. If you prefer to also provide high-end restroom trailers for the workers, you can choose a small, two-station temporary bathroom rental that has two sinks, two toilets, and a single urinal. Don't hesitate to contact our customer service team for help with your bathroom solutions, we can walk you through options for temporary bathrooms so you can quickly secure a reservation
How do you stop a portable toilet from smelling?
Basic porta potty units that aren't properly cared for may smell for many reasons, and the most significant are weather and poor sanitation services. When it is hot outside, it creates an ideal environment for mold and bacteria to thrive. Luxury toilet trailers have air conditioning and fans and are sealed from the elements. VIP To Go provides weekly cleaning services for your temporary bathroom, with an option for more more frequent cleaning to make sure your restrooms remain clean and odor-free. Essentially, you never have to worry about bad odors when you choose VIP To Go temporary bathrooms.
Glossary of Terms Related to Bathroom Renovations
ADA: Acronym for the Americans with Disabilities Act that outlines access for requirements for public facilities
ADU: Acronym for accessory dwelling unit that refers to a legal residence that is added onto a single-family home, such as a small rental apartment
Allowances: Part of a bathroom renovation budget that is set aside for specific items that have not been chosen, such as the fixtures, tile, and paint
Apprentice: A professional in training, such as a person who is learning how to be an electrician, plumber or other specialist under the leadership of a similarly-licensed professional
Blackwater: Water in the toilet that contains waste
Caulk: A pliable substance that is used to seal tiles and fixtures to prevent water damage
Jack-and-Jill Bathroom: A single bathroom with two entrances, typically from two bedrooms or a bedroom and hallway
Mudding: The process of applying a compound to drywall that covers seams and screws
Pedestal Sink: A freestanding sink style that does not have a countertop or cabinet
Refacing: A budget-friendly alternative to replacing cabinets
Sanitary Sewer: A system of pipes that collects waste from homes and is not used for stormwater
Shower Pan: A basin on the floor of a shower that prevents leaks into the subsurface material
Stud: Part of a home's construction framing that is attached to horizontal beams in the floor and ceiling
Vanity: The countertop and cabinet that surrounds a bathroom sink
Walk-Through: The final inspection of a bathroom remodeling project that may involve a city official or the homeowner
Wet Bathroom: A bathroom that has a shower that is not enclosed – typically found in unfinished basements of older homes with only a shower head and drain in the concrete floor
Learn More About Bathroom Trailers for Your Bathroom Renovation
Are you planning a bathroom renovation need a temporary shower solution or a temporary toilet during renovation? Keep life simple and pleasant with a temporary bathroom that offers many more amenities than your own home bathroom, and consider the luxurious restroom trailers from VIP To Go as your temporary bathrooms.. If you aren't sure what size bathroom trailers you need or how many rentals are best for the duration of your project, VIP To Go can help you find the perfect solution. We have plenty of temporary bathroom ideas that ensure the best design the layout of your portable toilet rental to avoid any high-traffic areas. Get in touch with us before your big day to discuss your remodeling project, and we will look over the layout of your property to find the best options for your temporary bathroom.
To get an exact quote for your deluxe restroom trailers, contact us, and we will be happy to discuss a temporary bathroom for your bathroom renovation project. You can also send us your contact info using our online form. We look forward to bringing your temporary bathroom ideas to life!