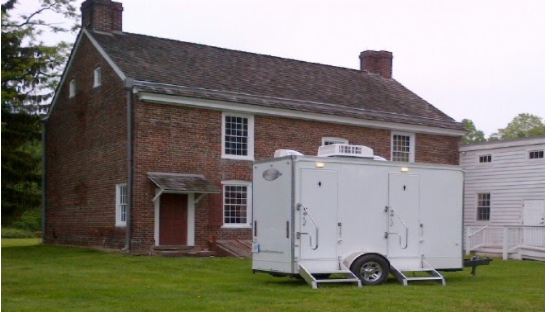 5 Myths About Restroom Trailers Debunked
We all know the odorous, rickety, I-don't-want-to-touch-anything vibe of an old school porta-potty. This isn't that. VIP To Go restroom trailers are nothing like that. They promise luxury, full-service amenities that also happen to be mobile. If you haven't attended an event with restroom trailers, we understand if you have questions. So let's look at some of the myths vs realities of portable restroom trailers.
Myth #1: Restroom Trailers Smell Bad
Sure, those old blue porta-potties are infamous for smelling horrible. Both from the chemicals used in the tanks and, well, other things. VIP To Go restroom trailers don't give bad odors a chance. All of our trailers come equipped with effective air vents that whisk away smells. That and the fact that our toilets actually flush everything away to a large outside storage tank. They aren't just a toilet seat sitting over a hole in the floor. You can also rest assured that, wherever you need your mobile restrooms set up, all VIP To Go trailers arrive fully cleaned and sanitized.
Myth #2: Restroom Trailers are Hella Inconvenient
We get it. Music festivals, backyard birthday parties, and other outdoor events of old will make anyone just want to 'hold it.' It's time to reimagine portable pottying. VIP To Go mobile restroom trailers are individual amenities that are private, climate-controlled, flushable, have hot and cold running water and, we're just gonna go ahead and say it .. for anyone who's ever ventured from their home toilet, VIP To Go restrooms are a luxury compared to what we've all been subjected to before.
VIP To Go also has ADA-compliant bathroom trailers available on request. If Grandma's joining the party and needs a little extra help these days, let us know. We'll make sure she's taken care of.
If you've ever seen one of those horror-videos of a construction site porta-potty tipping over with someone inside, you've probably taken a pause before entering one yourself. One of the reasons porta-potties can tip is that they need very level ground to be secure. Another benefit of a restroom trailer is that they have levelers, which means, regardless of where you need your restroom trailer used, as long as there's space to park the trailer, we can adjust the levels so the trailer is secure. Ok sure, we're probably not going to park it on the side of a mountain for you, but you wouldn't want all those mountain goats trying to join you anyway.
Myth #3: Restroom Trailers are Unsanitary
You remember that college roommate who just could not even with the cleaning? So do we. So sure, any restroom that doesn't get cleaned will get dirty, cluttered and just generally gross. Fortunately that isn't going to happen with your VIP To Go restroom trailer. We deliver all our trailers cleaned and sanitized, not to mention we completely replace our trailer fleet every 12-18 months. That means your portable restroom experience is clean AND up to date! We're just thinking of you. And if you'd like that little 'extra touch' we'll set up our bathroom attendants to join your event,  and they will make sure your restroom stays in tip-top condition throughout.
Besides all that cleaning and sanitizing, VIP To Go restroom trailers have fully flushable porcelain toilets and hot/cold running sinks with all waste water removed to a storage tank outside the trailer itself. We're pretty sure you're going to feel more like you're using the restroom at a nice club rather than in the great outdoors.
Myth #4: Restroom Trailers are Small and Cramped
We're gonna go out on a limb here and guess that, like us, you've never met anyone who was a huge fan of those itty-bitty airplane toilets where you have to be a contortionist just to do your business. With VIP To Go portable restroom trailers, you're going to have room to move. Even the smallest of our trailers contain no less than two fully private stalls and two full vanity sinks. They are also equipped with interior lighting, mirrors and a sound system, not to mention heat and air conditioning for those less than perfect-temp days. All included in the base price of every trailer .. your luxurious trailer isn't going to cost a dime more to have a comfy temp and great tunes! We're just bougie like that.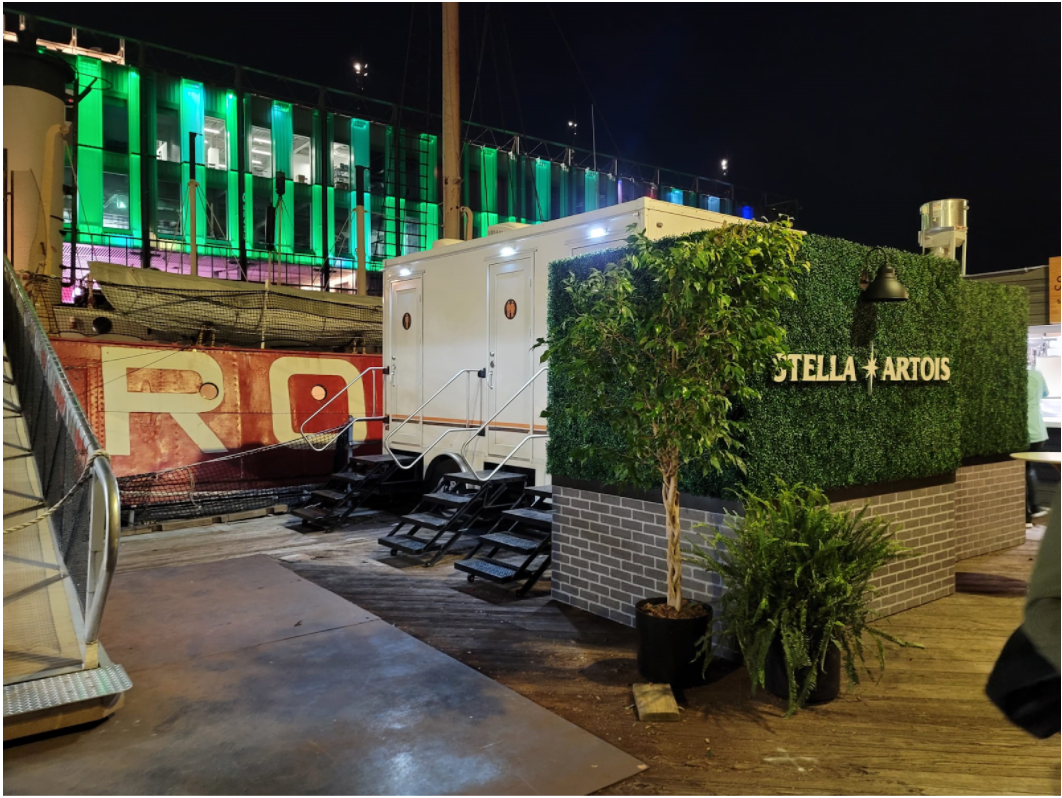 Myth #5: Restroom Trailers are Too Expensive
Given the sheer number of portable toilets we've all been forced to use, it's understandable if you're tempted to think the cost to rent a restroom trailer must be crazy high. But here at VIP To Go, we think that every event should have clean, comfortable, affordable amenities for nature's call. We work with all kinds of needs and budgets, from the small class reunion to the mother of all weddings. Generally speaking, a trip to the restroom involves the use of toilet paper and soap. We think it's crazy when those are an add-on price. With a quote from VIP To Go, you can be assured it has all costs already factored in. No hidden fees for those kinda necessary items. Does it cost to rent restroom trailers? Yes, we do actually have to charge you for it. We are a business after all, but as a family-owned business we understand budgets and will do our best to help you stay within yours. And we're pretty sure you'll agree that a restroom trailer is a worthwhile investment. When all the vows are said and all the dancing is done, you want your guests to remember what a great time they had — not how hard they had to look for the janky little bathroom. At VIP To Go, we make sure that if the restrooms are talked about at all, it's about how great they were.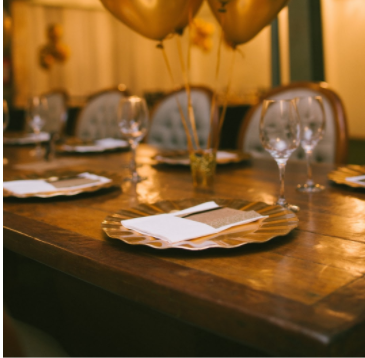 FAQs about Portable Restroom Trailers
Isn't a restroom trailer just a glorified porta-potty?
The short answer is, nope. The slightly longer answer is that all VIP To Go restroom trailers arrive at your specified location clean, sanitized, smelling great — and they are actually stylish. (You never thought you're never going to hear porta-potty & stylish used in the same sentence, did you?) In restroom trailers, all waste from toilets and sinks (yes, trailers have fully functional hot and cold sinks!) is removed to an external tank which means no holding your breath due to chemicals or other residual causes.
How much does it cost to rent a restroom trailer?
VIP To Go understands that you're trying to stick to a budget. That's why we have a range of restroom trailer options. Whether you're gathering 100 people or 1000, we can work with you to help you get the best value for your spend. We also make sure there are no unexpected surprises in your bill. All products and supplies necessary for the time of your restroom rental are included. If you need to add a clean water source and/or electricity to run your restroom trailer, we can help you with that as well.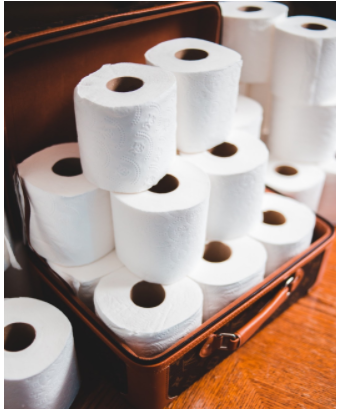 Where can restroom trailers be used?
Pretty much anywhere. As long as we're able to maneuver the trailer into place, VIP To Go can make it work for you. Unlike a standard porta-potty, you don't even need completely level ground since a trailer can be leveled once we get it in place. So even though trailers have a slightly larger footprint than a single porta-potty, they are often more versatile, not to mention user-friendly. Portable restroom trailers require a water source and electricity but a garden hose and most household outlets should do the trick. If you're planning a rustic event, like a barn wedding for example, where water and electricity are unavailable or you're setting up at a construction site, VIP To Go can bring in a clean water source and a generator to power your restroom trailer.
Are restroom trailers dirty?
Not at all! All VIP To Go restroom trailers are delivered to your location cleaned, sanitized and fully stocked. Like any restroom, if your trailer is onsite for an extended time without being cleaned, it will get dirty. It IS still a restroom. But you can rest assured that it arrives clean and ready to go. If you'd like extra peace of mind during your event, you can request paid attendants from VIP To Go that will keep an eye on your restrooms to make sure things stay in tip-top shape throughout the day. And restroom trailers have another advantage over stand porta-potties in that all waste from the flush toilets and fully functional sinks is removed to an external storage tank.
So yeah, this definitely isn't what your grandma was talking about when she told you those porta-potty horror stories and we bet she'd love using ours!
Contact VIP To Go today and request a free instant quote for the perfect solution to the restroom needs for your event or job site.