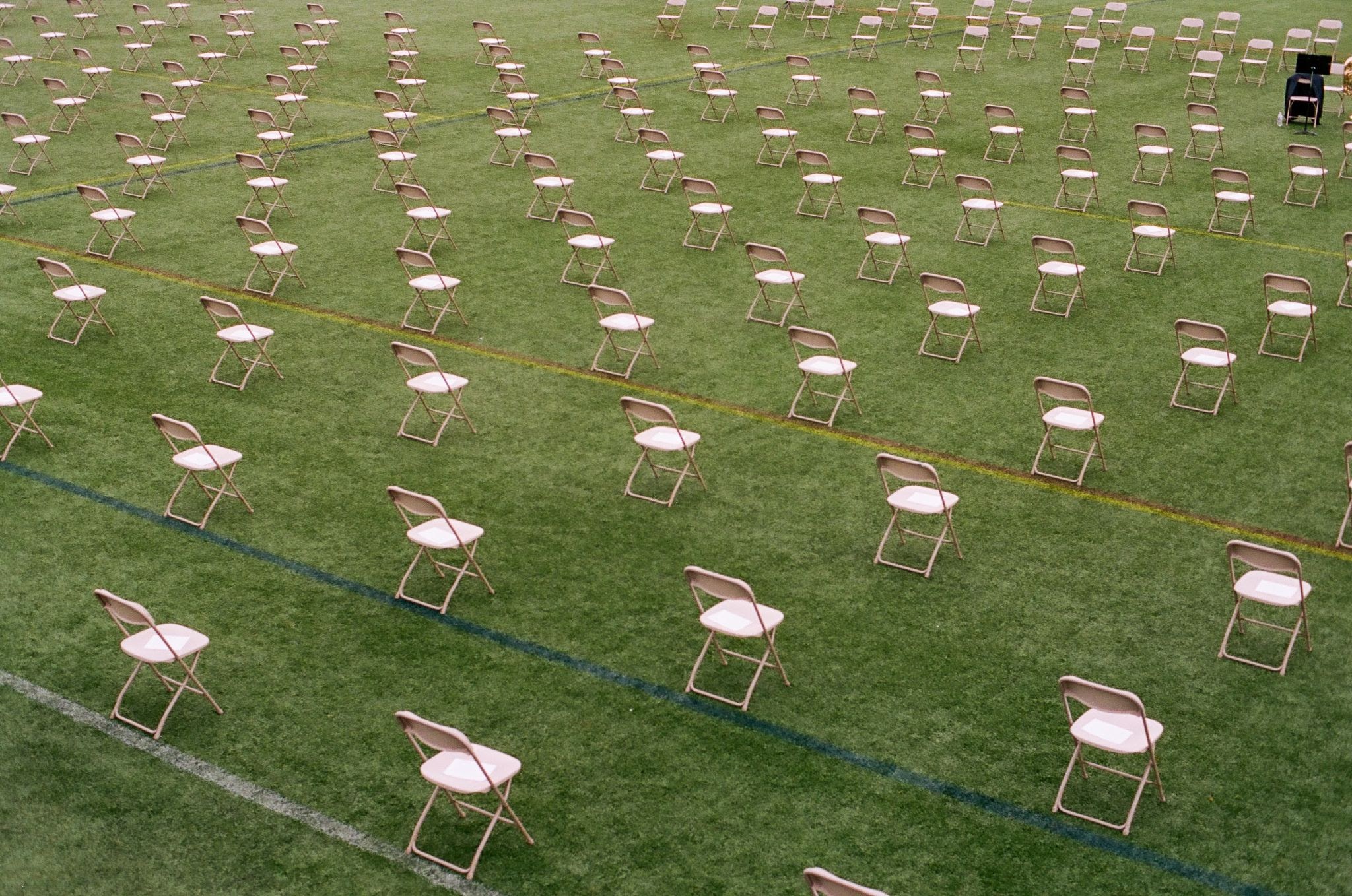 Outdoor Bathroom Rentals For Your Events
VIP To Go bathroom trailers keep your guests safe and comfortable during your outdoor events, and our luxury toilet trailers are super convenient.
Outdoor events are great ways to celebrate special occasions, raise awareness for your cause, or recognize milestones in your company. You have a lot of freedom to set things up your way when dealing with a large, outdoor space since you are not confined to existing layouts and decorative elements. You'll most likely find more hosts that are willing to host the event in their yard, if they won't have large crowds trooping through their home.
Having your event outdoors, though, brings a unique set of challenges and risks. As you start to plan your event, guest comfort and safety should be a top priority. You want everyone to feel relaxed and be able to enjoy the occasion. Safety, security, and sanitation are key to successful outdoor events where the unexpected can happen at any time and modern conveniences may not be close at hand.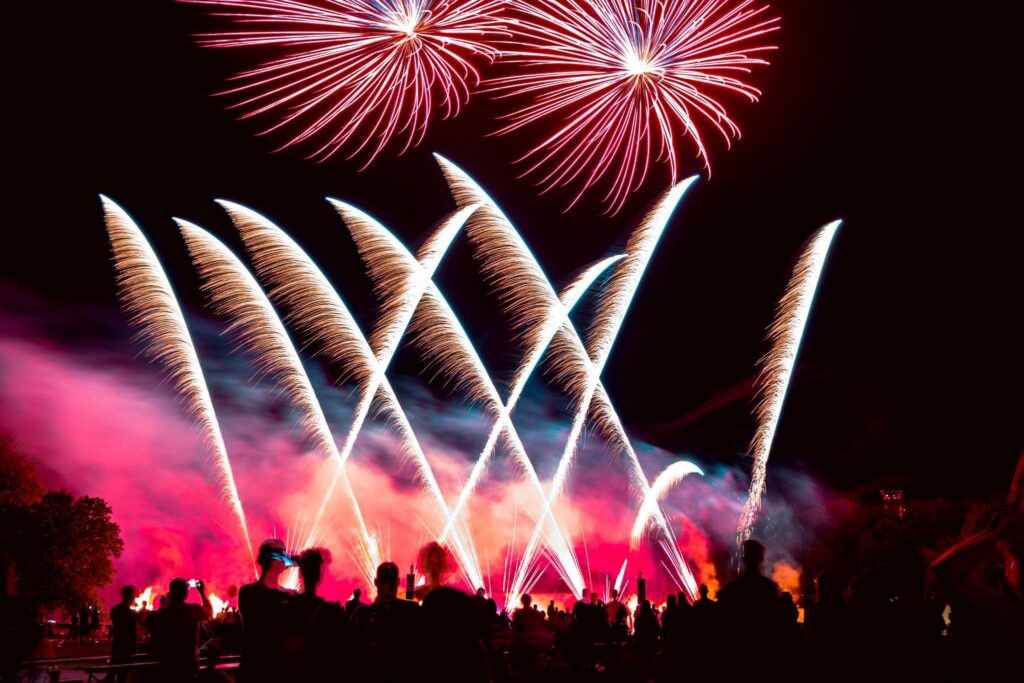 Here are some tips to help you plan a successful outdoor event:
Mapping The Event
Location and number of guests or crowd size are two important elements for planning any outdoor event. You want to have enough space to accommodate your guests, as well as spaces designated for parking, food service, seating, music, decorations, special guests, and other key features of your outdoor events. Once you know the size of your guest list and location, you need to plan some logistics. You want every aspect of the event to go smoothly, so create a map of your site. Include details for parking areas or valet stations, food prep and service stations, seating arrangements, podiums, and stages. Once you have an outline of your site, work on the flow for guests. You want to make sure that it is easy to move about comfortably while being able to interact with other guests in a relaxed manner. You may need to rearrange the various elements of your setup to provide your guests with a great experience.
Challenges with Organizing an Outdoor Event
Outdoor events come with unique challenges, such as access to electricity, running water, and restrooms, as well as unpredictable weather. If your location has existing power, be sure that your setup prevents the need for long extension cords that are hazards to your guests. If the location does not have electricity, you may need to secure a quiet-operation generator or modify the event to reduce the need for power. Having drinking water available is not enough for outdoor events. Guests need to be able to wash their hands, and water may be needed for any unexpected emergencies, such as injuries, insect bites, and cleaning up tables. For any size event, bathroom facilities are also critical, and you may need to ensure that there are ADA-compliant restroom facilities available.
Planning the weather is entirely out of your control for outdoor events, but you can plan ahead. Make a plan B for inclement weather — whether that will be changing the date of the date of the event, bringing the event to a suitable indoor location, or supplying outdoor shelter. For the last choice, have canopies and tents set up or available, if needed. Check the weather forecast the day before and morning of your event to decide if the guest areas should be covered. Whether it rains, snows, is windy, or it's very sunny, having shelter to protect them from inclement weather is important.
Risks and Costs Involved in Outdoor Event Planning
Holding an outdoor event for any occasion comes with risks and costs, many of which can result in long-term implications for you or your business. Hosting an event, whether it is indoors or outdoors, comes with expectations from your guests. In the weeks before your event when you are reviewing every detail, be sure to include safety, sanitation, and security. As time consuming and tedious as this process may seem, it is vitally important. Here are some steps to follow for risk management of outdoor events.
Identify the risks — from weather to hazards, such as open water, swimming pools, and alcohol consumption
Evaluate the threats by evaluating each risk for likelihood and effect on your event
Decide how to prevent or reduce each risk, such as hiring a security firm or having canopies and tents available for inclement weather
Plan how to manage each threat with the goal of minimizing any physical injuries to your guests and financial loss for your outdoor events
Rental Restroom Trailers for Outdoor Events
An important and often overlooked aspect of outdoor events is restroom access. Your guests need to have a convenient place to use the restroom and wash their hands. If you are having an event at your home or business, it is not always possible or feasible to have guests go inside. An outdoor rental restroom trailer provides the best solution.
Ideally, you should have separate facilities for men and women, and the number of bathrooms depends on how many guests you expect at the event. Plan to have one facility for every 75 women, and one facility for every 400 men, plus one urinal for every 100 men. The outdoor bathroom should have private stalls, paper products, and sinks with running water. You should also ensure that you have at least one ADA-compliant outdoor rental bathroom trailer, as well as someone available to restock the bathroom and keep it clean. You can request a restroom attendant from the vendor.
In addition to calculating how many bathrooms you need for the entire guest list, you should also consider ease of access. If you are holding an outdoor event in a large space, you should have restroom trailers set up around the site. This may affect the total number of luxury toilet trailers rentals that you need, since that depends on the configuration of the space and anticipated guest flow.
Your rental luxury toilet trailers should be self-contained and include water tanks for proper operation of faucets, urinals, and toilets. You can also find bathroom trailers with water-saving features, as well as electricity for lighting. This ensures that you are not paying for utility costs for the operation of the outdoor bathrooms.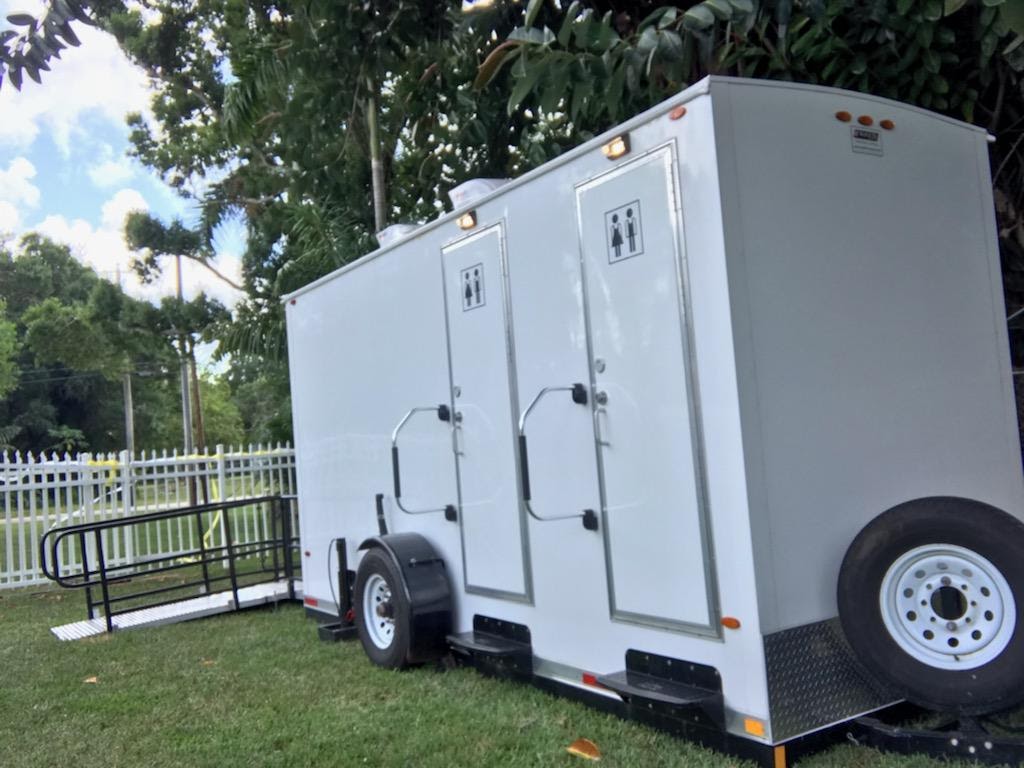 FAQs for Outdoor Bathroom Rentals
How many bathrooms do I need for 100 guests?
The two-station rental bathroom trailers from VIP To Go accommodates 100 to 150 people. It includes two private stalls with toilet, one urinal, and two sinks with running water. If you are serving alcohol at your event, adding 15% to 25% more bathrooms is a perfect solution to accommodate the greater demand.
Should I have rental restroom trailers at my event?
Number of attendees and duration should be considered when deciding how many portable restroom rentals to have on site. In general, any outdoor events that last six hours or longer should have restroom trailers available, including at least one ADA-compliant bathroom trailer. You should have at least one bathroom trailer for every 50 guests. You may also want to consider renting luxury toilet trailers for smaller events where you do not want people going into your home or business to use the facilities, including to wash their hands.
Does a portable toilet rental unit fit well with the theme of an outdoor event, such as a Sweet 16 parties or outdoor weddings?
Whether you are planning festivals or celebrations in your backyard, portable bathroom rentals fit right into your plans for the big day. At VIP To Go, we offer several exterior designs for our luxury restroom rentals, from sleek modern to retro. We can also cover the trailers you rent with canopies or set them up behind drapes to conceal them, yet provide easy access for your guests.
Is a bathroom trailer better than a standard porta potty rental?
VIP To Go rental bathroom trailers are superior to standard portable bathrooms for several reasons. First, our luxury toilet trailers feature large interior spaces and high-end finishes that mirror what is found in public restrooms. Your guests also have access to running hot and cold water, heating and cooling, paper products, soap, and streaming music in some models.
What are ADA-compliant rental bathroom trailers?
The Americans with Disabilities Act (ADA) outlines requirements for public buildings and facilities to ensure that everyone has easy access. VIP To Go ADA-compliant luxury toilet trailers feature outdoor ramps, large interior spaces, and bars. Sink and toilet levels are lowered to allow access for those who are in wheelchairs.
Learn More About Luxury Toilet Trailers for Outdoor Events
Are you planning an outdoor event? Keep your guests safe and comfortable with luxury toilet trailers from VIP To Go.
If you aren't sure where to set up restroom trailers at your outdoor venue, VIP To Go can help. Get in touch with us to let us know your plans. We review the site layout and recommend the best placement for your bathroom trailers. We keep the trailers away from high-traffic areas, yet ensure that they are easy to get to when needed by your attendees.
To get an exact quote for your restroom trailers, contact us and we'll be happy to help you plan your event.