Rent An Affordable Restroom Trailer in Rhode Island
Rhode Island is known for its warm summers, and cold, wet winters, with a tourist season that stretches from mid-March to mid-October. This means lots of people on the streets, lots of outdoor events, and lots of new construction and renovation.
While restroom trailers and portable toilets probably aren't something you tend to think about, with all that outdoor activity, demand for restroom trailers in Rhode Island is high.
This can be because you're setting up a construction site and need portable restroom trailers for the worksite, or because you're coordinating a carnival, festival, or other type of event, and find yourself in need of portable restrooms to serve as hygienic bathroom facilities for event guests. It may even be because you're thinking about tying the knot with an outdoor wedding.
Whatever the reason for your search for portable restroom trailers in Rhode Island is, you've come to the right place. VIP To Go has a range of restroom trailer sizes and styles to suit your needs.
Everything and the Kitchen Sink
Not all Rhode Island sites are capable of supplying running water. VIP To Go's bathroom trailers are designed to be able to run with a standard water hose, utilizing a standard water hose spigot. However, if water is unavailable, you can still make use of our trailers.
How?
The first and most obvious benefit to renting a restroom trailer from VIP To Go is that we offer a huge range of basic amenities, including running water for flushing and hand-washing. We supply a fresh water tank for your restroom trailer. This means that even if you don't have water on-site, we can still set up a restroom trailer for you and your guests.
The VIP To Go Advantage in Rhode Island Bathroom Trailers
Luxury Restrooms
Whether you need a wedding restroom trailer rental in Rhode Island, or a luxury restroom trailer for some other upscale type of event, our options can work for almost any budget. Weddings (and other upscale events) are supposed to be beautiful, memorable occasions.
You'd be amazed at the range of amenities offered by our luxury mobile restroom rentals. They have plenty of space, are climate controlled, have running water, and are fully stocked with amenities such as paper towels and soap. You get all of that in an aesthetically attractive restroom trailer that is sure to wow your guests.
Our luxury restroom trailers are perfect for weddings, because they bring the convenience of sanitary, odor-free public restrooms to even the most rural locations.
VIP Go To restroom trailer bathrooms feature actual flushing mechanisms to flush waste away to an outside storage tank. For all intents and purposes, this is exactly like using an actual public restroom — only better.
For example, our Five Station Vegas Restroom Trailer measures 8'x15'. It's decorated in beautiful two-tone and hard wood finishes. The women's room features 2 stalls and a sink, and the men's room has 1 stall, 2 urinals, and a sink.
The women's side includes a stall, a sink, and a mirror, while the men's side includes a stall, a urinal, a sink, and a mirror. All VIP To Go restrooms are equipped with air conditioning, heat, a sound system, and even luxury lighting.
As with our other luxury trailer options, it comes standard with air conditioning, heat, electric lighting, a sound system, and even 150 gallons of fresh water on board. It's clean, modern, and simply elegant—the perfect option for a luxury occasion.
Check out this affordable luxury restroom trailer rental guide for your Rhode Island site or event location.
Range Of Options
You can choose from a wide variety of restroom trailers for your Rhode Island event, based on your needs and budget. From luxury bathroom trailers, to budget restroom trailers, to moderate restroom trailers, we have something for every type of event, and each one comes in a variety of sizes.
Additionally, we have ADA restroom trailers so that ALL of your guests can feel comfortable at your event, as well as sink and shower trailers.
Hygienic Safety
Hygiene is more important nowadays than ever. The last thing you need is for someone to get sick from picking up a virus or bacteria from an unclean, unsafe surface. VIP To Go makes sure that every restroom trailer arrives clean, sanitized, and fully stocked with soap—ensuring that your guests will be able to leave with clean hands.
Our trailers come equipped with hands-free operation, meaning that actual physical contact with amenities is minimized. This will make your guests feel safer and more at ease.
You can also request a restroom attendant to service the restrooms throughout the event. The attendant will wipe down surfaces and clean the stalls, ensuring that the bathrooms and sinks remain clean for your guests.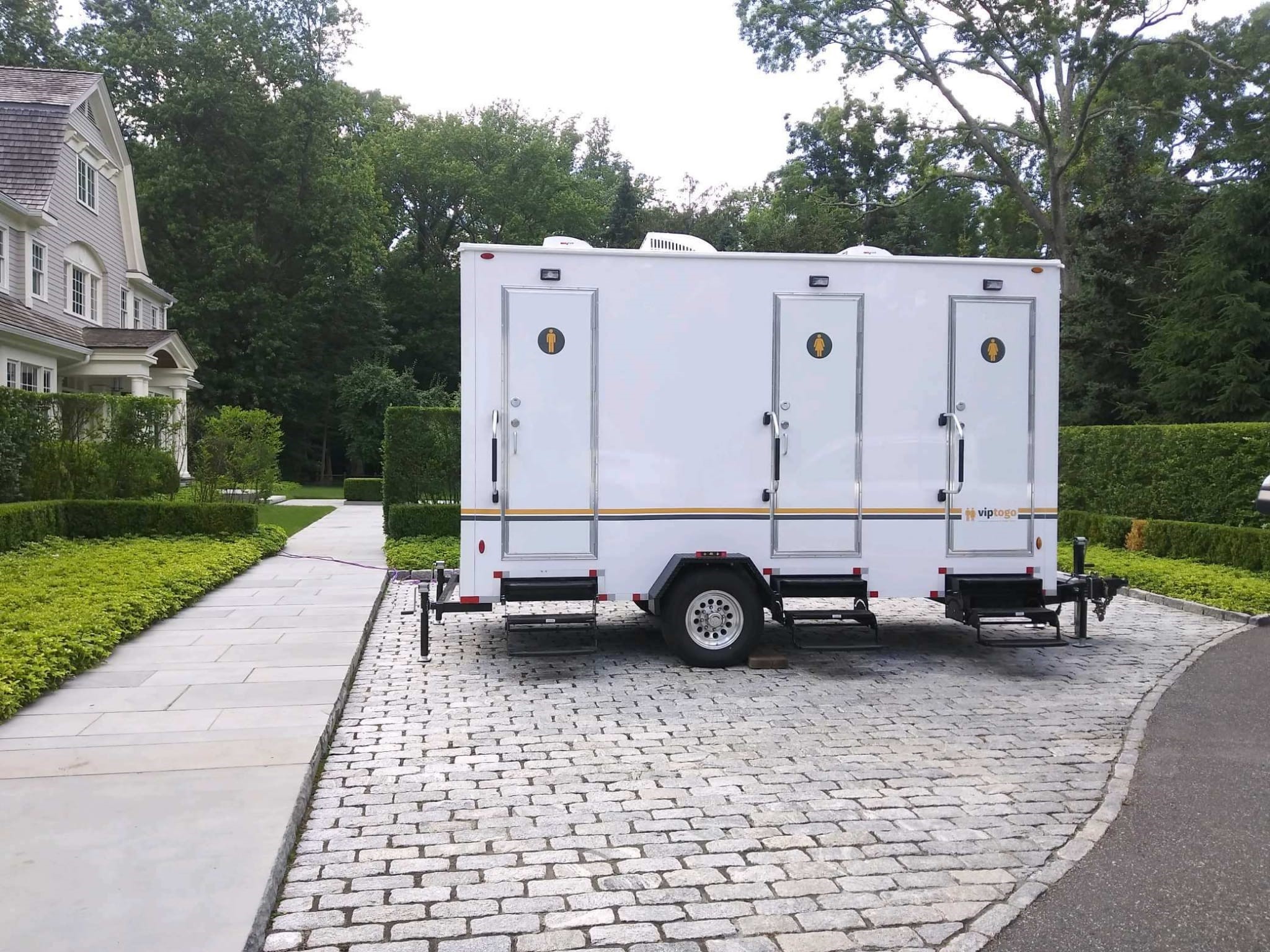 Affordable Restroom Trailers
Some people think that bathroom trailers are just too expensive to be viable. This is a common, yet untrue myth about restroom trailers.  We're a family owned company, and we totally understand budget constraints and concerns. That's why we strive to be open and up-front about pricing, and to do our best to keep costs as low as possible.
So rest assured that we offer competitive pricing on all our restroom trailer models. And to cater to customers dealing with smaller or larger budgets, we offer a range of trailer sizes and styles for you to choose from. For most large sized events, the restroom trailer cost accounts for a small portion of the entire event budget by the time you pay for a venue, entertainment, security, a bar, food (if provided), etc.
But the investment is well worth it. It means that your guests have a respectable and clean bathroom when they need it, where they need it.
You can get a quote from our super simple quote and booking system on the website. Simply fill in your desired dates, address, and restroom trailer type you'd like to reserve, and you'll get a free, no-obligation quote.
Weather Resistant
Outdoor events can be challenging because there are always elements (like weather or traffic) that are difficult to plan for.
But outdoor restroom trailers help to take some of the guesswork out of this, by giving you an option that's not only weatherproof, but that can also stand up to rigorous, commercial-grade use away from the conveniences of modern civilization.
They won't be hindered by rain, snow, sleet, or any other type of moderate adverse weather condition. They're also climate controlled, so they'll do the job and keep your guests comfortable even if the temperature is really high or really low.
Long Term Restroom Trailer Rentals
Do you need a long term restroom trailer rental?
VIP To Go makes long term restroom trailer rental easy, efficient, and cost effective. We make it a point to offer excellent service to statewide and/or national organizations that may need restroom trailer facilities for weeks, months, or even longer at a singular location.
For example, Rhode Island is famous for its movie and TV shoots — and move shoots can take a while. If you're shooting in a part of Rhode Island that's tucked away from 'modern civilization,' we can provide restroom trailers for your movie shoot for as long as you need them.
We now have contracts that extend indefinitely. This makes restroom facilities easy to manage over longer stretches of time, for longer-term projects. Case in point, restroom trailers are an excellent option for sites where you need a long-term restroom option, even in the absence of running water.
Calculating Rental Costs For Your Rhode Island Event Is Easy
With straightforward pricing and the ability to get specific quotes quickly, you'll never be 'in the dark' about portable restroom costs with VIP To Go. Check out our pricing guide to help you see what factors into restroom trailer rental costs for your Rhode Island event.
You can also use our quick quote system on our website, or have our chat agents fill out a quote for you. Whatever your restroom trailer rental needs are, VIP To Go will make sure to help you fill it.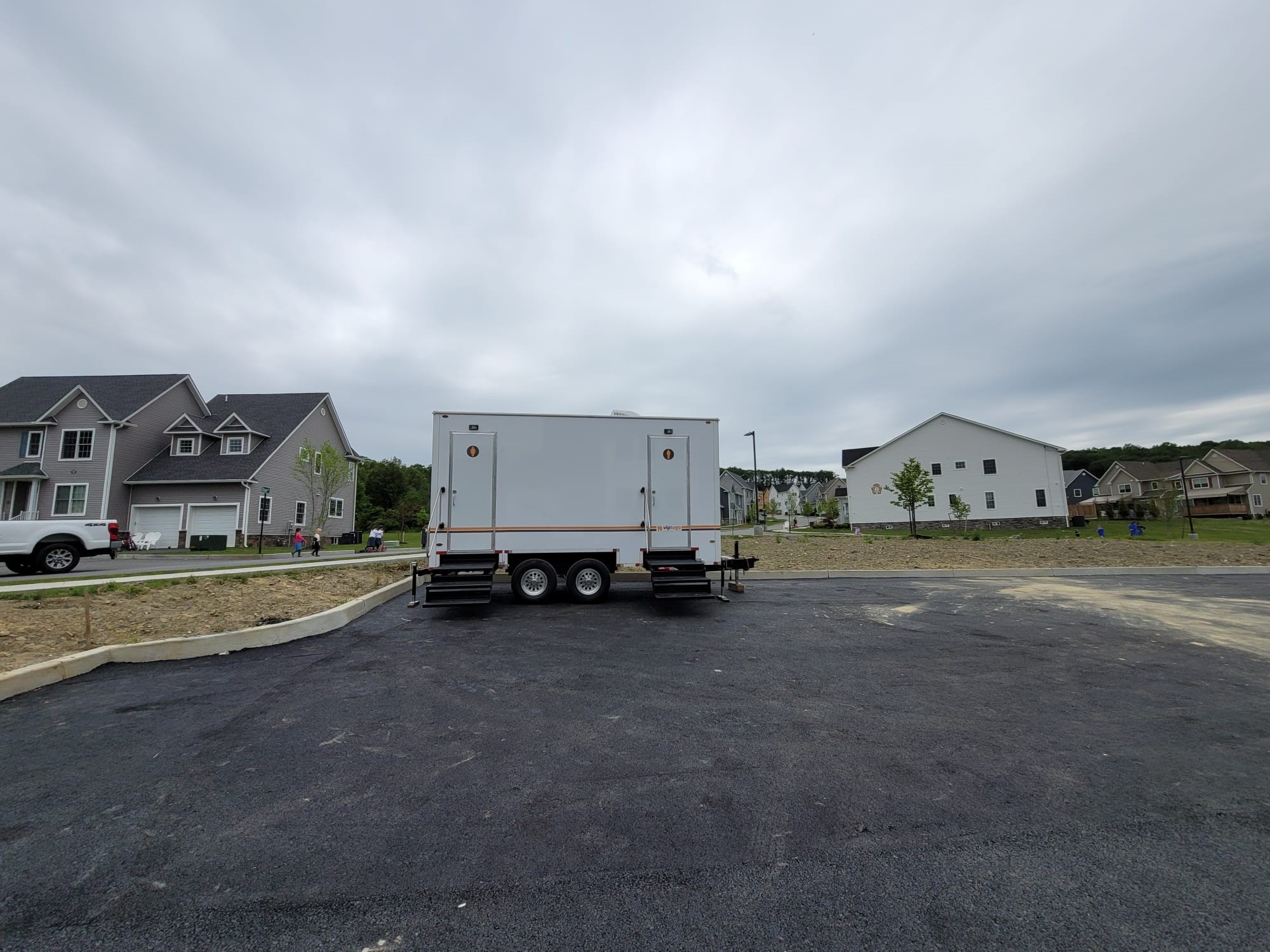 Portable Bathroom Rental Cost Variables
The cost varies based on a few different factors. Here are some questions you should be asking yourself to figure out the cost:
How many people will be at your event?
How many restroom stalls and urinals does your trailer need?
What type of trailer are you renting?
Do you have electricity and water on-site?
Will you avail yourself of bathroom attendants?
Will you need cleaning services beyond the weekly cleaning that is included in each restroom trailer?
How long is your job or event?
Answering these questions will give you a much more detailed outlook on restroom trailer prices. You can also chat with our live chat agents on the website, or reach out to us at 877.564.6977 or info@viptogo.com.