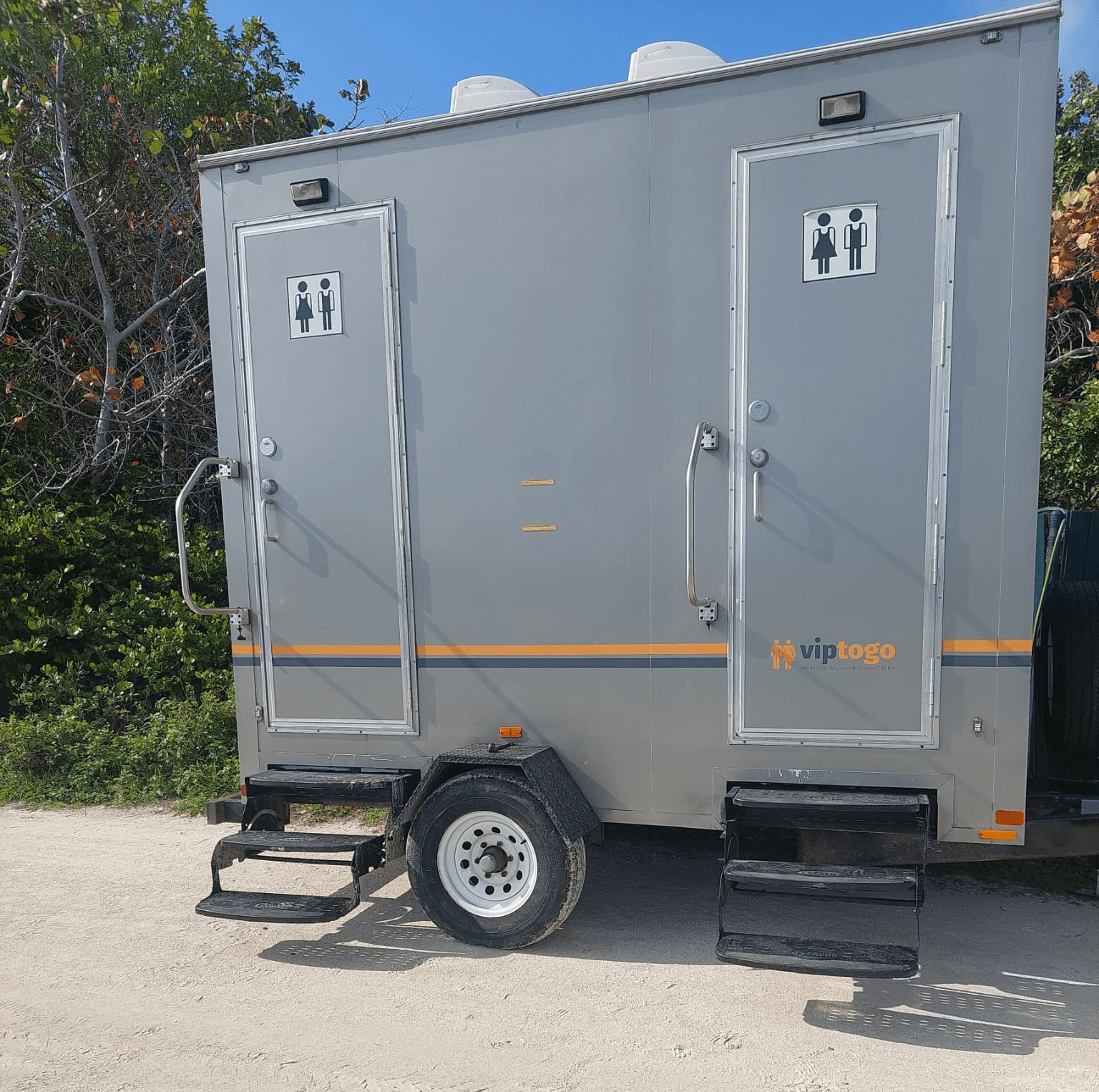 Long-term Restroom Trailer Rental in Texas Just Got Easier with VIP To Go!
If you are planning to hold an event in Texas that is going to last for a few weeks or even months, consider one of our long-term portable restroom trailers rentals options. Whether you're a construction manager looking for a portable restroom trailer for your crew, or an event planner organizing a series of outdoor weddings or parties at a venue, VIP To Go is the company to call when you need a portable restroom trailer rental in Texas.
Want to meet all your long-term restroom needs in Texas? You need the services of high-quality restroom trailer rentals Texas! And that's where VIP To Go comes in. VIP To Go is a national provider of high-end portable bathrooms, offering long-term restroom trailer rental service in Texas, so you have the best portable restrooms for your special occasion. From oil field rigs to security companies and anything in between, we have your portable restroom needs in Texas covered!
When you're looking into restroom trailer rental near Texas, VIP has many upscale options to meet your needs. Our mobile restrooms feature climate control and special heating/cooling units to remain comfortable all year long, and we're happy to deliver them to you at your convenience. So, if you want to make sure your guests or crew are comfortable when you rent long-term restroom trailers, VIP trailers will satisfy and surpass the expectations of your team. Read more about the benefits of our long-term restroom trailer rentals in Texas.
Why Choose Long-term Restroom Trailer Rental in Texas?
Are you wondering if long-term portable restroom trailers for rent, Texas are the best option for your event, project, or construction needs? You're not alone. VIP To Go understands that you may need restroom trailers for an extended time period, and you'll need maintenance and servicing during that time. We've built a part of our business around long-term rental needs, including end-to-end support and scheduled maintenance, so you don't have to worry.
Whether you are planning a construction project, a lawn replacement, a corporate function, or any other event where access to portable toilets is needed for an extended period of time, our wide range of options for restroom trailer rental near Texas could be your perfect solution! Our restroom trailer rental solution could work great for you! When you choose one of our portable toilets, you will get a wide range of benefits. Let's take a look at what you can expect when you rent one of our outdoor portable bathrooms for six weeks or more.
1.   High-end portable bathrooms
When renting portable bathrooms for long term use, you want them to be perfect. Our portable bathroom trailers in Texas range from basic trailers to ultra-deluxe mobile bathrooms that have all the features of a standard restroom.
All of our units are climate controlled and come with amenities such as flushing toilets, full-sized counters, enclosed dressing rooms with mirrors, etc. These are surely the types of bathroom trailer units you want to have for an extended period, fixed at your event venue.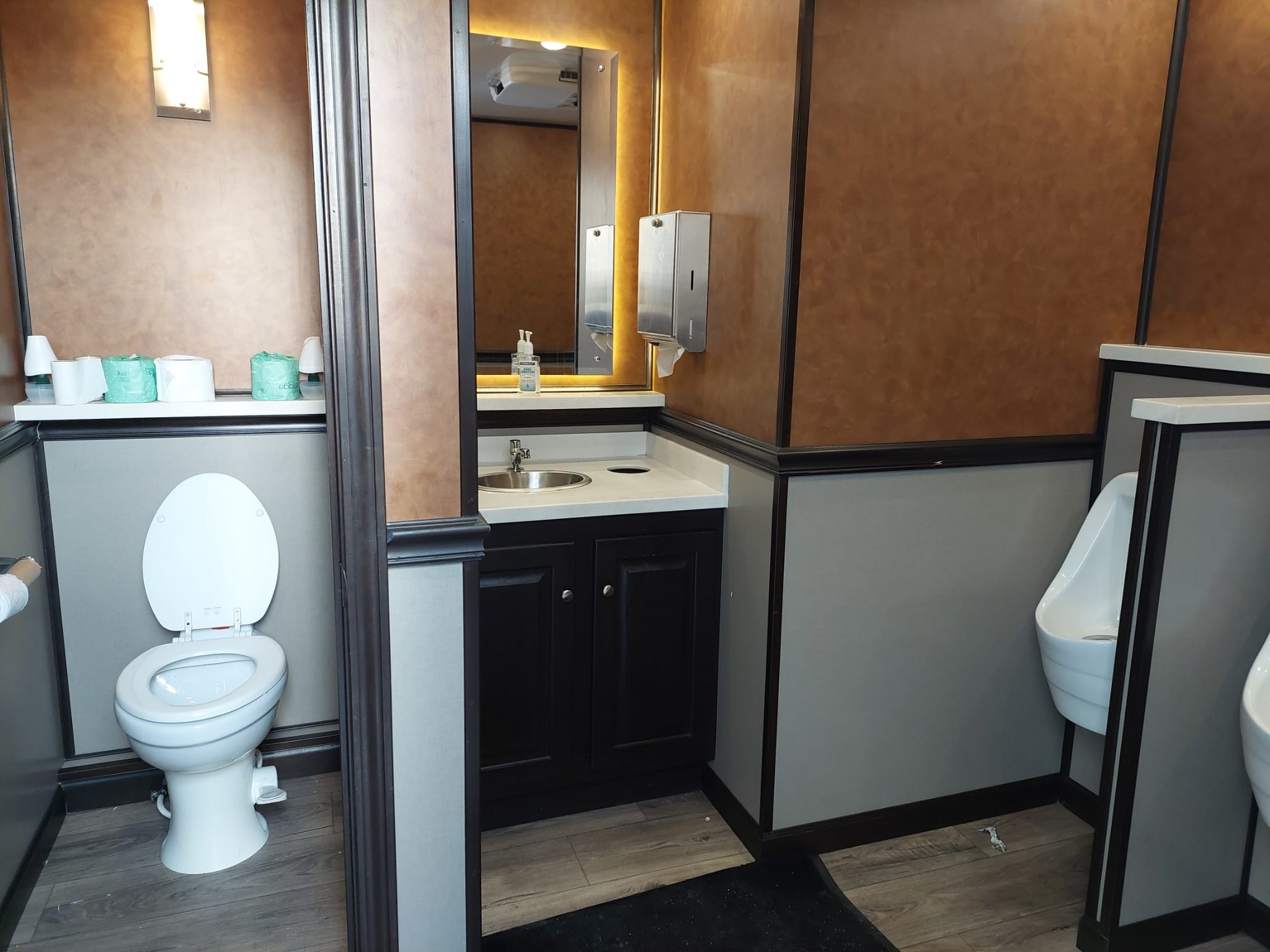 2.   Perfect restroom shower trailers
Our portable mobile restrooms are the perfect option for long-term use at construction sites, oil field rigs, or other work situations where workers remain for extended amounts of time or work with fumes and contaminants.
Not only are they built to last, but they also come with showers where your crew can freshen up and change their clothes after each day's work. Whatever the reason why you need shower trailers, you surely can't go wrong with our restroom shower trailer rentals.
3.   Better pricing for long-term needs
As an event planner, you can choose to rent bathroom trailers for long durations, like months or even years. If you do organize many different events in your city or you have a series of closely scheduled events that will last more than 6 weeks, you should opt for VIP's long-term bathroom trailer rental near Texas. This will get you a better bargain since you'll enjoy a long-term rental rate that is much lower than the daily rate.
4.   Better customization options
Sometimes, you may have specific requests for how you want your restroom trailers to be. This request is easier to make and fulfill if you're going for the long-term rental option.
If you're renting long term, we'll do our best to help you fulfill specific customization requests for the interior and exterior of our already esthetically pleasing luxury porta potties and luxury bathroom trailers.
Here's an example of how we can fulfill your customization requests. A gym in Alaska needed shower trailers that could maintain heat in the freezing outdoor temperatures. They had reached out to other vendors with their specific requests without success. When they reached out to us at VIP, we were able to work with the trailer manufacturer to custom make a trailer to meet their specific needs. All they did was ask us and we made the bathroom trailers available. So if you have any specific needs related to your restroom trailer rental near Texas, please let us know and we'll work together to see how we can best assist you.
5.   Greater convenience
If you frequently organize events in your city, it is way more convenient for you to rent a restroom trailer for the long term. You don't want to have to rent a restroom trailer afresh every time you're organizing an event. By simply renting a restroom trailer for the long term, you can have these portable bathrooms ready and available for all events you're planning.
6.   Reliable service
Texas is one of the largest states in the United States in terms of landmass, with a lot of ground to cover! Here at VIP To Go, we take care of it all, from the Red River in Amarillo down to San Antonio and El Paso, to the Gulf Coast and back up to Dallas, Fort Worth, Texarkana, and Longview, not to mention Houston.
Since Texas is so large, restroom trailer rental in Texas is more practically feasible for more efficient services when rented for the long term. This way, we can ensure that we offer consistent reliable services and you can enjoy greater convenience.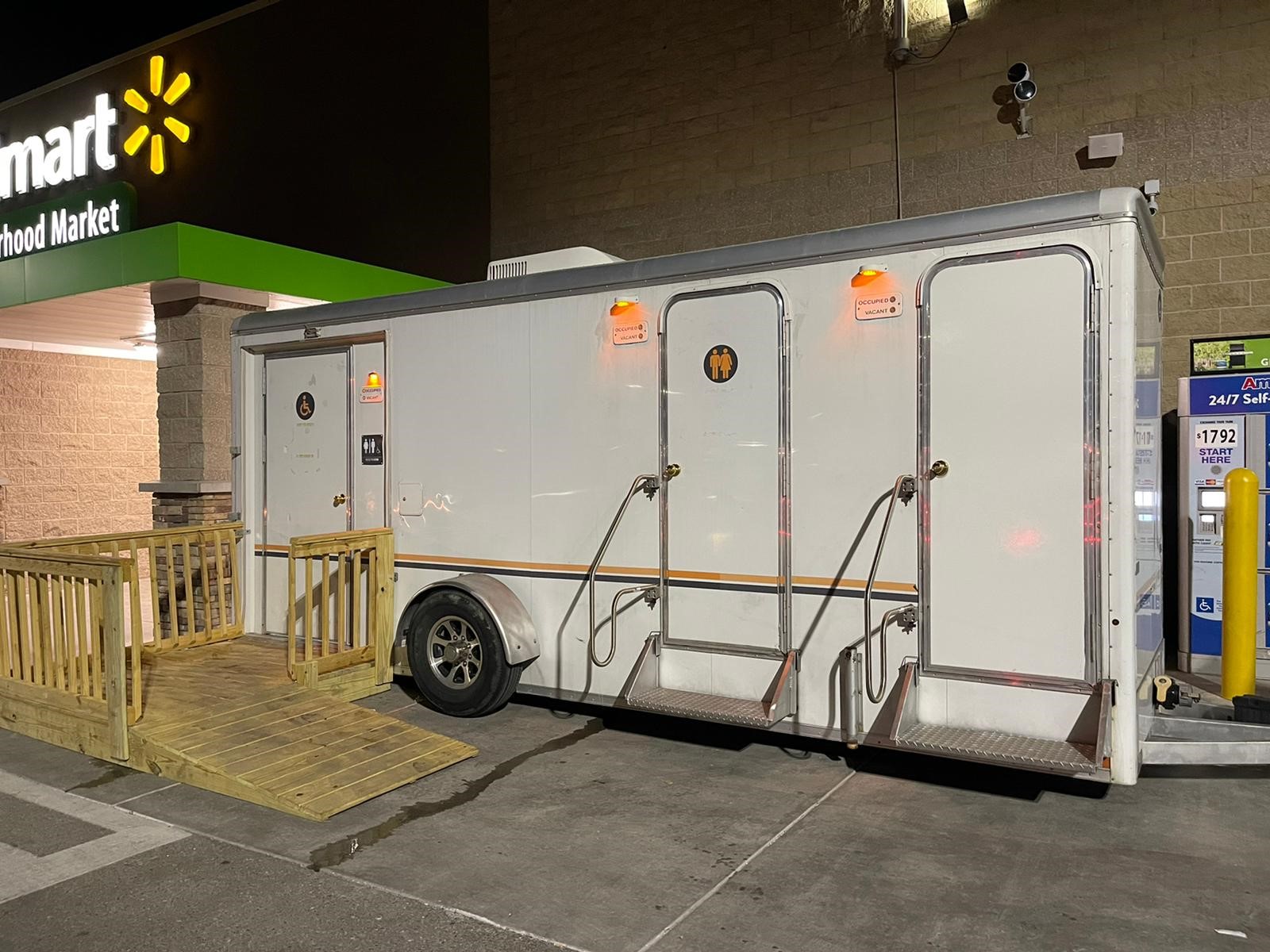 The Most Reliable Restroom Trailer Rental Near Me—VIP To Go Texas
VIP's restroom trailers are the best solution for any kind of long-term outdoor restroom trailer needs. They provide a luxurious feel and ample space, while being a more economical option than most other toilet options. But getting a reliable restroom trailer rental in Texas goes beyond making a quick "bathroom trailers near me" search. When it comes to long-term restroom trailer rentals near Texas, you need bathroom units that are sturdy and reliable.
With a sturdy and durable restroom trailer, you don't have to worry about rainstorms, high winds, sweltering heat, or other weather changes throughout the year. Luckily, if you need portable toilets for more than six weeks and for use at sporting events, concerts, festivals, and corporate events throughout the state of Texas, VIP To Go has you covered with our elegant portable restrooms that are ideal for special events or series of events that last for weeks.
Events with long-term restroom requirements in Texas can take advantage of our long-term rentals. We offer large-capacity trailers with fresh water and waste systems. You can use water from an external pressurized source or use our optional on-board fresh water tank. Whatever option you choose, we ensure that the system functions and operates like a bathroom in a residential home. The plumbing system on all our portable restroom trailers is made from corrosion-resistant materials that are strong and allow for durability, hygienic practice, and easy cleaning.
Occasions for Restroom Trailer Rental in Texas with VIP To Go
If you need portable restroom trailers for rent in Texas, there are different options you can choose from to suit your budget and purpose!
1.   Luxury bathroom rental for Events
If you're in love with luxury or want to host an event that wows your clients with top-tier bathroom experiences, our luxury mobile restroom trailer rentals will make you feel like you're in a wonderland.
Our luxury toilets are designed like upscale bathrooms! Enjoy luxury bathroom rental units that are loaded with elegant features like the custom-designed interior with beautiful solid oak trim, high gloss porcelain sinks, full length mirrors and lighting, individually locking doors on each restroom, climate control systems, pumped holding tanks, and much more.
Think luxury restroom trailer rentals are expensive? No, they're not! That's one of the restroom trailer myths you should never fall for.
2.   Construction bathroom and shower rental
Need portable bathroom trailer rentals for your construction site? We have sturdy trailer rental units that can stand whatever you throw at them. These units are great for long-term construction projects and events with temporary worker housing or on-site furniture vendors.
So, if you need sanitation facilities during the rebuilding of your home or business, or have a construction job and need a clean, comfortable place for your workers to go, you cannot go wrong with these bathroom and shower trailer options! Your crew will love having a flushable toilet, hot and cold running water, and heating and A/C!
3.   Wedding restroom rentals
Need wedding restroom rentals? Our long-term portable restroom trailer rentals for weddings, concerts, and other special events are the perfect solution. We have the perfect high end portable bathrooms for your events that are beautiful and modern.
Our restroom trailers offer the most discerning wedding guests upscale bathrooms that rival those of expensive resorts and exclusive country clubs. Our bathroom units will make your guests comfortable and genuinely pleased with your event. These units come with flushing toilets and sinks, large holding tanks, and generators (if electricity is not available) to provide your wedding guests or employees with the comforts of home even when you are in a remote location.
4.   Restroom rentals for movie sets, parties, festivals, etc.
Whether you're shooting a movie or commercial, hosting a party, planning a festival, hosting guests at a carnival or sporting event, we have the perfect bathroom rental for you at John To Go! You can choose to go with our luxury units or other restroom trailer rental near Texas to keep your actors, guests, fans, and attendees super comfortable!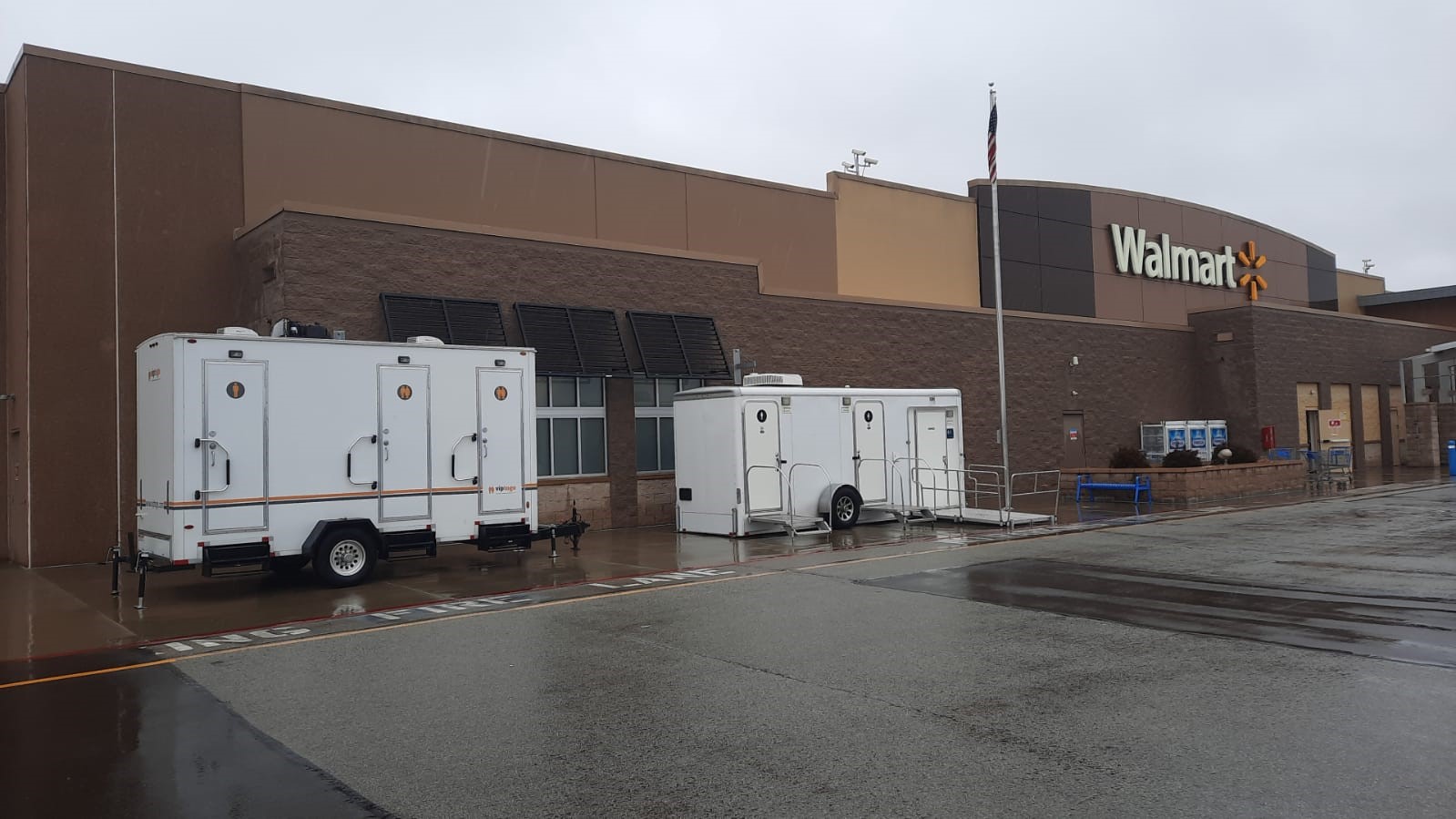 Long-term Restroom Trailer Rental in Texas Just Got Easier with VIP To Go!
Renting a long-term restroom trailer for your event ensures that everything runs smoothly for your guests. And that's why we have different portable restroom trailer models to select from, with more sinks and nicer countertops than any you've seen. We have mobile restrooms that can be used for everything from small outdoor parties to big construction projects, and we also offer full-size trailers equipped with showers and other amenities.
Whether you're hosting a party, working on a construction project, or need an extra restroom for employees during an office renovation, VIP to Go has you covered! Our portable restrooms are perfect for any event or construction project where an indoor bathroom isn't available or accessible. We help you choose trailer units to match the number of guests and seasonality of the event. The temperature-controlled interior and high-end finishes complement the exterior's durability.
VIP To Go is an industry leader and does whatever it takes to offer unparalleled services of a high standard. Whatever your event, our friendly and knowledgeable staff will work with you to find just the right portable restroom solution for your needs. We bring your restroom trailers to your location, set them up, and fully stock them with toilet paper and hand soap for the duration of your event. We also help you clean and disinfect all the toilets before, during, and after your rental period. All our units are clean, fresh, and odor-free!
You can expect several benefits when you rent a restroom trailer for long-term events in Texas. You will get a greater return on your investment. As we conveniently serve the entire Texas area for long-term portable restroom needs, you can be sure we will provide outstanding services at affordable prices. Plus, our team is available anytime, day or night, and we always arrive on time and treat your property with respect.
Give us a call now because renting our portable restroom trailers can save the day! Don't hesitate to contact the superior restroom trailer rental company today!
Read More About Restroom Trailers