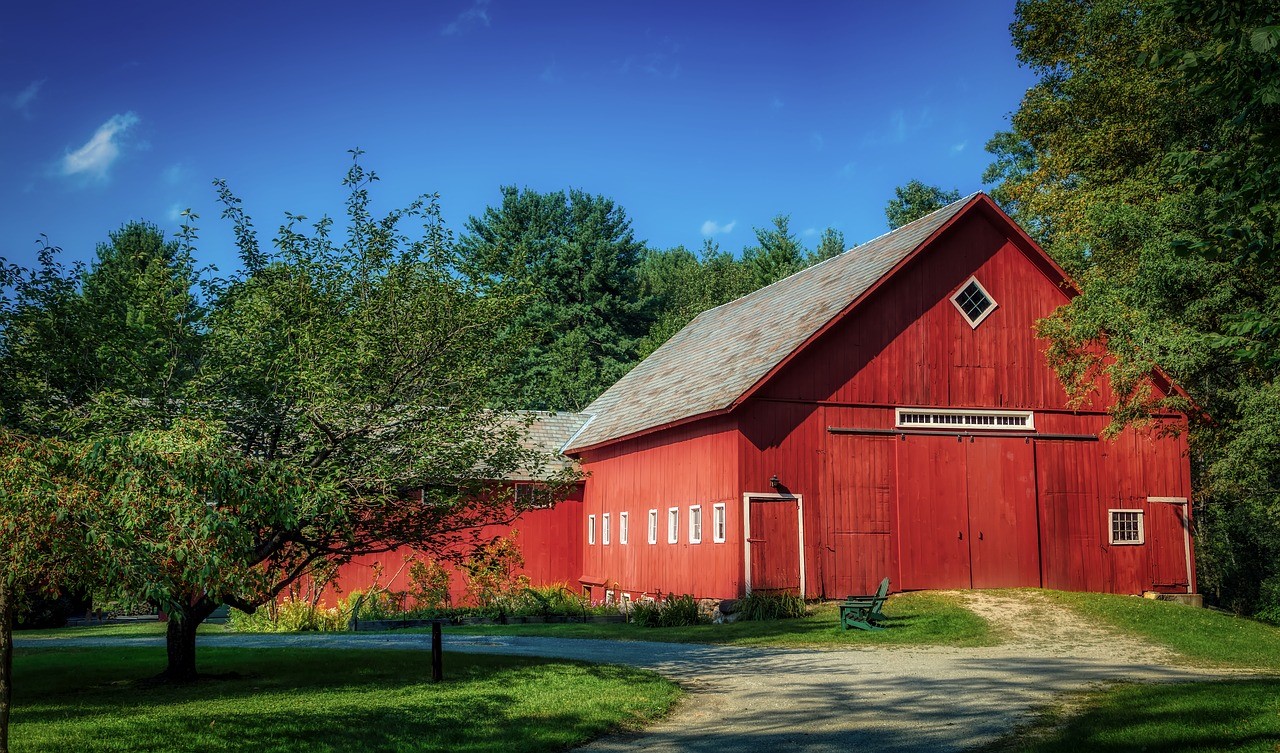 Restroom Trailer Rental In Vermont
Vermont is a beautiful state. It's known for its incredible cheddar cheese, it's delicious maple syrup, and for the many farms, artisan foods, wineries, fresh produce, and breweries that call it home.
It's a picturesque state, dotted with beautiful natural landscapes, charming cities and towns, and one of the friendliest populations in the United States.
It's also a state that hosts a number of local and national events every year, including:
Holidays at Hildene
Annual Store Winter Carnival
Brookfield Ice Harvest
Annual Magic Hat Mardi Gras Parade and Party
Brattleboro Winter Carnival
Vermont Maple Open House Weekend
And more
Vermont may be a small state, but it's also growing. Construction is booming, and events are coming back bigger and better than ever. And more and more people are interested in growing their businesses, socializing with their communities, growing the economy, and just in-general making Vermont a massive success.
And for all of these construction sites, events, and more, you're going to need portable restroom trailers on hand, to make sure that everyone has access to sanitary facilities. A lot of people don't think about portable restrooms until public restrooms aren't available; or until the crowds have grown to the point where regular restroom facilities are overcrowded.
But this doesn't have to be the reality at your event. If you need high quality, luxury, custom-designed restroom trailer rentals for your jobsite or event, VIP To Go can make it happen.
Restroom Trailer Rental In Vermont
VIP To Go is the most experienced bathroom trailer rental company in the country.
We maintain a fleet that's ready to bring mobile showers, portable restrooms, luxury bathroom trailers, and restroom trailer rental near Vermont to any job site, event site, or project site where they may be needed.
We cover restroom trailer rental Vermont services for events like weddings, movie and TV shoots, festivals, fairs, high end car shows, outdoor expos—pretty much any type of event you can imagine. If you're putting on an event, be it a short term or long term event; public or private; we've got you covered with restroom trailer rental options.
Here's why you should consider choosing VIP To Go for all of your portable restroom trailer needs in Vermont.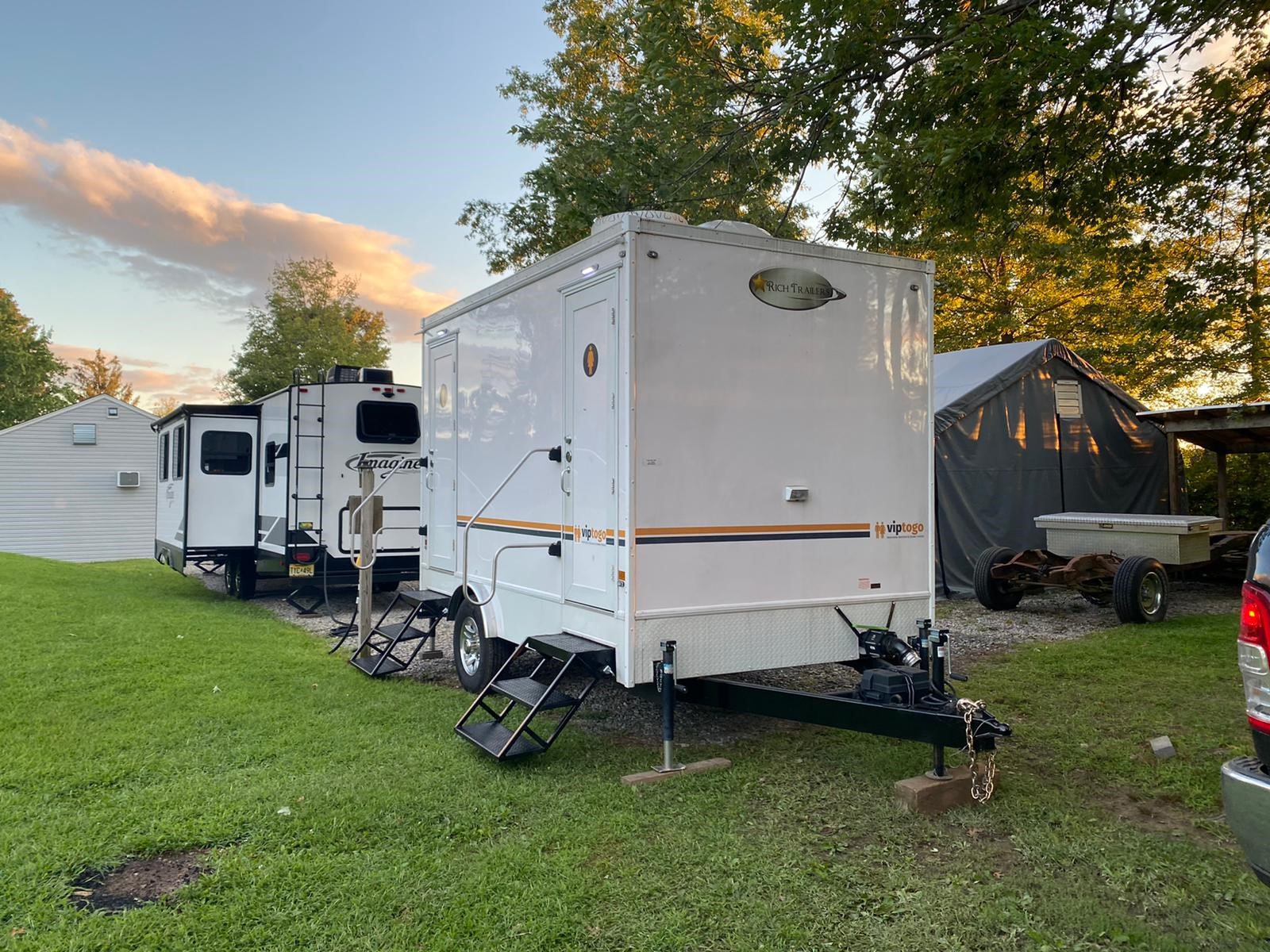 Rent Bathroom Trailers, Vermont And Surrounding Areas
If you have any event or project coming up where you're going to need portable restroom trailers, you may be typing 'restaurant trailer rental near me' or 'bathroom trailers near me' into Google to try to find a solution.
Here's the thing.
There are a few different portable restroom options available in Vermont.
But VIP To Go offers quality products and high-end services designed to meet and exceed client needs.
We're also very serious about what we do, and would love the opportunity to earn your business and help you out with your event.
With a range of luxury trailers, outdoor bathroom rentals, and even specially designed bathroom trailers for weddings (you'll find that they're a highly suitable alternative to luxury porta potties for weddings), you won't have to reinvent the wheel to make sure that sanitary ammenities are provided for your valued customers and guests.
We also service all of our units regularly. You won't have to worry about a thing.
Rent Portable Toilets In Vermont
VIP To Go can help you prepare for your event or jobsite with a range of different portable restroom options.
We offer a full, broad, complete range of restroom trailer options, including:
2 Station Trailers
3 Station Trailers
5 Station Trailers
8 Station Trailers
10 Station Trailers
Sink Trailers
Bunk Suite Trailers
ADA Trailers
Shower Trailers
Whatever your needs may be, we've got you covered in Vermont.
Check out our gallery to see exactly what we have to offer for our clients in Vermont, or fill out some basic information to get a fast, easy, zero-hassle quote.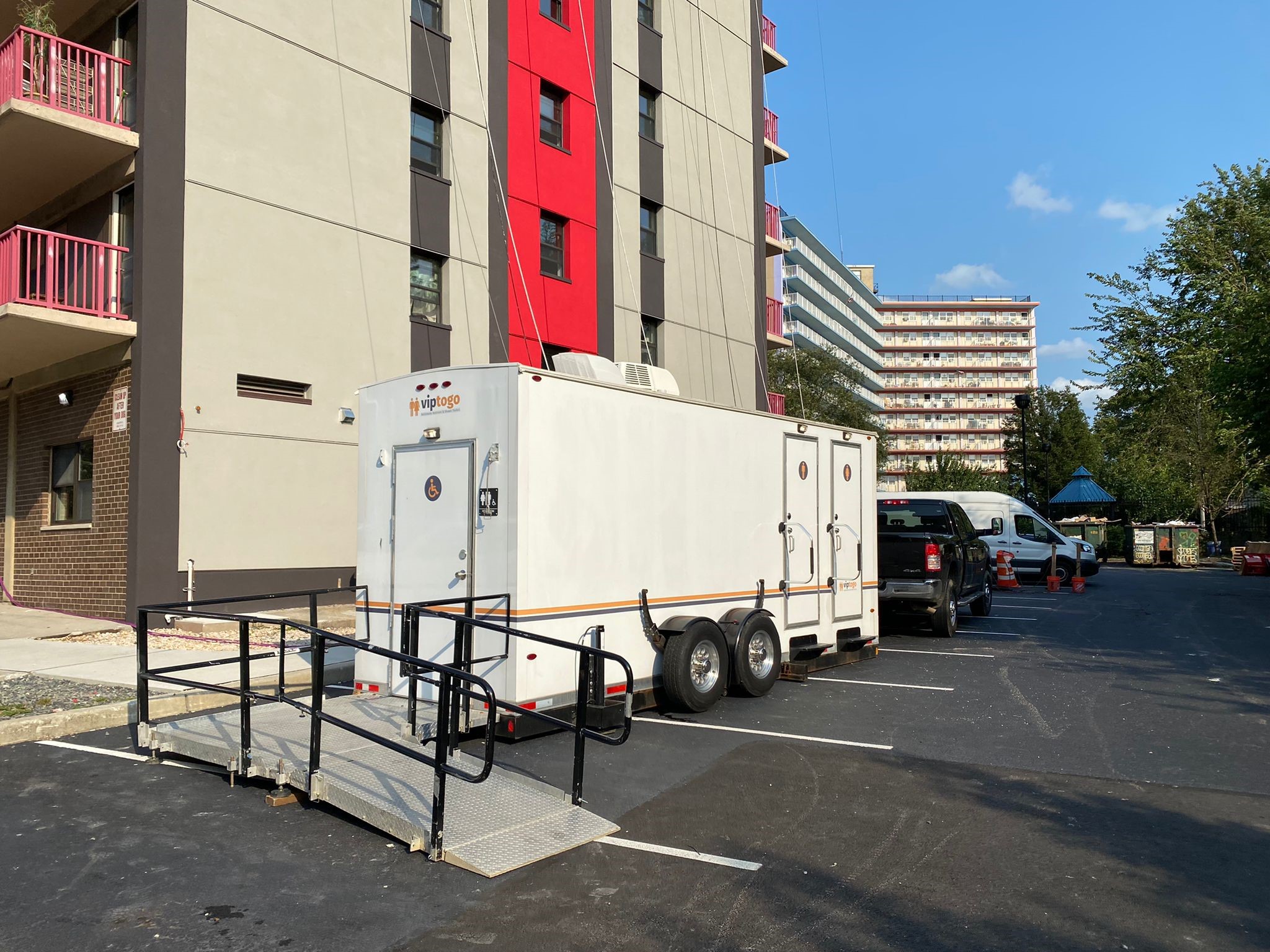 Why Choose VIP To Go For Your Vermont Portable Bathroom Rental Needs?
There are a lot of reasons to consider VIP To Go for your Vermont portable bathroom or luxury porta potty rental needs.
Let's talk about why VIP To Go is your best choice for sanitary amenities in and around Vermont.
More Than 15 Years Of Reliable Portable Restroom Service
VIP To Go has been hard at work in this industry for over 15 years.
Since 1998, we've been working our way up in the high-end luxury and commercial restroom, shower, and specialty trailer business.
And we definitely know our stuff when it comes to portable restrooms. Our bathroom trailers Vermont are top-of-the-line, and custom designed to be luxurious. They also work extremely well. Your guests will literally feel like they're in a luxurious public restroom.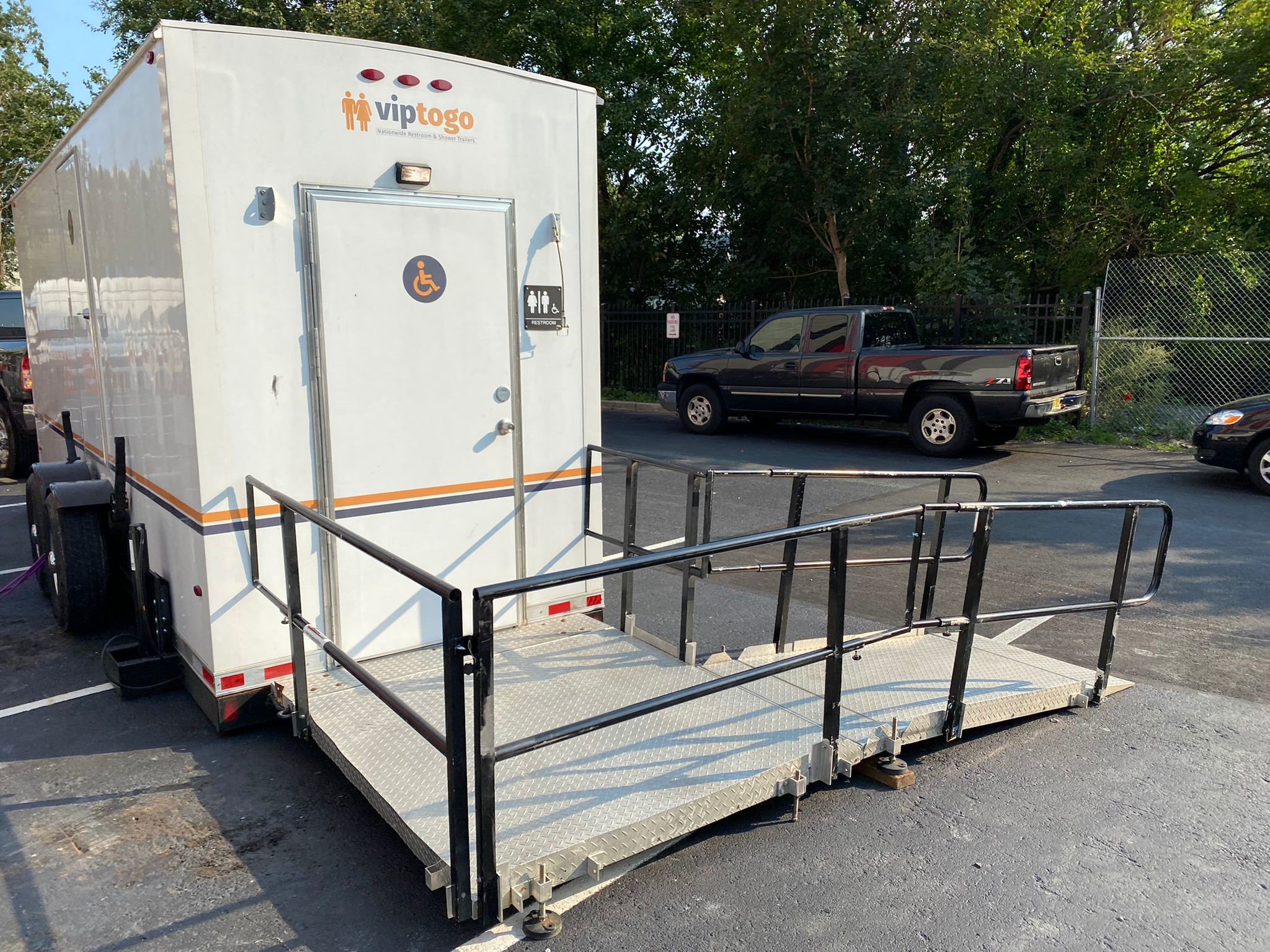 Expertise And Experience In The Field
We've worked with top-notch mechanical engineers to create first-class restroom trailers that offer a blend of style, convenience, luxury, and lavish comfort.
Our portable restroom trailers are safe and hygienic.
We own and operate one of the most diverse fleets of bathroom trailers in the country, and all of our employees are highly trained in their respective fields.
Our experiences in the business have taught us that each and every customer deserves the highest standards of quality and satisfaction—and that's exactly what we deliver.
We wouldn't have it any other way.
Diverse Product Rental Options
VIP To Go features a huge range of different types of products.
Our trailer units currently service about 60 different jobs long-term, and many of them are serviced on a daily basis.
But even if we don't have a trailer on-hand that meets your needs right now, we can custom-build one.
Check out our rental info page for more information about our broad product line of restroom trailers available in Vermont. Or, check out our portable toilet trailer rental complete guide to help you make the best product choice for you.
Customer Service That Really Helps
And finally, as if there's no other reason to choose VIP To Go, our customer service is truly top-notch.
We offer a 24 hour customer service line, all of our employees are equipped with communications equipment to keep them up to speed, and all requests and inquiries go out immediately—regardless of whether it's day or night.
Whenever you need us, we'll be there.
This is as true out in the lush countryside of Vermont as it is in the more 'metro' areas of Burlington or Essex.
We also offer long-term rental options, waste tanks with enough capacity to make sure that you'll be covered until the next waste removal visit, and fresh water tanks so that even if water isn't available, your restrooms will still be fully functional.
These are all situations that we're well-versed in, and they're just a few more details that help us to show that we care about our customers.
FAQs
How much does a portable restroom rental cost in Vermont?
Renting a portable restroom trailer for your Vermont location is actually a lot more affordable than most people realize.
Even luxury trailer options are affordable. And our prices are especially competitive.
The biggest factors that go into deciding what the final rate will be are:
The length of the rental
The size of the trailer
Which model you're renting
What kind of additional services you might need
You don't even need to have access to electricity or running water to utilize our restroom trailers. We can literally bring a generator and our own fresh water tank (filled up with water) along with the trailer, to make sure that you have everything you need.
Want a quick quote? Check out our gallery, and click 'quick quote' on whatever trailer option you're interested in.
What are my Vermont porta potta rental options?
The best way to rent a porta potty/restroom trailer in Vermont is to contact us with the specifics of your event, location, jobsite, etc. And let us tell you how we can help you.
Our customer service professionals are excellent at helping you choose the proper amenities for your event.
Let us help you make your event or jobsite a huge success.
We do short term and long term rentals. So even if you need an extended rental, we can still offer you awesome deals that'll bring sanitary amenities and restrooms to your site quickly, easily, and efficiently.
Do restroom trailers smell bad?
This is actually a very common myth about restroom trailers.
Using one of our high quality restroom trailers is a lot like using a regular public restroom.
They have air conditioning/heating, they flush, they offer a sink for hand-washing, they offer multiple stalls if you rent a trailer that offers them—and they even sport a mirror.
You'll find that these restroom trailers are quite luxurious, and capable of making your event guests or jobsite personnel feel comfortable, hygienic, and safe.
What cities/areas in Vermont do we service?
We service the entire state of Vermont with portable restroom trailer options, including the cities of: Burlington, South Burlington, Essex, Colchester, Rutland City, Bennington, and more.