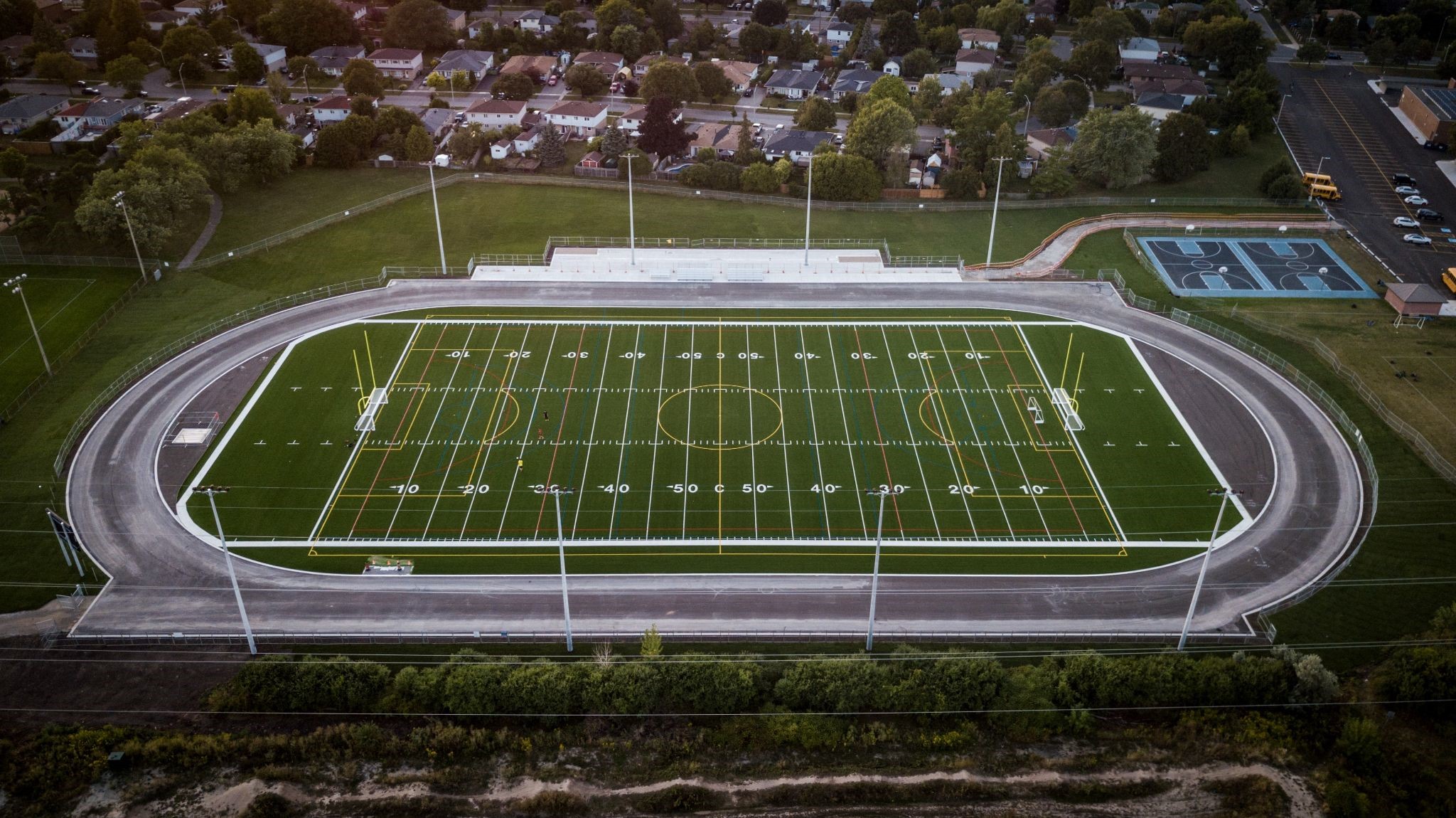 Outdoor Restrooms for Sports Fields
It can be challenging to provide safe, comfortable athletic fields for both players and spectators of college sports. It's important to maintain a safe environment for everyone involved, and one of the most essential aspects to creating this safe environment is to ensure that people have access to a restroom. On top of that, the restrooms should be clean and sanitary. Luckily, there are bathroom trailer rentals you can invest in to ensure you provide the best portable toilet for outdoor events at your sports field. Read on to find out more about your options when seeking portable restrooms for sports.
Items You Need On Your College Sports Field
Any college sports field needs to accommodate both players and spectators. Players need locker rooms or their own designated separate area, and should be kept comfortable and safe, no matter which sport they participate in. Spectators need an area to sit comfortably to watch, and ideally should have access to refreshments so that they can eat and drink as they watch the game — and cheer on their sports heroes.
Make sure that you have a nice amount of bleachers set up so that spectators have somewhere to sit comfortably, and you don't run into an issue of crowded areas. Additionally, to keep spectators separated from players, set up barricades to keep the crowd in place. Put signage into place to show the crowds where entrances and exits are located, how to find the food stand, which direction restrooms are in, and so on. You can also utilize signage to label specific areas.
College and public sports fields also need facilities. Big or small, the most important thing every sports field should have onsite is restrooms. Typically players will have their own bathrooms, separate from spectators and close to or even within their locker rooms. This way, players have easy access and won't need to walk far away from the field. Luckily, you have plenty of options when it comes to having bathrooms on your college sports field.
Setting Up Your Sports Field Portable Restroom
A bathroom trailer rental is one of the best things to make your sports field more comfortable. Make sure you invest in a large enough number of clean and convenient portable restrooms for sports so that there are no long lines of people waiting to use them.
There are a variety of restroom trailers available for rent from VIP To Go. We offer restrooms that range from basic budget restroom trailers to luxury restroom suites. These trailers are an upgrade from traditional port-a-potties, as they are bigger and cleaner, providing more space for users and making it easier to stay sanitary. They include flushing toilets and sinks with running water.
Restroom trailers are a much more comfortable version of portable toilets for outdoor events, especially for sports field visitors, because these trailer rentals are:
Odorless: VIP To Go trailers are designed to withdraw odors for a clean and comfortable space. They are also temperature controlled, and therefore keep humidity — which is a contributing factor to odors — at bay.
Large: You can think of the restroom trailer as a portable version of the type of restroom you would experience in a restaurant or store. In other words, there is plenty of space. No need to worry about closing up in a small, plastic box.
Restroom trailers ensure hygiene, thanks to running water and toilets that flush. Users can actually wash their hands instead of relying on hand sanitizer, and flushing toilets prevent the air and space from being contaminated.
Luxurious, depending on the option you choose. If you would like a fancy portable bathroom, luxury restroom suites from VIP To Go include internet access, marble-look counters, wall moldings, and more.
VIP To Go also offers ADA compliant bathroom trailers to ensure that every spectator at your field can use the restroom comfortably.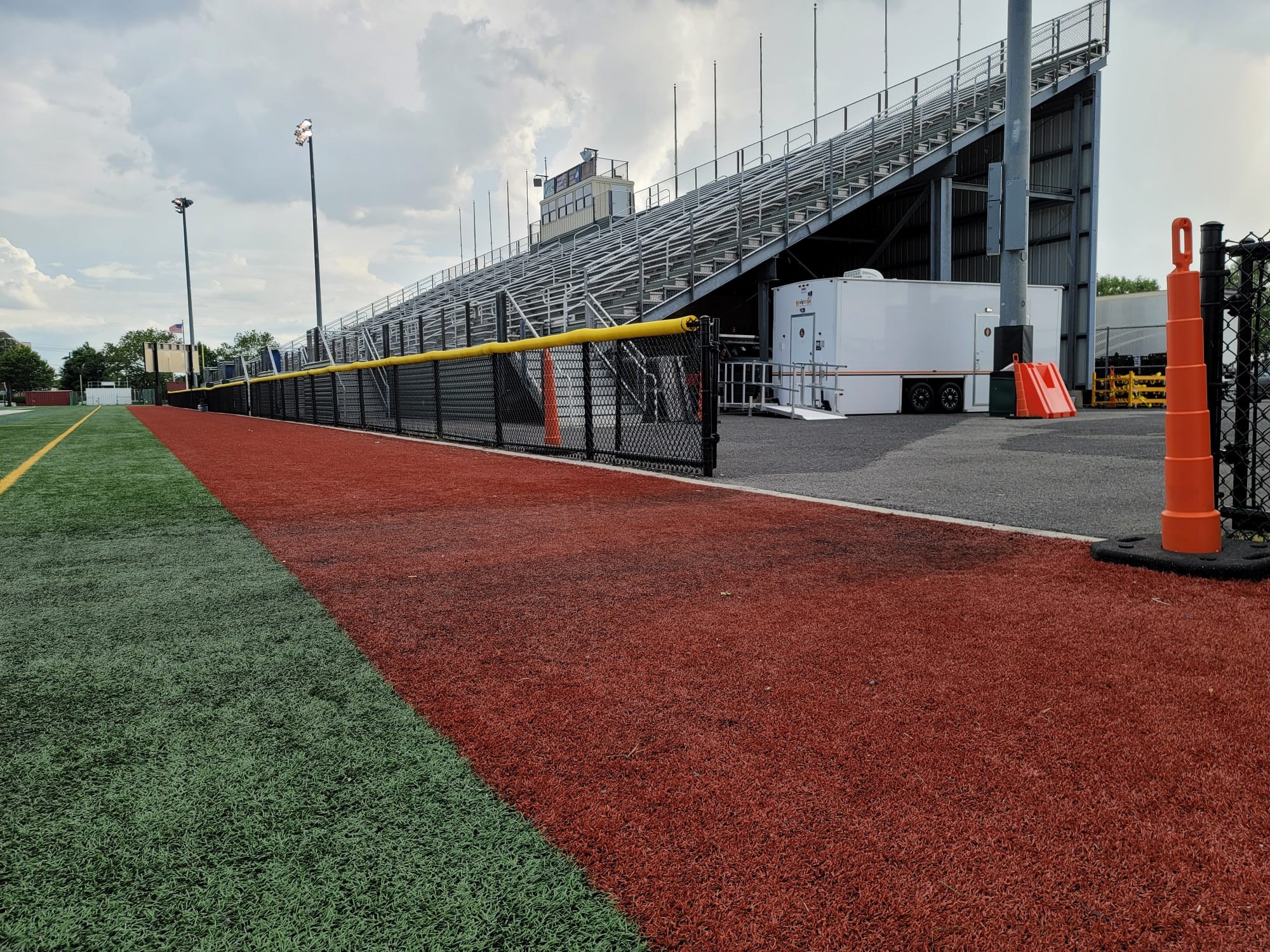 How to Keep Your Sports Field Safe
Besides ensuring comfort for your spectators and players, portable restrooms for sports fields also keep the area clean and sanitary. Portable toilets for outdoor events provide a central place for waste and will help prevent the local environment or water system from being contaminated.
Restroom trailers help you adhere to health and sanitation standards. Users can wash their hands in a sink and completely flush away their waste. VIP To Go uses a tank system to remove all waste water from the trailer itself, and the company also delivers each trailer completely cleaned and sanitized in the first place.
Since your VIP To Go trailers will be clean, you will also avoid other threats to safety, including physical hazards such as wet floors or tripping hazards. Physical safety risks are often overlooked in public restrooms, and a restroom trailer will help prevent puddles of water on the floor, cluttered spaces, or broken toilet seats, so everyone is safe as they use the restroom.
VIP To Go's restroom trailers also include heating and air conditioning, so your restrooms will be a cool space during the hot summer. A common issue with traditional port-a-potties is that there is no airflow, leading to a hot, stuffy, smelly interior that users can't stand for more than a minute or two. Restroom trailers that have AC built in ensure that even during those hot summer days, users can step into a cool and clean space.
Restroom Trailer For Sports Players
Players need a restroom before, during, and after their games. Set up portable restrooms for sports close to the players' locker rooms or other designated areas where teams gather. With VIP To Go sports bathrooms, players will get a five-star treatment as their portable restrooms for sports smell nice, are clean, and are fully sanitized.
Players will probably enjoy having designated restrooms all to themselves. VIP To Go ensures privacy and provides classy facilities that you can designate for athletes only. The players will have a private space to refresh, relax, or cool down on a hot day. Each VIP restroom trailer is simply white and unmarked so people passing by can't tell it's a restroom, and the players won't have to worry about sharing their facilities with anyone else.
Restroom For Sports Spectators
Take care of everyone who visits your sports field by providing portable toilets for spectators as well. VIP To Go restroom trailers will arrive at your field clean, fresh, and ready to be used. A trailer can be leveled, so you don't even need level ground as you would for traditional port-a-potties. VIP To Go also provides generators and clean water sources if needed. Whether you want to provide a luxurious experience or just supply the basics, VIP To Go has all types of bathroom trailers for you.
Portable Showers at Sports Fields
VIP To Go also provides combo restroom trailers that feature a combination of bathroom stalls and showers. In this trailer, you'll find a flushable toilet, sink with running water, and hot-water showers. These combo bathroom trailer rentals are an excellent option for sports fields, as you can offer athletes the ability to shower onsite. Athletes commonly need to shower after their sports event, for several reasons:
It helps the recovery process. Hot or cold water helps athletes reduce the chance of sore muscles.
It enhances hygiene. Getting completely clean removes oil, dirt, and sweat and prevents the spread of disease between athletes.
It helps athletes regulate their core temperatures.
VIP To Go Restroom Trailer Rental for Your Sports Field
Sports fields host fun events for both athletes and spectators. When people are at your sports field enjoying an event, the last thing they want to do is run around looking for a toilet during the game.
VIP To Go makes it super simple for you to find a restroom that will fit your needs. Use our super-simple quote and booking system to get a price and see all that is included. All you have to do is put in your area of service, the dates you need service for, and the type of bathroom trailer you want to rent. You'll get an accurate quote, along with the many small details about the amenities that VIP To Go includes with each restroom rental.
If you still have a questions about our portable restrooms for sports, you can either reach out to us by phone at 877.564.6977 or email us at info@viptogo.com. You can also chat with our live chat agents 24 hours a day. They can help you get a quote or book a restroom.
FAQ About Outdoor Restrooms for Sports
How do I make sure my sports field is safe?
To make sure your sports field is safe, provide portable restrooms for sports players and spectators. These restrooms should be clean, sanitary, and spacious. One of the best things to do is invest in a portable bathroom trailer that has a flushable toilet and includes a sink with running water, so people can wash their hands and waste is safely stored. Providing designated players-only restrooms helps maintain separation between athletes and sports field visitors so athletes have the facilities they need.
How do I keep outdoor portable bathrooms clean?
When you rent a restroom trailer from VIP To Go, your portable outdoor bathroom will be delivered cleaned and sanitized. VIP To Go provides weekly cleaning, and if you find it necessary, you can request more frequent cleaning. What this means for all sports coaches and sport field managers is that you never have to worry about the cleanliness and hygiene in your restroom trailers..
Do I need a shower on my college sports field?
It's not absolutely required that you have a shower on your field, but showers do benefit athletes. Showers offer the opportunity to get completely clean after participating in a physically difficult sports event and enhance overall hygiene. Some athletes also need showers immediately after their events because showers help their recovery process. You likely don't need showers for spectators, but it's a nice gesture to include showers for the players.