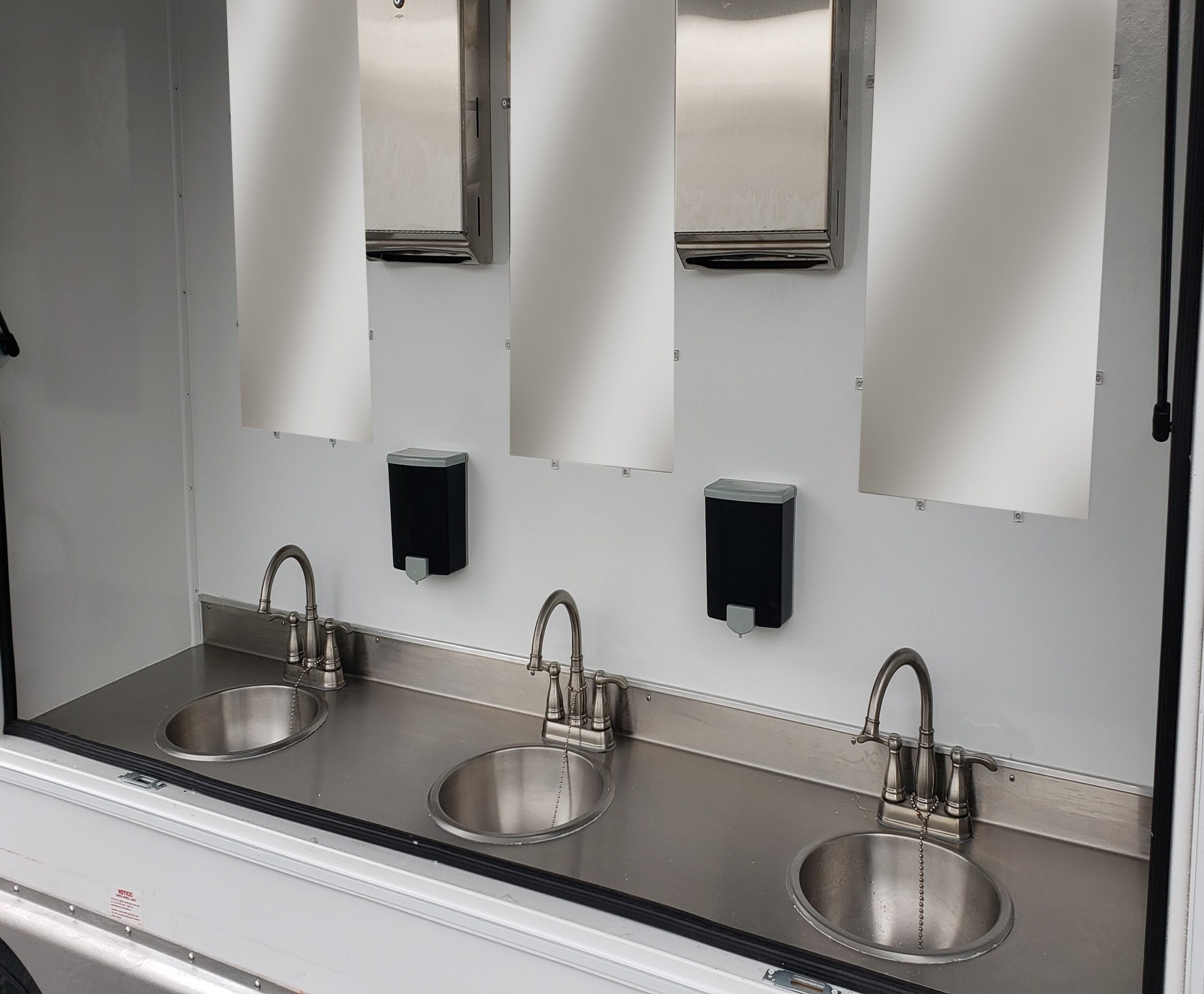 Bathroom Trailer Rental with VIP To Go
Are you looking to rent a bathroom trailer? VIP To Go's bathroom trailer selection makes getting a bathroom easy. Luxuriant, affordable, and with better sanitation than your blue-box portable potty, your bathroom trailer rental experience will never be the same again.
What Does It Take to Rent a Bathroom Trailer?
People balk at the prospect of finding bathroom trailers for rent, but there's no need. VIP To Go makes finding a portable restroom for rental a breeze. To make a booking or arrange for a quote, look no further than our homepage, where our prompts will coach you through the process.
There, you'll find a range of portable restroom options from fancy toilets to royal restrooms, as well as standard portable potty trailer units. Whatever model you choose, all our bathroom trailer units arrive clean and sanitized, without the dreaded portable potty smell. All restroom trailers are thoroughly cleaned between engagements, and because our units flush waste to outside storage tanks, there's no risk of odor building up during an event.
All our bathroom trailer rentals are fully stocked with enough toilet paper and paper towels for the booking duration to take some of the stress off you. We base the amount of supplies on the number of guests attending and add in extra materials in case of emergencies or unforeseen additional guests.
When Are Bathroom Trailers Used?
Bathroom trailer rentals can accommodate a variety of functions. VIP To Go's portable bathroom trailers are for everything from weddings to military bases and temporary office environments to drilling sites. VIP To Go has a portable bathroom trailer for every occasion.
What Type of Trailers for Bathrooms Are There?
VIP To Go's mobile bathrooms and bathroom trailers come in various sizes and shapes depending on the number of people you are catering to and the kind of space hosting your portable potty.
Combining luxury, affordability, and outstanding customer service, VIP To Go offers a wide range of portable shower trailers and bathroom trailer rentals.
To help find the bathroom trailer rental that's right for you, VIP To Go offers the following sizes:
VIP 2 Stations: 1 urinal, 2 stalls, 2 sinks

VIP 5 Stations: 1 urinal, 2 sinks, 4 stalls

VIP 8 Stations: 2 urinals, 3 sinks, and 6 stalls.

VIP 10 Stations: 3 urinals, 4 sinks, and 7 stalls
In addition to standard portable toilet rentals, VIP To Go also offers shower rentals, ADA compatible bathroom trailers, and private mobile units to pair with your bathroom trailer rental for additional comfort.
These include:
VIP Sink Trailer: 12 sinks with hot and cold running water, mirrors, and paper dispensers

VIP Bunk Suit Trailer: 12 mattresses, personal tv, private entry 

VIP ADA Trailer: 1 ADA compliant stall, 5 sinks, and 4 standard stalls
Shower Trailers
The VIP To Go shower trailers also come in various sizes and units to meet our customers' needs. Shower trailer rental options include:
8-shower unit: 8 showers, 2 sinks, 0 stalls

6-Station Restroom Shower Combo: 6 showers, 6 sinks, 6 stalls

3-Station Restroom Shower Combo: 3 showers, 3 sinks, 3 stalls

2-Station Restroom Shower Combo: 2 showers, 2 sinks, 2 stalls
All these trailers come in three different styles:
Rolls Royce

Vegas

Stylish
VIP To Go also includes options to add luxury comforts to your trailers, such as fireplaces, sound systems, Wi-Fi, and heating and air conditioning. Ask about adding indoor luxuries to your bathroom trailer rental when you order, both through the website and over the phone with our customer support team.
What About Water?
VIP To Go's standard bathroom trailers all run off of your regular garden hose with a minimum of 40psi and a flow rate of 5 gallons per minute.
If you don't have access to a hose, though, don't worry. All the VIP To Go trailers come with a substantial inbuilt onboard water tank. Its generous proportions should be more than enough to make sure you and everyone who has access to your bathroom trailer have access to clean, running water.
Do I Need My Own Electricity?
When you're renting one of our portable bathroom trailers, electricity certainly helps but isn't crucial. VIP To Go's portable bathroom trailers and portable shower bathroom trailers require access to at least two 20amp power circuits. However, if this isn't something you have access to, our mobile bathroom trailers can also run off a gas generator.
VIP To Go also needs to know if you require onboard water or a generator to guarantee we meet your needs. Make sure you let our customer service department know when you place your order through the website or over the phone. They're only too happy to help!
Do I Get My Bathroom Trailer Delivered?
VIP To Go has a wide range of mobile toilets, portable potties, and industrial bathroom trailers ready and waiting for your order. With fleets of mobile trailers and portable bathroom trailers close to most metropolitan areas, delivery is fast, reliable, and efficient, even when you place an order at short notice.
When VIP To Go delivers a bathroom trailer to you, we also send a representative and set-up agent to liaise with the driver and oversee set-up, ensuring your portable bathroom trailer rental is working to your satisfaction.
Before delivery, VIP To Go offers free site walks with all our bathroom trailer rentals to help make your event planning and management effortless.
We schedule the deliveries between Sundays and Fridays with a 2-hour window to help you plan your day around us. For an additional fee, you can also arrange same-day delivery of your bathroom trailer.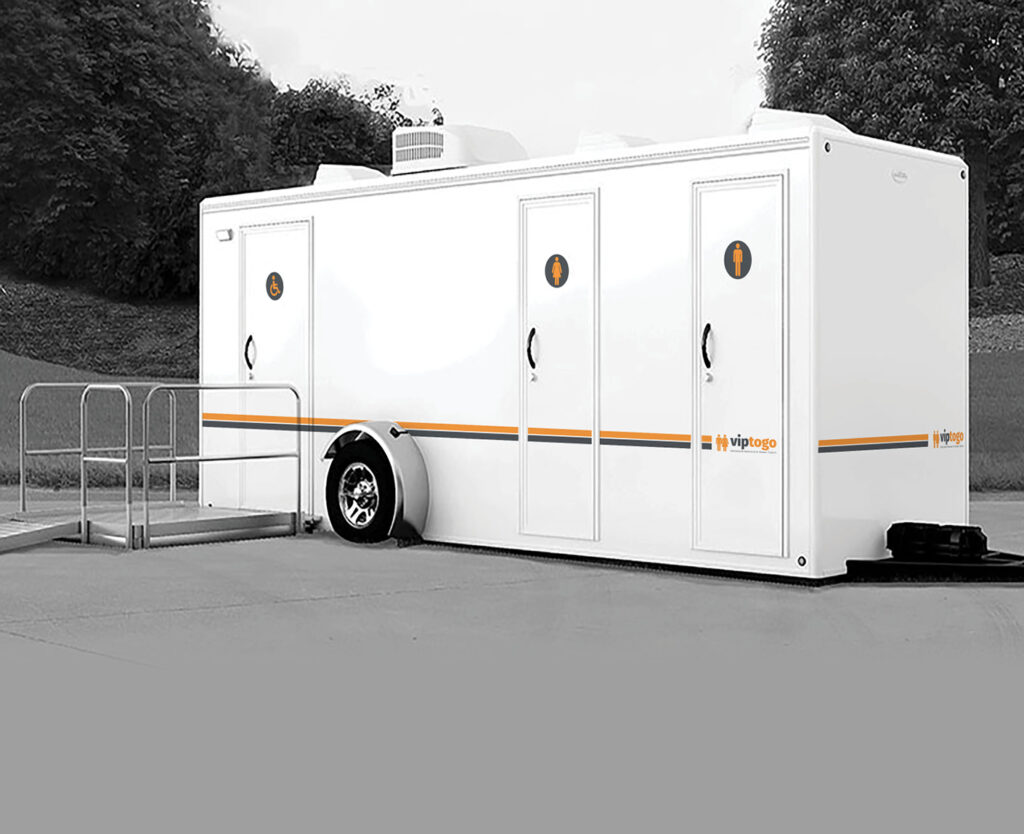 How Many People Can Fit in My Bathroom Trailer?
Just as our portable toilets vary from station to station, so does the number of people they can comfortably cater to. Our smallest station, the VIP 2-Station bathroom trailer rental unit, is suitable for 101-150 people.
At the other end of the spectrum, the 10-Station unit can serve between 500-1150 people. Whatever the size of the portable bathrooms you opt for, though, we recommend the number of people in your portable potty rental be equal to the number of stalls and urinals present.
How Is My Bathroom Trailer Cleaned?
Our incredible employees thoroughly clean all VIP To Go's portable restrooms and shower trailers in between engagements. None of our products is heavily perfumed. However, your mobile restrooms will look – and smell – luxurious both inside and out with our in-depth cleaning process.
Not only that, but we replace all bathroom trailers every 12-18 months to prevent severe breakdown and malfunction. The trailer you're getting will never be more than a year and a half old.
Who Cleans My Bathroom Trailer?
VIP To Go provides four staff members to keep your portable shower bathroom trailers and mobile toilets spotless for an additional hourly rate. This service requires a minimum of four hours of attendance.
How Much Does a Bathroom Trailer Rental Cost?
Several factors influence the bathroom trailer rental prices. VIP To Go offers both short and long-term rentals. Consequently, how long you book your bathroom trailer for, the type of portable bathroom trailer, and any luxury and/or additional services you opt to include all affect the final cost.
When looking at prices for bathroom trailers, though, it's important to remember what goes into your quote. Many companies offer quotes while omitting the cost of extra add-ons and hidden services. When VIP To Go gives you a quote for a portable restroom hire, it includes everything; shipping, on-site inspection if necessary, delivery and set up, pick up, and liability insurance. The only extra is tax, and that's out of our control.
Finally, should you change your mind, VIP To Go currently offers a full refund as a COVID Courtesy provided you cancel within 24 hours.
Final Thoughts
With all that in mind, next time you go to rent a bathroom trailer, look no further than VIP To Go.
Booking is easy, standards are high, and options are wide and varied. We can even customize your portable restroom to meet your needs if you can't find something that meets your needs.
For more in-depth information, visit our bathroom trailer guide and find any lingering questions answered. Our nation-wide fleet is ready when you are.