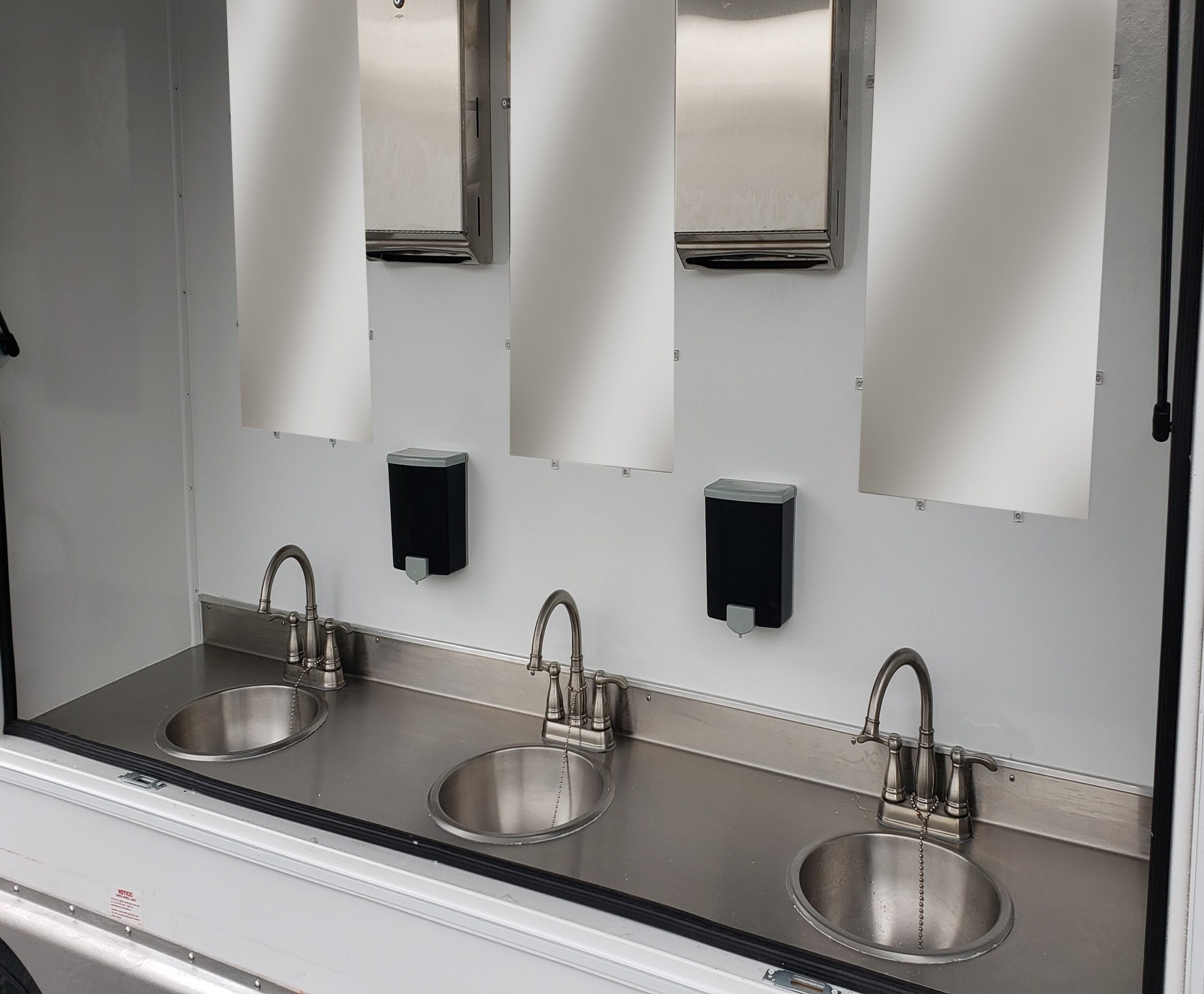 Bathroom Trailer Rental with VIP To Go
Are you looking to rent a bathroom trailer? VIP To Go's bathroom trailer selection makes getting a bathroom easy. Luxuriant, affordable, and with better sanitation than your blue-box portable potty, your bathroom trailer rental experience will never be the same again.
What Does It Take to Rent a Bathroom Trailer?
People balk at the prospect of finding bathroom trailers for rent, but there's no need. VIP To Go makes finding a portable restroom for rental a breeze. To make a booking or arrange for a quote, look no further than our homepage, where our prompts will coach you through the process.
There, you'll find a range of portable restroom options from fancy toilets to royal restrooms, as well as standard portable potty trailer units. Whatever model you choose, all our bathroom trailer units arrive clean and sanitized, without the dreaded portable potty smell. All restroom trailers are thoroughly cleaned between engagements, and because our units flush waste to outside storage tanks, there's no risk of odor building up during an event.
All our bathroom trailer rentals are fully stocked with enough toilet paper and paper towels for the booking duration to take some of the stress off you. We base the amount of supplies on the number of guests attending and add in extra materials in case of emergencies or unforeseen additional guests.
When Are Bathroom Trailers Used?
Bathroom trailer rentals can accommodate a variety of functions. VIP To Go's portable bathroom trailers are for everything from weddings to military bases and temporary office environments to drilling sites. VIP To Go has a portable bathroom trailer for every occasion.
What Type of Trailers for Bathrooms Are There?
VIP To Go's mobile bathrooms and bathroom trailers come in various sizes and shapes depending on the number of people you are catering to and the kind of space hosting your portable potty.
Combining luxury, affordability, and outstanding customer service, VIP To Go offers a wide range of portable shower trailers and bathroom trailer rentals.
To help find the bathroom trailer rental that's right for you, VIP To Go offers the following sizes:
VIP 2 Stations: 1 urinal, 2 stalls, 2 sinks

VIP 5 Stations: 1 urinal, 2 sinks, 4 stalls

VIP 8 Stations: 2 urinals, 3 sinks, and 6 stalls.

VIP 10 Stations: 3 urinals, 4 sinks, and 7 stalls
In addition to standard portable toilet rentals, VIP To Go also offers shower rentals, ADA compatible bathroom trailers, and private mobile units to pair with your bathroom trailer rental for additional comfort.
These include:
VIP Sink Trailer: 12 sinks with hot and cold running water, mirrors, and paper dispensers

VIP Bunk Suit Trailer: 12 mattresses, personal tv, private entry 

VIP ADA Trailer: 1 ADA compliant stall, 5 sinks, and 4 standard stalls
Shower Trailers
The VIP To Go shower trailers also come in various sizes and units to meet our customers' needs. Shower trailer rental options include:
8-shower unit: 8 showers, 2 sinks, 0 stalls

6-Station Restroom Shower Combo: 6 showers, 6 sinks, 6 stalls

3-Station Restroom Shower Combo: 3 showers, 3 sinks, 3 stalls

2-Station Restroom Shower Combo: 2 showers, 2 sinks, 2 stalls
All these trailers come in three different styles:
Rolls Royce

Vegas

Stylish
VIP To Go also includes options to add luxury comforts to your trailers, such as fireplaces, sound systems, Wi-Fi, and heating and air conditioning. Ask about adding indoor luxuries to your bathroom trailer rental when you order, both through the website and over the phone with our customer support team.
What About Water?
VIP To Go's standard bathroom trailers all run off of your regular garden hose with a minimum of 40psi and a flow rate of 5 gallons per minute.
If you don't have access to a hose, though, don't worry. All the VIP To Go trailers come with a substantial inbuilt onboard water tank. Its generous proportions should be more than enough to make sure you and everyone who has access to your bathroom trailer have access to clean, running water.
Do I Need My Own Electricity?
When you're renting one of our portable bathroom trailers, electricity certainly helps but isn't crucial. VIP To Go's portable bathroom trailers and portable shower bathroom trailers require access to at least two 20amp power circuits. However, if this isn't something you have access to, our mobile bathroom trailers can also run off a gas generator.
VIP To Go also needs to know if you require onboard water or a generator to guarantee we meet your needs. Make sure you let our customer service department know when you place your order through the website or over the phone. They're only too happy to help!
Factors to Consider When Renting a Bathroom Trailer
Renting a bathroom trailer requires careful consideration of various factors to ensure that the chosen solution aligns perfectly with the specific needs of your event. Here are some crucial aspects to keep in mind:
User Capacity and Event Duration: Estimating the number of guests expected at your event is the first step in determining the size and quantity of bathroom trailers needed. Consider both the total attendance and peak times to avoid long queues. Also, factor in the event's duration – a longer event may require more or larger trailers to accommodate continuous use.
Location and Site Requirements: The placement of the bathroom trailers is pivotal. Check the event site for suitable locations that are easily accessible to guests while ensuring privacy. Essential utilities like power and water hookups are necessary for the operation of the trailers, so ensure these are available at the site. If the location is remote, consider trailers with self-contained water and electric sources.
Budget and Cost Considerations: Budgeting for bathroom trailer rentals includes more than just the base rental cost. Be aware of additional expenses such as delivery charges, setup fees, and maintenance costs. Some companies might also charge extra for services like frequent cleaning or emergency support. Compare quotes from different providers to find the best deal that fits within your budget.
Specific Needs and Preferences: Tailor the bathroom trailer rental to the nature of your event. If your event requires compliance with the Americans with Disabilities Act (ADA), make sure to rent trailers that are ADA-compliant.
Weather and Seasonal Considerations: The time of year and expected weather conditions can influence your choice of bathroom trailers. In hot climates or summer events, air-conditioned units can provide much-needed relief, while in colder weather, heated trailers ensure comfort.
Taking the time to thoroughly evaluate these factors will not only help in selecting the most suitable bathroom trailer rentals for your event but will also contribute significantly to the overall comfort and satisfaction of your guests.
Process for Mobile Bathroom Trailer Rental
When you're looking to rent a bathroom trailer, the process for renting a mobile bathroom trailer typically involves several steps. Begin by researching rental companies that offer the type and size of trailer you need. Once you've identified potential providers, obtain quotes and compare prices and services. After selecting a company, make a reservation, confirming availability for your event dates. The rental agreement will likely detail delivery, setup, and breakdown procedures, as well as any necessary permits or site preparations required. It's important to coordinate closely with the rental company to ensure smooth operation and compliance with any local regulations.
Sanitary Practices and Maintenance for Bathroom Trailer Rentals
Maintaining cleanliness and sanitary conditions in bathroom trailer rentals is essential when using bathroom trailers. Rental companies usually provide initial setup and cleaning, but regular maintenance during the event is the only way to ensure a spotless bathroom trailer rental throughout the event. This includes proper waste management, frequent cleaning and restocking of supplies, and ensuring the trailers are functioning correctly. Using eco-friendly cleaning products and managing waste responsibly are also important considerations for minimizing environmental impact. It's advisable to establish a cleaning schedule and assign responsibilities to ensure sanitary bathroom trailer rentals for users throughout the entire event.
Rental Options and Packages for Bathroom Trailers
VIP To Go offers a comprehensive range of rental options and packages to cater to various event types and client needs. Here are some insights into our offerings:
Diverse Rental Durations: Whether you need a bathroom trailer for a few hours, a full day, on a long-term basis, or even open-ended, VIP To Go provides flexible rental durations to match your specific event requirements, with reduced rates ob longer-term use.
Range of Trailer Sizes: We carry a diverse range of portable bathroom trailers for rent to cater to events of all scales, with options ranging from compact 2-station trailers to expansive 10-station trailers. These versatile options are designed to comfortably accommodate anywhere from 100 to over 1000 guests, ensuring that every event, whether small or large, has adequate and luxurious bathroom trailer rentals.
Range of Trailer Styles: From basic units to luxury trailers, we offer a selection of bathroom trailers, each with its unique features and amenities

Rolls Royce Style Trailers: These trailers are the epitome of luxury, offering the highest level of amenities for restroom rentals. They feature luxury lighting, counters with a marble look, high-end sinks, and more, making them perfect for black-tie events. Guests are often impressed by the high-end, luxurious experience these Rolls Royce models provide.
Vegas Style Trailers: The Vegas trailers combine comfort with efficiency, featuring white marble designs, posh lighting, and stylish sinks. These trailers offer an upscale and convenient restroom experience, adding a touch of elegance to any event.
Stylish Trailers: For standard restroom needs, the Stylish trailers offer clean and comfortable facilities. Equipped with LED exterior and ceiling lights, black and white marble floors, and clean stainless steel sinks, they provide basic comforts with additional upscale features.

Additional Services: VIP To Go also offers additional services that enhance the rental experience. These can include on-site attendants for ongoing maintenance and cleaning, customized branding for corporate events or weddings, and bathroom attendants to keep the facilities clean for the duration of the event.
Customization and Special Requests: Understanding that every event is unique, VIP To Go is open to customization and special requests to ensure bathroom trailer rentals that perfectly fit the client's needs.
Transparent Pricing and Packages: With our online price and quote system, transparent pricing ensure there are no surprises or hidden fees associated with bathroom trailer rentals.
Risk-free cancellation policy: Our customer-focused approach includes a user-friendly cancellation policy, which is particularly beneficial for event planners and organizers. Understanding that plans can change, we offer the option to cancel a bathroom trailer rental without any cost, provided the cancellation is made at least 48 hours prior to the scheduled event. This policy allows clients to make decisions and adjustments to their event planning without the worry of incurring additional fees for last-minute changes.
Do I Get My Bathroom Trailer Delivered?
VIP To Go has a wide range of mobile toilets, portable potties, and industrial bathroom trailers ready and waiting for your order. With fleets of mobile trailers and portable bathroom trailers close to most metropolitan areas, delivery is fast, reliable, and efficient, even when you place an order at short notice.
When VIP To Go delivers a bathroom trailer to you, we also send a representative and set-up agent to liaise with the driver and oversee set-up, ensuring your portable bathroom trailer rental is working to your satisfaction.
Before delivery, VIP To Go offers free site walks with all our bathroom trailer rentals to help make your event planning and management effortless.
We schedule the deliveries between Sundays and Fridays with a 2-hour window to help you plan your day around us. For an additional fee, you can also arrange same-day delivery of your bathroom trailer.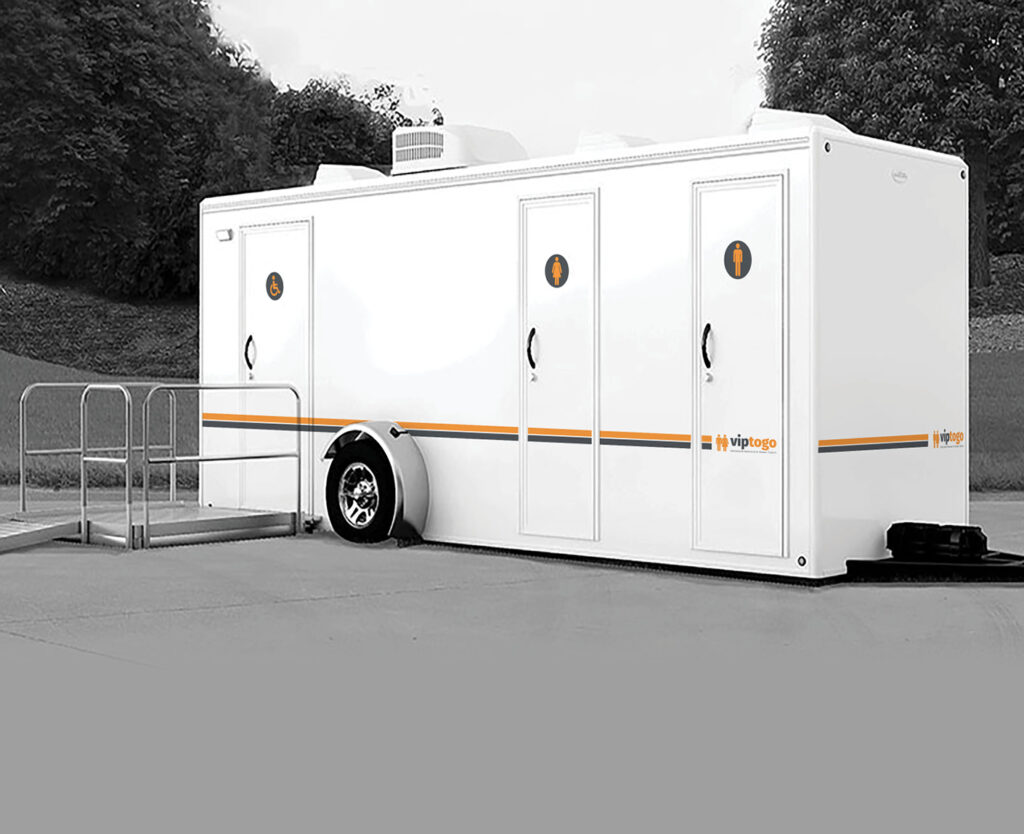 How Many People Can Fit in My Bathroom Trailer?
Just as our portable toilets vary from station to station, so does the number of people they can comfortably cater to. Our smallest station, the VIP 2-Station bathroom trailer rental unit, is suitable for 101-150 people.
At the other end of the spectrum, the 10-Station unit can serve between 500-1150 people. Whatever the size of the portable bathrooms you opt for, though, we recommend the number of people in your portable potty rental be equal to the number of stalls and urinals present.
How Is My Bathroom Trailer Cleaned?
Our incredible employees thoroughly clean all VIP To Go's portable restrooms and shower trailers in between engagements. None of our products is heavily perfumed. However, your mobile restrooms will look – and smell – luxurious both inside and out with our in-depth cleaning process.
Not only that, but we replace all bathroom trailers every 12-18 months to prevent severe breakdown and malfunction. The trailer you're getting will never be more than a year and a half old.
Who Cleans My Bathroom Trailer?
VIP To Go provides four staff members to keep your portable shower bathroom trailers and mobile toilets spotless for an additional hourly rate. This service requires a minimum of four hours of attendance.
How Much Does a Bathroom Trailer Rental Cost?
Several factors influence the bathroom trailer rental prices. VIP To Go offers both short and long-term rentals. Consequently, how long you book your bathroom trailer for, the type of portable bathroom trailer, and any luxury and/or additional services you opt to include all affect the final cost.
When looking at prices for bathroom trailers, though, it's important to remember what goes into your quote. Many companies offer quotes while omitting the cost of extra add-ons and hidden services. When VIP To Go gives you a quote for a portable restroom hire, it includes everything; shipping, on-site inspection if necessary, delivery and set up, pick up, and liability insurance. The only extra is tax, and that's out of our control.
Finally, should you change your mind, VIP To Go currently offers a full refund as a COVID Courtesy provided you cancel within 24 hours.
VIP To Go Portable Bathroom Trailers for Rent
VIP To Go provides a comprehensive selection of portable bathroom trailers for rent, catering to a wide array of events and needs. Whether it's a small private gathering or a large public event, our portable bathroom trailers combine functionality with comfort, ensuring a pleasant and hygienic experience for all guests. Our trailers boast elegant interiors, such as marble-like counters, posh lighting, and stylish sinks, adding a touch of sophistication to any event.
We pride ourselves on delivering not just quality restroom facilities but also an unparalleled customer experience. Our dedicated team works closely with clients to understand their specific needs and preferences and to offer comprehensive support throughout the event, from seamless delivery and setup to efficient maintenance and breakdown.
This combination of high-quality trailers and outstanding customer service ensures that we consistently deliver a memorable and satisfactory experience to our clients and their guests.
Final Thoughts
With all that in mind, next time you go to rent a bathroom trailer, look no further than VIP To Go.
Booking is easy, standards are high, and options are wide and varied. We can even customize your portable restroom to meet your needs if you can't find something that meets your needs.
For more in-depth information, visit our bathroom trailer guide and find any lingering questions answered. Our nation-wide fleet is ready when you are.