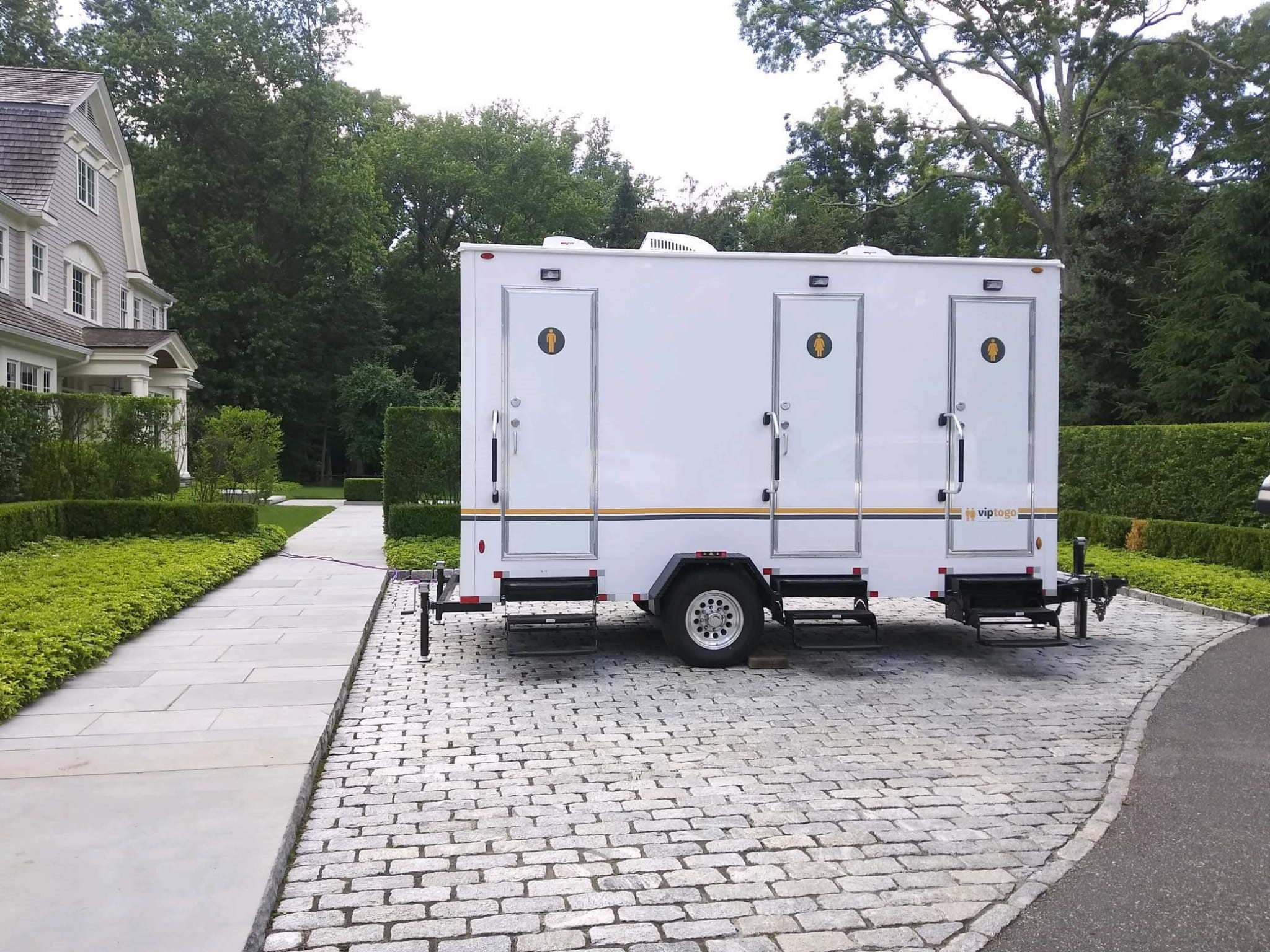 Restroom Trailer Rental in Connecticut (CT)
Elegant and clean restroom trailer rentals provide the comfort and convenience of home to any of your Connecticut outdoor events, including weddings, fairs, festivals, sporting events, family reunions, and much more. At VIP To Go, we understand the need for your event to be memorable and exciting. As such, we are committed to providing reliable, cost-effective portable restroom trailer services to all of our clients in and next to the Connecticut area.
We are a premier family-owned and operated portable restroom and bathroom trailer company, providing superior and cost-effective restroom rental services to both big and small clients.
VIP TO GO: A Luxury Porta Potty Rental Connecticut
Connecticut is undoubtedly one of the greatest places to live in the USA. Known as the "Constitution State or the "Nutmeg State," Connecticut was influential in developing the United States federal government. Though it is the third-smallest state in the area, it is among the most densely populated, with about 3.6 million residents. Some of the popular cities within the state include Bridgeport, New Haven, Stamford, Hartford, Waterbury, and many more.
Each year Connecticut cities play host to several events and functions such as the Sea Music Festival that attracts up to 5,000 people in Mystic Seaport, the International Festival of Arts & Ideas held at various locations throughout New Haven, and Sailfest that attracts more than 300,000 visitors to New London each year among many other events.
Whether you are hosting a sporting event, fairs, festivals, construction projects, weddings and special events, or a film and TV production in the Connecticut area, you know too well how critical portable toilets are to keeping everything running smoothly. At VIP To Go, we will work around the clock to not only provide you with the finest restroom trailers to make your high-volume event as organized as possible, but also to assist with every step along the portable restroom rental process. We will secure the restrooms, connect them to water and electricity, and make sure they are clean and well stocked. We will also provide restroom attendants, if you're serving a large crowd and want to make sure that your portable restrooms are continuously sanitized.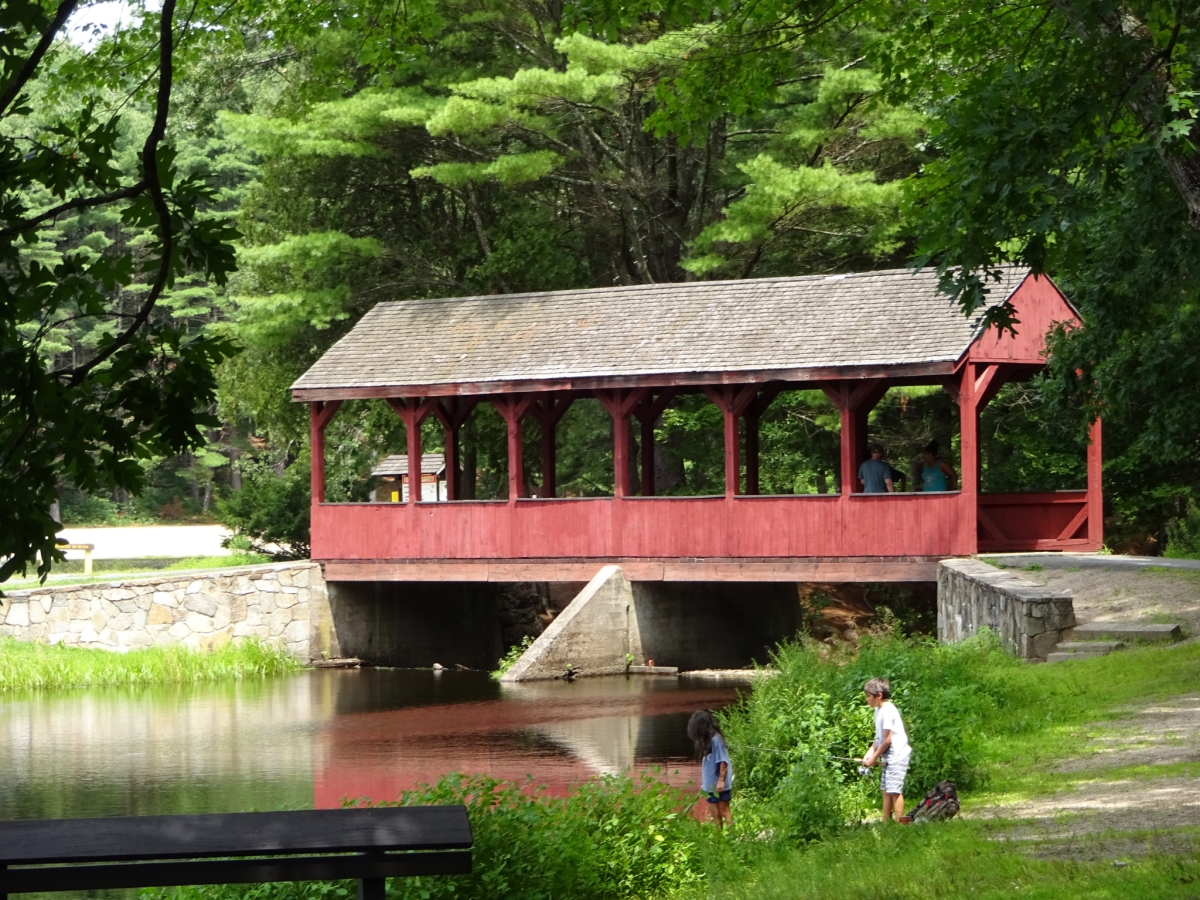 5 Reasons to Choose VIP To Go Luxury Restroom Trailers in Connecticut
VIP To Go is a trusted brand with a solid reputation. As the leading restroom trailer rental service in Connecticut, we are committed to providing residents and entities with clean, sanitized, and comfortable portable restrooms so that no one ever has to worry about where and how they will go when mother nature calls.
When you are looking to rent the best restroom trailer rental in any of the Connecticut areas, VIP To Go promises the following for each and every portable restroom rental experience:
1. Outstanding Services in the Area
When you're looking for the finest Restroom Trailer Rental in CT, you deserve nothing but the best. We pride ourselves on delivering an exceptional experience from start to finish, ensuring that every detail is meticulously taken care of.
Our Friendly and Experienced Staff: Our team is not just knowledgeable about the various trailers for rent in CT; they are also incredibly friendly and eager to assist you. From the moment you contact us, you'll realize the difference our experienced staff makes. They are committed to providing a seamless experience for every client, ensuring that you get the most out of your luxury porta potty rental in Connecticut.
We Help to Find the Ideal Product: With a diverse range of rentals in Connecticut, choosing the right one can seem overwhelming. But, worry not! Our experts are here to guide you through the selection process, ensuring you find the perfect restroom trailer that aligns with your needs and preferences. Whether it's a small gathering or a grand event, we have the right trailer for every occasion.
High-end Hygiene and Cleaning Services: Our commitment doesn't stop once the trailer is delivered. We understand the importance of cleanliness, especially when it comes to restrooms. Thus, we offer high-end hygiene and cleaning services that keep the trailers in pristine condition throughout your event. When you choose our Restroom Trailer Rental in CT, you're choosing luxury and impeccable sanitation.
We Stock Your Trailer According to Your Need: Each event is unique, and so are its requirements. That's why we don't offer a one-size-fits-all solution. Instead, we listen to your needs and stock the restroom trailer accordingly. Whether you need specific toiletries or additional amenities, let us know, and we'll ensure your trailer is equipped accordingly.
For those seeking the perfect balance of luxury and functionality, our services stand out in the world of restroom trailer rentals in Connecticut. Allow us to elevate your event experience with the best in the business.
Seamless Process with Trailers for Rent in CT
When you need bathroom trailers near you, you can always expect a seamless and fast booking process from VIP To Go. We give our customers the resources they need to make requesting a trailer such a breeze. We boast an easy-to-use online booking tool that empowers our customers to book their portable restroom rental in a few easy steps. Simply select the dates you want the portable restrooms for, put in your address and amount of guests you're expecting, and we'll show you what is available. Then, select your preferred trailer, and follow the prompts to check out.
If you prefer live customer support to help you out with the booking, our team will be happy to do that. Choose from our 24 hours human chat agents on our website (no bots here!), email us at info@viptogo.com or call us at 877.564.6977. We'll be glad to help!
Well-Stocked Units and Amenities
When you book a restroom trailer from VIP To Go, you can expect the portable restroom rental to have everything you need to make your event a success. All of our units are ready to use as soon as they arrive at your venue. We stock all the restroom units with an adequate supply of toilet paper, sanitizers, natural hand soap, wastebaskets, wall hooks, non-skid mats, water, and handwashing points.
Competitive Rates and No Hidden Surcharges Compared to Other Rentals in Connecticut
VIP To Go restroom rental packages can fit your budget. We are committed to ensuring your event stays memorable, and we will go the extra mile to make sure that our products and services are as affordable as possible. We utilize a highly efficient internal system to remove unnecessary expenses and cut costs. Unlike most of our competitors in Connecticut that impose fuel surcharges and other hidden fees for your restroom trailer, VIP To Go doesn't go that route. With a VIP portable restroom rental, what you see is what you get.
VIP To Go Provides Updated and New Units Every Time
Our top priority is to provide luxurious restroom units that leave the right impression in the minds of your guests. That is why we retire all of our units every eighteen months to two years to ensure you are using products that smell, look and feel fresh all day, all night, throughout the rental duration. Our unit features all types of shapes and sizes to meet diverse needs and space requirements. To ensure you are getting the best value for your money, VIP To Go continues to update the existing portable restroom rental units with newer, more functional, and trendier designs in the industry.
VIP To Go Portable Restroom Trailers Products
At VIP To Go, we feature the most extensive selections and inventory of restroom trailer products in the entire Connecticut area. We understand not all events in Connecticut are the same, which is why we don't provide a one fit all rental service. Our portable restroom rental units feature different sizes, accessories, and luxury levels tailored to suit your needs and budgets.
Some of the options available for immediate rental include:
VIP Restroom Trailers
VIP To Go provides a range of luxurious VIP restroom trailers that serves up to 1150 persons attending any of your events in Connecticut. Ideally, you have an option to choose from a two station VIP restroom trailer, three stations VIP restroom trailer, five stations VIP restroom trailer, eight stations VIP restroom trailer, and ten stations VIP restroom trailer depending on the size of your event and budget. These units boast the latest accessories, including urinals, sinks, and stalls. They are also well serviced, sanitized, and adequately stocked.
VIP ADA Restroom Trailers
At VIP To Go, we are always ready to go the extra mile to meet your guests' unique needs. We are aware of the fact some of the guests attending your event in Connecticut are physically challenged. To cater to these guests, we provide ADA-compliant restroom trailers designed to serve up to 400 people and come with more space, wider doors, larger interiors, and hand bars. They also feature other top-notch facilities, including sinks, stalls, toilet paper dispensers, mirrors, and many more.
VIP Sink Trailers
If you need stylish and luxurious VIP sink trailers for your outdoor events in Connecticut, VIP To Go has you covered as well. We provide well-stocked, odorless, and sanitized units that can serve up to 100 persons seamlessly. All our sink trailers are equipped with hot and cold water, mirrors, paper dispensers, and many more amenities.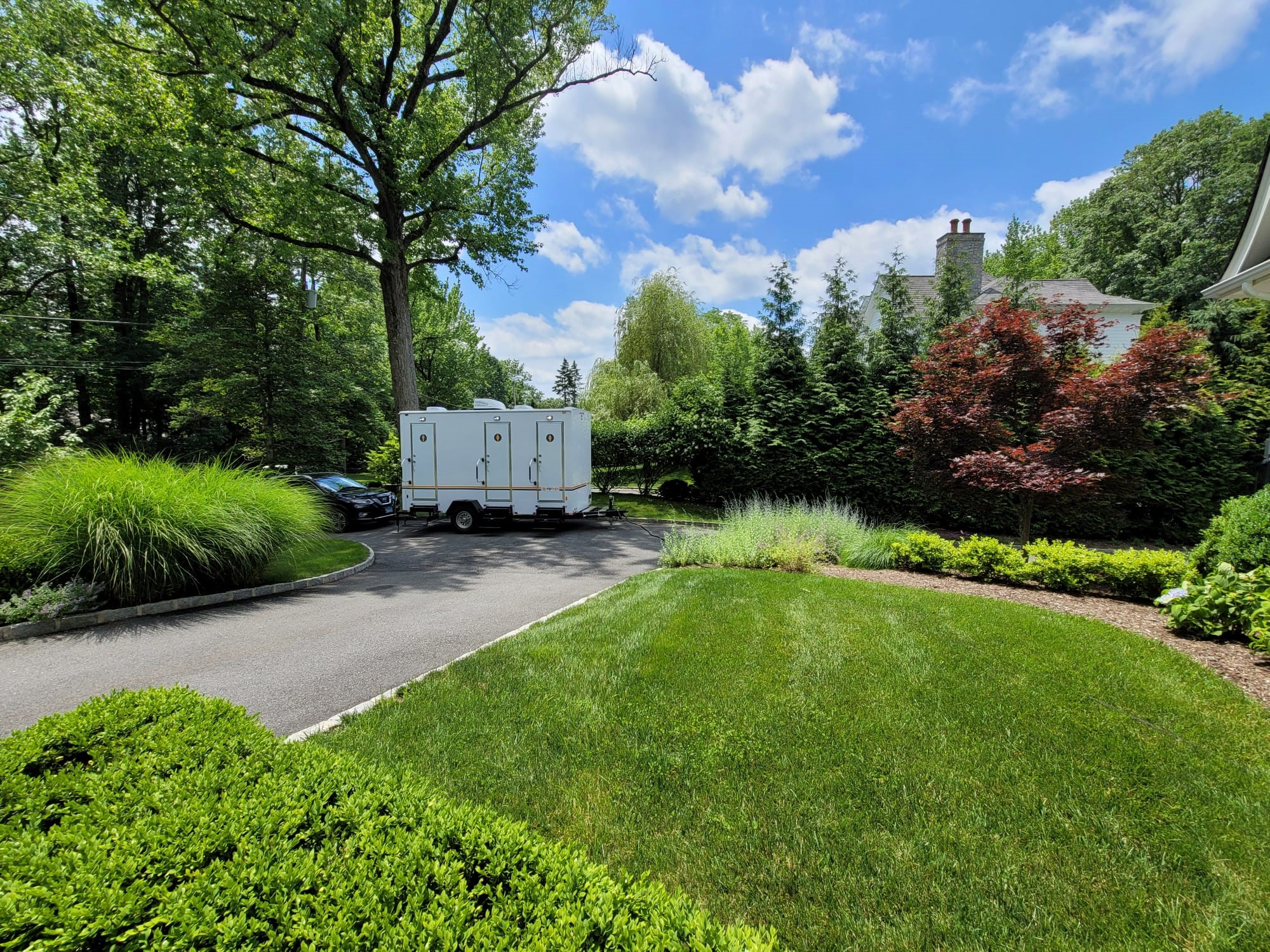 FAQs About Restroom Trailer Rentals in Connecticut
Which areas do you serve in Connecticut?
In Connecticut, VIP To Go serves most of the 169 cities and towns, including Stamford, Hartford, Waterbury, Norwalk, Danbury, New Britain, West Hartford, Bristol, Manchester, Norwich, Newington, and many more. However, our service extends beyond Connecticut ; so whether you need a portable restroom rental in Maine, Boston, Rochester, or far beyond, we're here for you!
Do you offer refunds on portable restroom rental bookings?
At VIP To Go, customer satisfaction is our top priority. We never want you to hesitate and risk losing your dates. That's why we always allowed you to cancel your booking within 30 days of the event and we'll refund your deposit completely. When Covid hit we took this a step further to give you more leeway; we now allow you to cancel your portable restroom rental bookings up to 48 hours before an event for a 100% refund.
Do you offer bathroom attendants for cleaning and maintenance during my events?
We make the success of your event a top priority. For an additional cost, we can provide trained staff to keep the facilities sanitary and spotless for the duration of your event.
Can I call and speak to a real person if I encounter any problem?
Certainly. Although we don't anticipate any issues with our restroom trailers, you can rest assured that our live representatives are always on call for emergencies. We offer 24/7 customer support to all our customers to ensure your event goes on uninterrupted.
Is there an added shipping or destination fee?
No, there isn't additional shipping free. Your online quote is all-inclusive.
How do you get rid of waste from restroom units?
We take care of all the challenging tasks so that you can focus on your event. Our teams always ensure your restroom trailers are cleaned and well sanitized to minimize the risks of exposure to viruses and bacteria. We attach a vacuum to the unit that sucks out all the waste and pumps it directly into sealed containers. Afterward, the waste will be disposed of safely following EPA regulations.
Contact VIP To Go To Book Your Connecticut Restroom Trailer Rental
VIP To Go is one of the biggest, most reliable, and affordable restroom trailer rental companies in the Connecticut area. We specialize in all types of restroom trailer rentals and portable toilets in The Constitution State. So when you need restroom trailers rentals for any event or occasion in the state, we are your top choice. Get in touch with us today to learn more about our exceptional products and services and how they add value to any of your events.