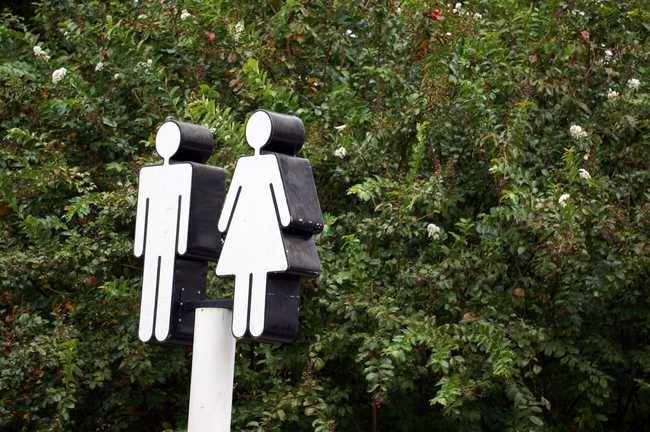 Restroom Trailers in Rochester, NY for Weddings and Events
In 2019 alone, well over 6,000 couples tied the knot in Rochester, NY. The area is so popular that according to research organization The Wedding Report, Rochester ranks the 54th most popular wedding spots out of almost 1,000 metropolitan regions across the USA.
Are you dreaming of a wedding under the sun or stars? Rochester, NY, has you covered with a plethora of gorgeous gardens, historic residencies, scenic lakeshores, and rustic farms.
But if your ceremony or reception is outside, what do you do when people need to use the restroom? You don't want to make your guests hike to the nearest building. The solution is to rent a luxury mobile bathroom.
Below, we dig deeper into the features and benefits of restroom trailers for Rochester, NY, weddings and other events.
What Exactly Is a Restroom Trailer?
If you're hunting for portable restroom rentals near you, it's essential to know that these stand-alone luxury trailers come in a wide range of styles.
From a 2-stall portable restroom trailer to roomy and fully functioning (yes, that means piping hot water) shower trailers for rent, the types of portable bathroom trailer rentals available for rent today are astounding.
No matter the model, there are a few standard features such as:
Their own entrance and exit
Individual restroom stalls
Ventilation and electric lighting
Attractive interior design with bathroom fixtures
Sturdy walls for security and privacy
This more luxurious bathroom style is popular for special occasions like black tie events, weddings, engagement parties, gender reveal parties, and much more.
Why Is a Restroom Trailer Worth Hiring?
It's time to dispel some myths around what constitutes portable restroom rental trailers today. Mobile bathroom rental has come a long way with many toilet features and conveniences since the smelly portaloos you remember from the music concerts of your youth.
Convenience
If you're looking for the finest event or party toilet rentals Rochester, NY, has to offer,  you can't get much better than luxury toilets VIPTOGO offers.
Restroom rental companies fit their portable restroom rental trailers with as many as ten restroom stations, and that's not even including multiple restroom trailers or shower trailers. This ultimately gets rid of the need to rent unsightly single-unit toilet boxes.
When working with a luxury toilet trailer company, nothing is left to chance either. Don't have any electricity at your wedding venue? They can supply a generator.
Are you worried about where to place the VIP toilet block so it's discreet? No fear. Done right, restroom trailers can become a focal point of conversation — positive conversation. With good lighting, fresh smells and clean stalls, the right ambiance is created to make your guests happy.
Probably the most convenient feature of renting portable restrooms in Rochester, NY from a company right near you, is the clean-up — or lack of it. Just as the restrooms were delivered to the site by the company you rented them from, the company will also remove them. Once your event has wrapped up, all you need to think about is heading home after an event gone well — or heading off to your honeymoon.
Heating, Air Conditioning, Lighting, and Ventilation
Are concerns about the weather making you concerned about finding the right answer to your search for "porta potty rental near me"? We've all heard the horror stories about porta-potties with no lighting or freezing cold toilet seats.
Whatever the weather–warm, rainy, windy, or cold–you can be sure your outdoor wedding guests will have a pleasant experience inside a VIP bathroom rental. With insulated interiors, air conditioning, heating, and ventilation, your guests will walk out feeling refreshed.
Bathroom designers carefully position nighttime lighting outside to ensure security and avoid trips and falls. Inside, toilet stalls are equally well-illuminated, as are mirrors and basin areas. People can wash their hands and ensure their appearance is on-point.
All of this guarantees a comfortable, dry, and clean trailer rental in Rochester, NY, whether you visit the bathroom at the start or the end of a wedding party.
Running Water
One of the most sought-after features for wedding porta potty rental in Rochester, NY, is running water. This is especially important in the post-COVID era since thorough handwashing is key to prevent viral spread.
Not only do today's portable bathroom trailers have freshwater literally on tap, but they also feature flushable toilets. Waste is discreetly and completely removed from the bowl using a system modeled on conventional household plumbing. Guests enter a clean stall on every visit.
Access for Everyone
Do some of your outdoor wedding guests use a wheelchair? Or perhaps some of your elderly family members are mobility impaired. If you're worried about how these valued guests will access a portable toilet, we're here to allay your fears.
The Americans with Disabilities Act (ADA) requires no less than one disability accessible toilet stall in every portable toilet location, so designers build this requirement into most rental units. ADA-compliant trailers have entry ramps and extra-wide doors, both at the entrance and for the individual stalls.
Rent a bathroom luxury rental for your Rochester, NY, wedding venue, and you can be sure that all of your guests will be able to access the bathroom when needed–no matter their level of mobility.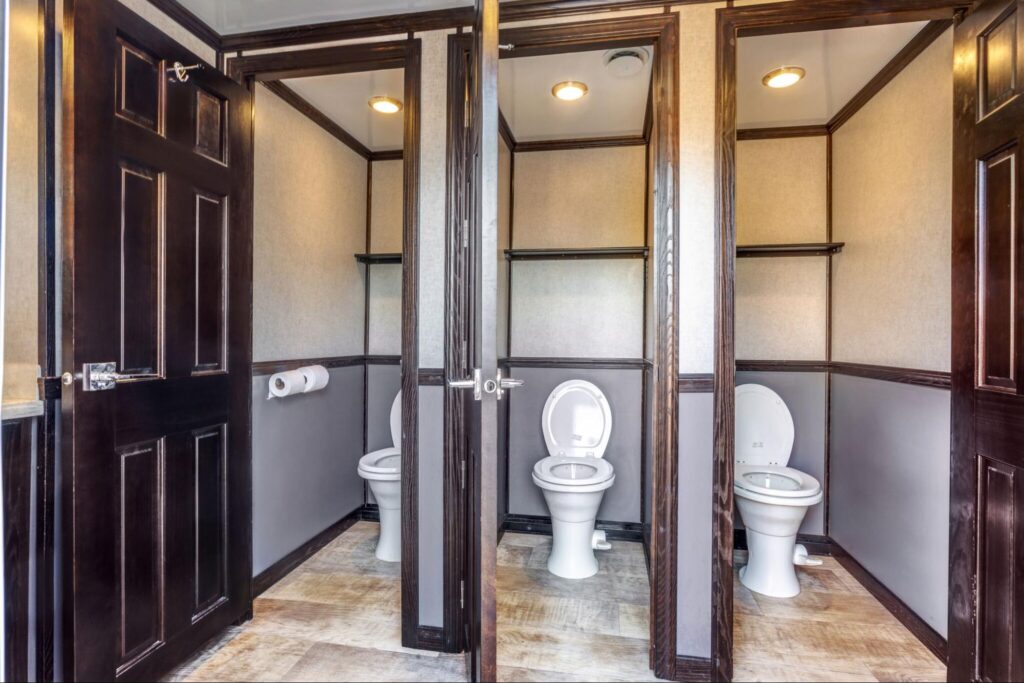 Ready to Order? Consider These Things First
Maybe you're holding a big wedding at home and don't want people traipsing through the house? Or perhaps you're closest friends have kindly offered up their barn for you to get hitched in? Whatever the reason you're looking for portable bathrooms in Rochester, NY, it pays to plan.
Your Budget
When planning an outdoor wedding budget, the cost of hiring porta john rental in Rochester, NY, might not be first on the list.
But we're here to say it should be! Think about it, all that wine and food everyone's eating, and people want to look their best at a wedding. Having a place where people can freshen up is essential.
When thinking about restroom trailer rental costs, think about what you're being offered for the price. Here are some questions you should ask yourself:
How remote is the wedding location from the city?
Does it have electricity access?
Do you need a disability-friendly toilet block?
How many guests will attend your wedding?
How long will your wedding run?
All of these things will factor into what kind of bathroom trailer you need, how many blocks you should hire, and, ultimately, the cost of your package.
Your Guest List
How big will your outdoor wedding be? The number of people attending and the attendees' mobility requirements factor into what type of portable restrooms in Rochester, NY, you need.
As a rough estimate, you need to consider one restroom unit of two toilet stalls per every thirty people for a single day's rental. This will ensure you have enough toilets to accommodate the bathroom needs of your party.
And as we mentioned above, if you have people with disabilities on your guest list, be thoughtful and consider their unique requirements. Talk to the bathroom hire company about providing an ADA-compliant bathroom.
Mobility issues might also affect where you place your luxury toilet block. You want it somewhere discreet yet not so far away that guests can't find it or have a hard time walking to it.
A Utilities-Accessible Site
Will your outdoor wedding reception run into the evening? Are you planning an extravagant outdoor getting-hitched gala? Then you're going to require electricity to power that luxury porta potty rental in Rochester.
Electricity powers the indoor and outdoor lighting and runs comfort essentials like heating, air conditioning, and the water pump. Different-sized trailers have different power requirements, so check with the venue hire company to make sure they have the necessary outlets.
Other things to consider when making sure your wedding venue is suitable for portable bathroom use are a flat, accessible surface to park it on and a water source, such as a spigot or a hose.
The Weather
Rochester, NY, can get pretty darn cold–as low as 3°F in the dead of winter. If you're planning a winter wonderland outdoor wedding or even festivities for the fall, you need to consider the comfort of your guests.
When searching for portable bathroom trailer rentals near me, only look at companies that offer luxury trailers options. These bathroom trailers will feature insulated walls, temperature control, and hot water, among other high-end features.
Even in the typically mild Rochester summer, guests at an alfresco wedding will appreciate an air-conditioned restroom. It will give them somewhere to mop their brow after all that dancing at the reception.
Consider that they also have fresh, cool running water, and it might be hard to get people out of there!
Only the Best: Restroom Trailers in Rochester, NY
We're confident you'll appreciate the look of restroom trailers we have available in Rochester, NY. What were once unsightly eyesores are now classy, cleverly designed places of refreshment and relaxation.
If you're considering a luxury restroom trailer for your outdoor wedding in Rochester, take a look at the selection offered by VIP To Go. Contact us for a restroom trailer rental consultation today.