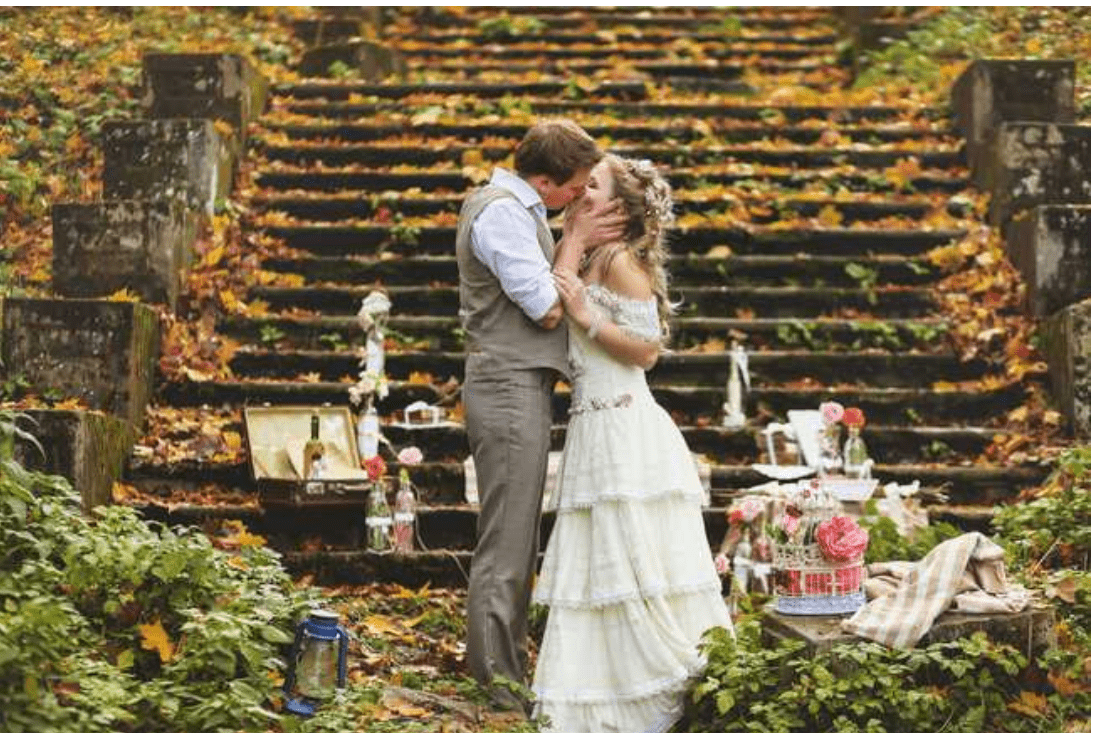 Wedding Bathroom Trailer: Why Go For A Restroom Rental?
In the US, there are over 2.1 million marriages a year! Are you and your fiance going to be one of those lucky Americans this year? If you are, there's lots of fun wedding planning — and wedding stress and jitters — in your future.
You have to consider how many guests you'll be having, the venue, the menu, themes, tablescapes, music, who to assign various important roles to, and so much more. One of the most important questions you'll want to ask yourself at every step of the game is: "Will this be a pleasant experience for my guests?"
Believe it or not, the wedding restrooms are one of the most often spoken about topics at a wedding, as the availability and condition of a wedding restroom trailer can make or break the evening. Whether you're doing an outdoor wedding, destination wedding, or simply need more wedding restroom trailers for your crowd overflow, you can make your guests remember your wedding by providing them with luxury wedding bathroom trailers. So, when renting wedding bathroom trailers, make sure you do it right.
Are you wondering what the right way to rent portable restrooms for your big day is? Then read on! We're here to show you all you need to know about renting a bathroom trailer for wedding use.
Wedding Restroom Trailers Should Be Elegant
We know what you're thinking: how is there such a thing as elegant portable toilets? But trust us, there is!
You can get a nice porta potty toilet trailer for your big day, and it won't feel out of place, low-class, or cheap either.
For one, the word porta potty toilet trailer is a misnomer: the wedding bathroom trailers don't actually have porta-potties, but instead, flushable toilets. This factor instantly elevates the feeling of the wedding bathroom trailer. It makes it feel like you're in an actual restroom — which it is. The only difference is that the wedding restroom trailer is on wheels.
Guests stepping into the wedding restroom trailers will find freshly painted walls, neat toilet stalls, paper towel dispensers, soap, shiny mirrors, sinks, and more. All elements and finishes of the toilet rentals for weddings have been carefully designed to create an upper class experience for your guests.
You only want the best for your wedding, and you can feel confident that our wedding bathroom trailer options will enhance your wedding!
When you work with a company like VIP To Go, you're in good hands. We actually replace our trailers every 12 to 18 months, which means you're guaranteed to get a restroom trailer rental that's been recently updated and has all the latest restroom amenities your guests want to see.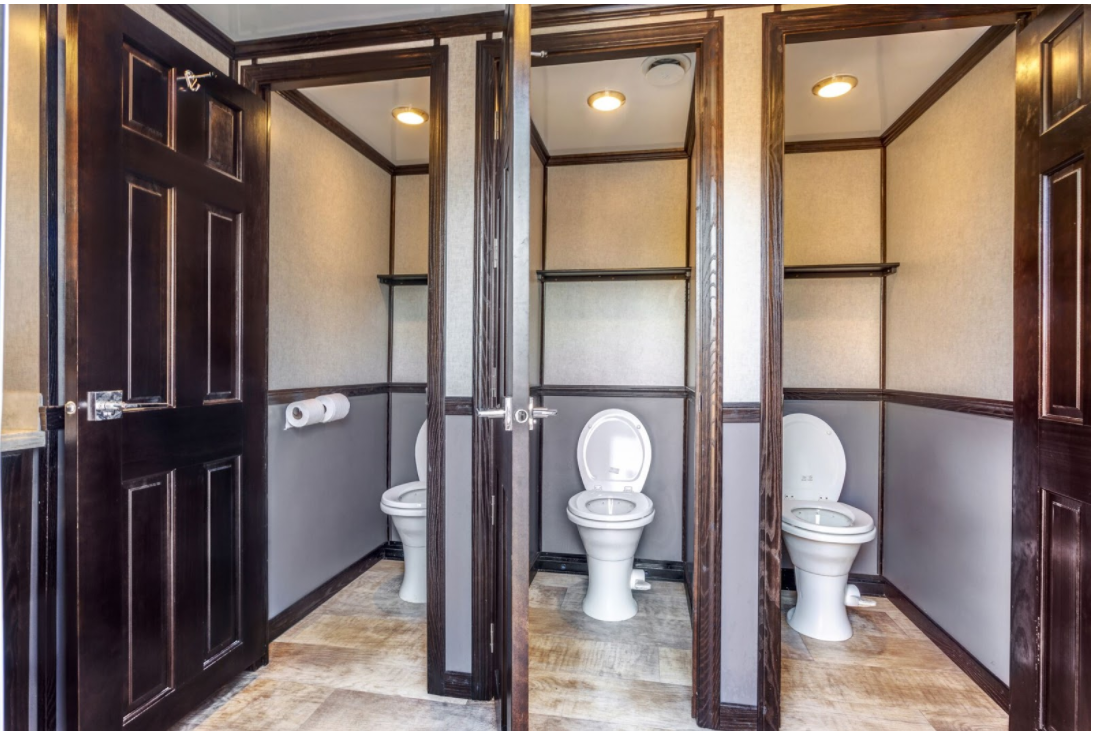 Wedding Bathroom Trailer Rentals Are Clean
There's no question about it: bathrooms are naturally not a very clean place. It's where we go to eliminate waste, after all.
For this reason, you want your wedding bathroom trailer to be clean when it comes to your wedding. Otherwise, unpleasant sights (and smells!) can put a huge damper on things.
Thankfully, luxury portable restroom rentals will most likely not only arrive clean to your venue, but you may also choose to have a restroom trailer attendant on hand to keep cleaning the restrooms between usages. 
As we've mentioned above, an outdoor wedding porta potty has flushable toilets. This means that all waste is taken down to a storage tank and is out of sight, out of mind. This means there are no nasty odors as well.
In addition, these luxury restrooms will have sinks with running water, as well as plenty of soap.
Considering that the most effective way to stop the spread of germs is to wash with warm water and soap, this is vital if you don't want people to get sick at your wedding.
They will also have either fresh paper towels or hand dryers so all restroom visitors will be able to properly wash their hands after they've gone to the bathroom.
What about after the rental period for a wedding bathroom trailer?
Well, you'll rest easy knowing that after each wedding trailer rental, the trailers are thoroughly cleaned out.
The waste reservoir is emptied and flushed out, and all surfaces inside are cleaned and disinfected. And yes, that includes the ceilings of the wedding bathroom trailer too!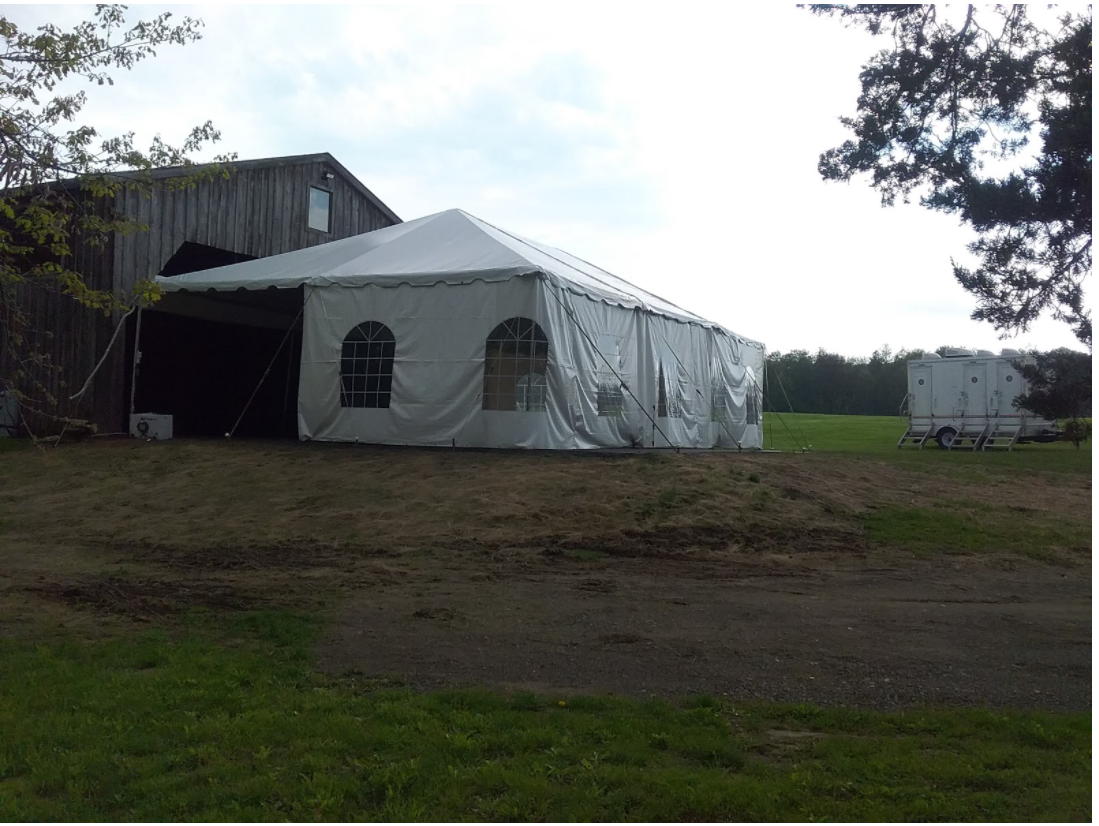 Wedding Bathroom Trailer Comes to You
Today, more and more couples are opting to have non-traditional weddings. Forget about customs and boring wedding venues; it's the "in" thing to customize, personalize, and make your union unique!
What this means is you're free to think outside of the box. So long as it's anywhere you can plant your feet down and say your vows, you can probably get married anywhere you wish.
But of course, that comes with its limitations.
Some "venues" can be so out in the middle of nowhere that there are no facilities for people to use. This can be problematic, especially if you're planning on spending quite some time there.
But with wedding bathroom trailer rentals you can essentially have your outdoor wedding anywhere you want, without worrying about people's bladders (including your own).
With wedding bathroom trailer options open to you, you can rest assured that you won't have to discard ideal wedding destinations from your list because of their lack of facilities.
Our wedding restroom trailer rentals are available not just across the continental US, but also in Hawaii, the Virgin Islands, and even Canada!
When you rent a porta potty for your dream wedding destination (or a few wedding restroom trailers), you'll be able to have your dream wedding, while making sure that your guests are well taken care of.
So if you didn't think it was possible to get outdoor bathroom rental for your wedding, think again! We can help you out.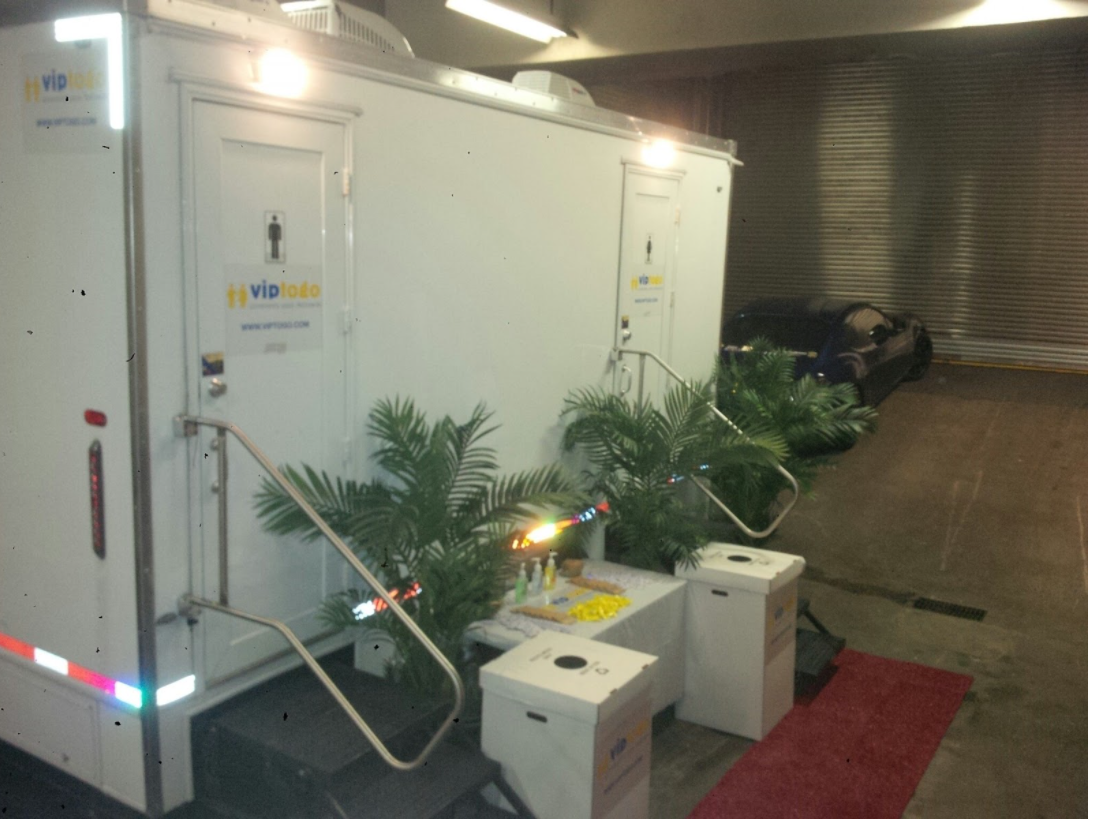 Wedding Restroom Rental FAQs
As you can see, getting a wedding bathroom trailer can bring many benefits to your special day. So now, you're probably convinced that a portable toilet rental for a wedding is right for you.
But understandably, you might have some questions when it comes to wedding restroom trailers. Thankfully, we're here to help!
Below are some frequently asked questions (FAQs) regarding bathrooms for outdoor weddings.
How many bathrooms should I rent for my wedding?
If you have several hundred guests and there are only 1 or 2 restrooms available, people are not going to be happy. On the other hand,  you don't want to pay for restroom rentals you won't use. That's why the answer will differ for every wedding, as each wedding party will have a different amount of guests at the wedding. Not only that, but they'll also have a unique makeup of individuals.
For example, one wedding might have a lot of children with no alcoholic drinks for the adults. And another might have mostly 30-year-olds who will drink lots of alcohol — which directly impacts their bathroom habits.
But in general, you should consider getting at least 1 bathroom for every 100 guests you have. At the very least, you can't go wrong with at least 2 bathrooms, as 1 will be available for each gender.
If you're afraid of too many guests waiting in line at once, then you can play it safe by making that 1 bathroom for every 50 guests. This will help facilitate better traffic flow and you won't have to worry about anyone doing the potty dance.
Restroom trailers come in multiple styles and sizes, so you can choose to have a combination of smaller and larger bathroom trailers, as well as various levels of luxury. You can find a two station wedding bathroom rental, a ten station restroom trailer, and many sizes in between.
What should I put into my wedding bathroom rentals for my wedding guest?
One of the best thing about getting a luxury porta potty rental is that you don't have to worry about stocking the bathroom full of supplies!
When you rent bathrooms for a wedding, the cost doesn't just cover the bathroom itself. For example, VIP To Go's trailers come fully stocked with:
Toilet paper
Paper towels
Soap
Garbage cans and bags
You can rest easy knowing that the trailer will have everything your wedding guests need!
However, if you want to provide them with anything extra, such as little vials of perfume/cologne, or other wedding favors, you can feel free to do so as well.
What's is the cost of renting portable toilets for weddings?
To figure out portable toilet rental costs, it'll depend on the size you're renting. Expect to pay a couple hundred dollars for deluxe porta potty rental services.
But to get a more accurate idea of how much you'll pay, it's best to request a quote for your wedding porta potty. On Vipttogo.com you can utilize the hassle-free quote system to learn about how much your restroom trailer rental will clost. You can do this by simply inserting the location and dates of your event, and selecting your preferred bathroom trailer.  You'll then get a free quote showing how much the rental would cost, as well as all of the information on what would be included in the restroom trailer rental.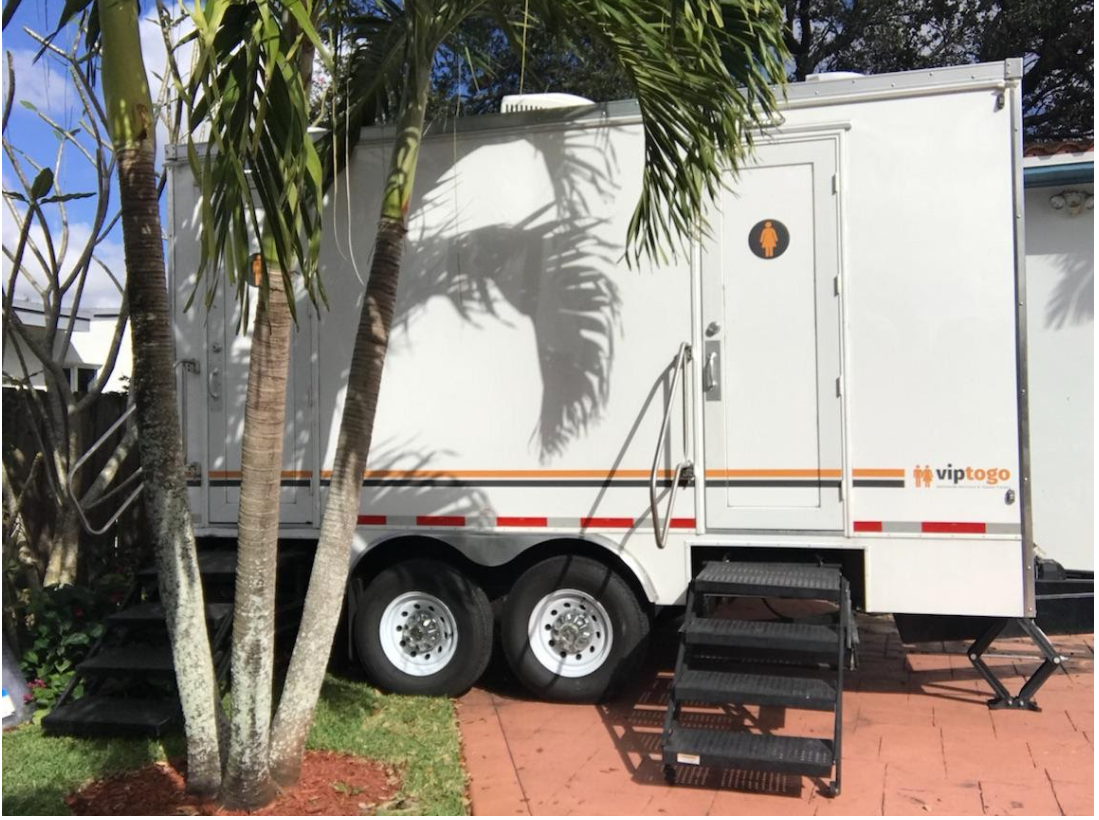 Get Quality Wedding Bathroom Trailers From VIP To Go
Now you know all about the benefits of renting wedding bathroom trailers. The next thing you need to do is get them from a reputable and reliable company, like VIP To Go!
We have plenty of great bathroom rentals for weddings that'll make your big day more relaxed and enjoyable. You have to find a wedding bathroom trailer that'll fit not only your budget, but also your rental needs.
Contact us to learn more about how you can rent luxury portable restrooms for your special day.