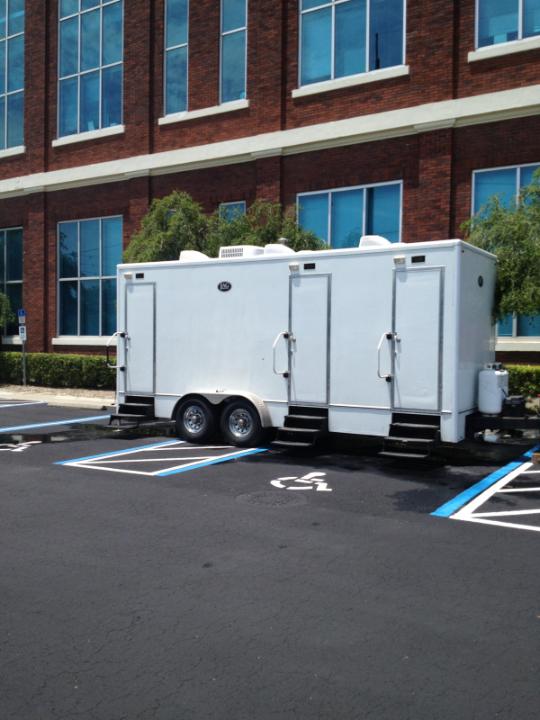 From summer sun to winter fun, a restroom trailer rental in Tampa makes event better!
When it comes to a Restroom Trailer rental Tampa needs to keep people cool in the heat of the Sunshine State summer. However, those restroom trailer needs tend to increase in the cooler winter months, when more summer festivals are held around the entire Bay area and the sun can still shine hot or an unexpected chill can grip the Bay.
VIP To Go is a restroom trailer rental in Tampa that understands the unique nature of central Florida bathroom rentals. We know that there are community and tourist based events in the 90 degree, thunderstorm prone days of summer, where restroom trailers for rent are a necessity. These are times when you need air conditioned, clean, dry restroom trailers to meet the needs of all those who attend your wedding or other events. But we also know that winter is a time of many community fresh markets and outdoor events, when your need for a bathroom trailer in Tampa increases. Whatever the time of year, here are 3 ways that VIP To Go can meet your restroom trailer needs all around the Gulf:
VIP To Go can offer you a great price on bathroom rentals all year round, but exceptional prices on restroom trailer rentals in the winter. As a nationwide company we do a lot of our Northern business in the winter. That means that as New York, Maine and other colder states like Connecticut and Massachusetts are bundled up for the winter, our fleet of luxury restroom trailers for rent is lying dormant, just hoping that you need luxury restroom trailers in Tampa. So you get an exceptional deal when you rent during our northern "off season" which is probably right when you need trailer bathroom rentals the most.
VIP To Go will happily deliver restroom trailers for rent to Tampa, FL. In fact, VIP To Go will deliver a trailer anywhere in the country. We rarely, if ever, say no to a restroom trailer rental Tampa customer. Recently we had a group in southern Florida who really wanted a specific sized and tricked out trailer, one that we didn't have on hand in Florida. However, we searched our fleet and found one in North Carolina, and off it went to a vacation on the beach. We strive to always find the specific restroom trailer you need, providing options and alternatives. In fact, our customers tell us that this is a big reason they come back to VIP To Go time and again for restroom trailers for rent – it's because we go above and beyond expectations every time.
At VIP To Go we offer reliability and excellent service on each and every restroom trailer we send out. And you know that we have the best service on bathroom rentals because we've earned a great reputation. Many "big box" stores through central Florida use us as their sole provider of restroom trailers for rent. If you have visited a Home Depot or Cracker Barrel where the bathroom was under construction you probably had the pleasure of using one of our luxury restroom trailers.
From Luxury Restrooms to Showers and More
When talking about shower trailer rental Tampa, again, has the benefit of VIP To Go's monster fleet of more than 12 dozen restroom and shower trailers. We offer bathroom rentals portable restroom trailer rental in Tampa that meets your tight budget or incredibly opulent trailers that meet all your fancy needs. From Old Hyde Park to Citrus Park, throughout Hillsborough, Pinellas, Pasco and beyond, VIP To Go can get you the restroom trailer rental Tampa residents need, any time of the year. Call VIP To Go to reserve your restroom trailer in Tampa today! We can guarantee you'll be pleased with your restroom trailer experience with us! So whether you need shower trailers for your crowd or just restroom trailers for rent, we treat every customer to the white-glove customer service experience!