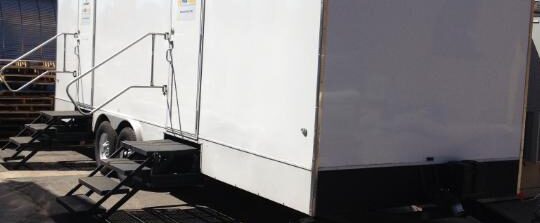 In the city or around the state, VIP To Go meets your restroom trailers NY needs
When it comes to restroom trailers NY has an advantage because you have VIP To Go in your own backyard! Our company is located in New York state, with one office in the city and one in upstate New York, delivering restroom trailers all over New York and our country.
Because we are so close to the city we maintain a huge fleet of both budget and luxury restroom and shower trailers to meet the needs of those with big city events as well as those throughout our great state. In fact, our restroom trailers NY fleet is the largest in the tri-state area.
This size means three things to you when it comes to restroom trailers in NY:
We are large enough to have a restroom trailer when you need it, no matter what events might be going on in the city. We have over 12 dozen restroom trailers in our fleet, which means that we can meet all the needs of porta potties for weddings in Syracuse NY and still have plenty of units left for the biggest party in Albany or Rochester.
We can provide restroom trailers in Albany NY and around the state, always offering enough variety to meet your requirements. We have trailers that run off a garden hose and an extension cord, but also those that can use storage tanks and generators if running these lines is a challenge. From showers to urinals, fancy fireplaces to a basic model, we have the restroom trailer options you need.
We have such a large fleet and buy so many restroom trailers each year that we have better buying power than any other company. We send this savings on to you, our customer. This means that individuals get better prices. From weddings to baby showers, we pass our savings along to you. This means that in most cases you get much more for the price using us over competition for all your restroom trailer needs..
When you need a bathroom trailer NY is a great place to be. Wherever you are in the state you get access to a fleet built to handle a huge city with the individual attention that you deserve. While VIP To Go is happy to help with huge initiatives from Hurricane Sandy to 9/11, we are also proud to serve the individual, offering a free site walk-through for even a small wedding and trailers for of luxury for all occasions. Our goal at VIP To Go is to help you make your wedding or other event a success with restroom trailers in NY. This includes taking the pressure of restrooms off your shoulders, helping you choose the best, most cost effective trailer for your needs, figure out where to position the trailer based on convenience and aesthetics, and helping you make your event a success. And because VIP To Go retires every trailer after 12-18 months you know that you are always getting a clean, state of the art, modern Restroom Trailer.
At VIP To Go we offer everything from bathroom rentals for weddings in western NY to art fairs and craft shows in Westchester. A luxury porta potty in NY is a must to keep up with modern tastes and at VIP To Go even our most affordable models offer luxury all around. Call VIP To Go today for your restroom trailers in NY.