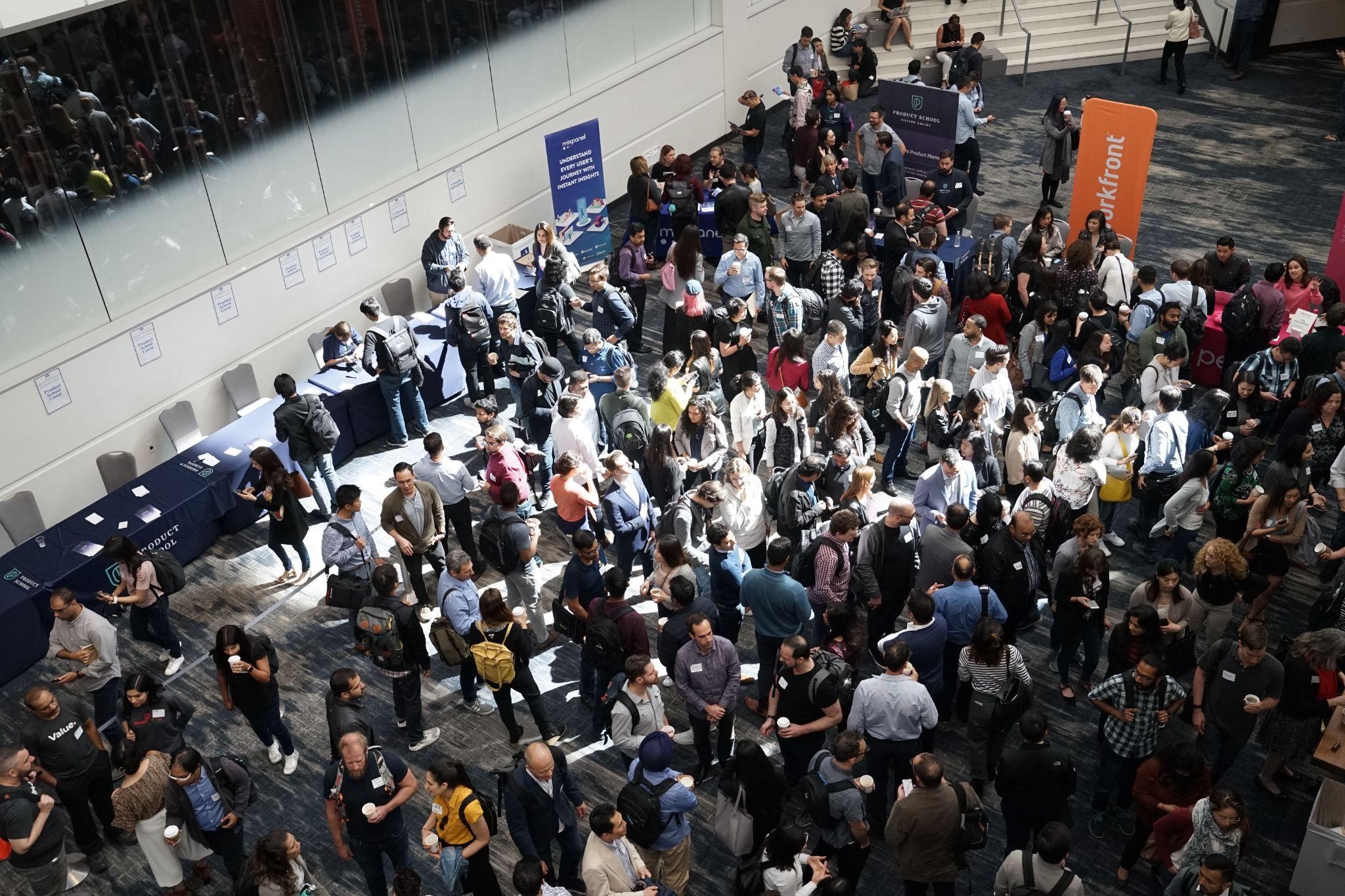 Luxury Portable Restrooms for Trade Shows in Florida
The most crucial aspect of planning an outdoor event involves making sure attendees, special guests, and main acts are taken care of. While several important elements have to be considered for an event's success, the attention you put into details will set you apart from the competition.
Trade show event planning organizers know that having restroom trailers and portable toilets on location can make a world of difference. With so many vendors in the market, it can be hard to pick the best one for an event. This is where VIP To Go shines.
VIP To Go operates in cities across the United States as a national provider of mobile facilities. Our fleet of unrivaled luxury portable restrooms and trailers has been making waves in Florida — from Fort Lauderdale and Hollywood to Downtown Miami and Miami Beach, we've catered to some of the most upscale shows in the state. If you're organizing shows in Florida, VIP To Go can help you with clean portable restrooms that will enhance your trade show success!
VIP To Go: Top Supplier of Luxury Portable Restrooms for Trade Shows
Florida trade shows take time and careful planning. VIP To Go's luxury portable restrooms provide a convenient, hygienic, and comfortable experience during your event. We ensure that we have clean and well-stocked mobile restroom trailers for VIP guests, attendees, and performers so you can focus on other aspects of your event. To make sure everything goes as planned, our team of experts review each aspect of your upscale portable restroom request and respond accordingly.
Here's some of the reasons why you can trust us with luxury mobile restrooms and their maintenance for your Florida conferences and trade shows:
●      Extensive Selection of Mobile Restrooms for Large Crowds
Our fleet of portable restroom trailers will leave you spoiled for choice. Event organizers can choose from different sizes and styles of luxury restroom trailer rentals that will exceed your expectations.
With VIP stations that can accommodate thousands of attendees, you can feel confident utilizing our services at large-scale Florida conferences and other well-attended trade shows in Florida. Our white-glove servicing has impressed many trade show event management teams, who feel that the upscale experience we provide contributes towards the overall trade show success.
Every luxury restroom trailer comes with a state-of-the-art sound system, air conditioning, sanitary amenities, spacious counters, modern decor and light fixtures, and then some.
Chic, contemporary interiors provide a comfortable space for attendees to freshen up during an event. Every station includes a water tank and waste tank to ensure that there's enough water throughout the event. And if you don't have access to a source of water or electricity, we are equipped to provide freshwater tanks and generators for as many mobile restroom trailer rentals as you need on location.
For trade show event management teams that have to stay on location for week-long events, VIP To Go has you covered with several combo portable shower and restroom trailer options. Large mirrors, GFI (ground fault interrupters) plug points for shavers and hair dryers, interior and exterior LED lighting, convenient cooling and heating systems, and running hot water make our shower and restroom trailers a delight to freshen up in. Upon request, we can also provide towels, soap, and shampoo for your convenience.
Our ADA (Americans with Disabilities Act)-compliant trailers offer a fuss-free experience to help those with disabilities get around with ease. Non-skid rubber flooring, sturdy washroom fittings, and bespoke interiors provide a relaxing space for those with mobility issues. The ADA portable restroom trailer rental can be placed flat against the ground or can be outfitted with ramp access to help those with disabilities enter and exit effortlessly.
●      Unparalleled Customer & User Experience
VIP To Go works with some of the best engineers and designers in the country to guarantee that all portable restroom trailers for rent evoke a five-star vibe. Every style restroom trailer we offer is designed with modern amenities and pleasing aesthetics to maintain an upscale look and feel.
Most of our customers have worked with us in the past or come to us through a referral, proof that people appreciate our luxury portable restroom rentals. VIP To Go's restroom trailer options feature sleek, chic, and gorgeous interiors and facilities that will wow attendees at commercial trade shows in Florida, Miami, and beyond.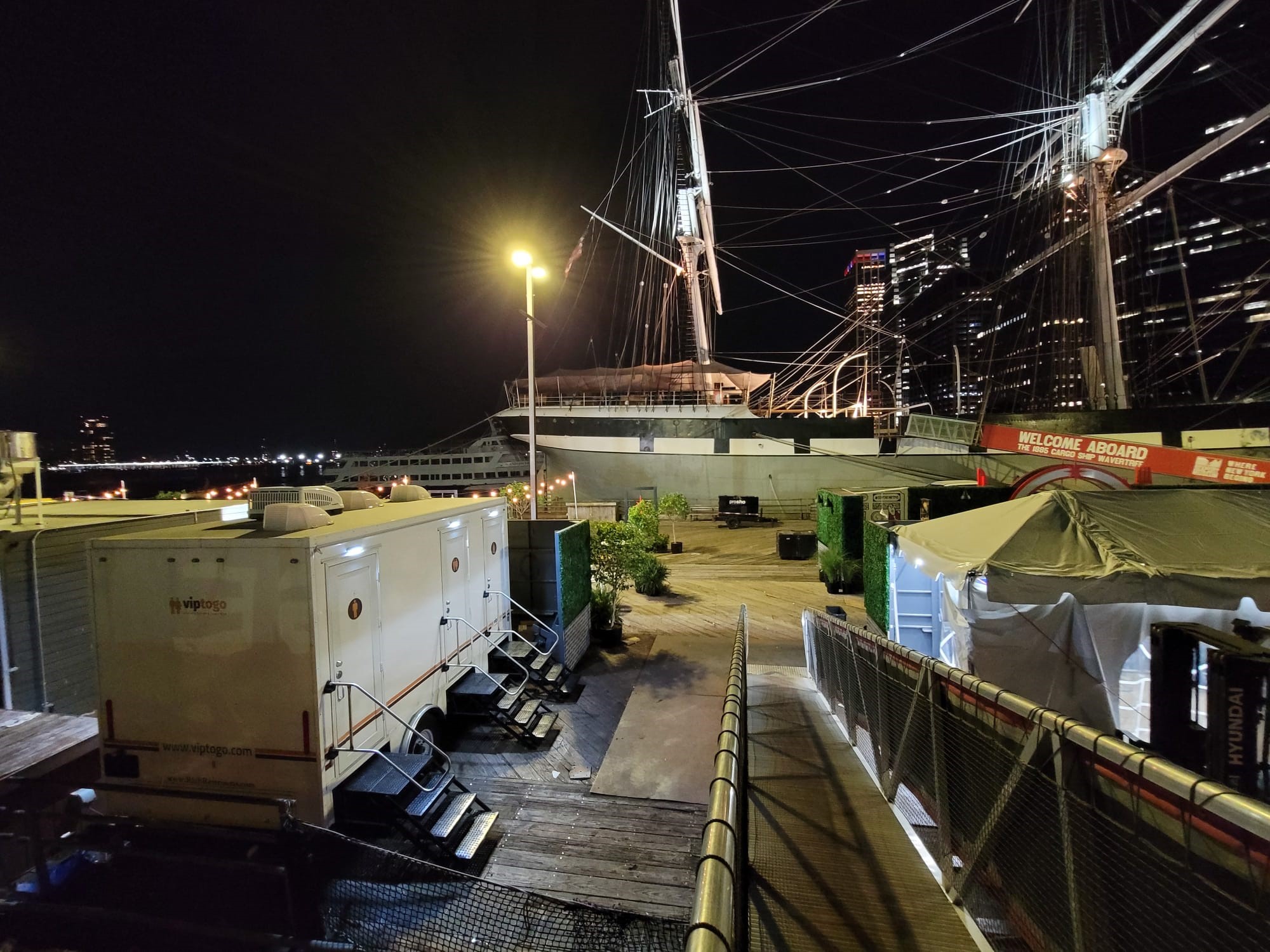 As an example of our ability to provide an excellent experience to clients and event attendees, VIP To Go supports a variety of upscale boat shows in South Florida during peak season from February to May. We also cater to the state's largest boat and yacht event, the Miami International Boat Show and the Miami Yacht Show. Thousands of people attend these annual shows that showcase newly released kayaks, superyachts, and boating vessels that push the boundaries of innovation, sustainability, technology, and design.
Event organizers book dozens of luxury portable restrooms for the duration of the boating show. A high-end event of this nature involves more than just dropping off a restroom trailer and picking it up after the conclusion of the event. Our VIP trailers are part of the upscale trade show model. We often provide dozens and dozens of restroom trailers and over a hundred VIP employees on site as bathroom attendants and technicians— all to ensure an impeccable restroom experience without any glitches for the show's attendees.
●      Top-Notch Facilities and Maintenance
Our team of professionals is highly trained, knowledgeable, and experienced in delivering and maintaining portable toilets for events. We're familiar with venue regulations and best restroom trailer positioning and placement. Before deploying our restrooms, VIP To Go studies the event layout to pinpoint central locations that are accessible for the public yet unobtrusive. We employ facility branding and strategic placement to ensure that they seamlessly blend into any event. This can be done by placing our portable facilities in tents, wrapping them in branded/promotional exteriors provided by the client, and/or using the exterior to place maps and directories of the event grounds.
●      Impeccable Customer Support
Our customer support staff is available 24 hours a day. You can contact us by phone, email, or chat for inquiries and bookings regarding Florida trade show bookings. Our team can recommend the appropriate number and type of event portable toilet rental to meet your trade show needs.
Our team performs free site inspections to better deliver luxury portable restrooms that meet your unique needs. For grand and intimate events that need extra care and attention, VIP To Go representatives can fly with a specialized venue agent to locations across the country to survey the event site and ensure that every detail is taken into consideration.
We'll ensure that your luxury portable restroom units are easily accessible, strategically placed away from busy areas, are maintained regularly by our staff, and are there when you need them.
●      Easy Online Booking
Booking a restroom trailer on our online platform is simple, quick, and convenient. First, explore our range of luxury restroom trailer units. Next, select the number of units you need from our line of luxury portable restrooms. Consider how many guests are coming and which features you require. Event organizers can choose from a selection of sizes and styles for attendees depending on the needs of special guests, speakers, and staff members.
Need someone from our team to guide you? Don't hesitate to contact us for a quotation, advice, and help on how to rent a restroom trailer. Our live chat agents are online 24/7 to assist.
●      Customization
VIP To Go is happy to support creative marketing endeavors to support the promotion or branding of your event. Our on-site staff will be happy to wear brand-centric uniforms provided by your event company for a coordinated look and feel. You can ask us about using trailer wraps with your brand colors, logo, and promotional event graphics.
Supporting Event Planning and Organizers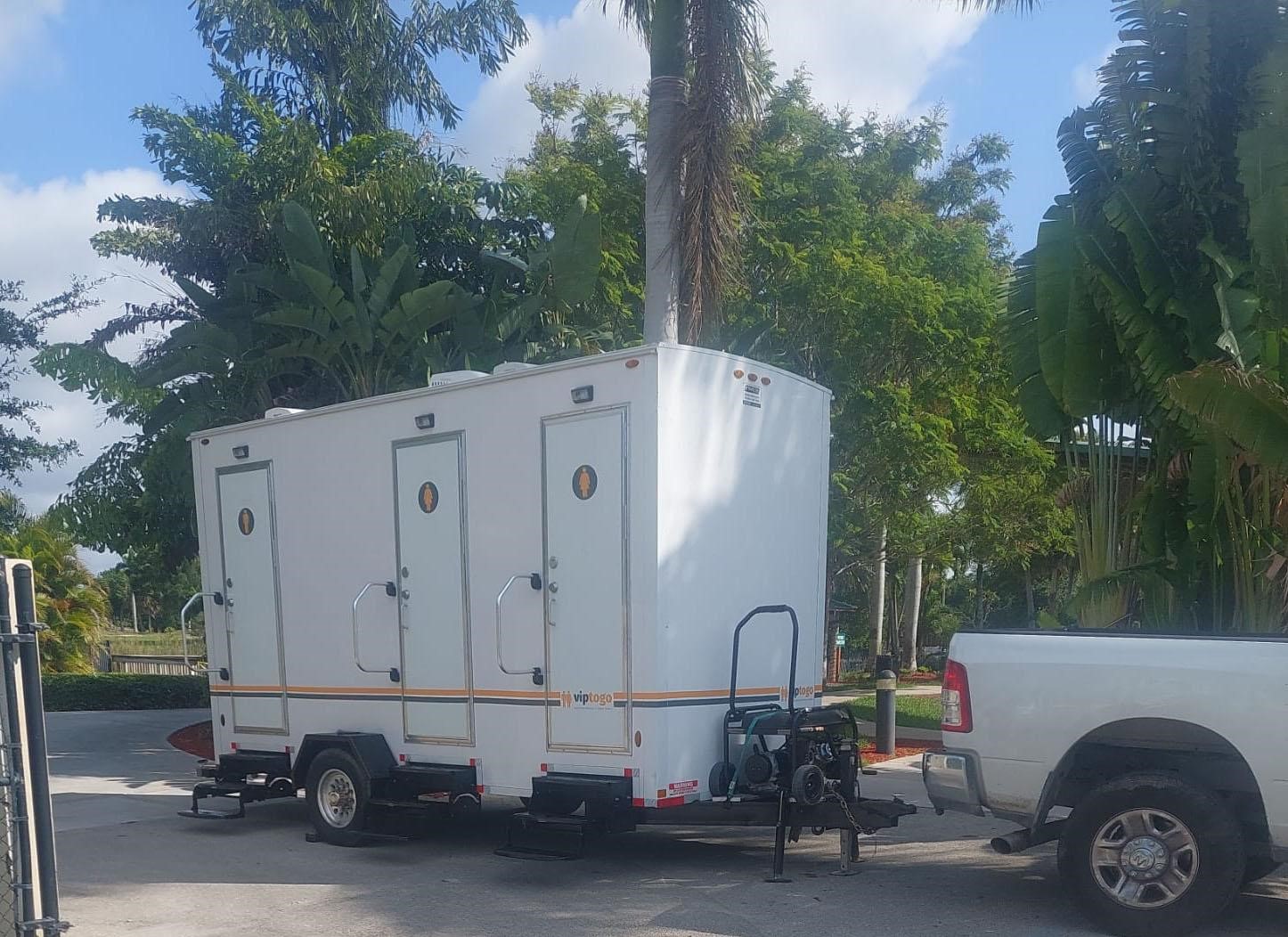 Major trade shows such as the Miami boating events in South Florida require months of extensive planning on behalf of the organizers. VIP To Go can come to your assistance in two ways:
We can lend a hand during the early planning stages.
Our team can be looped in early so that we can collaboratively help you execute a seamless event with every aspect of our portable restroom facilities.
VIP To Go is ready to support your event organizers with its facilities as they prepare for the event on-site.
Planning events often require working with a customized setup, building special infrastructure for specific show needs, and setting up other critical aspects of the event. All these responsibilities require careful planning and execution over several weeks. Your event planning committee and crew will spend plenty of time on location to set things up and will need accessible restroom facilities. VIP To Go can deliver a fleet of restroom trailer units to keep your team comfortable and fresh while they work tirelessly to bring your trade show event to life.
Booking Luxury Portable Restrooms for Your Florida Trade Shows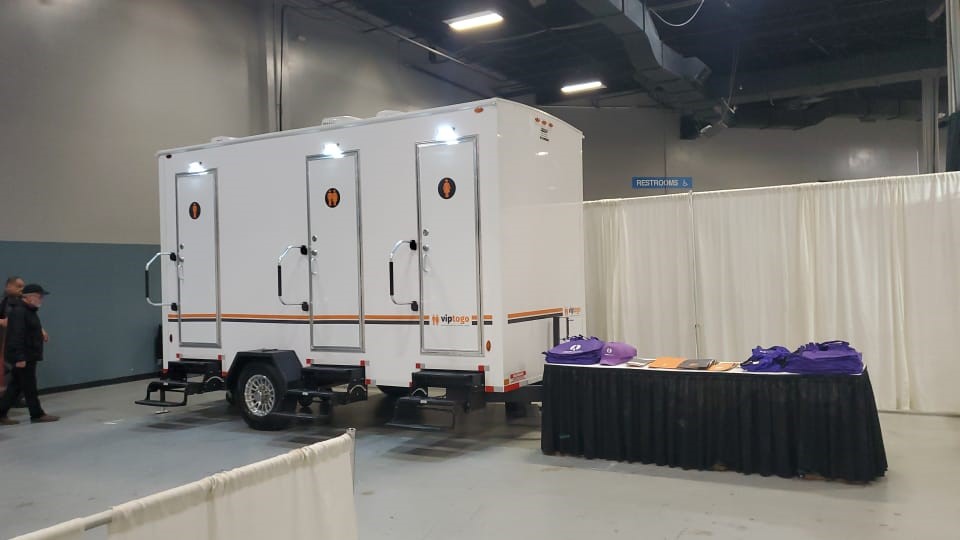 Trade shows, events, festivals, fairs, and exhibitions can rely on VIP To Go for unmatched luxury portable restrooms, whether your event is months ahead or days away. Our highly motivated team will help with your restroom facilities anytime, anywhere. We're just a click, phone call, chat, and email away from helping you plan your best event. Give us a call at 877 564 6977 or email us at info@viptogo.com and let's start planning the event of the season!