Affordable Portable Bathrooms for Parties and Small Events
No one wants to host a party and look bad. Although one of the biggest aspects of planning a wedding, corporate event, or party is the venue, the venue is not everything. There are other aspects that are very important in making your event a success, no matter how small you may think it is. The first step to a remarkable event is proper planning, followed by booking the space well in advance. After that, you need to know exactly what amenities you need. And that's where getting reliable party rentals restrooms comes in. Once that's out of the way, the rest is pretty simple—you just need to make sure your party goers know where they're going before they get there.
Restrooms are an important part of your venue since guests can't spend hours without using them. No matter how perfect your venue is, your guests won't be happy if they can't get a decent place to relieve themselves or do their business. And you wouldn't want to be the host of this party or event. If you use a reliable portable luxury restroom rental, your guests at the event are sure to appreciate the thought and effort you put into planning the event. They will also enjoy a well-organized event, especially because things will go smoothly. So, if you want to create an experience for your guests that is memorable for all the right reasons, you absolutely need to keep reading to find out how!
Portable Restrooms for Rent
While they're not often thought of as a major component of planning an event, portable bathrooms for parties or other events are absolutely essential. The right party rental toilets can make the difference in how much your guests enjoy your event. With that being said, even if you're planning an event without a party planner or on a budget (and we mean really on a budget), don't skimp on this aspect of planning an event. Just because it's not a flashy detail doesn't mean you should ignore it, because in the end, the flashy details won't matter if your party rentals restrooms aren't done right.
So, even if you're on a lower budget or you just want to host a small party, you still want to make sure that you have everything taken care of. That said, a toilet trailer shouldn't have to cost you an arm and a leg if you find the perfect portable bathroom rental company. And that's where we come in. At VIP To Go, we make it easy for you to get affordable luxury bathroom rentals for parties. And that's not all. We understand the needs of our customer base, and make sure to provide detailed information to those who are new to hosting an event, whether big or small, upscale or low budget.
So, before deciding you're stuck making do with poor restroom accommodations because of your budget, consider renting portable and affordable event restrooms from a company that specializes in providing them to those who need them. Not only will you get the convenience of more restrooms without having to risk running the event without them, but you can also save a ton of money by renting rather than purchasing them.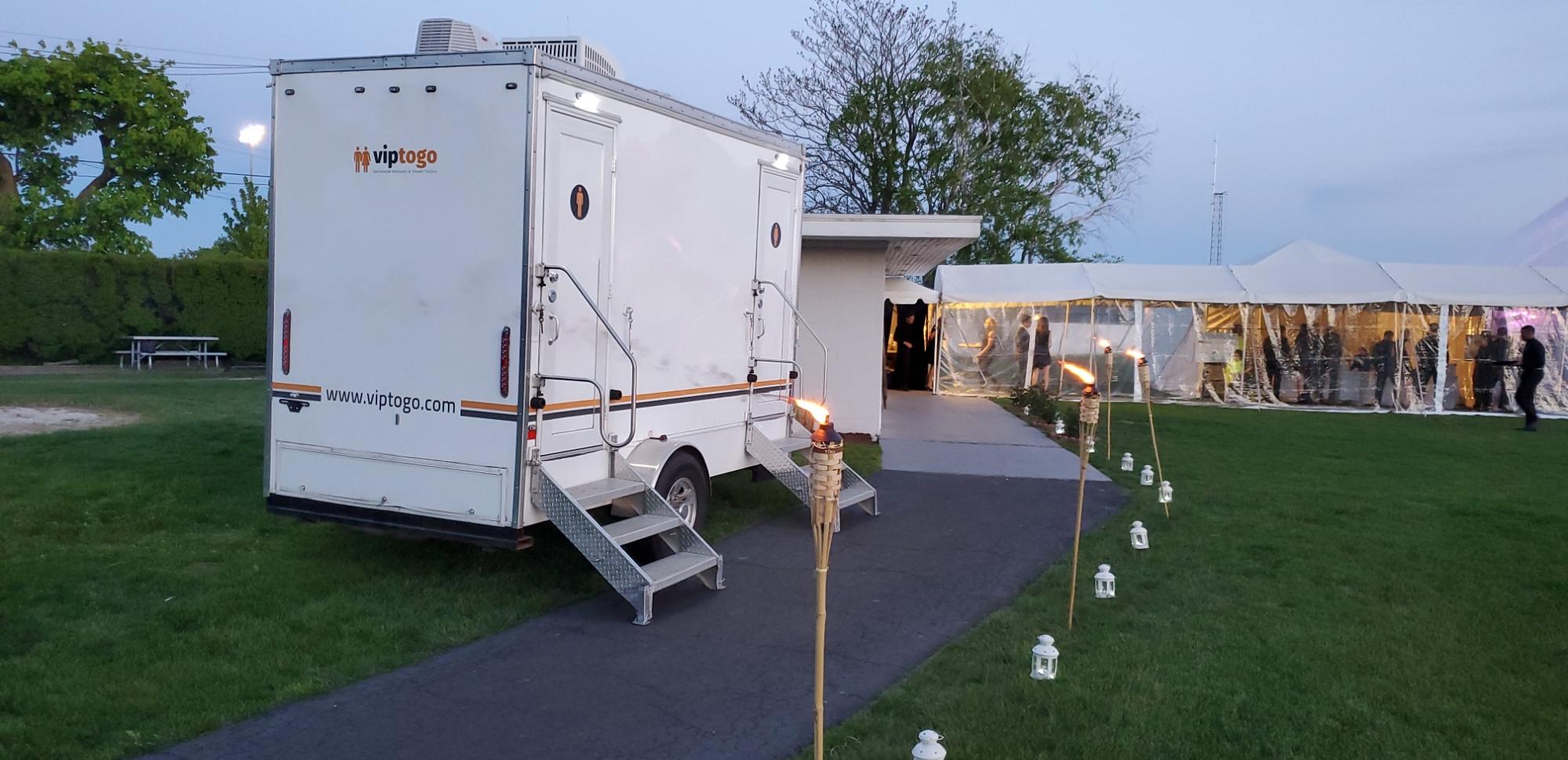 Portable Bathrooms for Parties, Weddings, and Special Events
Many event planners need restroom trailers for their events. This can be a great option as they can be inexpensive and convenient when you find the perfect rental. However, everyone is looking for ways to cut costs and stay within their budget. Because of this, many people want cheap porta potty rentals for parties instead of renting the more expensive restroom trailers. With so many options and prices, choosing a bathroom rental company comes down to your budget and the needs of your event. But what are the best portable bathrooms for parties and important events? We'll get to that in a minute.
Porta potties are sought after because they are generally less expensive than restroom trailers. However, even porta potties can still be hard on your wallet if you aren't careful, because you may end up needing many of them. Moreover, if you need bathroom rentals for weddings, you may have to go with a toilet trailer because they are more comfortable for the event. Party rentals restrooms trailers come in a range of styles, usually have their own entrance and exit, and also have individual restroom stalls. So, if you have a wedding, a black-tie event, a party, or a fancy occasion, a luxury restroom trailer rental is your best bet, even if you're on a budget.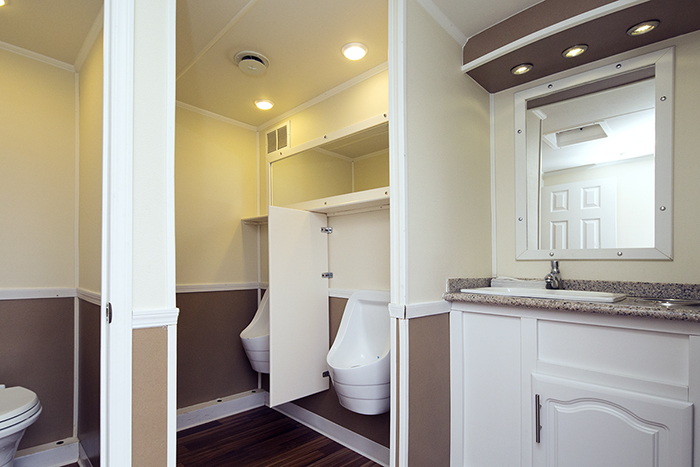 So, what factors should you consider to figure out whether a restroom trailer or a porta potty is best for your event? Here's how you can decide if a porta potty or rental trailer is best for your special event or party.
Are you hosting a small or large event? If you're hosting a small event, you'll be better off renting a restroom trailer. With a restroom trailer, you'll be able to provide luxury for your guests without breaking the bank. However, if you're expecting large crowds, like at a sporting event, you may opt for porta potties because they are versatile and you can place many of them side by side to accommodate more people.
If you need more space in the interior, a restroom trailer is just perfect. For example, bathroom rentals for weddings should be a restroom trailer because, that way, guests can easily change, get ready, or enjoy more comfort. If comfort is not at the top of your list or your guests won't need to get dressed or change, you may go with porta potties.
With restroom trailers, you can easily provide your guests with more comfort because you can control the climate (both heat and A/C) depending on the weather and time of the year. Porta potties usually don't have such climate control options.
With a restroom trailer, you have so many extras that scream luxury. They usually have sinks with running water, mirrors, and indoor lightning. They can also include stereo players, televisions, Wi-Fi, and lots more, depending on the type and rental price. Restroom trailers are the way to go if you want to make your guests feel comfortable and special!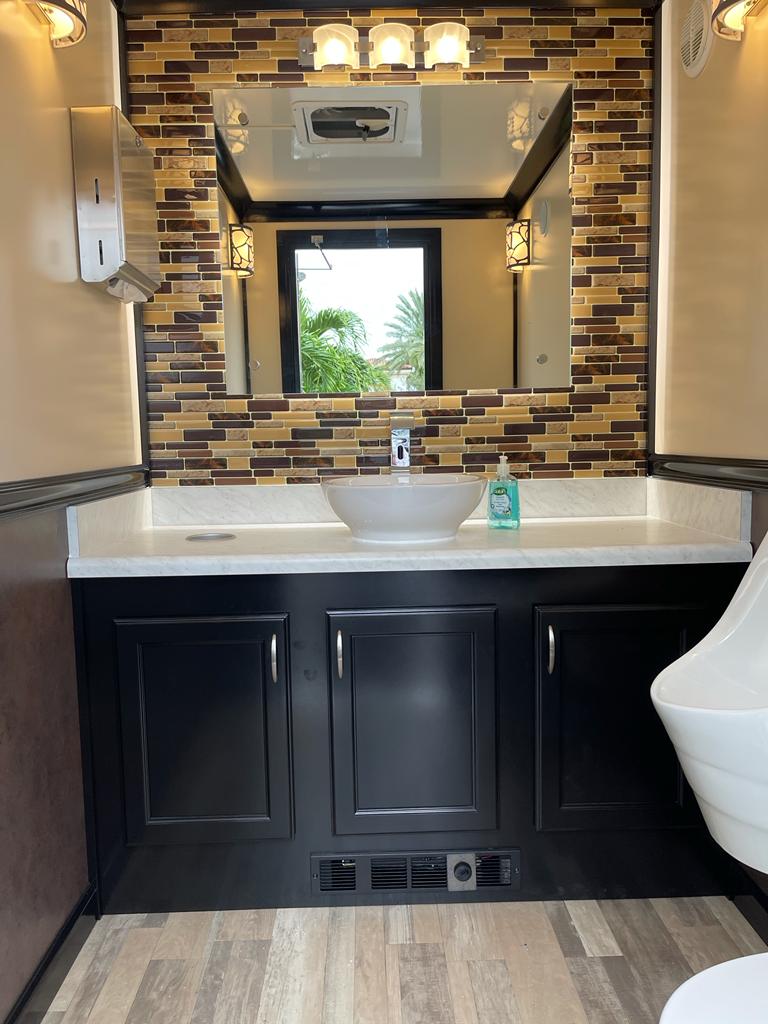 Portable Restroom Trailer Rental Cost
We understand that sometimes the budget gets squeezed and you may be wondering how much it costs to rent a restroom trailer. While it certainly is tempting to go for the cheapest option, you shouldn't skimp on portable bathrooms for parties just because the price is right and your budget is tight.
So what is the cost of restroom trailer rental? If you are planning a small event or your company has a party, you may be asking yourself how much restroom trailers cost since they are the best option for the event. Although there is a range in pricing that depends on the specific model luxury portable restroom rentals you choose, you can rest assured that VIP offers competitive pricing on all your restroom trailer needs.
And in comparison to porta potty options, that are far more limited in functionality and design, our simple restroom trailers are just a bit pricier but offer a significantly upgraded experience with portable bathrooms for parties (restroom trailers) that include flushing toilets, running water, luxury interior design, counter space, changing rooms, and many more amenities!
Although there are various portable restroom trailer rental prices, you can find out the details you need to make the right choice after a quick phone call with us or a visit to our website, and you'll be on your way to setting up great party rentals restrooms for your small event. Just because you're renting a restroom trailer doesn't mean you have to pay a truckload of money. And that's why VIP To Go is the best place to go if you need a VIP restroom trailer rental cost that's affordable and well within your budget. We have VIP portable bathrooms for parties for almost any budget.
Affordable and Luxury Restroom Trailers for Parties
You've planned every detail, calculated costs and expenses, and left nothing to chance. But a strong need for befitting luxury party rentals restrooms can quickly throw all of your careful preparations out the window if you don't get a good bargain. That's why at VIP To Go, we offer quality affordable, luxury portable bathrooms for parties and other special events! And the good thing? We are near you and can provide event restrooms for you – nationwide!
Our friendly team will work with you to find a rental solution for all of your restroom needs, from restrooms to shower trailers. Don't stress! We are just a click or call away! We aim to make your event go smoothly from start to finish, providing you with what you need as quickly and conveniently as possible. We are the experts at bringing luxury amenities to your events and handle everything from the tiniest details to the biggest challenges.
We understand your needs and will provide you with detailed information if you're new to hosting an event, whether big or small, upscale or low budget. We work harder to make it easier for you by:
Ensuring that the unit listing on our website gives you lots of details about the specifics of the unit, including images, layout, pricing, number of people it accommodates, etc.

Making the process of getting a quote on the spot and ordering directly from our website a seamless process.

Featuring many unit sizes and styles to suit your budget and event needs.

Making certain that there are no hidden costs.

Making sure our chat agents are available 24 hours a day, 7 days a week (with real-live trained agents) because the most convenient time for you to sit down to make arrangements may be outside of working hours.

Featuring a complete guide to portable trailer rentals on our website.

Being reachable by phone and email and returning your calls when we miss them.
We aim to please, and our goal is your satisfaction! But you don't have to take our word for it; you can check out our reviews! We have a 98% customer retention rate, and we'd love to have you as our next satisfied customer! Reach us today so we can help you with your luxury party rentals restrooms!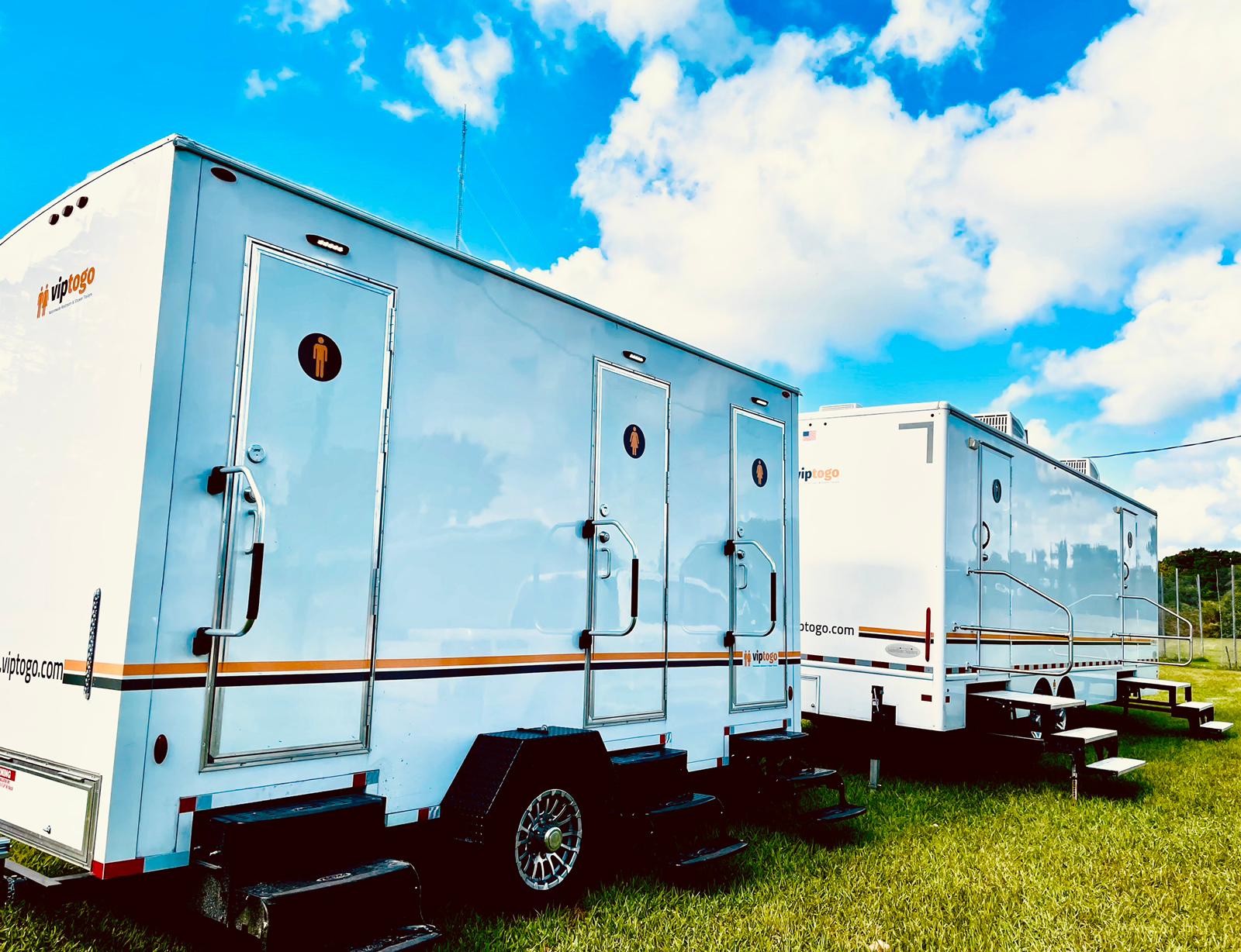 Bathroom Rentals Near Me—VIP To Go
When planning a special event or party, the comfort of your guests is paramount. VIP To Go understands this necessity and offers a variety of solutions for those seeking "bathroom rentals near me." From portable bathrooms for parties to larger, luxury restroom trailers, we offer a comprehensive range of portable restrooms for rent to fit all event types and sizes. And we don't stop at mere convenience—we truly take sanitation and style to the next level. For those in search of portable restrooms for rent, VIP To Go ensures that each unit, whether basic or luxurious, provides a clean and high-quality experience for its users. With a strong focus on customer satisfaction and top-notch amenities, VIP To Go stands out as a premier choice in the realm of bathroom rentals.