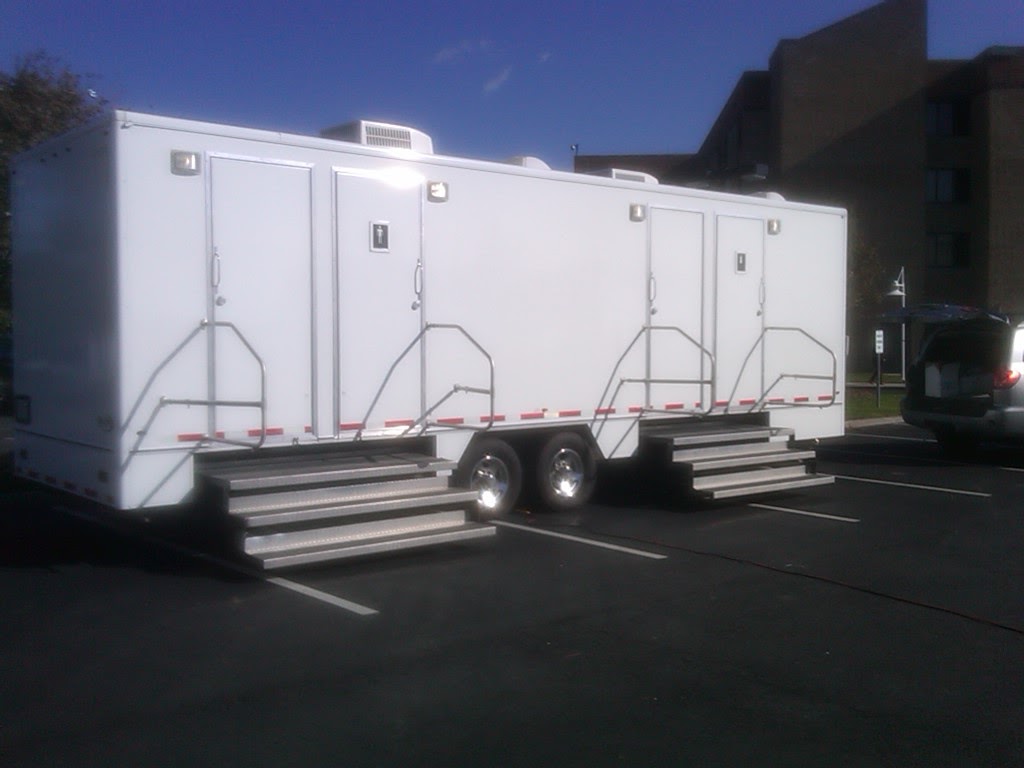 Portable Restroom Trailers in Florida
Air Conditioned Bliss
Florida summers are sizzling hot and humid. In these conditions, working outdoors can be draining. There's nothing like working up a sweat and then stepping away from the sweltering heat into the fresh, air-conditioned bliss of a VIP To Go trailer. Our portable restroom trailers are a favorite at numerous events. Their versatility allows them to be used by businesses, on military bases, at temporary offices, wedding venues, sporting events, festivals, state and county fairs, carnivals, during storm cleanup, disaster sites, and for special events across the state.  The Miami International Boat Show, one of the largest boat and yacht events in the world, is but one popular Florida venue that utilizes VIP To Go's restroom trailers to service guests at their annual shows.
Amenities That Make a Difference
When you step into our restroom trailers, you're getting a VIP experience. Our flushable toilets, running water in the sinks, privacy in the protected stalls, interior lights, exterior lighting, vanity mirrors, linoleum floors, and climate control are what make our portable restrooms a favorite all along the Florida coast. The interiors are beautifully decorated with luxury bathroom hardware, and are well supplied with hand soap, and paper towel dispensers. Our basic models offer the comfort and convenience of a home restroom away from home while our imperial restrooms are perfect for special events.
Our luxury models are a cut above the rest, and if you need a portable imperial restroom for a gala, residential party, or big event that's worthy of a celebrity, this is it. Our royal restrooms are used at every type of event, from weddings and fundraisers to residential parties, from North Central Florida to Miami and beyond. They come with all the amenities of our basic models, but also have fireplaces, flatscreen televisions, DVD players, music, internet access, and more.
We've spent decades working with engineers and architects to design portable restroom trailers that have flushing toilets, running water in the sinks, electricity, and can accommodate wheelchairs. We want your guests to feel like they're stepping into luxury when they walk through the restroom doors.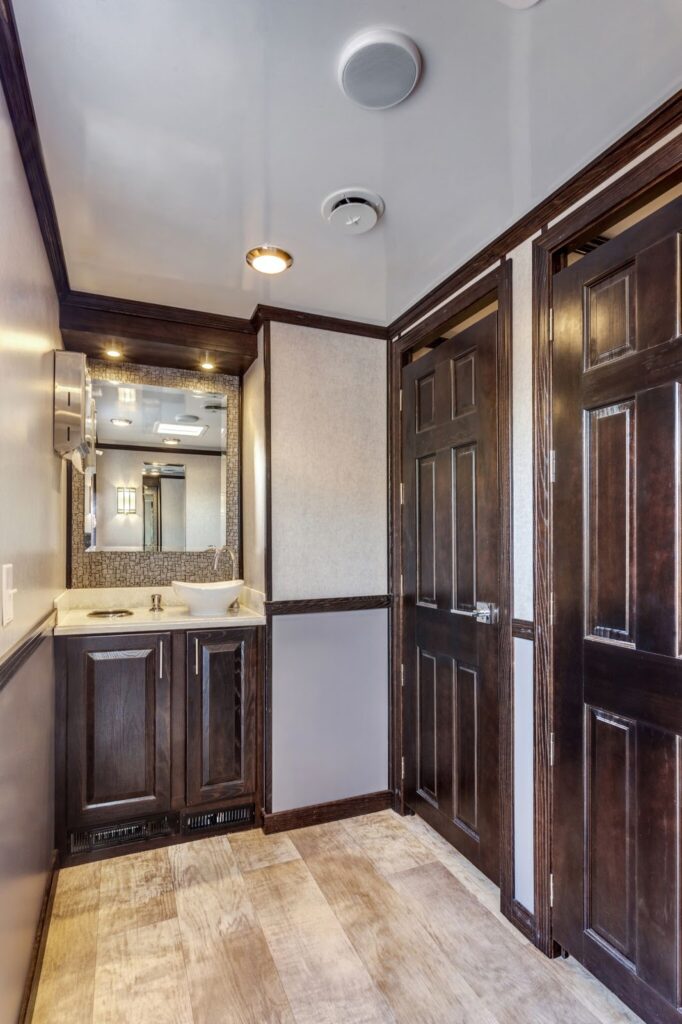 Going Above and Beyond The Call of Duty
Not only are our portable restroom trailers nicer than anything you'll find from the average porta potty rental company in Florida, our customer service far exceeds the competitors. When our clients order a unit for delivery, we'll walk you through the process to ensure that you and your venue will be well prepared for how to handle portable restroom trailers. For example, we'll note whether there are water and electrical hookups for the trailer to connect to, or if you want us to supply it.
When we service your trailers, we'll empty the sewage and replenish your water supply, make sure the restrooms are clean, and refill the paper towels, soap, and toilet paper. We don't want you to have to worry about restroom maintenance when you have so many other things to do for your event.
On delivery day, our main office in Florida will send a representative and service person out to your location. They'll meet up with the driver and make sure that the restroom is hooked up properly to amenities, secure on the ground to prevent accidents, and completely stocked with amenities. We take our time to do the job right because we want your guests to get the luxury restroom experience.
Top-Notch Customer Service
We offer 24/7 chat support to ensure our customers get what they need when they need it. When you need emergency service, our people working in the field have two-way communication devices that ensure our dispatcher can get ahold of them as quickly as possible. As soon as our service people get the call, they'll come to your aid.
We understand that sometimes, venues are much busier than anyone anticipated. When that happens, water tanks and supplies can run out too soon. Something like this needs to be addressed quickly. Our restroom trailer rentals in Florida come from local shops, so we have people near you that can get there quickly to refill water and service the unit.
Easy Online Booking Process and Affordable Prices for Short and Long-Term Clients
With over 20 models of rental trailers available, chances are that we have what you need in a restroom trailer. Each type and size of our portable restroom trailers have different layouts and you can easily view the different options on our website.  You'll find detailed information about each model, its amenities, trailer size, and the number of guests each trailer can accommodate on our website. Its super-simple to select the dates you're looking at, choose the trailer you want, enter your address, and get a quick quote for your restroom trailer rental. During the checkout process you'll also be prompted to select any extra features you may want for your guests. And, if you still have questions about the trailers or specific features after that, you can chat with a live representative on our website 24 hours a day.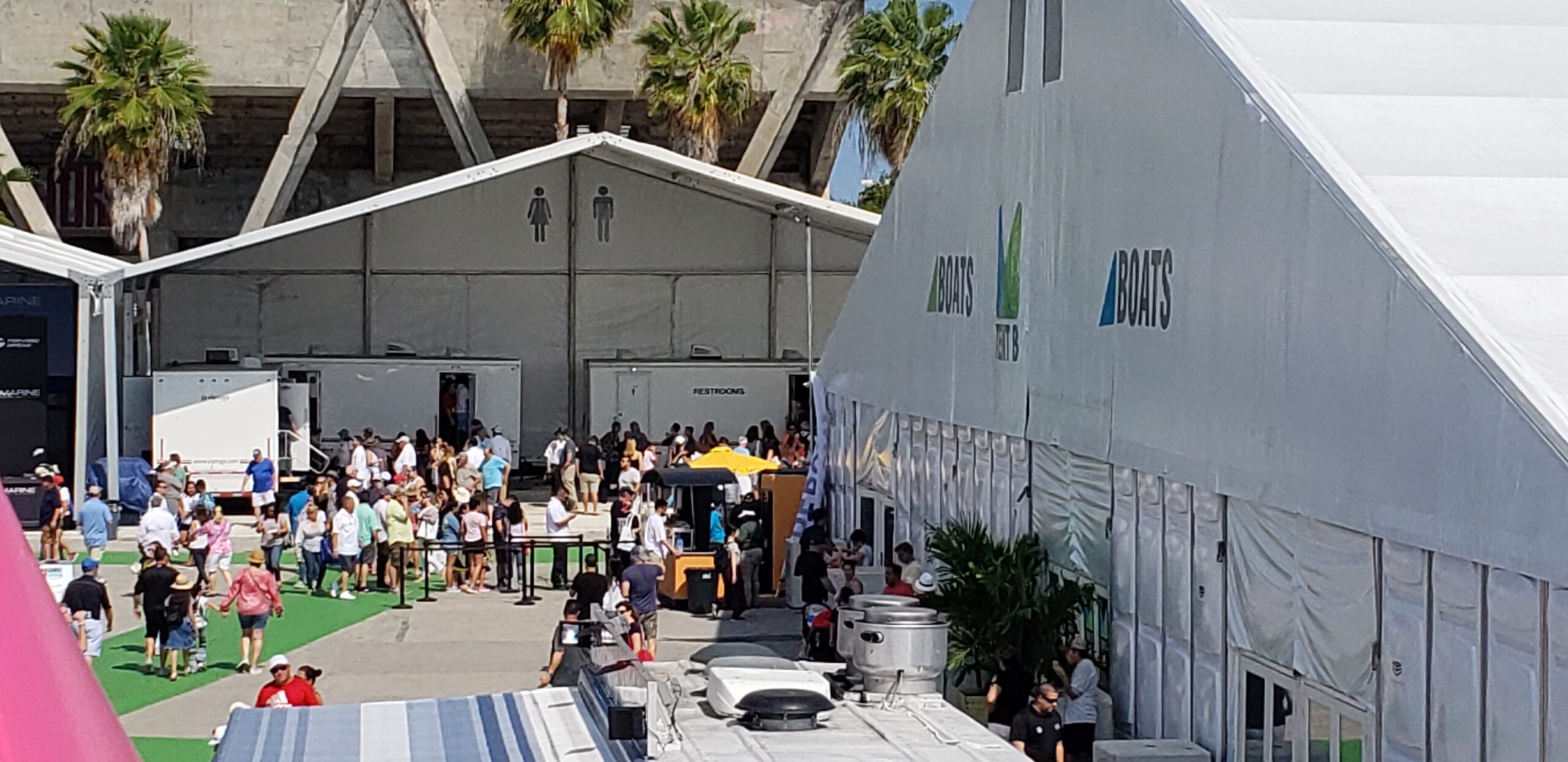 Restrooms to Accommodate All Crowd Sizes
The choices in restroom trailer sizes are endless. From two station trailers to 10 station trailers, we'll figure out what you need and make sure you have it at the best price possible. We offer nearly two dozen types and sizes of portable restroom trailers in Florida. Our eight-by-seven-foot trailer models are great for small crowds of up to 125 people. Installation of these restrooms is quick and simple. We size water tanks and stock enough supplies for these units to minimize service calls and keep your costs low. If you have a large crowd, though, we'll make sure your restrooms get serviced on a regular basis. This includes ensuring that there's enough clean water in the holding tank to keep toilets flushing, sinks running, the sewage emptied, and the restrooms clean.
If you're expecting a large crowd at your event, you may want to hire a service attendant to be at the event as well. With many guests using the restrooms, it's important to keep things clean and fresh smelling. Upon your request, we can provide restroom attendants who will be dedicated to your venue for the duration of the event. They will clean toilets between users, spray mirrors and windows, and make sure that the restrooms don't run out of supply.
The goal of our staff of knowledgeable and professional service people is to make sure that your event is a a success. From customer service reps, to chat agents, to administrative staff, we all want to make sure your every restroom need is well taken care of.
ADA Compliant Portable Restroom Trailers in Florida
We know that living with a disability is hard enough without struggling to use portable restrooms that have steps or are narrowly designed. We want to ensure our disabled customers have an experience that's tailored specifically to their needs and they come away feeling cared for, heard, and considered.
Our Florida branches have ADA-compliant restrooms with easy wheelchair access that come in two sizes and offer plenty of room to navigate. The wheelchair-accessible stalls are extra large and are specially engineered to make reaching toilet paper, paper towels, and soap easy for guests with disabilities. There are handrails to make getting in and out of wheelchairs safe and toilet heights that make transfers fast and smoother. The ADA compliant restrooms are climate-controlled and have luxurious amenities so that everyone can enjoy their portable restroom experience. We encourage our wheel-chair bound customers to send us their feedback and suggestions if there's anything we can do better.
Competitive Pricing
We understand that everyone wants to save money wherever and whenever possible. We base our pricing on the length of time you'll need to rent our trailer(s), how many units you rent, how often you'll need service calls, whether you need water and a generator, and whether you've chosen a luxury unit or a basic restroom trailer.
To determine your rental price, you can easily get a quote from our user-friendly online quoting system. We will use this information to tabulate your quote and get it back to you as quickly as possible. If you have any questions before you fill out the form, please contact our customer service agent via chat or telephone.
The Best Portable Bathroom Trailers in Florida
Our company has been in business since 1998. We started out small and worked our way into becoming a nationwide provider of portable restroom trailers. We've worked hard to build our reputation for excellence, and our customers come back year after year because our service and selection are second to none.
Over the years, we've learned a lot about how best to provide superior mobile restroom trailers, portable wash stations, and shower trailers. We invested well when we hired architectural designers and engineers to make unique rental units that nobody else in the business has. We keep our restrooms' features and fixtures updated with the latest technology to help clients save water and electricity while enjoying the same great functionality, modern aesthetics, and attention to detail that we've always supplied.
If you're in Florida and you need a deluxe portable restroom trailer for your wedding, concert venue, construction site, temporary office, military base, or event, get in touch with us today so we can help you decide which units can fit your needs. Our selection of shower trailers, sink stations, and standard or luxurious portable restrooms can fit your needs.
Need something you don't see? Contact VIP to Go now for your quote.