Eight Delightful Fall Event Ideas To Celebrate the Season
Every season has its own "perks." During the winter, you're met with the majestic beauty of snow-capped mountains, while springtime ushers a slew of vibrant colors and warming temperatures. But one season seems to rank leaps and bounds amongst the rest – fall.
Fall is when leaves change into their most attractive shades of green, brown, and red while the temperature drops subtly, creating the perfect environment for pumpkin spice lattes, flannels, and marshmallows over the bonfire. And with famous holidays like Halloween and Christmas right around the corner, fall is a welcomed season with so much to offer.
With all that in mind, it's no surprise that so many people opt for events in the fall. With the perfect backdrop and climate, it creates some of the coziest and most beautiful parties.
If you're thinking about crafting a fall event of any kind but need a push in the right direction, keep reading. Below is an assortment of the top fall event ideas, coupled with suggestions to bring them together.
Top Eight Fall Event Ideas to Consider
Do you want to capitalize on the most beautiful season of the year with an event to remember? Then consider one of these excellent fall fest events that are sure to enchant and wow.
1. Harvest Party
One of the event staples for fall is harvest parties. Harvest parties can be kept low-key with a few friends and family members. However, they can also turn into larger-than-life shindigs that the entire community can enjoy (hint – harvest parties are one of the best fall community event ideas!).
Whether you're choosing a small-scale operation or want the town at your harvest bash, there are a few fall harvest party ideas to set up, including food, games, and decorations. Larger parties can benefit from chili cook-offs (fall chili party, anyone?) and relay races, while smaller gatherings can be set with fall-inspired cupcakes and pumpkin carving.
Don't forget to create a fall event flyer for community-wide events, or stick with fall party invitations for small parties.
2. Bachelorette Party
There are endless possibilities when it comes to fall bachelorette party ideas. Some women might want to hit the trails and go camping (or glamping) to surround themselves with bedazzling visuals, plenty to drink, and good times. Of course, you'll want to use some crafty fall event names such as "Flannels and Fizz."
Others might want to sit back, relax, and sip, surrounded by some of the most glorious views of nature. Have your friends dress up in their Halloween costumes for a "Costumes and Cocktails" extravaganza.
3. Tea Party
Care for a spot of tea? As long as the tea party fall event is held during the chillier weeks of the season, yes, of course! Tea parties (okay, basically a fall garden party) are always going to be a hit, whether you're celebrating a little girl's birthday or shaking up your traditional picnic date night.
Regardless, your fall tea party should offer flavors reminiscent of autumn, such as cinnamon, apple, and pumpkin, and use your finest tea seat to serve your guests. Oh, and don't forget scrumptious fall party cakes like Spiced Pumpkin-Molasses Cake or Brown Sugar Butter Cake with Pumpkin Frosting.
If you want to serve a main course with your tea and treats, you can always add to your fall tea party ideas and opt for a fall outdoor dinner party instead! With an outdoor fall dinner party, guests can dress up in classy fall party outfits, and you can offer some fall cocktails, like Autumn Apple Bourbon Frizz or a Ginger Pear Bourbon Cocktail. (Don't forget fall party plates and napkins!)
(Psst.. you can also ditch the food and go with a fall cocktail party. Who doesn't love to sip on something spicy and alcoholic during the colder seasons?)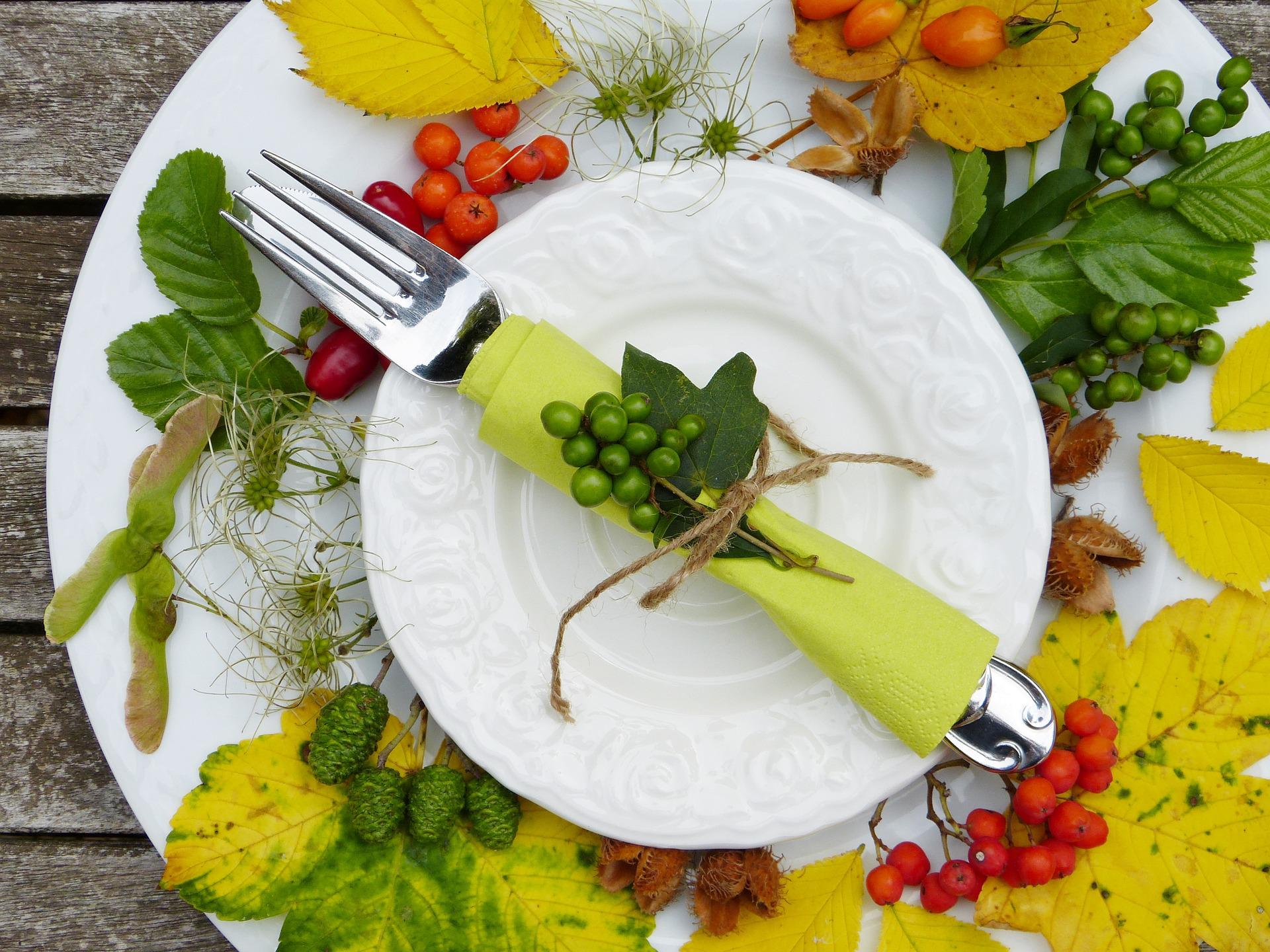 4. Birthday Party
You simply can't go wrong with a fall birthday party, whether you're celebrating a fall-themed first birthday party or turning 105. There are lots of different themes to consider, but here are the top three fall theme birthday party ideas (along with fall decorations for birthday party suggestions):
Halloween. Halloween-themed birthday parties are always a blast! You can bust out your spookier fall party decorations and allow everyone to dress up in their costumes. Give it one of many fun names for fall events, such as "Halloween Hootenanny," and put that on the fall birthday party invitations.

Oktoberfest. Who doesn't love beer in the fall? Head to your local Oktoberfest or create your own Oktoberfest fall backyard party. You're bound to have a great time if you have German beer, food, and music.

Outdoor movie night. This is one of the best fall festival party ideas for the younger crowd. The fall party invite can be oh-so-adorable in the shape of a pumpkin. Decorate with cute fall party decor and treats. Then, turn the yard into a movie theater and show one of many kid favorites, such as Coraline, Hotel Transylvania, or Goosebumps.
5. Fall Block Party
Sure, having a nice, quiet fall fest party with a small group is great. But parties are always better when there are more people involved. And that's why you should highly consider getting your neighborhood together to host a fall block party.
Everyone engaging in the fall block party can have a different theme or activity at their home. Some of the best fall block party ideas to consider are:
Apple cider station
Hayrides around the block
Bobbing for apples
Pumpkin decorating
Cornhole tournament
Create your own party favor
Hint: If you're looking for some fabulous fall classroom party ideas, all of the ideas listed above can work well in classes of all ages! Kids are bound to have a blast with these fall class party ideas, and you can also add some educational options.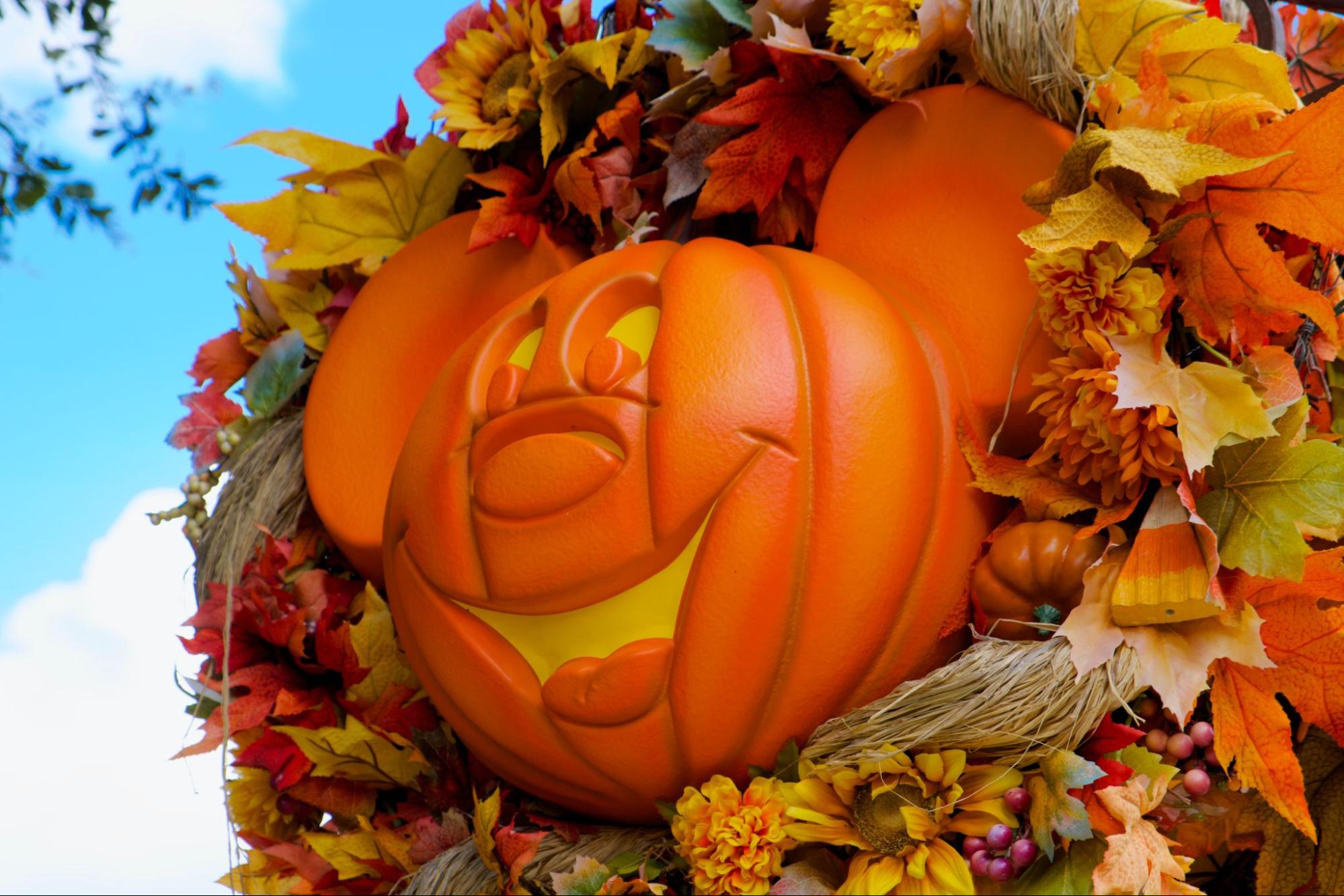 6. Engagement Party
Many people get engaged before or during the fall, so they're planning a fall engagement party. While you can craft the fall-themed engagement party any way you please, it's almost always recommended to go with a rustic aesthetic.
For starters, you want to create some lovely fall engagement party invitations with fall-themed party names like "Falling in Love" or "We Found Our Perfect Pumpkins." From there, you can put together fall engagement party decorations like a wagon with autumn leaves, gourds, pumpkins, and seasonal colors strewn all over the table.
Aside from these essential fall party decoration ideas, don't forget to serve your guests some tasty fall treats like apple cider, donuts, and caramel apples. Consider asking everyone to arrive in their finest fall engagement party outfits, like jumpsuits, long dresses with sweaters, or a nice pair of pants and a button-down shirt.
7. Painting Party
One of the most popular party options right now is paint parties. Here, you not only get to let your creativity loose and design your own artwork but most parties are paired with yummy cocktails – you know, so you can have an extra good time with your pals.
This party option doesn't need a whole lot of specifics. As long as you have fall painting party ideas to follow along with your paintbrush – such as an autumn sunset, a slew of fall trees with their leaves falling, a pumpkin patch, etc. – you can create a top-notch fall painting party.
Just don't forget the must-have fall party supplies for painting, such as the paint, paint brushes, easels, and lots of cocktails for you and your friends.
8. Bonfire Party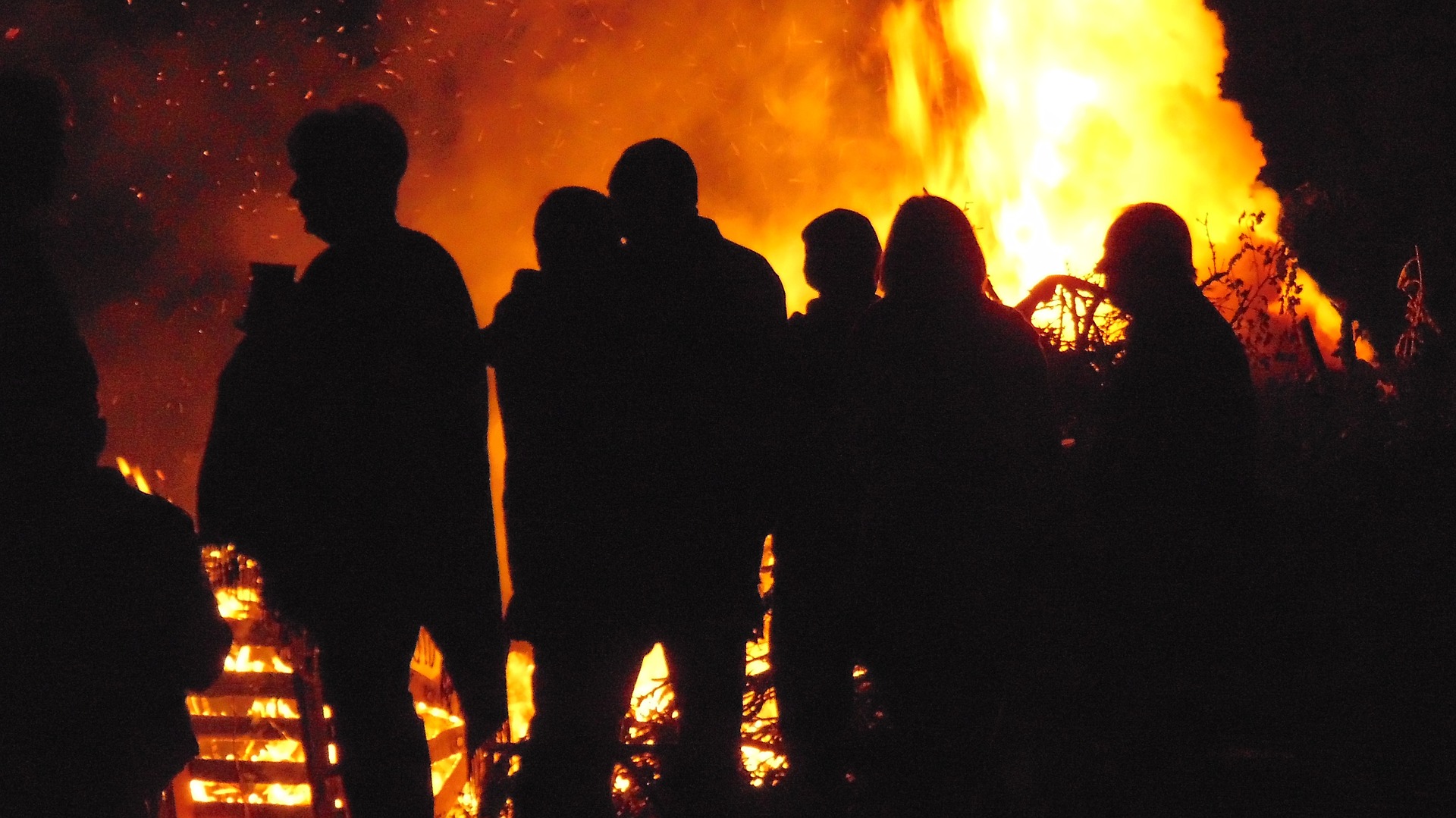 Last but not least, you can host a bonfire. This is one of the most popular fall event options, considering the weather is crisp and perfect for sitting around a fire. Fall bonfire party ideas are also really simplistic, which means anyone can throw this party together without too much effort or money. That's a win-win situation.
Start with a fun name for fall party bonfire, such as "Let's Get Roasted!" Then, find a cute fall party invitation template to invite your guests. Gather the essentials, including the fire pit, ingredients for marshmallows, pizza, and a guitar. Lastly, use some easy fall party decorating ideas, such as orange lighting, lots of flannel blankets, and some fall-inspired mugs for hot cocoa.
How VIP To Go Can Help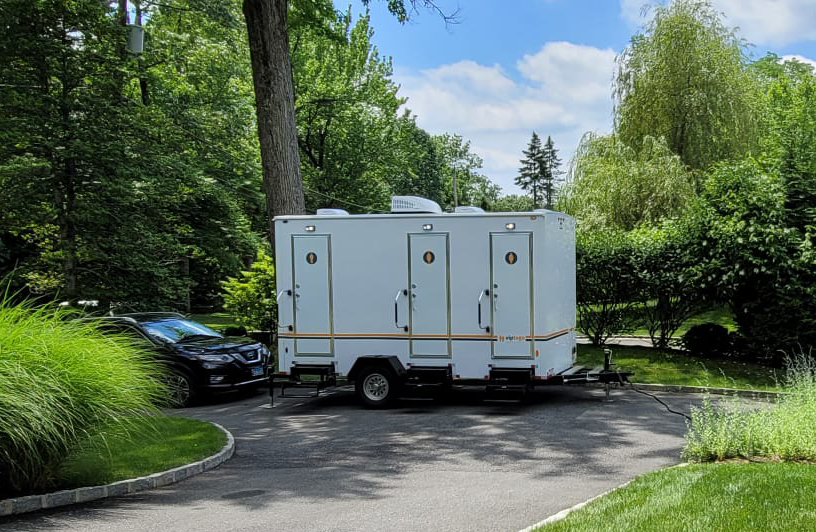 No fall festival party is complete without an adequate number of trailer bathroom rental facilities to appease your guests, and that's where VIP To Go comes into play. Whether you're hosting a large or small fall event, we can ensure there are enough luxury portable restrooms to accommodate the needs of your party-goers.
VIP To Go is the premier event restroom trailer company in the business. We offer a wide selection of top-notch event restrooms that are so luxurious and comfortable that you and your guests will forget you're using a restroom trailer rental.
All of our portable restroom rentals are well-stocked with lavish interiors and low platforms for convenience and safety purposes.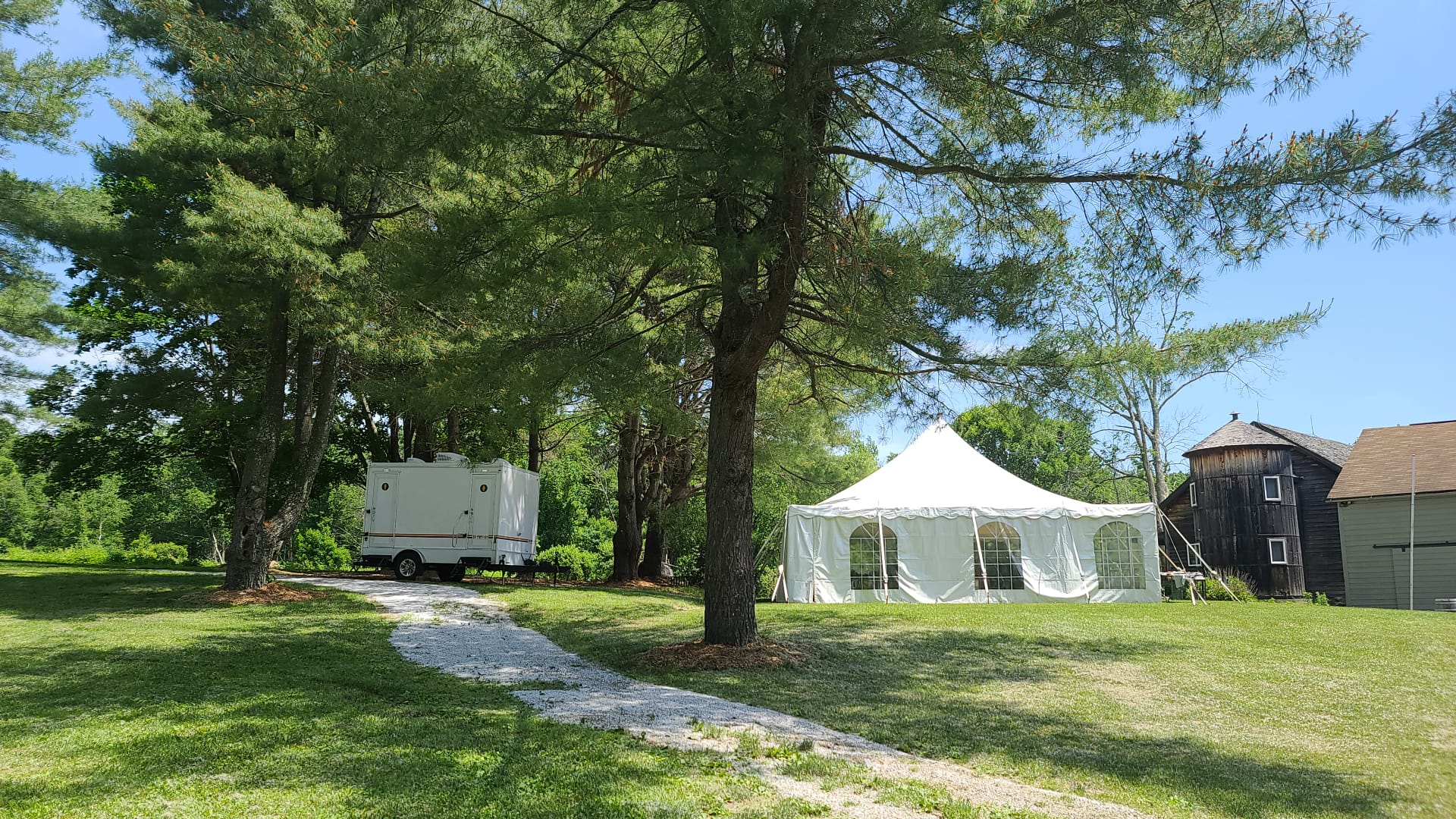 If you opt for our prestigious luxury bathroom trailer rentals, you also get the benefit of heating / air conditioning, internet access, a sound system, and more with every bathroom trailer rental.
With our wide selection of event restroom rentals, you're sure to find exactly what you need. We even have portable toilets and showers when you need them most!
And don't worry about over-the-top prices or expenses. At VIP To Go, we offer our state-of-the-art event restrooms at surprisingly affordable rates.
Don't believe us? Then contact one of our friendly and expert staff members today. They can answer your questions, from "How many restrooms do I need for my event?" to portable restroom trailer prices and information. They can also help you rent a bathroom trailer with no hassle!
Fall is the Best Time to Host an Event!
Undeniably, fall is the best time to throw an event, whether you're planning a larger-than-life harvest party for the entire community to enjoy or sticking to a small but charming birthday party. Regardless of the size of your event, let VIP To Go be in charge of your mobile bathroom trailer needs.
Call now to book portable toilets for events!