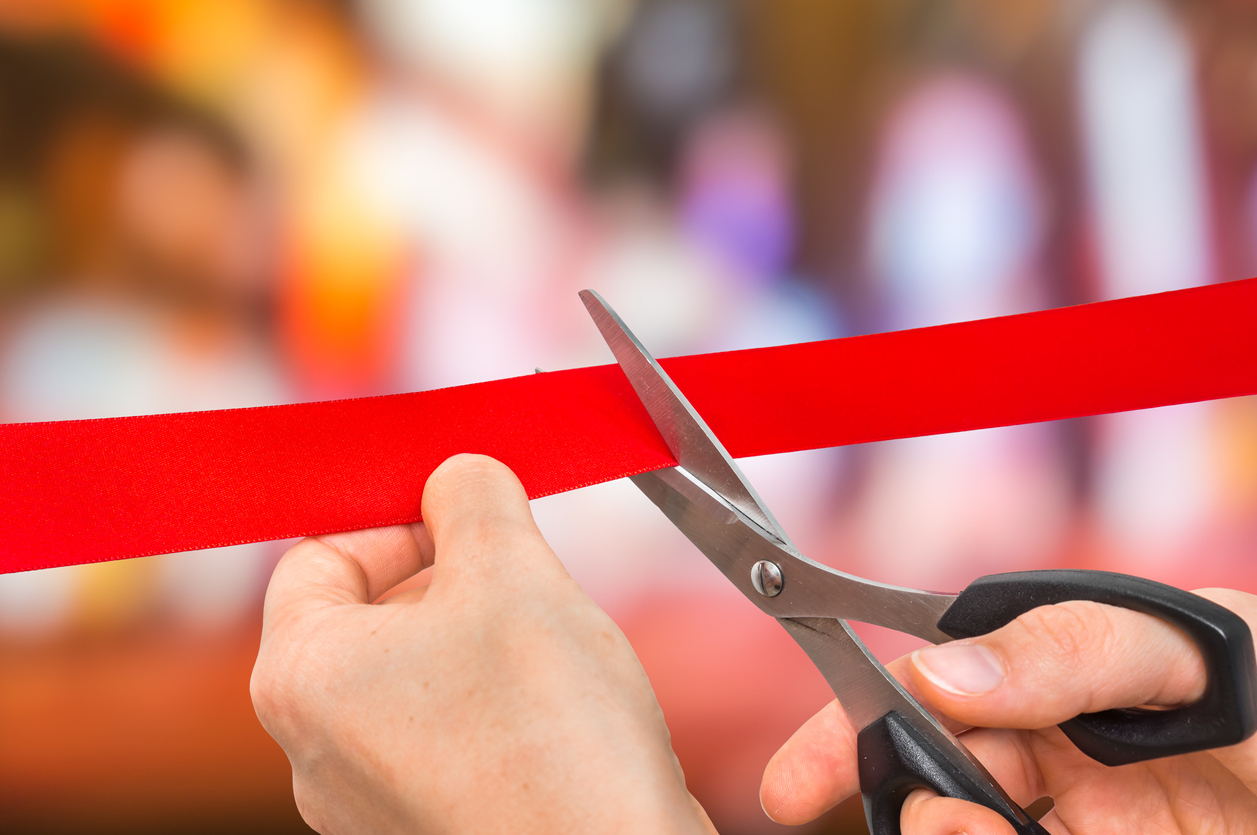 How To Throw a Successful Ribbon-Cutting Ceremony
Are you announcing the launch of your new business? A ribbon-cutting ceremony is a great way to celebrate and publicize the opening of a business or organization.
Characterized by the ceremonious cutting of a large ribbon draped around the entrance of an office or commercial space, ribbon-cutting ceremonies are symbolic ways to generate brand awareness and cultivate key relationships while getting great publicity.
This article will take you through what it takes to throw a successful ribbon-cutting ceremony for your grand opening.
What Is a Ribbon-Cutting Ceremony?
The purpose of a ribbon-cutting ceremony is to mark a new beginning, usually in business. It's a symbolic way to announce to the world that your company has worked hard on something, and would like to celebrate a milestone or project's completion.
When a business is launched, or a new organization, company, firm, hospital, school, etc. is established, people throw ribbon-cutting ceremonies to signify a new start. It is also integral for announcing your brand to the industry and relevant communities.
The symbolic gesture of cutting the ribbon is similar to cutting a cake on your wedding day, or throwing your cap in the air when you graduate. It marks a new chapter for a company and creates expectations of future business success.
Typically held where business operations take place, ribbon-cutting ceremonies are a chance for you to share your milestone with everyone who helped you achieve it and the people you want to engage with in the future.
Did You Know?
Nobody knows exactly how ribbon-cutting ceremonies began. However, we do know that they became increasingly popular during the late 1800s after a Louisiana railroad line adopted the practice upon its opening.
When Is a Ribbon-Cutting Ceremony Held?
Ribbon-cutting ceremonies mark the completion of a project, or when a new business launches. For example, if a new hospital has been constructed by a private firm, the grand opening celebration will usually include cutting the ribbon.
Other examples of momentous occasions that hold this ceremony are when websites go live, the inauguration of a new office, and the opening of a new restaurant. Some ribbon-cutting ceremonies also occur upon a business' soft launch so they can also be thrown a few weeks or months prior to the actual opening.
What Happens at a Ribbon-Cutting Ceremony?
You've no doubt seen ribbon-cutting ceremonies on TV, social media, or witnessed one in person. With their unmistakable oversized ribbons, you can't miss them.
It typically gathers together everyone who made the milestone possible, members of the press, as well as stakeholders that the business would like to engage for its future endeavors. The guest list usually includes founders, CEOs, key employees, sponsors, investors, builders, and more.
During the event, there is a ceremonial cutting of the ribbon by a member of leadership or a relevant representative of a community and a grand opening speech. Photos are taken for publicity. You'll also see people shaking hands and congratulating each other.
During the ribbon-cutting speech, the speaker announces the reason for the event and the milestone that has been reached, key people who made the event possible, and future plans for the business or organization.
Planning the Ceremony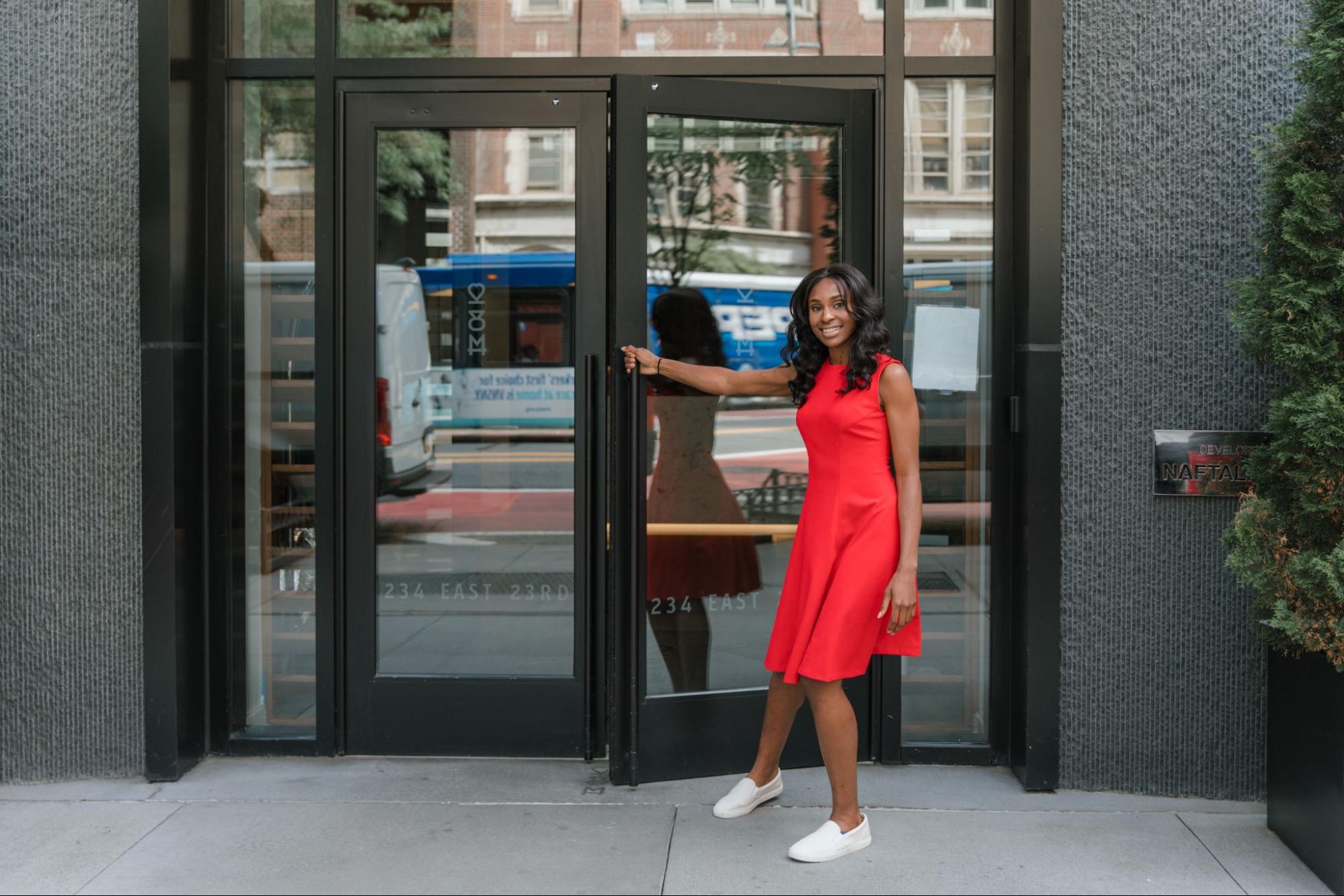 While the programs for ribbon-cutting ceremonies aren't as elaborate as bigger events like concerts and seminars, it still entails planning and foresight. Organizers who are put in charge of the event must consider many aspects like the venue, catering, guest list, invitations, and event participants.
Let's get into the nitty-gritty of how to do a ribbon-cutting ceremony from planning the time and place to smaller details like ensuring guests' comfort. It's important to plan it right since it represents an entire business and includes participation from external stakeholders like the press.
From all aspects, the event needs to provide a positive impression so that it spells continued business success for the company that's hosting the event.
Choose your time wisely! Consider the schedules of the VIPs whose presence is required and event participants who will be supporting the event. It's also a good idea to check if there are any other major events happening during your chosen schedule to ensure that everyone who needs to be there can make it.
To see if there might be other ongoing events that may present a conflict, consult your local Chamber of Commerce. The association can assist and advise you on dates and times that are suitable for them. You should likewise check with government officials and key guests if they're available during your suggested schedule.
Good times to consider for your ribbon-cutting ceremony are noons and afternoons, when most offices have breaks.
Another aspect to factor in is whether your venue can accommodate all the people you're planning to invite. Ribbon-cutting ceremonies are typically held on-site where new business or commercial operations will take place. If that place is too small, consider limiting your guest list for the ribbon-cutting and inviting everyone to a reception with more space.
It's important not to omit any key stakeholders from your guest list. Ribbon-cutting ceremonies are a great way to honor those who have helped the business reach its achievements. It can also be used to engage stakeholders and communities whose help you need in the future.
To make sure that everyone who needs to be there is invited, consult leadership, management, and relevant project managers regarding your guest list.
Here are some common groups to consider for your guest list:
Official dignitaries: Inviting the mayor, commissioners, government officials, and other VIPs can help a business network in the local community.
Stakeholders: Make sure your investors and sponsors get a special call and personalized invite to the event.
Your team: Don't forget the people who were instrumental to your project. This may include employees, accountants, architects, management, and administrative teams.
Friends and family: Include a plus-one in your invitations so guests can bring at least one person and enjoy the event more.
Members of the press: A big reason why companies hold ribbon-cutting ceremonies is to create buzz and publicity. Make sure you invite relevant media outlets to your event.
Planning your guest list is important because it gives you an idea of how big your event is going to be, allowing you to plan accordingly.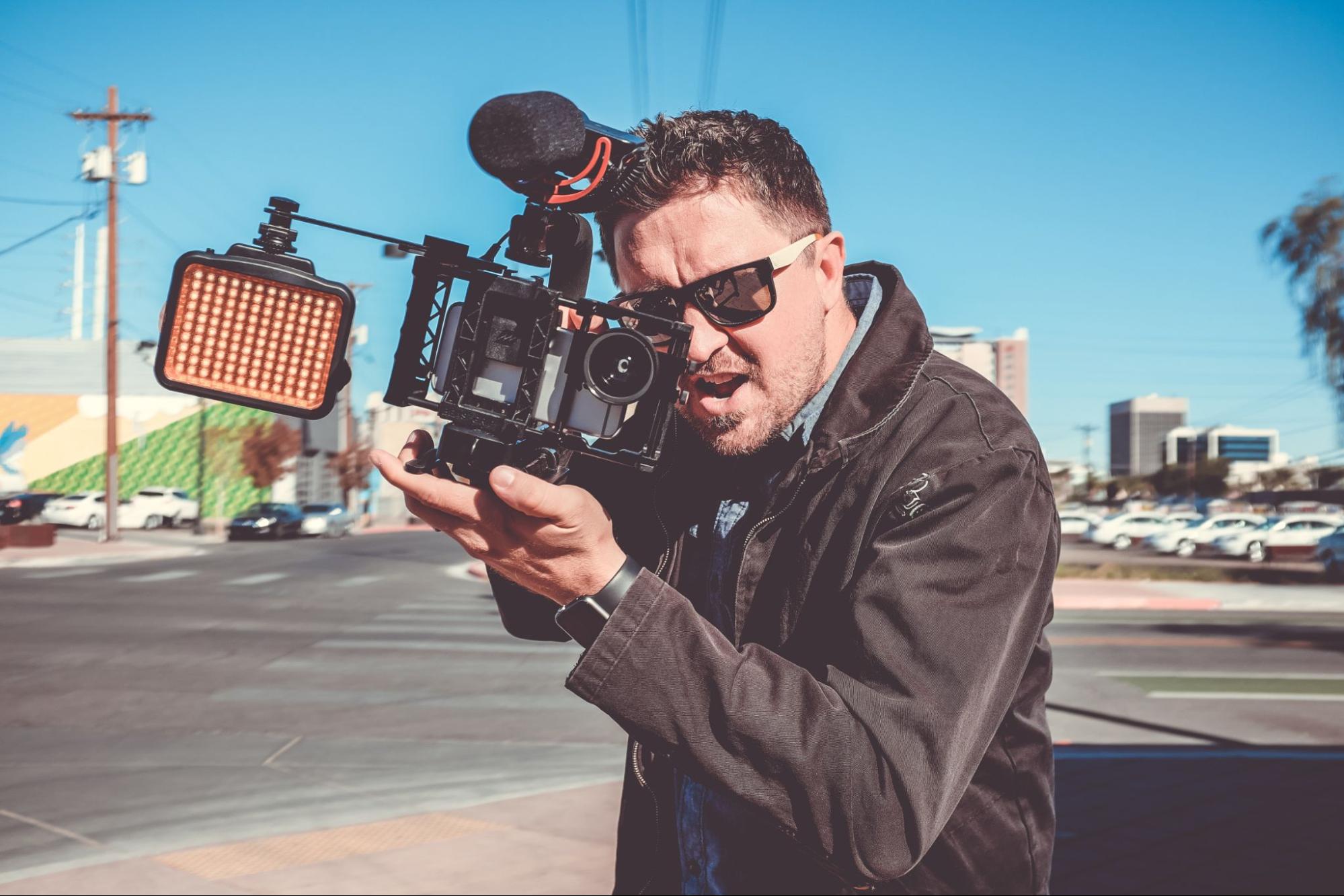 Hiring services for food, drink, and entertainment is the best way to make your ribbon-cutting ceremony enjoyable and memorable.
Get a catering service to cover food and drinks. Make sure to include dining options for your guests — vegan, halal, and kosher.
The food you serve should match the kind of inauguration you're holding and the time of day when it's being held. If you're launching a health facility in the middle of the afternoon, you'll want to steer clear of unhealthy food and should only serve light snacks and refreshments.
Hire a DJ to play soft, ambient music while everyone waits for the ribbon-cutting. Music creates a more relaxed environment where people feel more comfortable.
Though the press will be taking lots of pictures, it's still a good idea to have a company photographer present so the company will have their own stills for internal communications.
Personalize the ceremonial ribbon! It doesn't always have to be a red ribbon. Go with the colors of your company brand or logo, and get a ribbon-cutting ceremony kit in those shades!
You can decorate the venue with balloons or flowers in your brand's colors. Set up a photo booth where people can have fun and interact with each other while waiting for the ceremony to start.
Don't forget the oversized scissors! Of course, if you don't have access to a customarily huge pair, you can just use regular scissors to reduce costs and for a more low-key event. Whichever way you decide to go, just make sure they're sharp enough to easily cut the ribbon — an unsuccessful ribbon-cutting attempt is said to bring bad luck!
Last but not least, you're going to want your guests to be comfortable during the event. Since most ribbon-cutting events begin outdoors, or at entrances, arranging for event restrooms is a must.
To foster goodwill and leave a positive impression among guests, consider roomier event restroom trailer units. These portable toilets for events allow guests to relieve themselves and freshen up.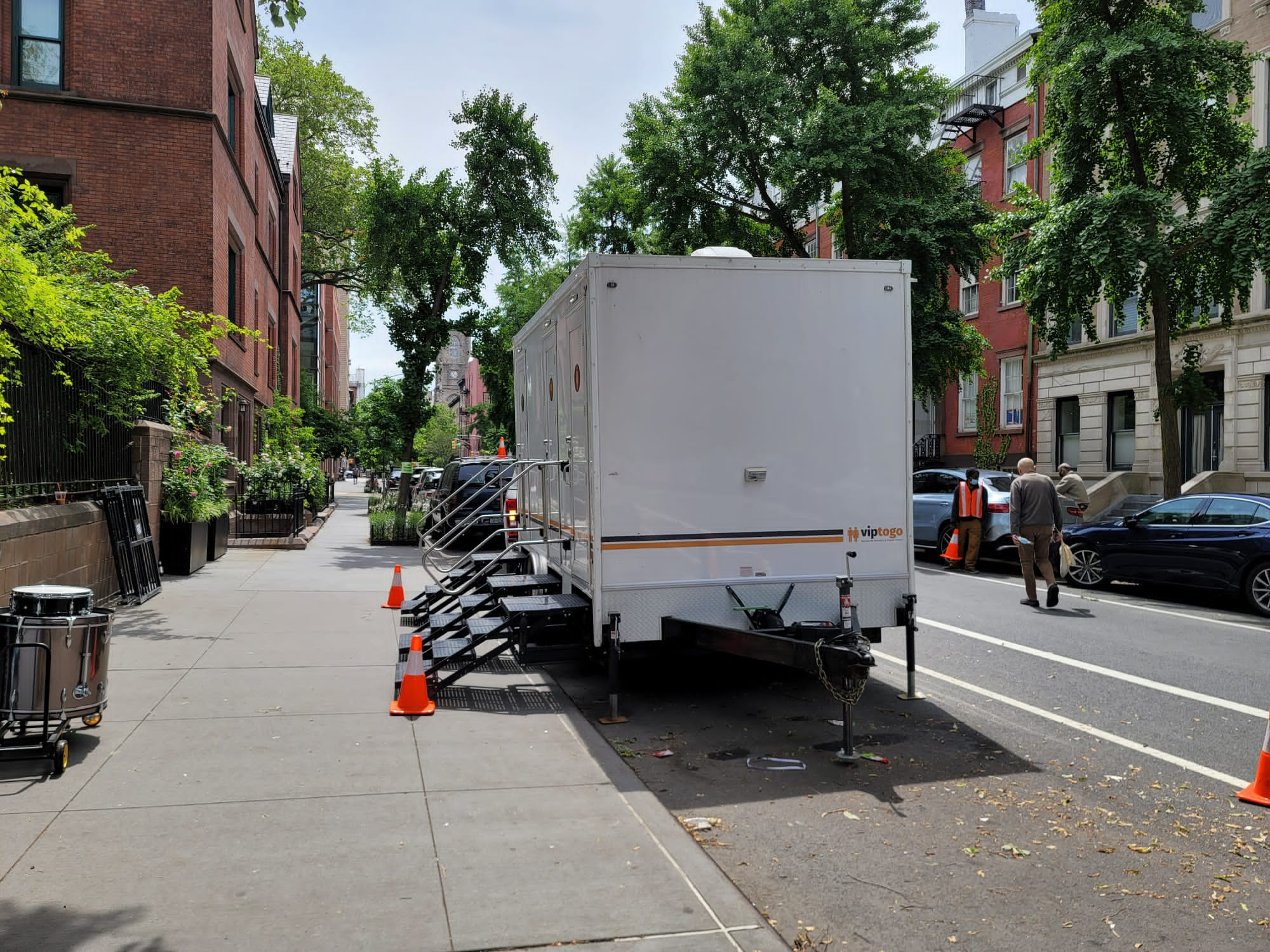 If you want reliable services and well-maintained, high-quality facilities, reach out to VIP To Go. We have an extensive selection of mobile event restrooms for a variety of needs, ranging from single-unit porta potties to large restroom trailers that can service 500 to 1,000 people.
VIP To Go's range of luxury and standard event restrooms have state-of-the-art sanitation and drainage facilities. Our trailers come with handwashing stations, grooming mirrors, sound systems, AC, and heat. They're worthy of your ribbon-cutting ceremony and won't put your event to shame.

Why VIP To Go?
From Texas to Washington, Maine to Florida, and everywhere in between, VIP To Go is the leading portable restroom trailer provider. Choose from standard units to larger restroom trailer rental units that can serve up to a thousand people.
Our units are all ready to go, well-maintained, and professionally cleaned. We have friendly customer service representatives who can help you decide how many units and which types of units are best for your event. We can also provide ADA-compliant rentals through our ADA Plus models.
Our consultants can recommend where to place our bathrooms so they can be conveniently accessed while remaining unobtrusive.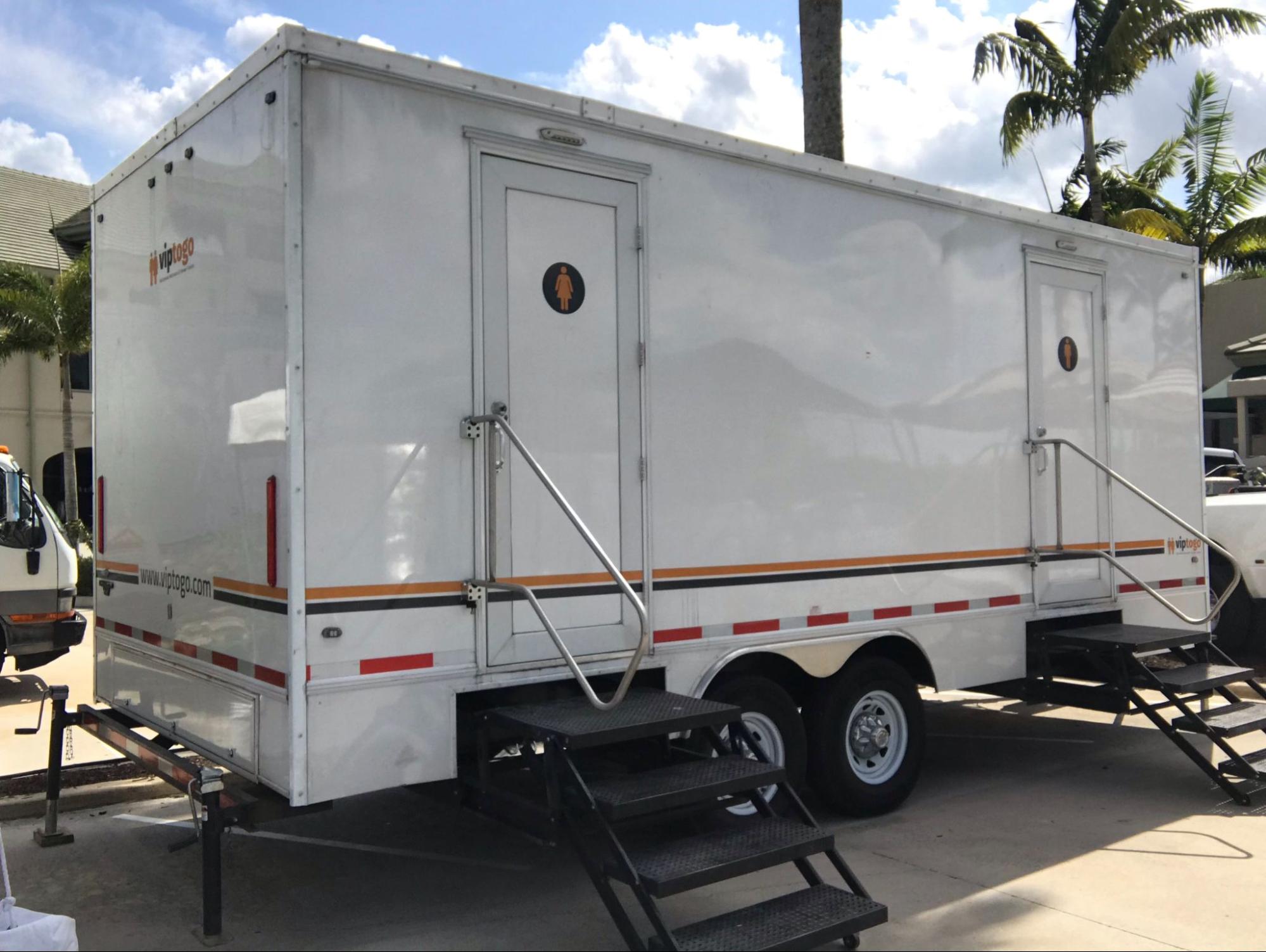 How many restrooms do I need for my event?
Give us your event details and we'll help you figure it out. Call us at 877-564-6977 or send us an email at info@viptogo.com. You can also visit our website and make your inquiries through our live chat service, available 24/7 for your convenience.
With VIP To Go, the perfect ribbon-cutting ceremony is no farther than a call or click away.