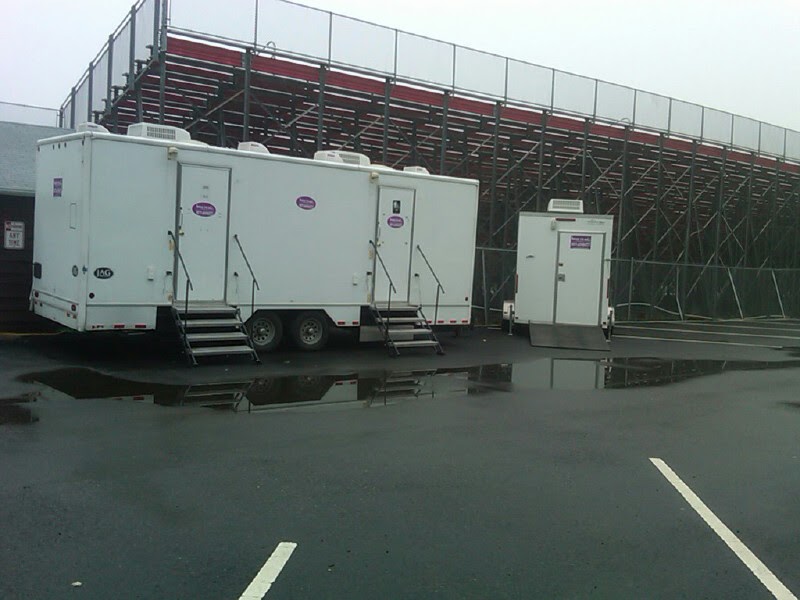 Restroom Trailer Rental in Maine
VIP To Go is a national company that provides well-maintained, accessible, and clean restroom trailer rentals for residents and businesses in Maine. Whether you're searching for portable restroom trailers for rent near you for a reunion, wedding, professional engagement, big festival, renovation project, sporting event, or other special event, you can count on VIP To Go for new restroom trailer units delivered to your event or job site. Depending on the length of your restroom trailer rental, our team of professionals will service the bathroom trailer on-site and restock paper and sanitary products to guarantee the best restroom trailer experience for your guests or workers.
Our VIP restroom trailer rentals in Maine are exclusively customized and styled with your guests' convenience in mind. The restroom trailer units are sized well for different events and amount of guests,  with the type and amount of restrooms, urinals, and sinks different in various restroom trailers. Each bathroom trailer is designed to maximize space and comfort for your guests, and fit into nearly every type of space.  VIP To Go has made sure that its restroom trailer units comply with local regulations and requirements, from Maine in the North down to Tampa, Florida and beyond.
VIP To Go Restroom Trailer Rentals in Maine: Meeting All Your Needs
Maine is a beautiful New England state rich with scenic views, historical relevance, and contemporary attractions. Some people sum up the best of Maine in Lighthouses, Lobsters, and a deep love of the great outdoors – from rocky coastlines, mountains, beaches to lakes. Whether you are an outdoor person or one who loves to sample the culture and good food, Maine has you covered.
There is simply so much to do in Maine year-round that you would hardly notice the time pass by. Maine cities are home to some of the significant events that have locals and visitors coming out in large numbers to celebrate with fun, good food, music. Notable events going down in this great state include the annual Maine Boating Festivals in Stonington, the Kennebunkport Festival, North Atlantic Blues Festival in Rockland, The Fryeburg Fair, Rockland's Lobster Festival, Yarmouth's Clam Festival, Tour De Cure and The Dempsey Challenge, Kennebunkport's Christmas Prelude and many more.
There is no doubt residents attending any of these events need clean and comfortable restrooms to get the best experience out of their outdoor activities. If you are holding a large-scale event in Maine or other smaller events like a backyard party or construction sites, it is best to invest in a restroom trailer rental that meets your unique needs.
When you are looking to rent a restroom trailer in any of Maine locations, VIP To Go has your bathroom trailer needs covered. At VIP To Go, we understand that not all events are the same, and that is why we provide restroom trailer units highly customized to fit your specific needs and budgets. Our team's unprecedented experience in service and equipment handling guarantees stellar service, top-quality bathroom trailer options, and speedy turnover no matter where you are located.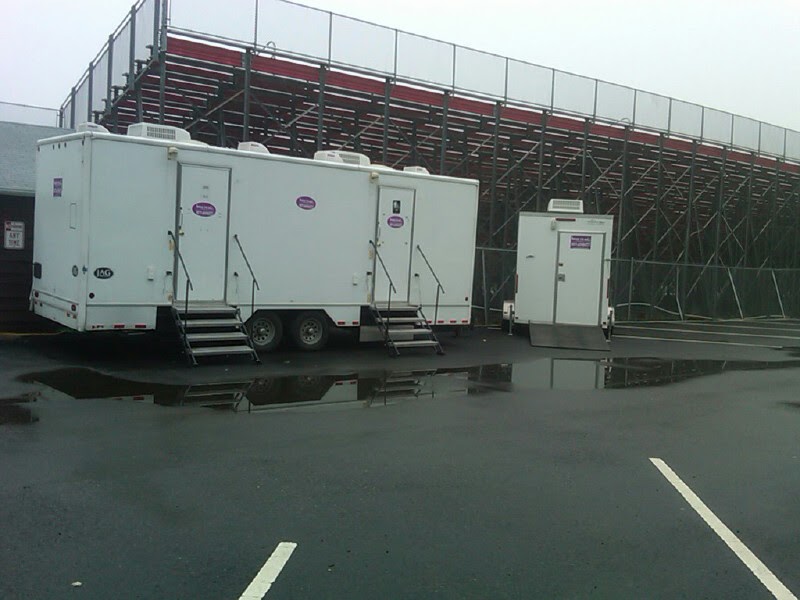 Customized Restroom Trailer Units at Affordable Rates
With the largest restroom unit serving as many as 1,150 persons, VIP To Go restroom trailer rentals can handle any high-capacity event in Maine that attracts large crowds such as sporting events, concerts, festivals, massive weddings, and large holiday celebrations.
We also have smaller restroom trailer units for smaller events attended by 50 to 75 guests. Depending on your needs and budget, you can choose from our large array of restroom trailers, each one of which is equipped with all the restroom amenities you need.
VIP To Go Restroom Trailer Options
Two Stations VIP Restroom Trailer
Our two-station restroom trailer in Maine can accommodate a maximum of 150 people. Available options to choose from include a two-station Rolls Royce and a two-station Vegas option. Each bathroom trailer comes with one urinal, two sinks, and two stalls.
Three Stations VIP Restroom Trailer
The three-station VIP restroom trailer is designed to serve a maximum of 250 persons. It comes with two options to choose from depending on your budget and needs. Both the three Rolls Royce station and the Vegas bathroom trailer come with one urinal, three sinks, and three stalls.
Five Stations VIP Restroom Trailer
Our five-station VIP restroom trailer can comfortably accommodate up to 399 persons. You can either opt for a five-station Rolls Royce restroom trailer that features one urinal, two sinks, four stalls, or you can choose between the five-station Vegas restroom trailer and five station stylish restroom trailer, each of which have two urinals, two sinks, and three stalls.
Eight Stations VIP Restroom Trailer
The eight-station VIP restroom trailer is ideal for your more significant events in Maine, such as a large construction site, festivals, business events, and more. This bathroom trailer can take up to 650 persons comfortably. Depending on your needs and budget, you can either choose a Rolls Royce option with two urinals, three sinks, and six stalls, or the Vegas option that has two urinals, three sinks, and six stalls.
Ten Stations VIP Restroom Trailer
This is the largest bathroom trailer option for portable restrooms trailer rentals in our product line. It is ideal for handling high capacity demands in a short period. The unit can serve up to 1150 persons attending more significant events and occasions. The ten station Rolls Royce restroom trailer option comes with three urinals, four sinks, and seven stalls. The Vegas restroom trailer has three urinals, four sinks, and seven stalls, as does the Stylish restroom trailer.
VIP To Go Sink Trailer Rentals in Maine
We provide exceptionally clean, odorless, and safe sink trailers that can serve up to 100 persons in Maine. Our 12 station sink trailer boasts many stylish and luxurious features to enhance your experience. All the units feature hot and cold water, mirrors, and paper dispensers.
VIP To Go Bunk Suite Trailer Rentals in Maine
Our bunk suite trailers are designed to help meet your camping goals and create those lasting memories. We have put together great bathroom trailer units that guarantee ultimate comfort, luxury, and exceptional experiences. All our bunk suite trailers come with a 10-inch mattress, personal TV and private entry, and other top-notch amenities.
VIP To Go ADA Restroom Trailer Rentals in Maine
Our ADA restroom trailer rentals are designed to address the unique needs of people living with disabilities by providing more space, wider doors, larger interiors, and hand bars. All our ADA restroom units are compliant with the requirements of the American Disabilities Act and can serve a maximum of 400 persons. You can either go for a bathroom trailer with 1 ADA, five sinks, and four stalls, or choose another option with 1 ADA, three sinks, and two stalls.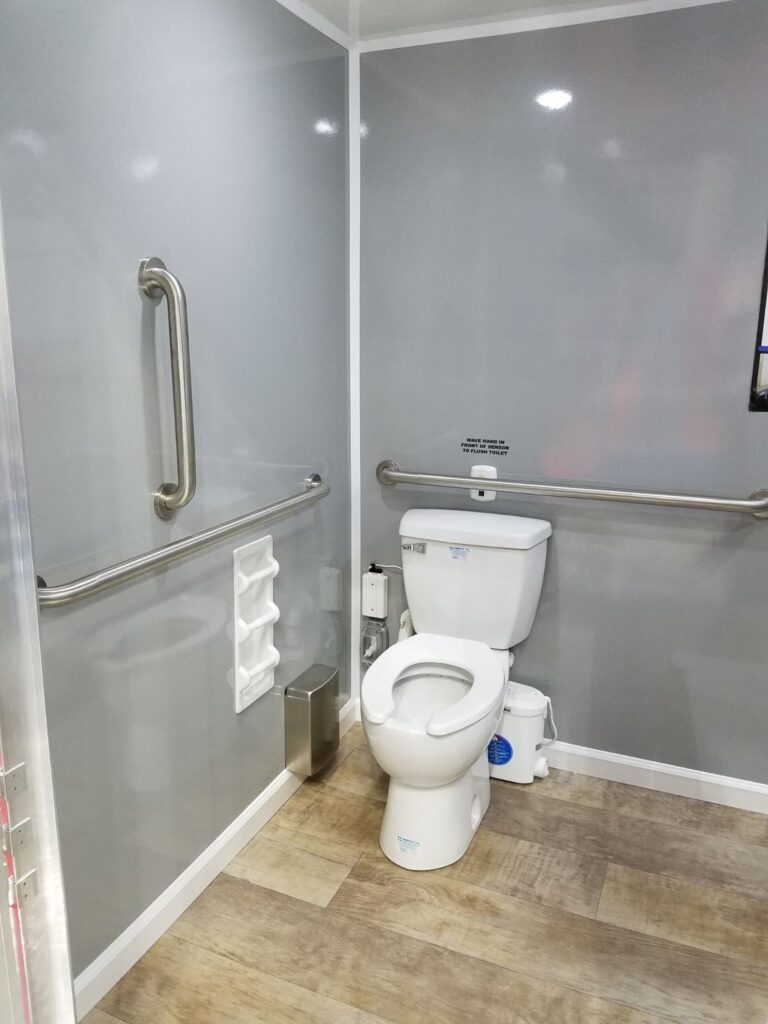 VIP To Go Shower Trailer Rentals in Maine
If you are looking for a convenient shower trailer rental for your outdoor activities, VIP To Go has you covered. Our shower trailer rentals are ideal for several applications such as disaster relief, emergencies, and festivals, sporting events, and filming events. We boast of an extensive collection of mobile shower trailers customized to meet your specific needs and budget.
Why Choose VIP to Go for Your Restroom Trailer Rentals?
VIP To Go offers the best restroom trailer rentals in Maine; you can count on the fact that we'll have portable restroom trailers for rent near you. When it comes to premium restroom services, we are second to none, thanks to our top-notch equipment, reliable service, and the expertise of our event planning specialists. VIP To Go differentiate itself from the competition in the following areas:
Exceptional customer service: We boast of an award-winning customer service team that is highly professional, knowledgeable, and friendly. Our team of experts is ready to help you choose an ideal unit and deliver the units ordered stocked and well maintained
Quick process: When you need a VIP To Go restroom trailer rental on short notice, you can expect fast and efficient services from us. We offer next-day delivery options. Our booking team is always on call and ready to honor your orders 24/7.
Comprehensive solutions: We boast of one of the largest selection and inventory of premium restroom trailer solutions in the United States. Our bathroom trailer units feature diverse shapes, sizes, and luxury levels to meet your unique needs. Our product lines feature trailers designed to fit both tight and large spaces and serve large crowds (think about the needs of the New York population!) without compromising on quality.
Luxurious, updated bathroom trailer units: All of our units are retired every two years to ensure customers are receiving luxurious restroom trailer units that smell, look and feel fresh all day, all night throughout the rental period.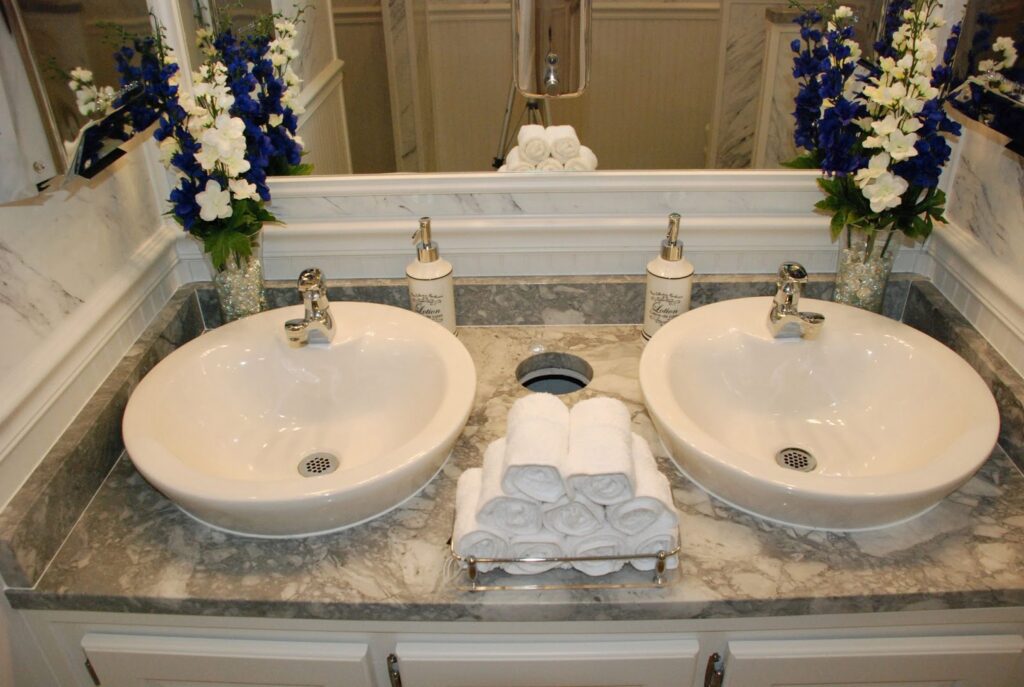 FAQs- Restroom Trailer Rental in Maine
How do you dispose of wastes from restrooms trailers rental?
Our trained staff attaches a vacuum to the restrooms that sucks out and pumps wastes directly to sealed containers. Restroom trailer wastes are then disposed of in the safest manner and according to laid down regulations.
How often do you empty a restroom trailer?
At VIP To Go, we provide weekly services for all our trailer restroom rentals. Additional cleaning and restocking services for restroom trailers are available upon request.
How do I keep the restroom water from freezing in cold weather?
If the freezing winter weather is a big concern for your event, VIP To Go knows how to deal with it. Our team mixes deodorizing water with antifreeze in the tank to keep the water fluid and unfrozen for extended periods. This will allow you to hold events or continue with your work with ease and peace of mind.
How much is a luxury restroom trailer?
Several factors determine the overall cost of a luxury restroom trailer in Maine. To get a better idea of pricing, visit the product page of our website where you can get detailed information about each restroom trailer's features, pricing, and availability.
Prices for each model are clearly indicated once you input your location and the rental dates you are looking at.
Contact VIP to Go for All Your Restroom Trailers in Maine
When you're looking for restroom rentals in Maine, you want to be in the best hands. At VIP To Go, we will always go the extra mile to ensure the success of your event. No matter where in the state  you are, we will make sure you have portable restroom trailers for rent near you. Contact us today to learn more about how we can help you with our bathroom trailer options.