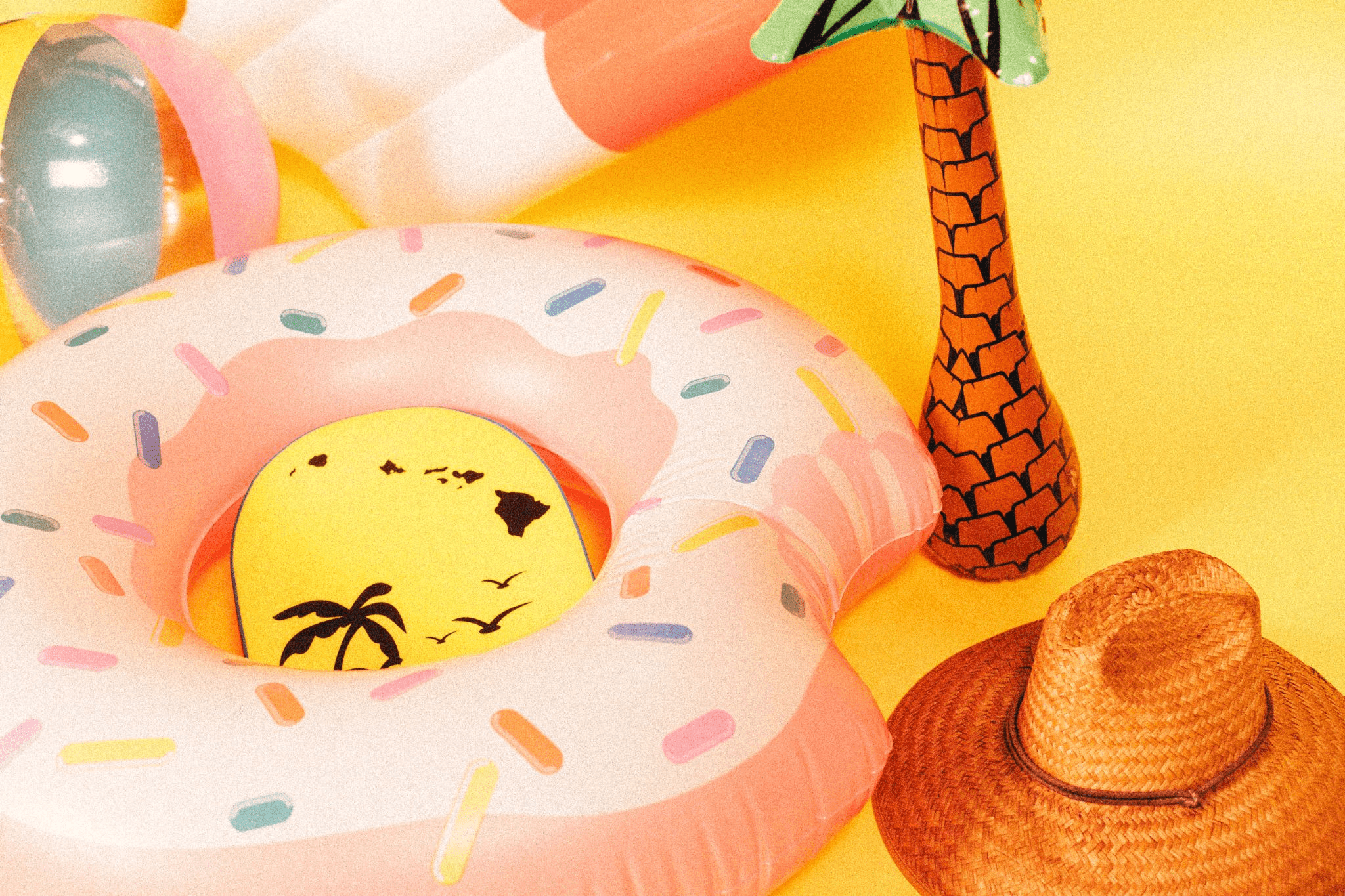 Pool Party Ideas
Let Your Pool Party Make A Splash
Looking for pool party ideas to help you plan your next poolside get-together?
There's nothing more fun than throwing a summertime party, complete with some grilled food, snacks, drinks, and the exuberant splash of some cool pool fun. But how to have an awesome pool party, while still making sure that you have everything required to pull it off without a hitch, is the real question.
Let's dive in and get it sorted out. By the time you're done reading this article, you should feel confident enough to send out the invites for a most awesome pool party hosted by you!
Why A Pool Party?
Regardless of whether you're throwing a pool birthday party, or just a neighborhood splash-down get-together, identifying the main benefits of a pool party will help you maximize the event's success.
Let's break down the main benefits of a pool party:
They're fun because they bring people together in a refreshing poolside environment to enjoy the gorgeous weather, refreshments, and festivities
They facilitate a community feel by bringing friends, family, and colleagues together for a good time
They're a refreshing way to cool off on a hot summer day
They open up the opportunity for different pool-themed decorations and attractions that wouldn't be possible in an environment that isn't centered around gorgeous clear water on a hot summer day
Since not everyone goes to the trouble of planning a pool party, they tend to stand out and go down in the memory books as quite memorable
The pool serves as a 'central attraction' that brings an added element of fun to any get-together
Alright. Now let's talk about how you can double-down on these benefits to plan the very best pool party possible.
How To Prepare For A Pool Party
Pool party ideas come in all kinds of different styles, themes, and types. Preparing for any type of outdoor event will require you to think through several important steps. When it comes to pool party planning, you have additional safety and planning factors thrown into the mix.
Here are the main things to keep in mind as you make preparations for your awesome pool bash celebration.
Safety Measures
Pool party safety should be your number-one concern: You want people to be safe. Not only do unsafe conditions and accidents put people at risk, they also bring down the party mood. Try to get a trained life-guard signed up to attend. If most of your attendees will be responsible adults, just having a lifeguard on the scene may be enough. However, if you're hosting lots of little kids, or a group of teens who may get a bit rowdy with pool fun, it may be a good idea to hire a lifeguard for pay, who will keep an eye on the swimmers at all times — without getting distracted by the festivities.
If the pool party is for kids or children, you may also want to make sure that kids under a certain age stay at the shallow end of the pool. Also make sure that you've got emergency flotation devices, and that you enforce basic safety rules such as no diving in the shallow, no horseplay in the water, no running, etc. at the pool party.
While we generally associate pool dangers with drowning and water related accidents, don't forget about the danger of the sun! Never underestimate the need for sunscreen to avoid 'cooking' your guests in the hot sun! Consider setting up a 'sunscreen station' to make sure that everyone has as much as they need.
Hydration is another important issue under the hot sun. While your guests are surrounded by water, if they aren't drinking enough, they are in real danger of losing hydration. A station of soft drinks — and plenty of water — should entice your guests to drink enough to keep hydrated.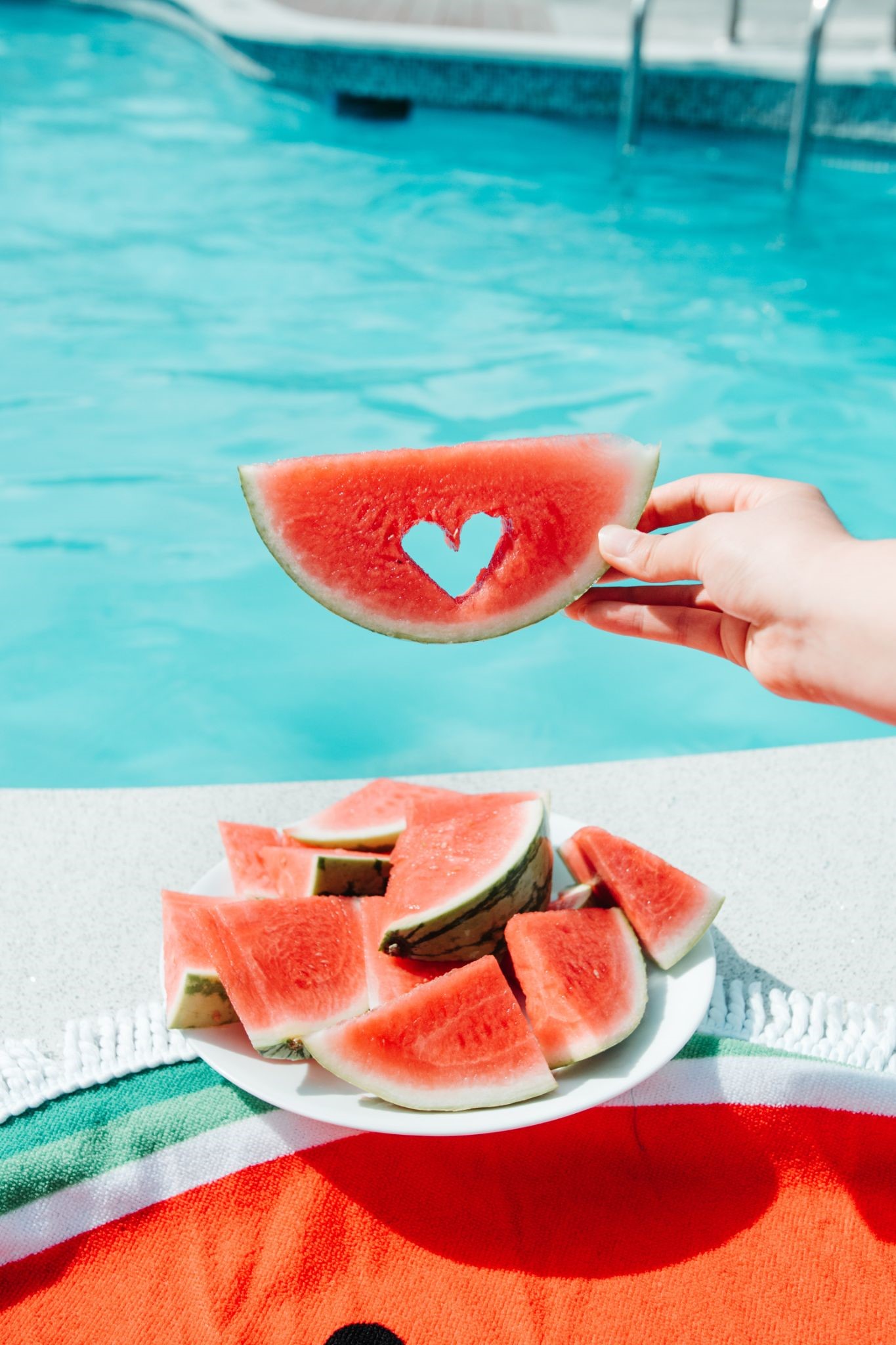 Pool Party Themes And Ideas
How do you decide on a pool party theme? This is a foundational question that'll guide you in purchasing supplies and finalizing party plans. Pool party themes can range from typical 'tropical,' pirate, or 'Mediteranean' style themes, to anything else that catches your fancy.
The first thing you want to keep in mind is your audience. Your theme may very well play a role in serving as a 'draw' for your party-goers. The more thought you put into the theme, and the more this theme appeals to your invitation list, the more people will be likely to turn out for your party ready to celebrate and mingle.
Once chosen, work your theme into decorative invitations, and send them out at least a month in advance. You'll also need to buy summer decorations for the event, plan a vibrant food menu that matches your theme, set the 'mood' with lighting and music,   that go in-line with your theme as well.
Looking for some pool party games to really ramp-up the fun? Check out these awesome pool games for kids, and some fun pool party games for adults.
Prep for the Age and Stage
Teen pool party gatherings will tend to be different from pool party ideas for adults, and the same goes for a pool party for kids. Here are some things to keep in mind when throwing pool parties for guests in different age ranges.
●       How To Throw A Pool Party For Kids
The main thing to remember about kids is that they'll need a bit more help 'regulating' the party than adults will. Therefore, having some volunteers on hand to help hand out snacks, distribute towels, apply sunscreen, and hand out juice boxes or sodas is going to be the most important thing.
You also want to have a structured program for this age group, since this helps children feel happy and fulfilled — and doesn't give them reason to go looking for their own brand of —  sometimes dangerous — fun.
●       How To Throw A High School Pool Party
High schoolers are definitely capable of doing their own thing, and often prefer to do so. Your high schooler may even have a plan for how they want to decorate or theme the party. But remember, they probably can't do it alone. Working together with your high schoolers to plan a party that their friends will love and enjoy will empower them to be creative, while still gaining the benefit of an adult's 'wisdom and guidance' along the way.
Here too, it's important to set up a structured program so that teens aren't left to their own (wild) devices. While you want some unstructured time for free swim and light fun, too much of that may go in a direction you don't want it going.
●       How To Throw A Pool Party For Adults
Adults are likely going to want to drink at this party. For this reason, some tasty adult beverage options, or maybe even an open bar, are awesome additions for any grownup pool party.
But, that's not the only thing adults want to see at a party. Don't be afraid to 'liven things up' with some fun games and goofy activities. Maybe set up a dance floor beside the pool, or light a fire in the fire-circle nearby. Remember, adults like to have fun and 'let their hair down' just as much as kids do.
Pool Party Food
Coming up with pool party food ideas can be a challenge.You want finger friendly, easy-to-serve food that's appealing to your age group. Allow your theme to guide you here, or to help you put a fun twist on traditional pool party food. Common pool party food ideas for food include options ranging from delicious barbecue hot dogs, steaks, and poppers, to sandwiches, to skewers, to fruit and veggie trays and melons.
Depending on your budget, you can even have food catered in, order pizza, hire a taco truck, or get a private chef on-board to serve up some serious culinary goodness.
Restrooms At A Pool Party
It's obviously important to have safe and hygienic restroom facilities at a pool party. People are human, and they'll need to use the restroom at some point during the event.
But here's the real issue. If you don't supply a restroom for pool events, even those held at your house, you'll have no recourse except for all of these party-goers to track wetly through your own home to use the bathroom.
Your bathroom will also obviously be overloaded, as it probably wasn't built to withstand commercial-level use from so many people.
What's the other option?
Rent a portable restroom meant for pool party events. Securing an outdoor bathroom for pool party events can save you a lot of headaches, and help to make the event that much more successful.
You can look into porta potty rentals or restroom trailers for parties for outdoor pool restroom needs, and you can usually find affordable restroom trailer rental options to help you get this important problem solved and dealt with in short order.
You can even find luxury porta potty rentals, to make sure that these all-important amenities are classy and sophisticated enough to wow your guests.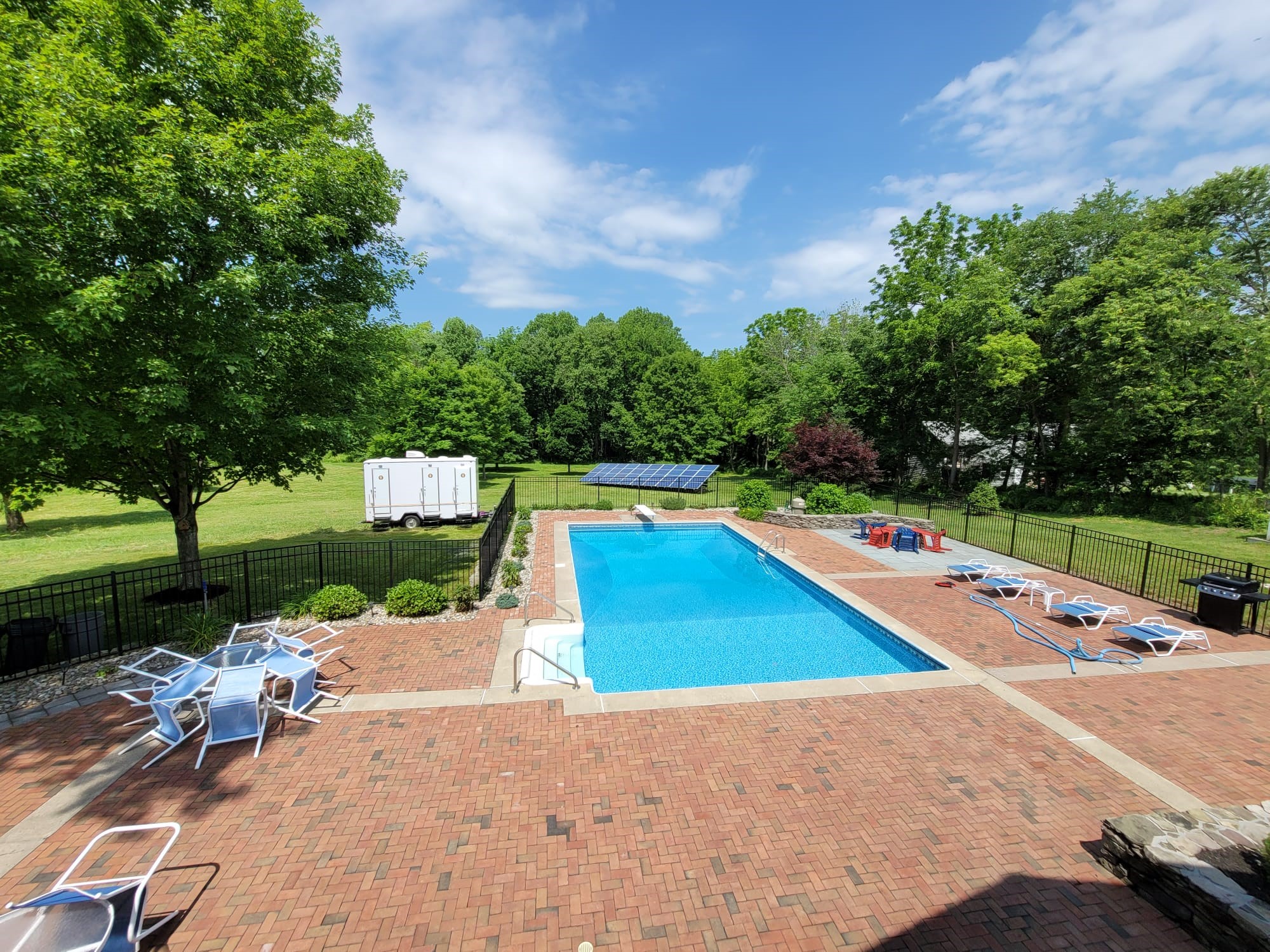 Pool Party FAQs
How Long Should A Pool Party Be?
Pool parties, as a general rule, are best when they last 2 to 3 hours. The best time to kick them off is at about 3 pm, making them a pre-dinner party. If you go longer than that, you run the risk of the crowd getting bored and unruly.
What Does A Pool Party Need?
Things to have at a pool party:
Floats
Outdoor Bluetooth speakers
A musical device to jam some tunes with (a smartphone, laptop, MP3 player, etc.)
Decorations
Games
Plenty of big towels
Coolers with ice, for ice-cold drinks
Plenty of cups (waterproof insulated cups are best)
Sunscreen
Canopies and umbrellas, for shade
Snacks and food
Beach chairs, or other places to sit
How Do You Make An Epic Pool Party?
An epic pool party starts with a great plan, plenty of energy, plenty of guests, and fun activities that people will enjoy. To be honest, this all starts with you, the host. Work on embodying a festive party spirit, and plan a truly fun event that people want to attend. Invite plenty of cool people, and remember that the more people you get to attend, the more energy your party will have.
What Do You Do At A Pool Party?
The main activities you'll take part in at a pool party include:
Eating and drinking
Grilling some steaks, burgers, or ribs
Visiting with friends
Listening/dancing to music
Vibing in the decor and chilling with new people
Swimming
Playing games
Enjoying the festivities
Getting some sun
Enjoying the company
What Should A Guest Bring To A Pool Party?
As a host, one thing that can help to make your party successful is to ask your guest to bring certain things with them.
Here's a list of cool things for a pool party that you can actually ask your guests to bring:
Drinks
Snacks
Towels
Games
Umbrellas/shade implements
Pool toys
Sunscreen
Poolside chairs
Food for the grill
Mixers for the drinks
Outdoor soft goods (pillows, blankets, etc.)
VIP To Go Restroom Trailer Rentals For Your Pool Party
Ready to start pool party planning? Don't forget to book your restroom trailer.
Here are the benefits you get from renting a restroom trailer with VIP To Go:
Great prices
Awesome customer assistance
Flushing toilets
Working sinks
Urinals (in men's room)
Mirrors
Soap
Paper towels
Waste receptacles
An attractive interior
Low platforms, which make the trailers safe and user-friendly
Hands free operation, for hygiene and cleanliness
You can use our super-simple quote and booking system to get the trailer you want. Simply select your desired dates and restroom trailer and put in the location of your pool party. You'll get an immediate quote with an option to reserve your restrooms.
If you still have questions, check out this complete guide to toilet trailer rentals to help answer all of your more detailed questions, and check out our Gallery page to learn all about our different restroom trailer products.