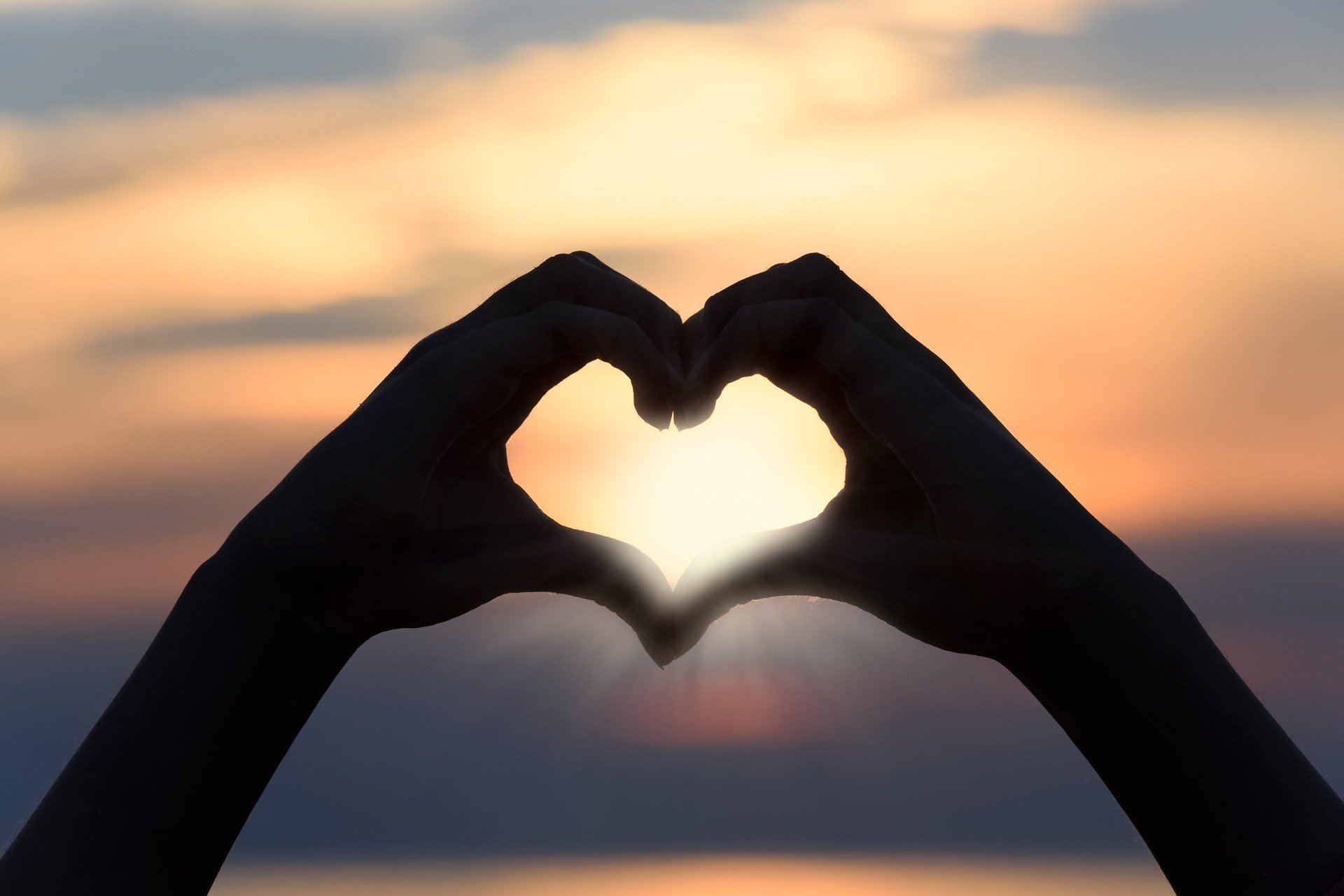 Anniversary Party Ideas To Celebrate Love and Togetherness
An anniversary is a special event worth celebrating with the one you love. History tells us that the tradition of celebrating a wedding anniversary dates back to ancient Rome or medieval Germany. According to Germanic tradition, a husband would give his wife a silver wreath on their 25th anniversary and a gold wreath on their 50th anniversary. This symbolic exchange would later become the silver and golden wedding anniversaries we celebrate today.
We're diving into some of the most heartwarming anniversary party ideas for the 1st, 5th, 10th, 25th, and 50th milestone years. Let's look at how you can make your wedding anniversary a day to remember.
Milestone Wedding Anniversary Meaning and Gift Ideas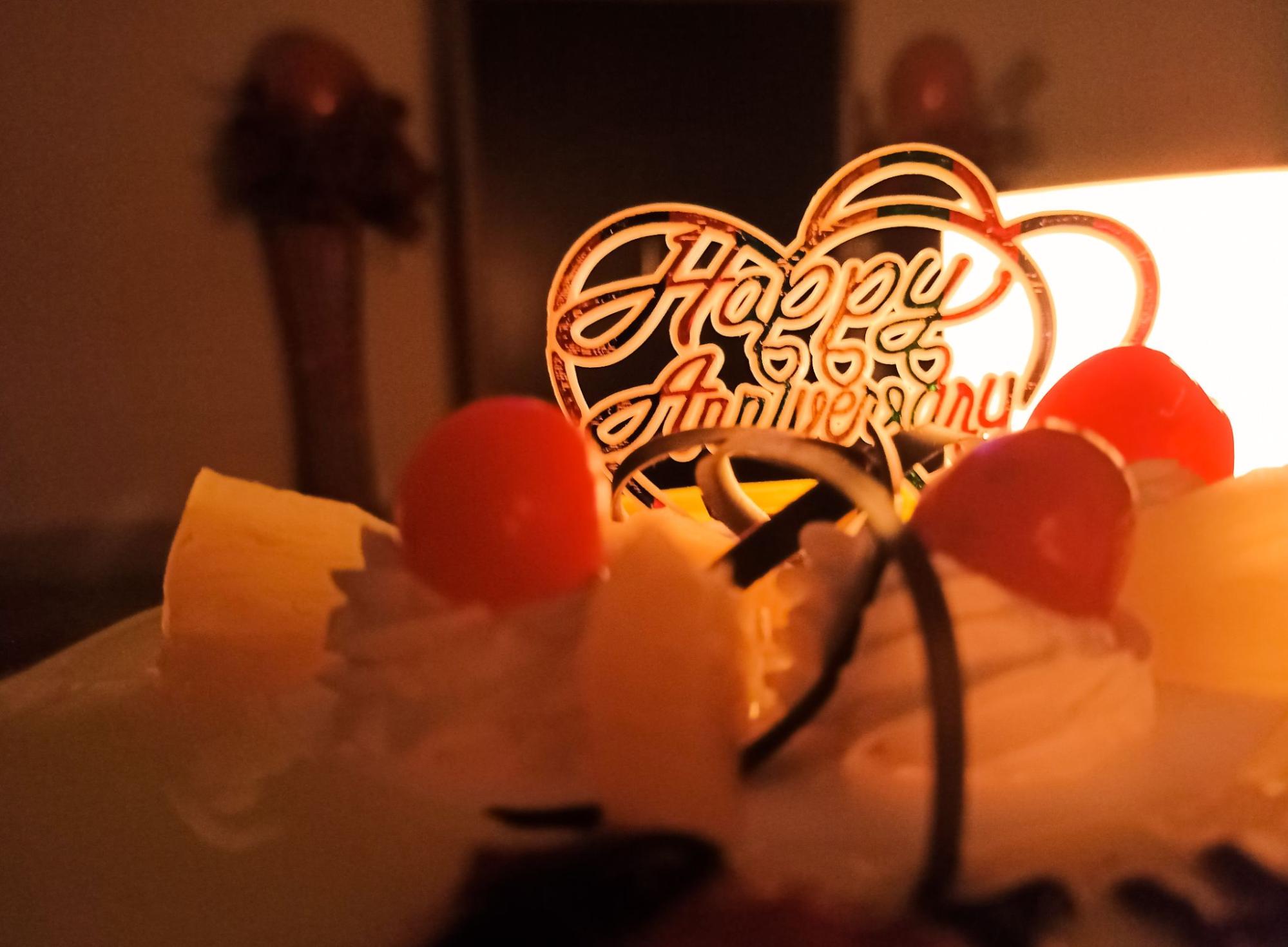 Milestone wedding anniversaries carry deep meaning and significance, making celebrations sweeter. In the table below, you'll notice how each year is a grander celebration than the previous anniversary milestone.
1st Wedding Anniversary

Significance
The first anniversary represents new beginnings, adjustments, and reflecting on moments that cemented your bond as a couple. Paper symbolizes the interconnected nature of the material. Although fragile, the paper's bonds keep it solidly in one piece.
Traditional and modern gift ideas
Origami art, stationery, framed photographs, a memory scrapbook, framed movie tickets, handmade greeting cards, or wristwatches (symbolic of the time beyond this milestone year) make ideal gifts for couples.
5th Wedding Anniversary

Significance
Like the roots of a tree, a marriage after five years is deeper and richer as a couple grows even closer. The initial years of a marriage are a time of emotional growth and learning about what it means to keep a marriage strong.
Traditional and modern gift ideas
Personalized wood-inspired gifts such as wood-paneled speakers, a wood-framed photograph, or a wooden decorative signboard make appropriate gifts. Gardening enthusiasts will love getting a bonsai tree or an exotic plant that thrives from season to season.
10th Wedding Anniversary

Significance
Tin containers can preserve and prolong the life of the items stored within. This material symbolizes how a union grows more resilient with time.
Traditional and modern gift ideas
Customized tin cases with a couple's initials and jewelry or old photographs tucked inside are perfect for traditionalists. Tin can even be used to create personalized signposts for a garden. Some couples choose to give each other diamond-themed gifts as an alternative.
25th Wedding Anniversary

Significance
Silver is a metal that stands the test of time when polished and cared for, a symbolic idea that holds true for a 25-year marriage.
Traditional and modern gift ideas
Silver-themed gifts such as personalized cufflinks, jewelry, and pendants (heart-shaped or with an infinity symbol) are go-to gifts for couples. Gifts like a silver-framed photograph, silver pocket watch, or silver locket with a picture are simple yet elegant gifts to consider.
50th Wedding Anniversary

Significance
Gold symbolizes prosperity, wellness, and sacred energy, which are qualities that enhance a marriage of 50 years.
Traditional and modern gift ideas
Customized bracelets, cufflinks, pendants, or a decanter set make exquisite gifts for seasoned couples. Items such as a gold monogrammed handbag, a vintage wristwatch, and custom-made travel gear are also popular gift options.
Selecting a Wedding Anniversary Location
Play around with these fun party ideas for a wedding anniversary. Our suggested anniversary party ideas will be a hit with your guests whether you go all out or keep it low-key.
Exploring wedding anniversary party ideas at home is a smart choice for those who wish to keep it simple. You can invite a few close family and friends to attend the special festivities. It will be easier to stick to a budget, decorate the place, and clean up after the party.
Are you considering backyard anniversary party ideas? Backyard parties can be fun if you want to dress up the place with more decorations and a generous spread of food and drinks. Throwing anniversary parties in the backyard also means taking advantage of natural light for lovely photographs with your guests. If you're leaning towards cool anniversary venue ideas, a vineyard, farmhouse property, garden, park, lakefront venue, or beach are idyllic locations to consider.
Choosing Color-Themed Attire
Guests can wear color-coordinated attire that goes with the theme of the milestone year. Throwing a color-themed anniversary reception will be fabulous as everyone is given a distinct color to work with. Symbolic anniversary party theme colors can also be used in your decor, food, and drinks.
Color Ideas for Wedding Anniversary Attire

1st wedding anniversary
White, ivory, eggshell, or cream
5th wedding anniversary
Chocolate brown, tan, caramel, or tawny
10th wedding anniversary
Bold or pastel fabric with shimmery accents such as sequin, glitter, satin, or silk
25th wedding anniversary
Bold or pastel fabric with silvery details or all-silver fabric
50th wedding anniversary
Bold or pastel fabric with silvery details or all-gold fabric
Fun Anniversary Party Ideas by Milestone Year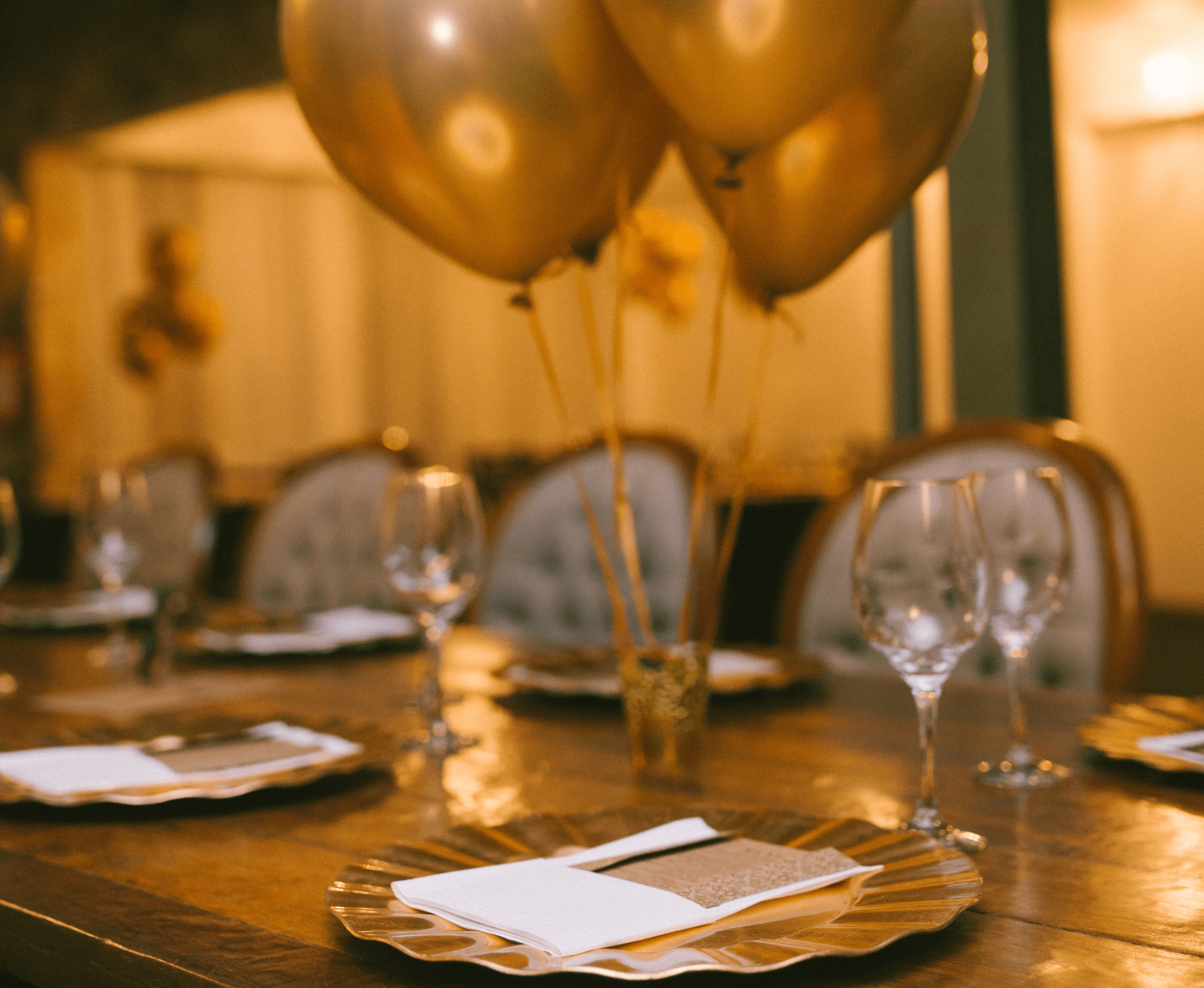 Thinking of good ideas for an anniversary party can be perplexing but it doesn't have to be. We'll show you how to throw an anniversary party like a pro, whether it's for your own milestone moment or another special couple in your life.
1st Wedding Anniversary Party Ideas
For a one-year anniversary party, many couples choose to keep celebrations small yet fun. Here's how to pull off anniversary celebration ideas with family and friends at home or in your backyard:
Invite only close family and friends if you're on a budget.
Decide on the food and drinks menu with the caterer after you've received RSVPs from all your guests (to avoid overspending).
Choose simple yet pretty decorations for the anniversary party such as paper lanterns, streamers, and buntings.
Stick to disposable cutlery so it's easy for you to clean up after.
Arrange fun games such as Dumb Charades or Never Have I Ever to keep guests entertained while socializing.
5th Wedding Anniversary Party Ideas
Experiment with the following 5-year anniversary party ideas that you'll have fun considering with your spouse. It's been an eventful five years, and what better way to celebrate than with some pomp and show?
Having an outdoor celebration in a scenic location is a great way to invite more people.
Send invites to your guests with symbolic artwork such as wood-carved text or invites with earthy elements like ferns, wildflower bouquets with twine, and string lights.
Throwing a countryside-themed anniversary is apt, considering that this milestone year revolves around wood.
Get in touch with an event restrooms provider for an outdoor anniversary bash. Providing on-site event restrooms will keep everyone at the party comfortable. We'll get into the details of this essential anniversary party checklist task in the coming sections.
Hire a catering staff close to the venue's location to make it easy to transport freshly prepared food on time.
Go with wood-inspired decor that elevates your outdoor party such as lanterns, string lights, dried flower wreaths, and linen tablecloths and accessories in a nude palette.
10th Wedding Anniversary Party Ideas
10-year anniversary party ideas revolve around making things even more special now that you've been together for a decade! It's a big deal for couples who've experienced so much of life together — personal growth, highs and lows, and perhaps raising children. Make it a day you'll never forget with these 10th-anniversary theme ideas.
Throwing an anniversary party in your backyard can be a great way to minimize venue-related costs.
Since a 10th milestone anniversary is all about tin and sparkly details, you can work with elements such as sequin, glitter, or even iridescent colors.
Play with anniversary party decoration ideas such as glitter-filled balloons, sequin table decor, iridescent cutlery, and sparkly treats like mesmerizing glitter-covered cupcakes, deliciously glazed treats, and sparkling champagne.
Decorate chairs and tables with pastel-hued bows, ribbons, or flowers to let the theme-based elements of your anniversary party shine (quite literally).
25th Wedding Anniversary Party Ideas
25th anniversary party ideas often include elegant or bold themes that friends and family can help put together. Don't be afraid to leave the planning in their hands while you sit back and watch your plans unfold.
The milestone 25th anniversary party usually involves more people, more decorations, and more fun! That means choosing an outdoor venue that is spacious, easy to locate, and an attractive backdrop for your celebration.
If you're wondering about on-site toilet facilities, don't fret because finding a trusted portable event restrooms provider in the vicinity is easy. Stay tuned for more on this essential aspect of planning an outdoor anniversary reception.
Pick silverware, tableware with silver trim details, and fabrics with delicate silver thread work to capture a 25th wedding anniversary vibe.
Go with 25th anniversary decorations in a rich color palette of forest green, indigo, or ochre to complement the natural beauty of an outdoor venue.
For 25th wedding anniversary party ideas on a budget, take things down a notch by hosting guests at home or in your backyard. Instead of buying decorations, rent party essentials for the day. You can even cut back on physical invitations by forwarding virtual invites via email or instant messaging.
50th Wedding Anniversary Party Ideas
Being married for 50 years is a remarkable feat worth celebrating. It's a time to acknowledge the love, togetherness, and strength that two people shared over five decades.
Children and grandchildren can take the lead in bringing 50th anniversary party ideas for parents to life. If you want to go with low-key 50th anniversary ideas, let the people who are planning the event know. It will guide their budget and 50th wedding anniversary checklist.
Whether you book an outdoor venue or choose to have the celebration in your backyard, a 50th wedding anniversary deserves a special touch. Invite your nearest and dearest in advance so they can block off the date and be ready.
It's best to mail everyone their invites at least six months before the celebration. Wait for everyone to RSVP to your invites before confirming the headcount with the caterer and venue. Having a more definite headcount will help immensely with seating arrangements and other aspects of planning.
Since the 50th wedding anniversary revolves around gold, choose tableware, cutlery, and table decor inspired by the regal color.
Subtle touches such as gold trim tableware, gold leaf centerpieces, gold sparkly balloons and streamers, gold serving trays, and desserts wrapped in gold foil will add flair and pomp to your celebration. Be careful not to overdo it for a tasteful ambiance.
Thinking about 50th wedding anniversary party games? Here are fun anniversary games for a party that guests will remember long after they leave:

Pin The Donkey: The target could be any creature or even a person.
Life Experience Bingo: Guests cross out experiences they've done. Those with the most items crossed out, win.
Drunken Musical Chairs: Every time someone scores a seat, they drink a tequila shot. The last person sitting, wins.
Couples Question Game: This 50th anniversary party questions game is a great way to test how well the guests know the couple. The person with the most right answers wins.

Having a photobooth on location is a fantastic anniversary party idea. It will encourage guests to take fun pictures together. Don't forget to include fun props they can pose with!
For entertainment, hire a DJ or band to keep guests on their toes and dancing.
Event Restrooms Facilities for a Wedding Anniversary Program
A milestone wedding anniversary party takes careful planning and time. Outdoor venues require special event restroom rentals that let guests use sanitary facilities on location. Providing portable restroom rentals is a thoughtful gesture and one that guests will appreciate. With VIP To Go, you can be assured of having state-of-the-art portable bathrooms for events that are prepped and ready to go when you need them.
Our impressive fleet of portable toilets for events features modern light fixtures, high-end amenities, and creature comforts for a fuss-free experience. A VIP To Go event portable toilet rental is an oasis of luxury with sound systems, air conditioning, sanitary facilities, and even a heater and fireplace for chilly days.
Our team is just a call away, ready to answer any questions you may have about our restroom trailer rental options. You can book as many VIP To Go event restroom trailer rentals as you need whether it's an intimate event or an elaborate wedding anniversary celebration.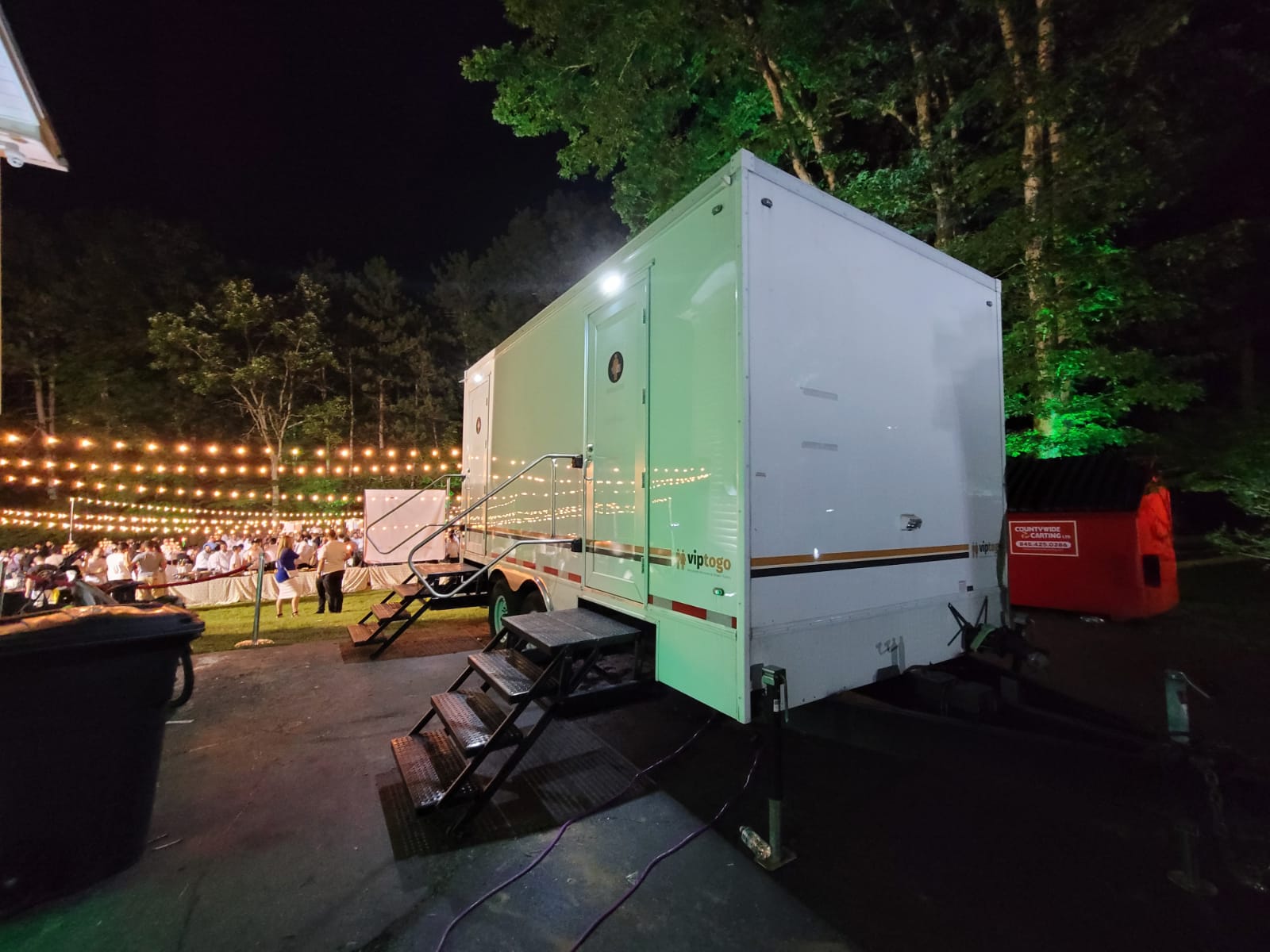 FAQs
How Many Restrooms Do I Need For My Event?
VIP To Go has event restrooms with 2 to 10 stations per trailer that can cater to 100 to over 1,000 people. Book as many portable event restrooms as you need, depending on your number of guests.
Feeling unsure? Simply enter a few details during the booking process, and we'll tell you exactly how many event restroom rentals you'll need.
How Many Portable Toilets Per Person For An Event?
Our 2-station event restroom trailer options cater to 100 to 150 people at a time. We take pride in providing ADA-compliant portable toilet facilities for the handicapped and those with mobility issues.
Every restroom trailer rental is designed to handle multiple visits in a day. Our team can make several trips to your venue to ensure that our event restrooms are well-stocked, cleaned, and well-maintained.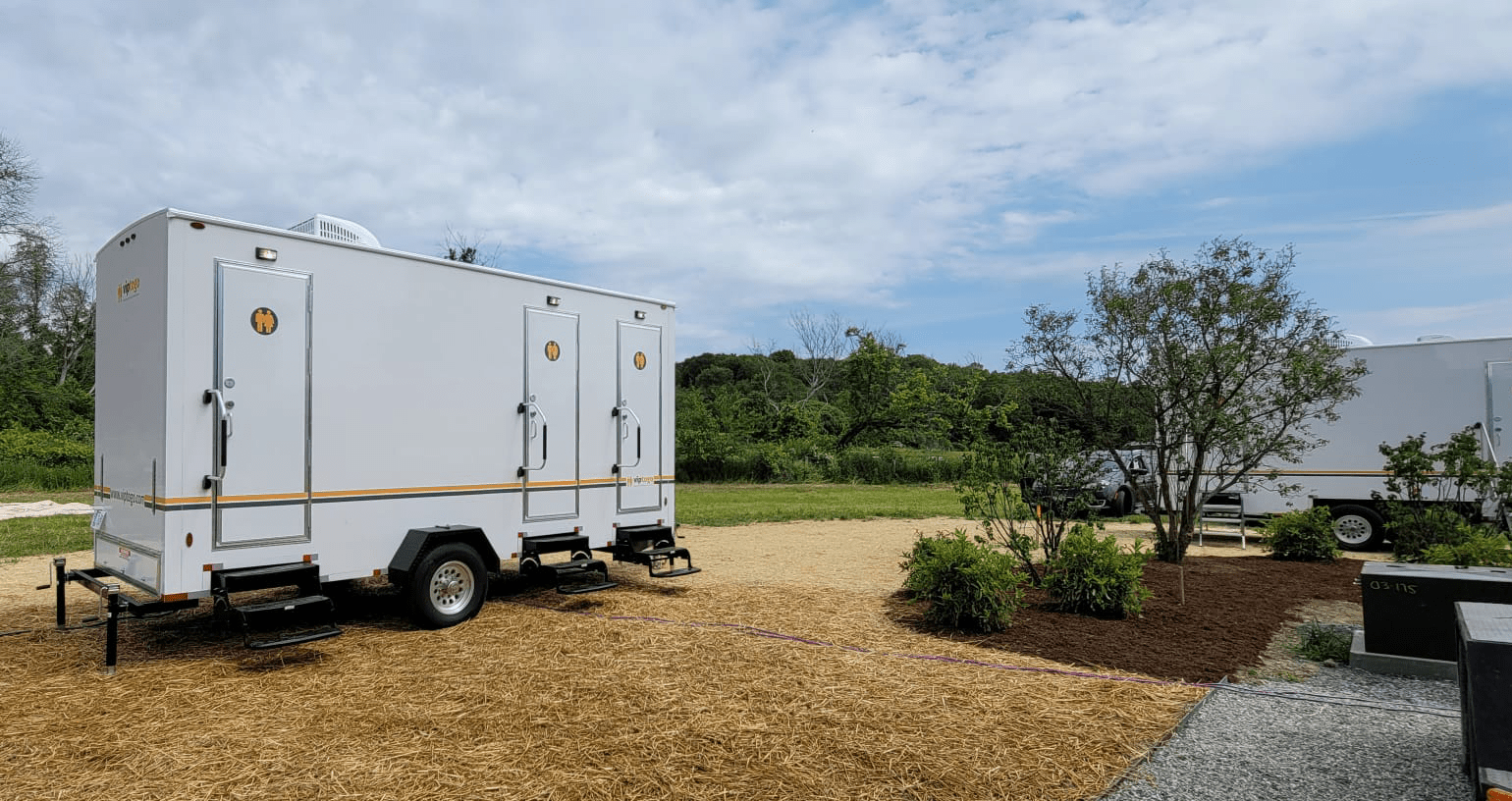 Here to Help
VIP To Go is a trusted provider of leasable portable event restrooms that can be used for wedding anniversary celebrations and other events. You can rely on our expert team and premier line of event restrooms to make your next milestone unforgettable and more comfortable for your guests. Contact us today and let's start planning!