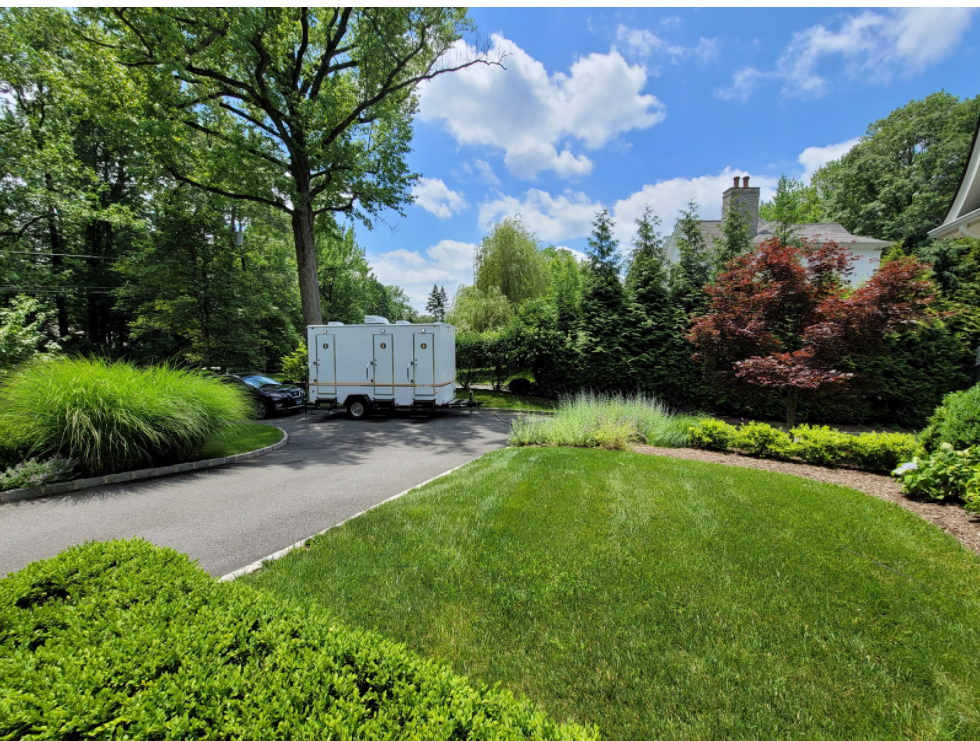 Restroom Trailer Rental in New Hampshire
There is so much that goes into planning any kind of event. The last thing you want to do is to stress over your restroom trailer rental. In fact, you most likely wish it would just magically take care of itself. VIP To Go pretty much does that by providing the solution to all of your restroom needs.
Not only do bathroom accommodations stress out event organizers but they also stress out the attendees who dread having to go to the restroom out somewhere. VIP To Go alleviates this worry on both ends by providing the best option for portable bathrooms. We have a wide range of sizes and styles, allowing your guests the opportunity to use a luxury restroom even where no indoor restrooms exist.
How do we rise above other portable restroom trailer rental in or near New Hampshire?
The Granite State has a lot going on with construction, sporting events, fundraising events, festivals, outdoor parties, conventions, and weddings. VIP to Go offers a wide array of trailer sizes and designs to meet your every need, no matter the occasion. We'll also help you calculate how many toilets you need, based on the amount of guests that will be attending your event, the venue, and the program.
How to Choose A Restroom Trailer Rental in New Hampshire
Two Station Stylish Shower Combo Trailer At An Outdoor Event
The restroom trailers are based on size and style. The station trailers come in 3 different styles that include Stylish, Vegas, and Rolls Royce. When deciding which trailer to rent, you can narrow down the choice by the number of people expected to attend the event. The following are the options available based on the number of people anticipated:
Shower Trailer Two Station Restroom Shower Combo includes 2 showers, 2 sinks, and 2 stalls.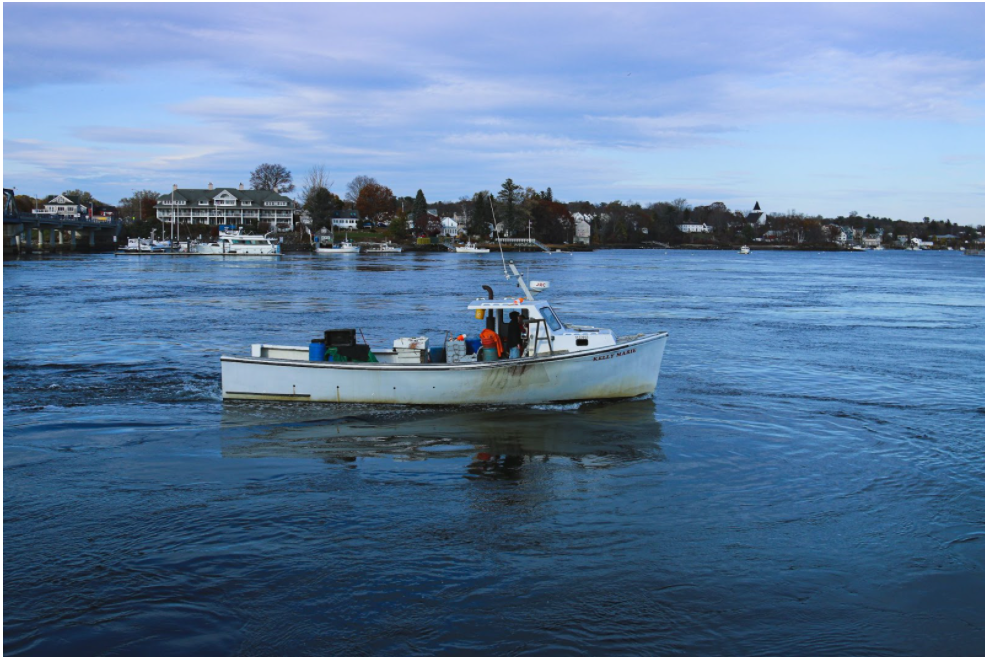 The station trailers are also a great option for the many festivals held throughout New Hampshire such as the Hampton Beach Seafood Festival, Fields of Lupine Festival, Laconia Motorcycle Week, Prescott Park Arts Festival, Hillsborough Balloon Fest & Fair, and North Country Moose Festival, among many others.
There are times when you might need a shower. Particularly after the events at the Mountain Mud Run Terrain Park, a wedding at Leavitt Beach or Hampton Beach, or a family reunion at Echo Lake State Park or Franconia Notch State Park. Each event has its own unique needs and VIP To Go has just the right option for every event.
Which Services Are Included In A Restroom Trailer Rental in New Hampshire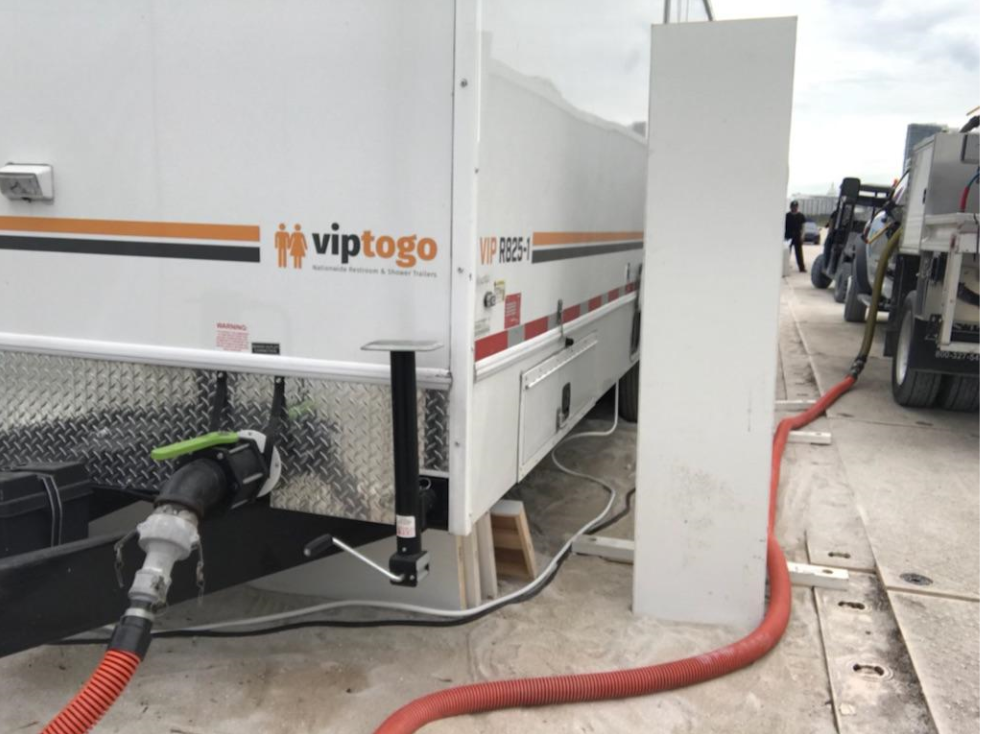 VIP To Go goes above and beyond in making life easier for you. We offer the following services with every rental:
We help you select the right option for your event
We help you choose the placement of the trailer
We deliver the portable restroom to your event
We set up the trailer
We make sure it is well stocked with toiletry for your event
We service the restroom trailer on a weekly basis (or more frequently, upon request)
We pick up the trailer after the event
In addition to the above, we will provide water and a generator for electricity if you cannot hook up the appropriate pipes and wires from another source at your venue.
You can also request more frequent cleaning, as well as bathroom attendants to keep the toilets and restroom trailer area clean and fresh during an event.
Restroom Trailer Features for Your Event in New Hampshire 
The features VIP To Go offers is what makes us really stand out. The following are restroom trailer features that you will find in our restroom trailer rentals:
Running Water – All VIP To Go have trailers with running water and flushable toilets. The waste is not left sitting in the bottom of the toilet but is actually flushed away. The sinks also have running water.
Ventilation – Instead of a few small vent holes, we offer ventilation fans that keep the air moving.
Heating & Cooling Systems – All bathroom rentals for weddings and other events are designed with heating and cooling systems.
Lighting – Our trailers not only include skylights for natural light but electric light as well.
Wheelchair Accessible – We offer restroom trailers that are ADA compliant with extra wide doors, handrails, and entry ramps.
Generators – If there is no electricity, we can provide a generator.
Water Tank – If there is no water source such as a garden hose, we can offer a water tank.
Extras – Some of the features that make us stand out above other New Hampshire restroom trailers are mirrors, sinks, soap, baby changing station, paper towels, waste receptacles, attractive interior, linoleum floors, low platform, and hands-free operation of toilets, sinks, and towels.
Replacement Trailers – Each restroom trailer is replaced approximately every 12-18 months.
5 Point Disinfection Process – Trailers are cleaned from floor to ceiling between every rental.
Attendants – Attendants will ensure the restroom is stocked and cleaned during the event for an additional fee.
All the Extras – We can provide restroom trailers with music, televisions, DVD players, and Wi-Fi.
With all the extras you just might want to spend all day in the restroom.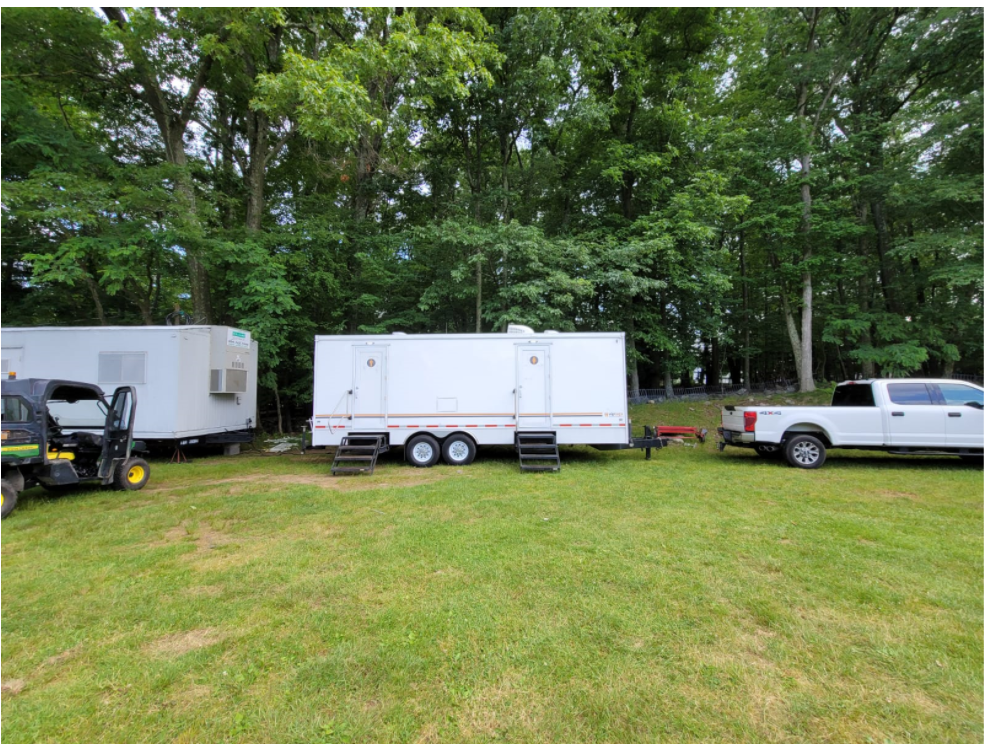 Professional Personnel and Customer Service
VIP To Go is known for their modern trailers and most updated technology. We have partnered with mechanical engineers and design & manufacturing architects to bring you the best portable bathrooms on the market.
Not only do we offer the best portable trailers but we also are there for you anytime you need us. We have someone available for you for any questions or concerns, day or night. We offer 24-hour customer service and we pride ourselves on our service.
Restroom Trailer Rental Near Me
VIP To Go specializes in commercial & luxury bathroom trailers in New Hampshire. We own and operate one of the largest fleets of portable restrooms in the country with a mobile fleet ready to mobilize throughout New Hampshire wherever and whenever it is needed. We offer rentals for short term or long-term events, all for an affordable price.
You can check out our super-easy restroom trailer quote system, which allows you to choose your trailer and rental duration for a quick quote.
Call or email us today so we can take the worry out of your next event.
FAQs on Restroom Trailer Rentals
How many portable toilets are needed for a wedding.
For weddings, one toilet per 25 guests is recommended, especially if there is an open bar.
Do portable restrooms have sinks?
VIP To Go provides sinks with running water. The water can be sourced from a garden hose or from a refillable water tank.
Can I rent a portable bathroom if there are no electrical outlets?
Yes. VIP To Go will provide a gas powered generator for electricity.
What if we do not have a garden hose as a water source?
VIP To Go can provide a water tank as a water source.
Will I have to set up the restroom trailer?
No. VIP To Go will deliver the trailer, set it up, and then pick it up after the event.
Will the portable toilet have a lingering bad odor?
No. You'll get the restroom trailer in perfectly clean condition, without any bad odors. VIP To Go flushes the waste away to a storage tank so the waste does not sit in the bottom of the toilet and accumulate.
Do I have to supply the toilet paper and paper towels?
No. VIP To Go supplies the paper products based on the anticipated attendance.