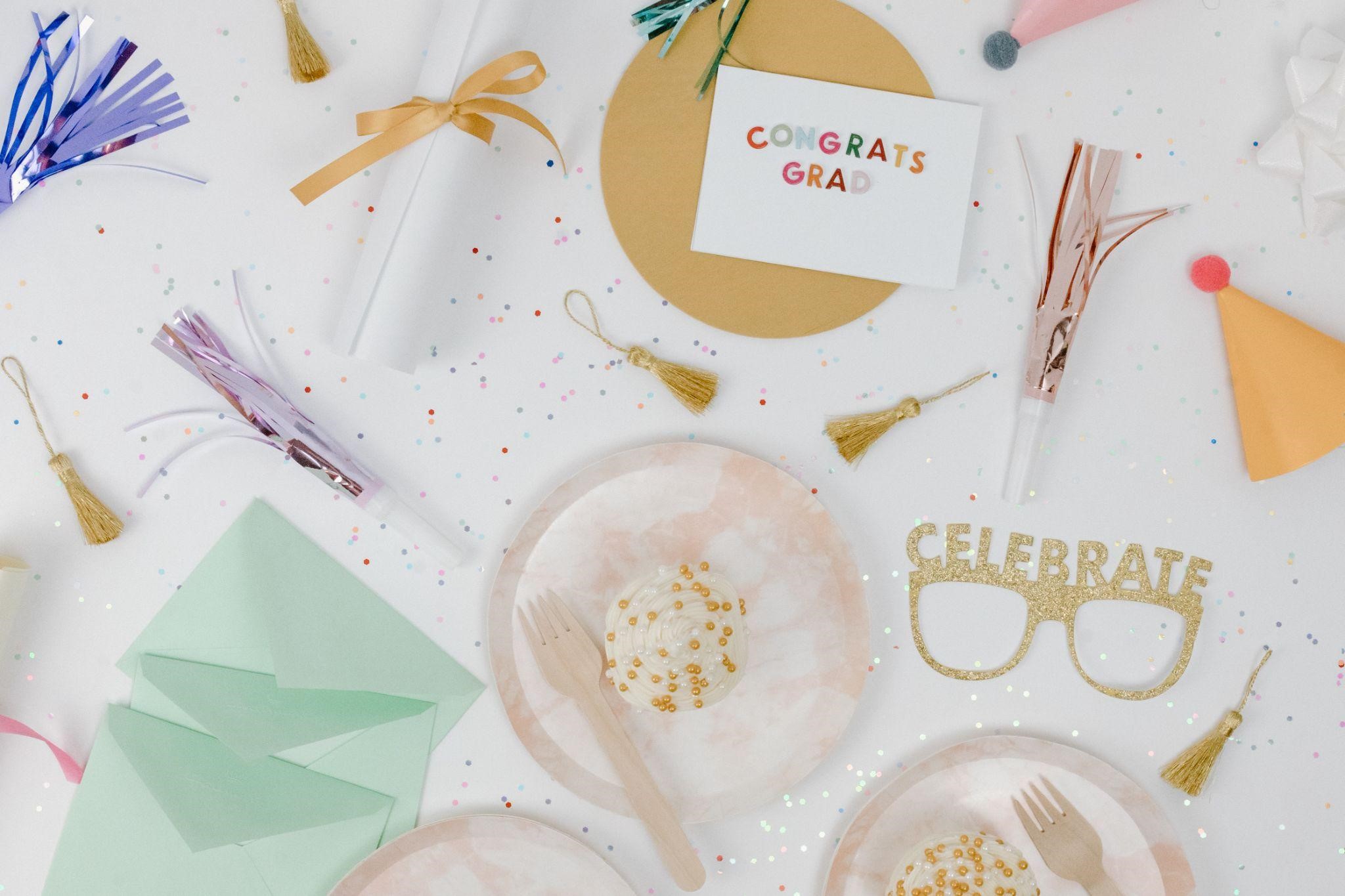 Creative Outdoor Grad Party Ideas for a Memorable Graduation
Graduation season is here again! This time of year marks the end of an era for many students. All your hard work in school has finally paid off, and you have acquired the knowledge and skills necessary to enter the real world! With so much you have accomplished during your years of schooling, it's important to take a step back and recognize all of your efforts over the years. One great way to do this is by throwing a memorable outdoor graduation party!
It's sometimes easy to throw a party inside. But with today's weather in many parts of the country being warmer than ever before, why not bring the celebration outside? Not only will you beat the heat, but you'll also get to take in many beautiful scenes, enjoy more space, and take pictures with an awesome natural backdrop!
Not sure how to go about planning an outdoor grad party? Many outdoor grad party ideas exist—and each provides its own unique features. And while most grad party outdoor ideas will include some type of food, music, and activities or games on the agenda, there's always room to be more creative! It's high time you started dreaming up an epic party. Check out some amazing outdoor grad party ideas and tips below!
Outdoor Grad Party Ideas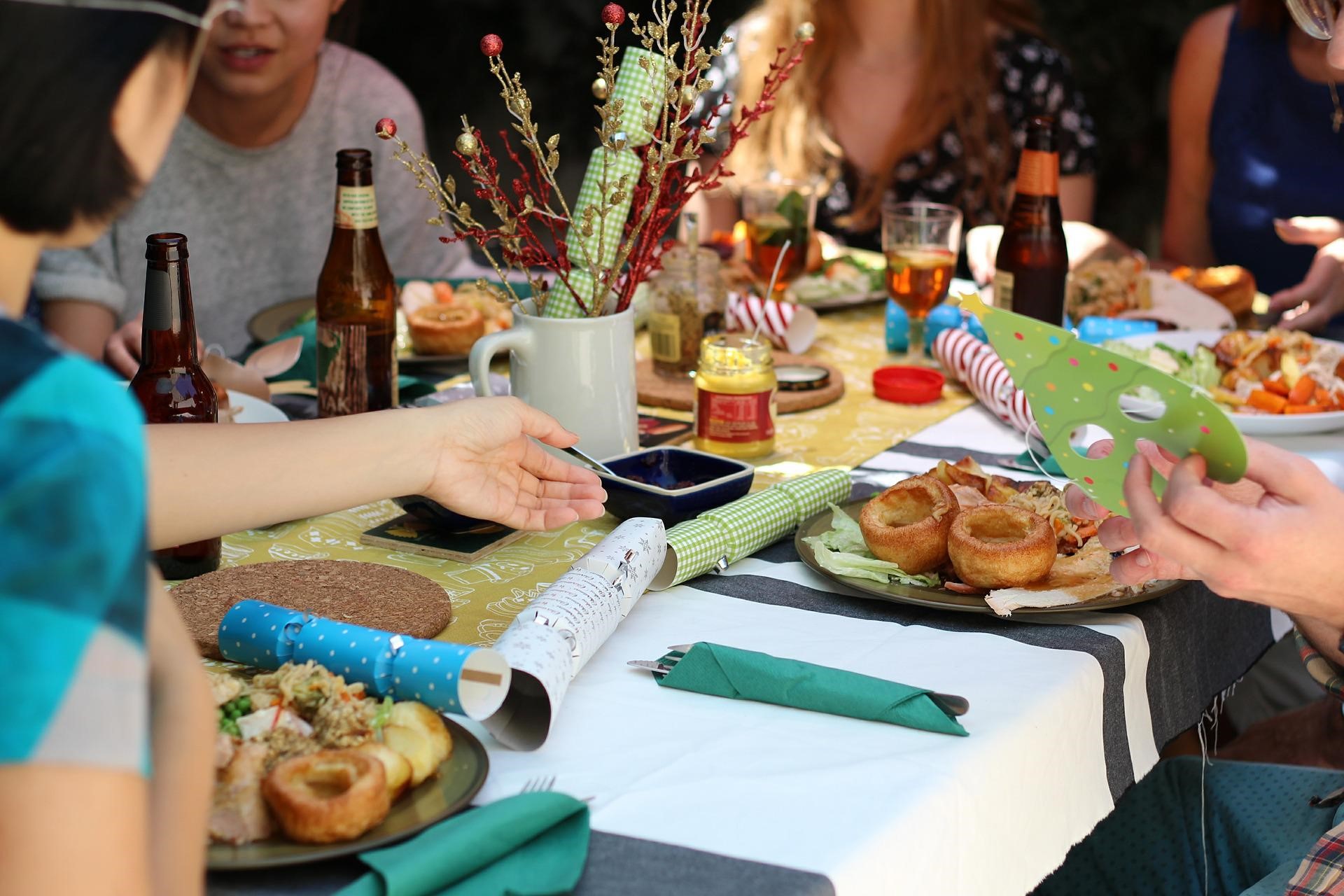 Graduations are always a big deal, whether for preschool, middle/elementary school, high school, college, or even advanced degrees like Masters, Doctorate, Juris Doctor (law degree), Doctor of Medicine, etc. From preschool to the advanced stages of your career, graduations are marked by celebrations, parties, and a lot of fun! Of course, the ways to celebrate change depending on the stage we're in when graduating. Nonetheless, every milestone deserves to be celebrated.
Depending on your age and stage of graduation, you have very different needs and considerations. So, how do you make sure you have an appropriate outdoor graduation party planned for an upcoming graduation? Let's see!
1.    Preschool and Middle Elementary School Outdoor Grad Party Ideas
For preschool and elementary school grad parties, there are lots of ideas for outdoor graduation party celebrations. This group has a lot of energy and a short attention span—be sure they'll be running around the yard! So you might want to consider some backyard party outdoor graduation party ideas, like setting up some obstacle courses or relay races, a treasure hunt, or just having lots of bouncy balls scattered around the yard. Just make sure you have enough activities to keep the group actively entertained.
If you want something more formal or structured, consider having a picnic on the lawn of your local museum or zoo. You can also throw a pool party for older kids who are ready for swimsuits and sunscreen. If your child has a favorite storybook, you can organize a themed party where guests dress up as a character in their favorite storybook character or animal. And if your child is interested in science, consider doing an outdoor experiment, with them as the guest of honor. You can also go bowling or to an arcade for some fun.
If your child is graduating from middle school, some 5th grade graduation party theme ideas include setting up a candy bar for the grad party or a yummy grad party where you serve cookies and having an array of carnival booths set up for your child and their friends to enjoy!
2.    High School Outdoor Grad Party Ideas
High school grad parties can have more traditional themes like "Big Top" or "Hollywood." These themes are fun because they set the stage for the decor of your outdoor graduation party, also providing ideas for grad party food that coordinates with your theme. For example, high school grads would definitely appreciate a grad party menu with hamburgers, pizza rolls, buffalo wings, veggie trays, and so on.
If you're throwing a high school outdoor graduation party for your teenager, consider going with something like paint-balling or laser tag—they're fun outdoor activities that will give everyone an opportunity to let loose after the stress of finals and getting through the year. You can also have games for grad parties like Graduation Cap TicTacToe, Pin the Tassel on the Grad Cap, Around the World Ring Toss, etc.
3.    Outdoor College Graduation Party Ideas
For college graduates, whose graduation celebrates a tremendous investment of time and effort (as well as money!), you've got to go big! You might want to rent out a local park or just search for an "outdoor graduation party venue near me" for your celebration. A convenient outdoor party venue makes it easier for everyone to hang out together without having to worry about where to sit or how loud it will be inside someone's house.You'll be able to host games like dodgeball and cornhole outside. Plus, being outside lets everyone stay cool in the summer heat.
Make sure there's plenty of food and drinks available throughout the day (and night). See that your grad party checklist has food ideas like Classic Bruschetta, Pull-Apart Cheeseburger Sliders, etc., incorporated into it. Include grad party appetizers, such as daily cucumber bites and mini peanut butter cup brownie bites. Just ensure you give everyone a bite-sized treat!
You could also plan some outdoor grad party games that require teamwork—like volleyball or capture the flag—or invite local musicians to perform at various times throughout the day. There's no limit to the fun you can have and share at your college grad party!
4.    Outdoor Grad Party Ideas for Graduates with an Advanced Degree (Masters, PhD, Law School, etc.)
Here's the big event! Almost no graduation party deserves to be celebrated with more fanfare and recognition than this. So, you should ensure that you implement spectacular outdoor graduation party ideas.
You can take your party ideas up a notch here! For example, you can serve food that reflects your graduate school's area of study. You can design or order cakes in custom shapes or with designs that are specific to the graduate's specialty. An oversized cake or platter of these miniature pastries would serve as an eye-catching centerpiece for the party table.
You can also have each guest bring their favorite bottle of wine or beer and share them all at once during the party. This is a great way to get young adults talking and laughing while perhaps getting tipsy at the same time!
Themed decorations can help set the tone for your outdoor decorations for graduation party. Have fun with this part by choosing grad party colors that match the graduate's school color scheme and incorporating these colors in your grad party poster ideas. You can also use them in decorations such as banners and tablecloths with the graduate's name on them.
A picture collage or scrapbook poster board showing the graduate's multi-year journey towards this milestone could serve as a centerpoint for the party decor, doubling as a keepsake that the graduate could take home with them and frame.
Three Reasons Why an Outdoor Venue Enhances a Graduation Party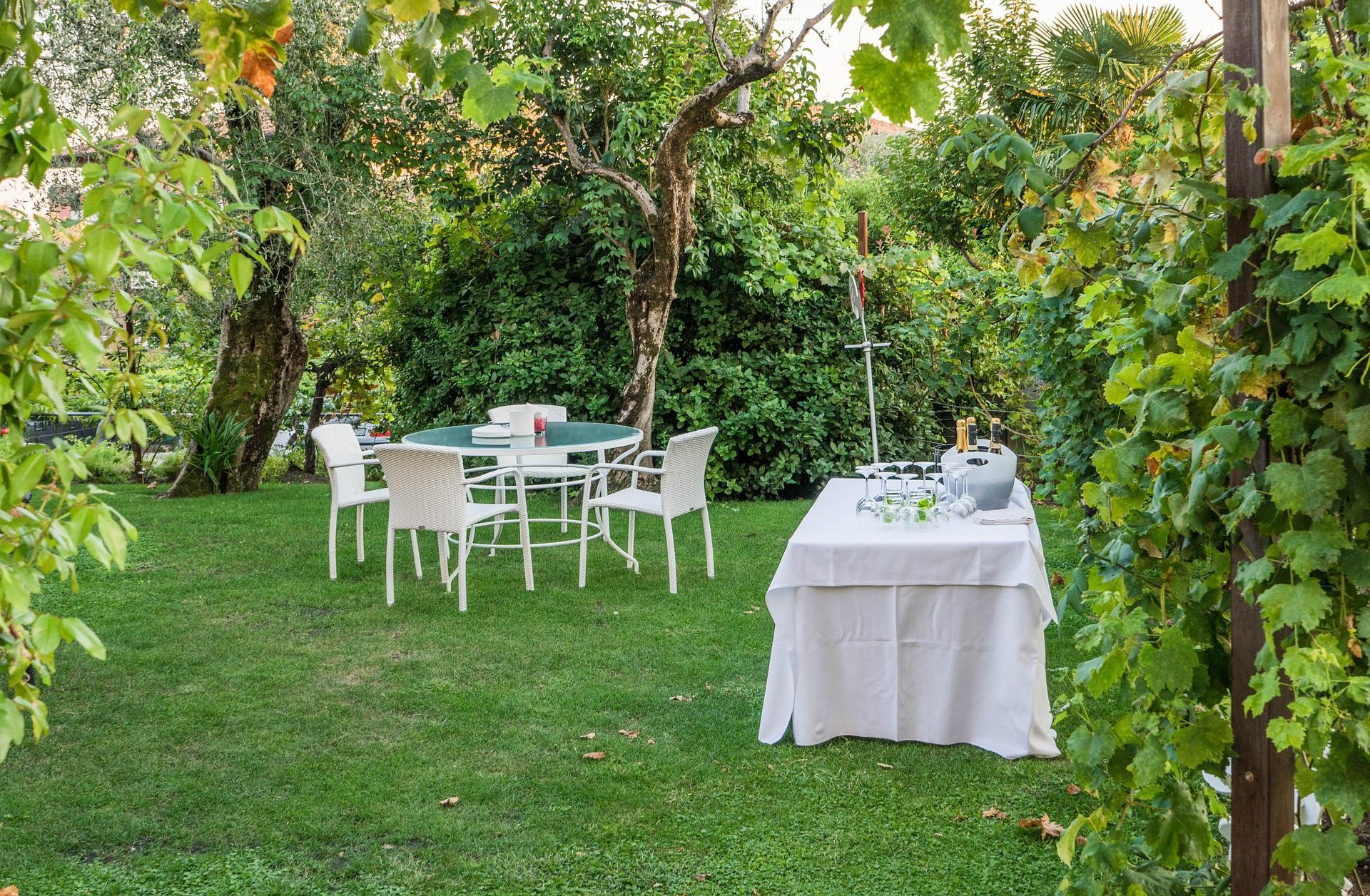 Graduations are really fun days full of excitement, joy, and celebration—and an outdoor venue allows everyone to participate alongside their loved ones.
1. It's easy on the wallet
If you or your graduate has just graduated from college or high school, they probably don't have much money lying around—and neither do you! An outdoor venue means no cleanup costs after the event—just pack up your stuff and go home! That makes planning a graduation party on a budget very easy, allowing you to focus your resources on the decor and entertainment.
2. There's more space for everyone.
If you're throwing a party indoors, it's almost guaranteed that not everyone who wants to come will fit into your home or apartment. An outdoor venue gives you so much more room to accommodate everyone who wants to be there—and maybe even some people who don't necessarily want to be there but showed up anyway because they didn't want to miss out on something so special!
There are plenty of cool things to do outside, such as hiking or biking trails, where everyone can enjoy themselves while still having plenty of space to mingle with friends and family members without feeling too crowded together at once!
3. It allows for more activities, decorations, and games.
When you choose an indoor venue, you'll need to get creative with the activities you offer at your celebration. With an outdoor venue, however, there are plenty of options—from volleyball and badminton to cornhole and bocce ball—allowing guests to enjoy themselves while staying cool and comfortable. You can also explore more decoration ideas when you use an outdoor venue. An outdoor setting lends itself to an elaborate barbecue menu, a perfect way to start off the summer season with a bang!
Technical Details to Keep in Mind for Outdoor Events
So, you've got the party planned, and now you're wondering how to make sure it's a success. You want the guests to have a great time and feel welcome and comfortable. But that can only happen if you have checked off some technical details on your grad party checklist. Here are a few things to keep in mind when holding an outdoor grad party.
1.    Get additional lightning equipment.
If it gets dark early at night, then you may need additional lighting equipment in order to keep things lit up. You may feel the party won't extend till late in the evening, but who knows?! Don't go with lights that are too bright, or your guests might feel uncomfortable. Soft ambient lighting works best, plus it can also create a party mood.
2.    Hire a caterer.
If you're planning on having a small group at your party, hire a caterer who specializes in outdoor catering services. They'll be able to set up tables and chairs for everyone in no time—and they'll even bring the best grad party food ideas for you! This is also great if you're planning on having an evening party because it will help organize your menu while giving guests a full meal.
3.    Prepare the outdoor grad party venue ahead of time.
Make sure there's plenty of seating available so everyone can relax and enjoy themselves, even if they come late or want to leave early. Ideally, you should have done the decorations and table arrangements long before the guests arrive. Also, be sure to set the table and also provide extras for the outdoor setting, like bug spray, hand wipes, hand sanitizers, sunscreen, etc.
4.    Rent portable toilets.
If you're expecting large crowds and lots of VIPs, consider renting a portable porta potty trailer to ensure your guests have clean facilities available when nature calls! With your trailer bathroom, not only will guests have a place to ease themselves, but they can also change clothes, freshen up, retouch their makeup, and lots more!
VIP Restroom Trailer Services for Your Outdoor Graduation Party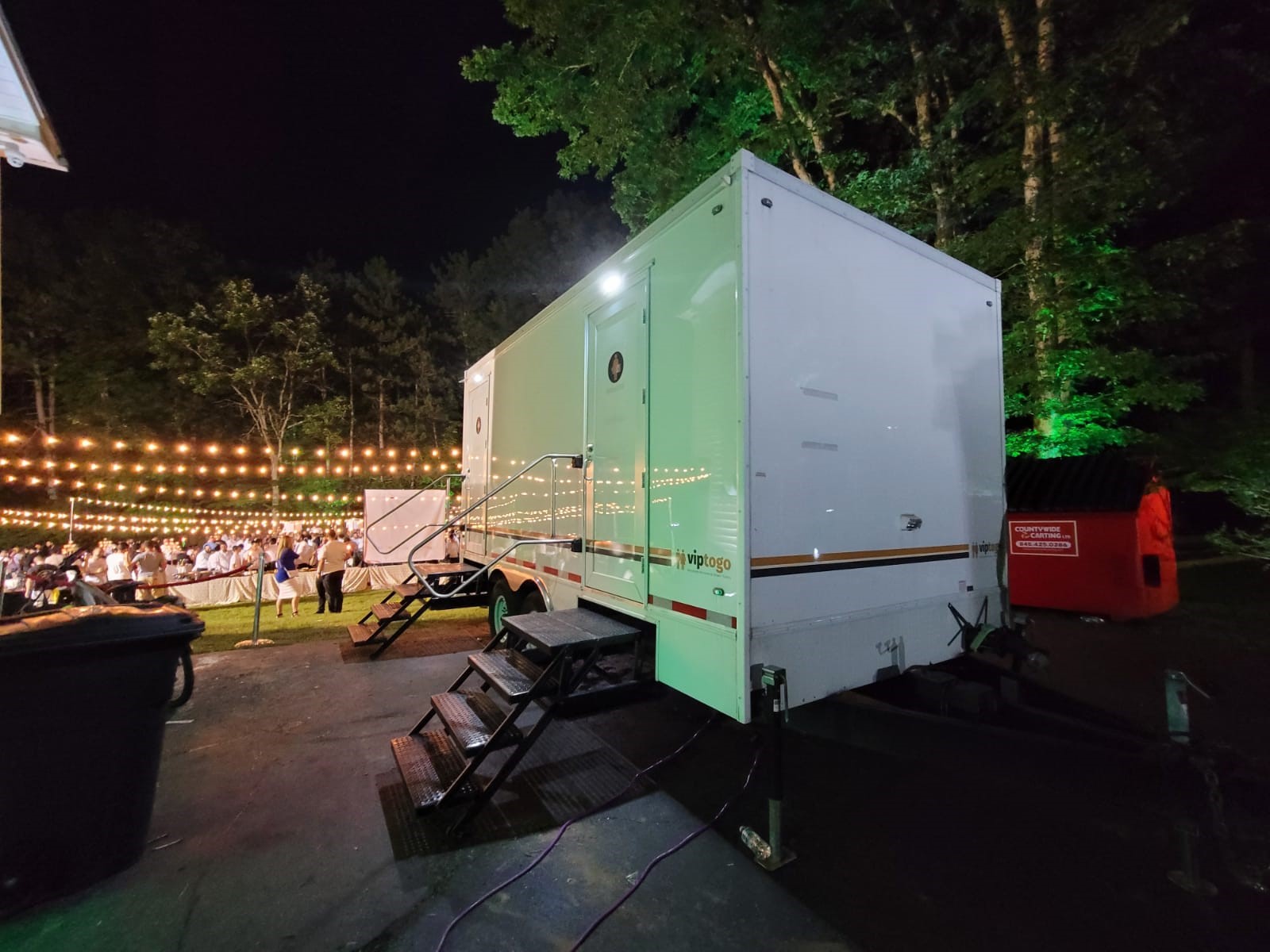 When you're planning an outdoor graduation party, you want to make sure everyone has a great time. And one way to make sure that happens is to rent bathroom trailers for your crowd of guests.
A restroom trailer is essentially an elegant, high-end portable restroom—it's clean, spacious, and private, can accommodate multiple guests simultaneously, and it provides a most enjoyable mobile bathroom experience. That means no more squatting behind bushes or running across yards! You'll have peace of mind knowing your guests are comfortable and happy while they're enjoying their time with you.
And that's where VIP To Go comes in! We offer affordable and comfortable VIP restroom trailer rental services. Our number one priority is making sure that your guests feel comfortable and happy throughout their stay at your outdoor graduation party. We'll take care of all aspects of your bathroom needs so you can focus on what matters most: celebrating with loved ones!
Always remember that your outdoor grad party ideas are never complete without a reliable portable restroom!
Interested in hosting other outdoor events? Check out some of these unforgettable outdoor events!