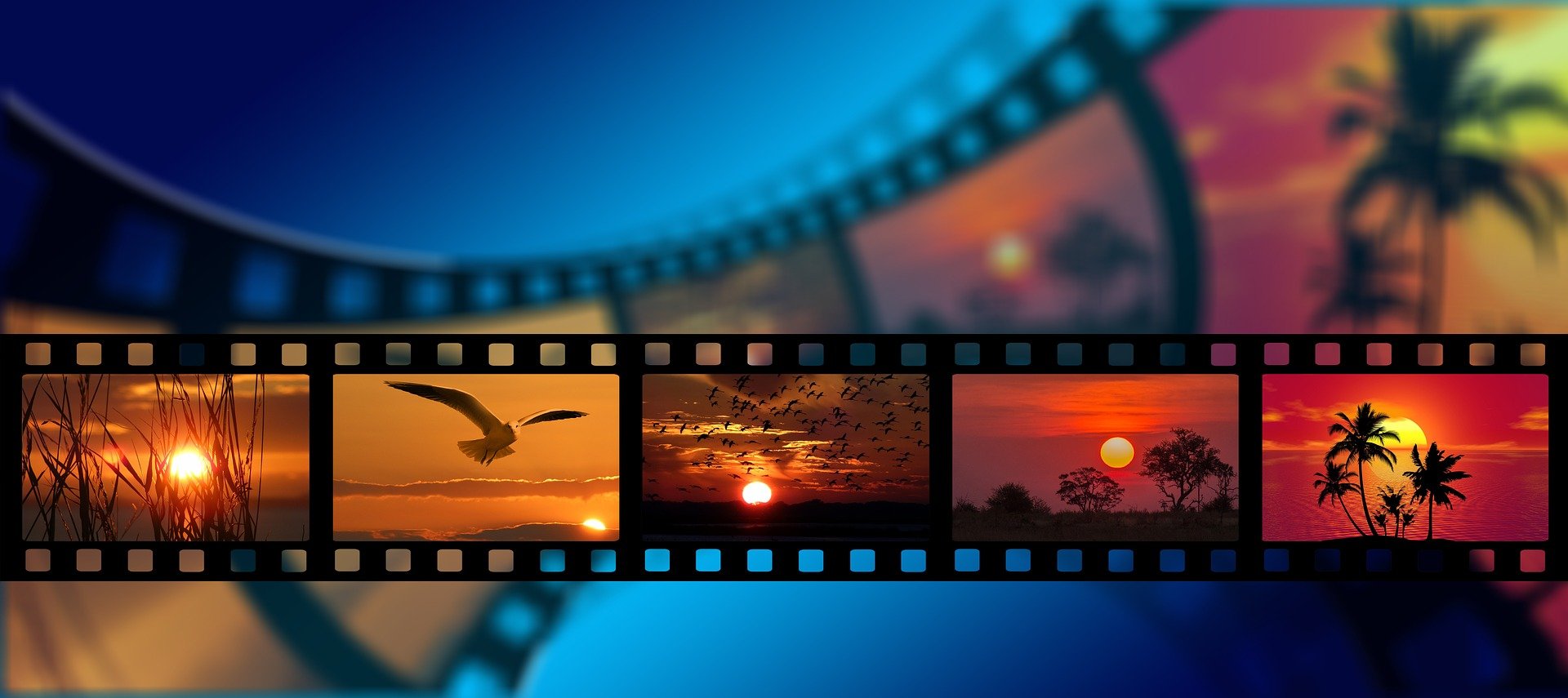 Luxury Restroom Trailer Rentals for Film Shoots
Filmmakers often travel to remote locations in order to capture unique scenery, landscapes, and cultures that can add depth and authenticity to their projects.
From the Mojave Desert in California to the Great Basin Desert in Nevada and Utah, some films require vast, open landscapes of deserts and arid regions. Mountainous regions, remote islands, and the rich range of flora and fauna in jungle environments make for some other popular filming scenes. At times, filmmakers may also need to travel to remote areas within countries, such as rural villages, natural parks, or archaeological sites.
Traveling to remote locations can present logistical challenges for film crews, including transportation, housing, and access to essential resources. However, with the right planning and preparation, filmmakers can capture stunning imagery and unique cultures that can add depth and authenticity to their projects while maintaining their basic needs.
Luxury Restroom Trailer Rentals For Film Shoots: An Essential Detail
When it comes to creating the perfect movie set, every detail counts. From the costumes and lighting to the scenery and props, everything needs to be just right to capture the intended mood and atmosphere of the film. However, one detail that is often overlooked is the restroom facilities. While it may not be the most glamorous aspect of movie-making, it is an essential one. That's where our restroom trailers for on location shoots come in.
The length of time that a filming crew may have to stay in one area can vary greatly depending on the nature of the project. For some films, the crew may only need to be on location for a few days, while for others, it could be several weeks or even months. During this time, it's important to ensure that the crew has access to essential facilities, such as restrooms, to maintain their health and well-being.
While filming in remote or isolated locations can present logistical challenges, there are options available to ensure that the crew has access to essential facilities, such as restroom trailers or portable toilets. These facilities can be set up in the location where the crew is filming and can be easily transported from one location to another as needed.
At VIP To Go, we specialize in providing high-quality portable restroom trailers that are perfect for film productions. Our trailers are designed to provide all the amenities that your cast and crew need to stay comfortable and focused throughout the filming process.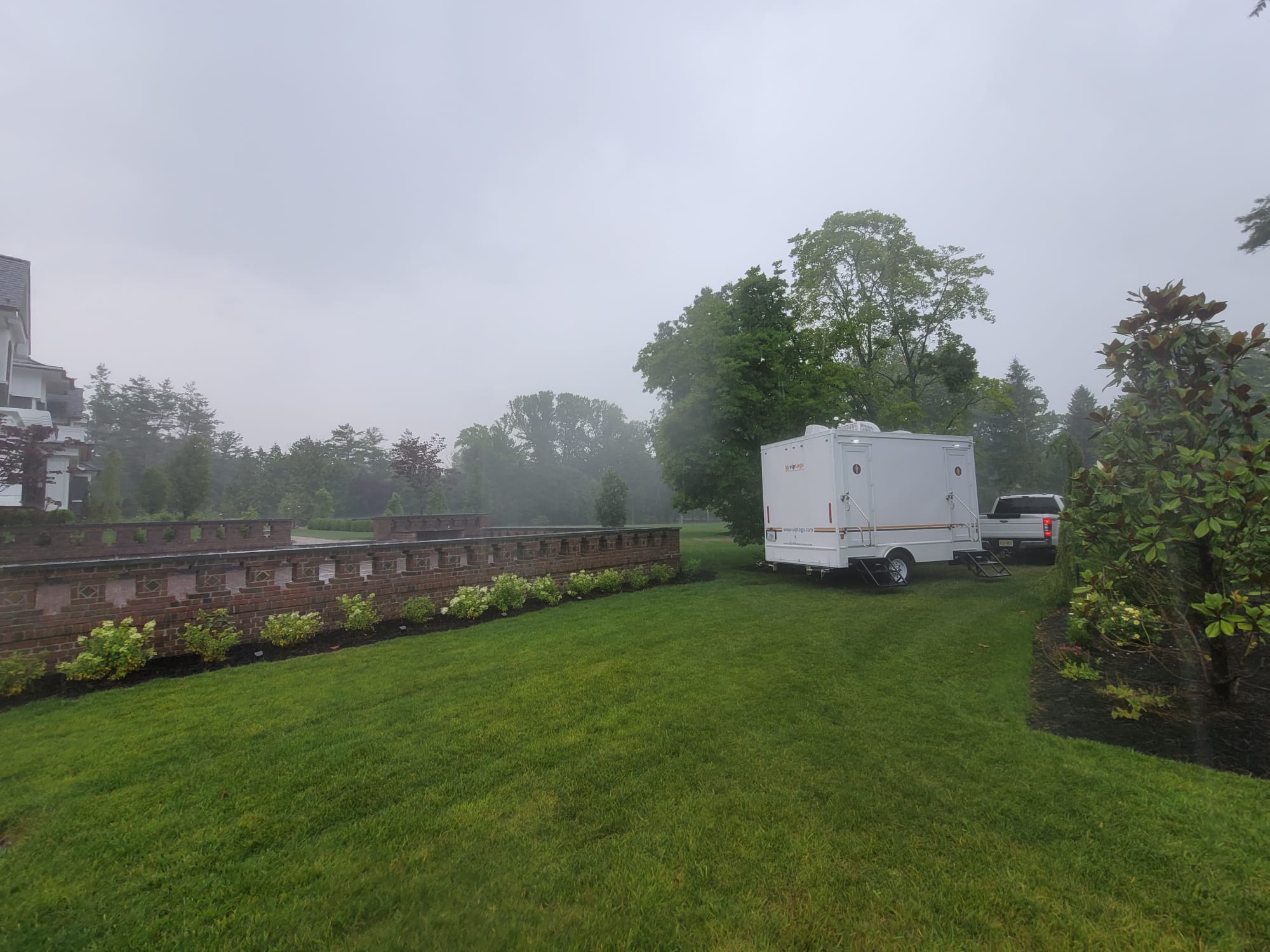 Here are just a few of the ways that our portable restroom rentals for film crews can enhance your film production:
Convenience and Accessibility
When you're on a movie set, time is of the essence. You need to be able to get in and out of the restroom quickly and easily so that you can get back to filming. Our restroom trailers are conveniently located on set and easily accessible for your cast and crew. They are designed to be spacious and comfortable, so your team can take care of their needs quickly and get back to work.
In a fast-paced environment like a film set, it's important to maintain high standards of cleanliness and hygiene. Our restroom trailers are meticulously maintained and cleaned regularly, ensuring that they are always in top condition. This can help to reduce the risk of illness and keep your team healthy and productive throughout the filming process.
Image : Having luxury bathroom trailers for movie sets can be a significant factor in creating a positive impression for potential investors, sponsors, and other stakeholders involved in the film production. These individuals may judge the overall professionalism and attention to detail of the production based on small details, such as the quality of the restroom facilities available. Restroom trailers can provide a more upscale and sophisticated atmosphere than traditional portable toilets, which can help to create a more favorable impression overall. Additionally, having restroom trailers on set can demonstrate that the production team is invested in creating a comfortable and high-quality experience for all involved, which can further enhance the overall image of the film production.

Efficiency : Efficiency is a crucial factor in film production, especially when dealing with tight timelines and multiple locations. Restroom trailers can help streamline the logistics of a film production in several ways. For one, they can be easily moved from one location to another, reducing the need for multiple portable toilet setups at each site. This can save significant time and money

Privacy and Comfort : Our restroom trailers are designed to provide your cast and crew with the privacy and comfort they need to focus on their work. Each trailer is equipped with private stalls, sinks, and ample lighting, so your team can freshen up and take care of their personal needs without interruption. This can help to reduce stress and improve overall morale on set.

Customization and Flexibility : We understand that every film production is unique, which is why we offer a wide range of restroom trailer options to suit your specific needs. Whether you need a small, compact trailer or a larger, more luxurious option, we have you covered. Our trailers are also fully customizable, allowing you to add any special features or amenities that your team may require.
Staying Fresh on Set: Why Shower Trailers are a Must-Have for Film Crews
While restroom trailers may meet the basic needs of film crews, they are often not enough for crews who are on the road for extended periods of time. This is because crew members may require showers not only for personal hygiene but also for comfort and relaxation.
Extended periods of travel and long hours on set can be physically and mentally taxing, and access to shower facilities can help to alleviate some of the discomfort and stress that crews may experience. Shower trailers can provide a comfortable and relaxing experience, allowing crew members to unwind and recharge after long days on set. Furthermore, shower trailers can help to address the specific needs of certain crew members, such as actors, who may require more extensive personal care and grooming. Access to showers can help actors to maintain their appearance and stay fresh for their performances, which is crucial for creating a compelling and authentic drama.
At VIP, we offer a range of shower trailers to accommodate the specific requirements of each crew. Our shower trailers come in various sizes, ranging from compact and portable 2-station trailers suitable for smaller crews, to larger trailers with multiple shower units and amenities for larger productions.
In addition to standalone shower trailers, we also offer combo trailers that include both restrooms and showers, providing a comprehensive restroom solution for film crews on location. These combo trailers can be particularly useful for productions that require a full-service solution for their restroom needs, without the need for multiple trailers.
At VIP, we are committed to providing our customers with exceptional service and support, and our shower trailers are just one of the ways we do that.
Let's take a detailed look at one of our most impressive shower trailers. Our eight-station shower trailer is designed to provide exceptional comfort and convenience for film crews on location. Featuring two rooms, each with four showers and two sinks, this trailer provides ample space for even the largest of crews. Each shower has a private changing area and a small bench, while each sink has its own GFI plug for shavers or hair dryers. Additionally, the larger mirrors, AC, and heat in all rooms make this unit as comfortable as your own home.
Each sink and shower provides instant hot water, so there's no need to wait for the water to heat up. The rubber floor provides a safe and slip-resistant surface, while the interior and exterior LED lighting ensures that the trailer is well-lit and easy to navigate, even in low light conditions.
This shower trailer is designed for extended use, with an on-board 250-gallon fresh water tank and a 1200-gallon waste tank to minimize refilling and maintenance. These features make it an ideal solution for film crews who need reliable and efficient shower facilities on location. 
Why Strong Customer Service for Restroom Trailer Rentals on Film Sets Is No Less Important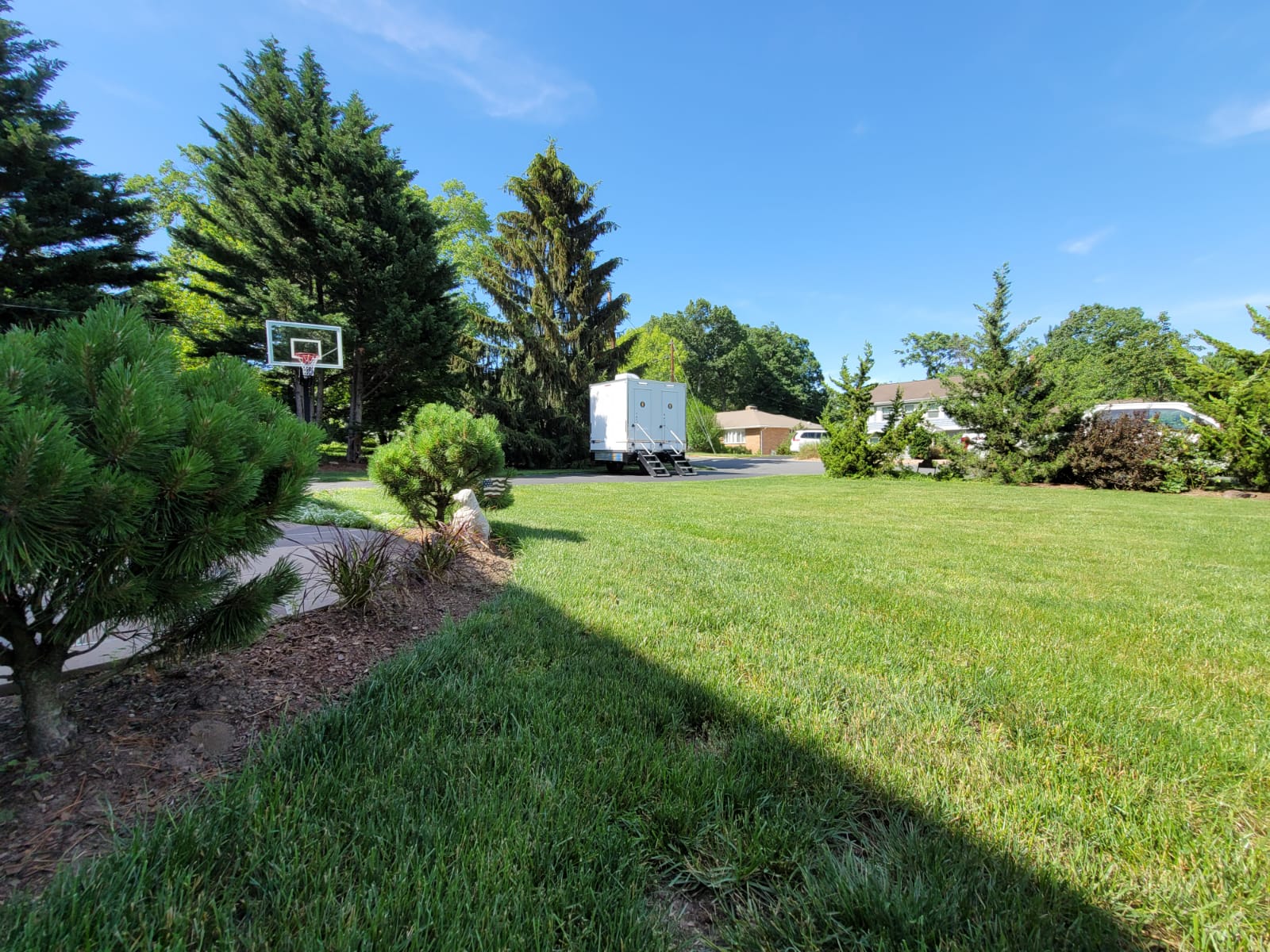 Strong customer service is crucial for any business, and this is especially true for restroom trailer rentals for film crews. A film production crew may spend long hours on location, and they need a reliable and comfortable restroom solution that is serviced promptly and maintained to a high standard. Here are some reasons why strong customer service is important for a film crew using a restroom trailer:
Responding to emergencies: In a high-pressure environment such as a film set, unforeseen emergencies can arise. A film crew needs to have a customer service team that can respond promptly and effectively to any emergencies, such as a blocked toilet or overflowing sink. Quick resolution of any issues can help to prevent disruptions to the filming schedule.

Maintenance and cleaning: Restroom trailers require regular maintenance and cleaning to ensure that they are hygienic and safe for use. A reliable customer service team can ensure that regular maintenance is performed on the restroom trailers and that they are kept clean and stocked with necessary supplies such as toilet paper, soap, and paper towels.

Communication: Good communication between the customer service team and the film crew is essential to ensure that any issues are promptly addressed and that the restroom trailers are maintained and serviced as needed. A responsive customer service team can provide timely updates on the status of any issues and ensure that the crew has the information they need to make the most of the restroom facilities.

Flexibility: Film productions often have unpredictable schedules, and it is important that the customer service team can be flexible and accommodating to meet the changing needs of the production. This may include adjusting the timing of maintenance or servicing appointments to fit with the filming schedule, or providing additional restroom trailers if needed.
At VIP, exceptional customer service is at the core of our business model. We understand that on a film set, every request matters, and every detail counts. That's why we strive to provide our customers with the utmost care, attention to detail, and flexibility. Our team is always ready to say "yes" to any request, no matter how big or small, to ensure that our customers' needs are met and their expectations exceeded.
We recognize that emergencies and issues can arise at any time, and that's why we prioritize resolving them as quickly and efficiently as possible. Our team is always on call to ensure that any problems with our restroom trailer rentals are resolved promptly, without disrupting the film production schedule.
We understand that every customer is unique, with their own specific needs and requirements. That's why we work closely with our customers to ensure that our restroom trailer rental solutions are tailored to their exact specifications. We take the time to listen to our customers' needs and provide them with personalized solutions that meet their specific requirements.
Our restroom trailers are designed to be convenient, comfortable, and clean, providing your cast and crew with the support they need to stay focused and productive throughout the filming process. Contact us today to learn more about our restroom trailer options and how we can help enhance your film production.