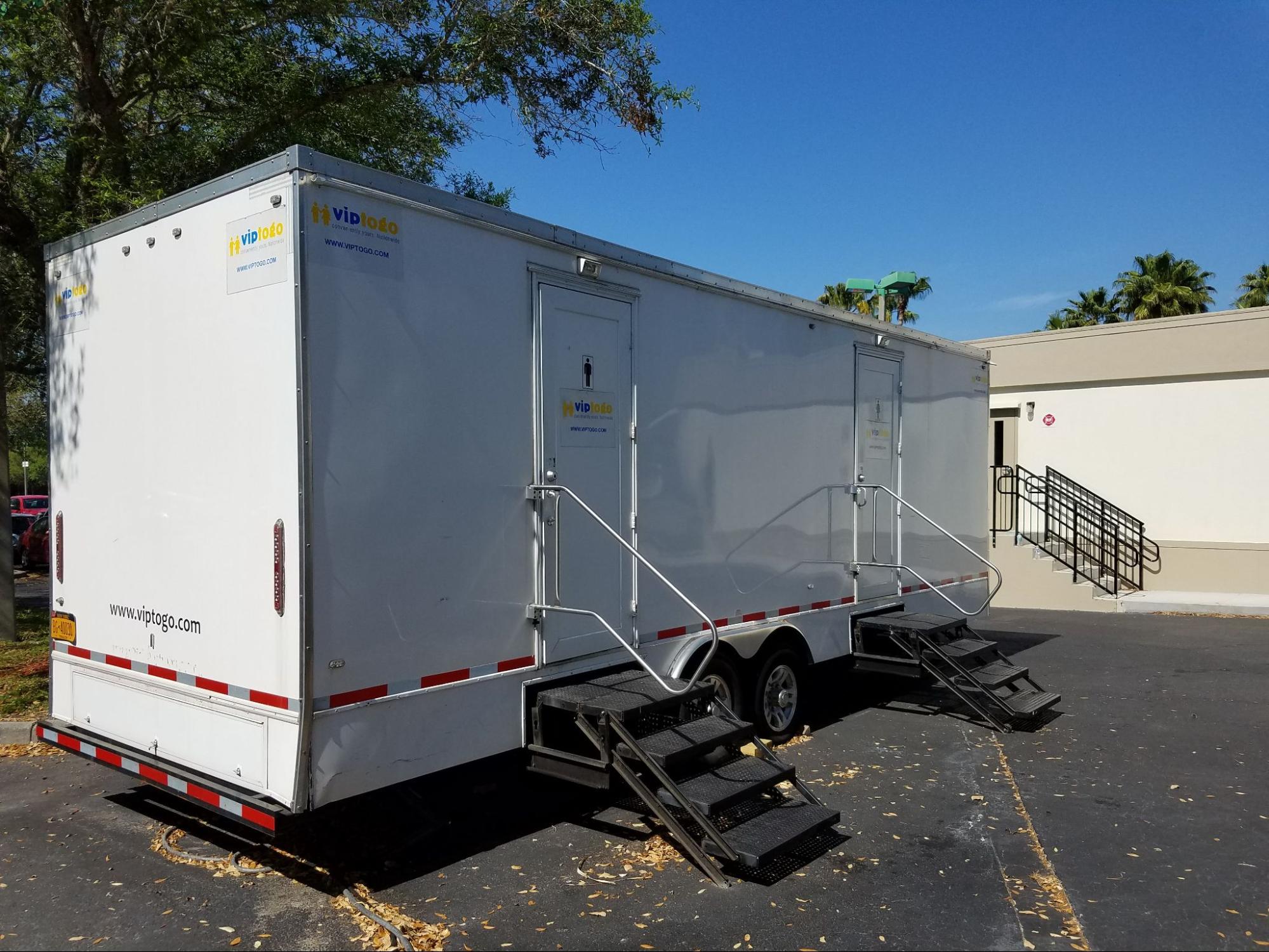 Renting a Luxury Restroom Trailer: The Ultimate Solution for Any Remote Environment
Whether you're camping with family, hosting an outdoor wedding, or dealing with an emergency situation, having access to a comfortable restroom can be a challenge. Many outdoor locations lack the necessary amenities like running water and electricity to support standard bathroom facilities. Fortunately, luxury restroom trailers offer a solution to these challenges. These trailers come equipped with all the technical facilities needed for a comfortable bathroom experience, no matter where you are.
In this article, we'll explore the benefits of luxury restroom trailers and how they provide a solution for bathroom needs in remote environments. We'll also discuss the amenities that make these trailers a luxury experience, and why VIP To Go is the best rental company to fulfill your luxury restroom needs.
Settings without Electricity or Water Where a Restroom Trailer May Be Needed
Being without electricity or water for an extended amount of time can present a significant challenge, especially when it comes to bathroom facilities. In such situations, individuals may have limited access to running water, which can make it difficult to maintain proper hygiene. Additionally, the absence of electricity can make it complicated to power traditional bathroom facilities such as lights, fans, or air conditioning. This can result in uncomfortable and unsanitary bathroom experiences, which can lead to health issues and other complications. Luxury restroom trailers provide a solution to these challenges by offering a comfortable and luxurious bathroom experience with all the necessary amenities, regardless of the availability of electricity or water.
There are many scenarios where a luxury restroom trailer can be a gamechanger. Here are just a few examples:
Family camping trips where the campsite lacks modern amenities
Large outdoor events, such as weddings or music festivals, that need additional bathroom facilities
Natural disasters or emergency relief situations where the local infrastructure has been compromised
Remote locations such as state or national parks where bathroom facilities are scarce
As a temporary bathroom during renovation where bathroom facilities may be inaccessible due to construction work or may need to be temporarily removed to allow for the renovation work to take place.
Luxury Restroom Trailers: The Ultimate Solution for Remote Environments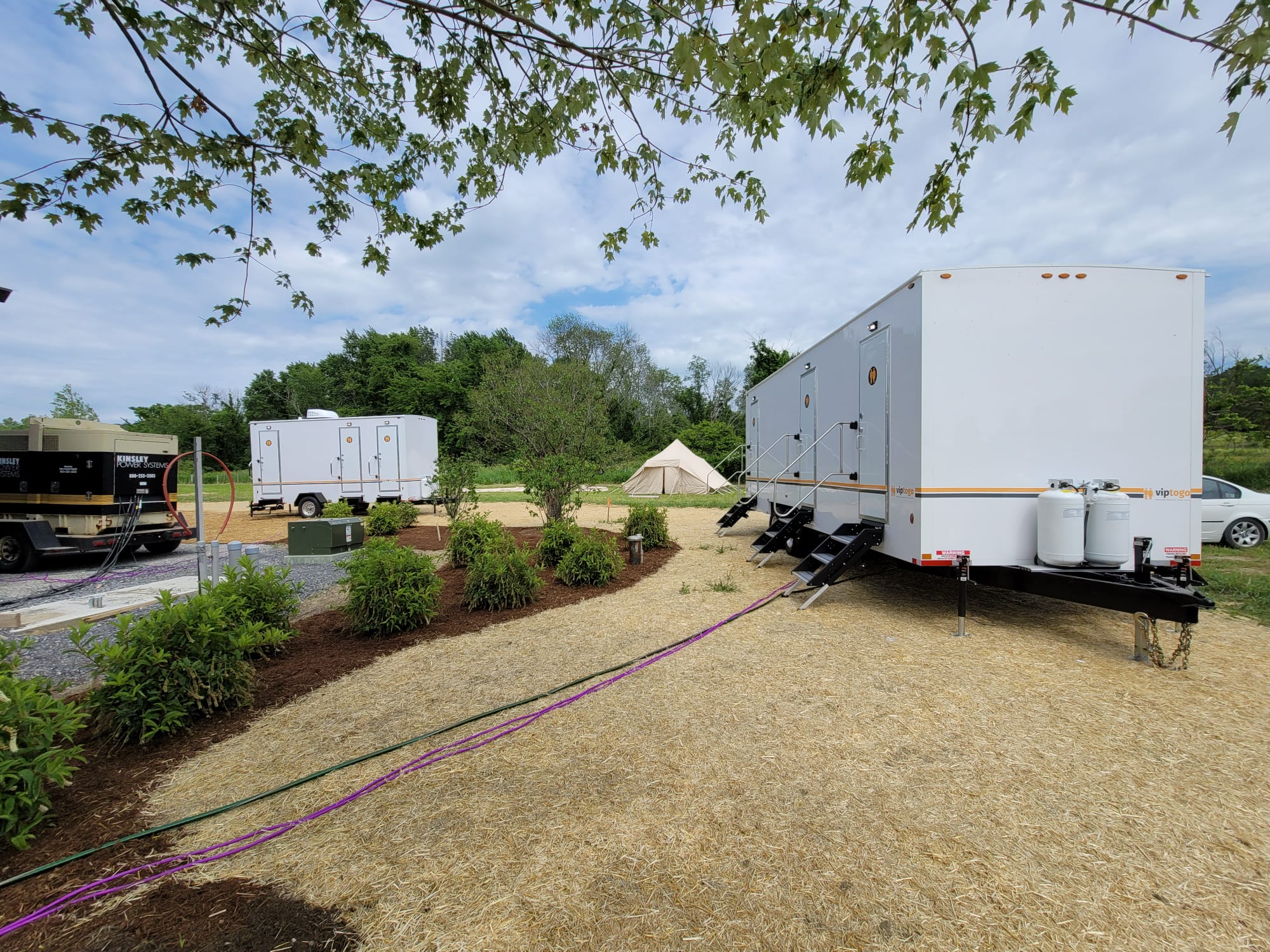 Without available bathrooms, conditions can be uncomfortable and unsanitary, and may not provide an acceptable level of privacy or cleanliness, leading to frustration and stress.
Luxury restroom trailers offer a convenient solution to this problem by providing a comfortable and luxurious bathroom experience in whatever setting or whatever situation one finds themselves to be. These trailers come equipped with all the necessary amenities such as running water, air conditioning, heating, and private stalls, and can be placed in a wide range of settings, providing a flexible and convenient solution for providing bathroom facilities without  the inconvenience or stress of using alternative options.
With amenities such as air conditioning, heating, running water, and bright lighting, these trailers provide a comfortable and luxurious bathroom experience in a setting that surpasses the comfort and amenities of an indoor bathroom.
Amenities in a Luxury Restroom Trailer
Restroom trailers are equipped with self-contained systems that allow them to provide running water and electricity in remote locations.
A luxury restroom trailer rental with running water is a versatile and practical solution for any location where traditional bathroom facilities are unavailable, providing users with a comfortable and hygienic bathroom experience.
To provide running water, restroom trailers typically have a water supply system and a wastewater holding tank. The water supply system includes a freshwater tank, pump, and filtration system. When the trailer is in use, the freshwater pump delivers water to the faucets and toilet, while the wastewater is collected in the holding tank. The wastewater can be emptied into a septic tank or other waste disposal system when the trailer is serviced or relocated.
To provide electricity, restroom trailers are typically equipped with a generator or a battery bank system. The generator is powered by diesel or propane fuel and produces electricity to power the lighting, air conditioning, heating, and other electrical components of the trailer. Battery bank systems work similarly to generators, but instead store energy in a battery bank that is charged by solar panels or a charging system when the trailer is plugged into an electrical outlet.
Having a climate controlled luxury restroom trailer rental can be a tremendous relief in uncomfortable environments, particularly when temperatures are extreme. In hot weather, an air conditioned luxury restroom trailer can provide a cool and comfortable environment, allowing users to escape from the scorching heat and humidity. Similarly, in cold weather, a temperature-controlled trailer can provide a warm and cozy atmosphere, making it an ideal place to warm up and take a break.
In settings where traditional indoor bathroom facilities are not available, a temperature-controlled restroom trailer can provide an oasis of comfort and luxury. For example, at outdoor events, such as weddings or festivals, a temperature-controlled restroom trailer can offer guests a much-needed respite from the heat, allowing them to relax and refresh in a luxury restroom trailer with air conditioning before returning to the festivities. In disaster relief situations or remote camping locations, a temperature-controlled trailer can be an essential source of relief, allowing individuals to escape from harsh outdoor conditions and take care of their essential hygiene needs in a comfortable environment.
Temperature-controlled luxury restroom trailers can be equipped with both air conditioning and heating systems to provide the ultimate in temperature control. Air conditioning systems circulate cool air throughout the trailer, while heating systems can provide warmth in colder temperatures. This makes it possible to provide a comfortable environment for users regardless of the weather conditions outside.
Other Comforts and Conveniences
Private Stalls: Luxury restroom trailers come equipped with private stalls that offer the same privacy as a traditional bathroom. The stalls are designed to offer a comfortable and secure private environment for the user.
Generous Countertop Space: The counters in luxury restroom trailers provide ample space to hold all your personal items, such as makeup, hairbrushes, and other toiletries. The counters are also made of high-quality materials that are easy to clean and give a high-end look and feel to the restroom.
Modern Light Fixtures: The bright lighting in luxury restroom trailers is designed to provide optimal visibility for users. The bright light fixtures also create a luxurious and elegant atmosphere in the trailer.
Spacious and Decorative Interiors: Luxury restroom trailers are designed with spacious and comfortable interiors, ensuring that users can move around with ease. The trailers are also designed with high-quality materials that provide a luxurious and comfortable environment. The walls of luxury restroom trailers are often adorned with artwork or other decorative elements, adding to the overall luxury experience.
Music and Entertainment: Some luxury restroom trailers come equipped with music systems or other forms of entertainment, providing users with a relaxing and entertaining experience.
Customer Service for Luxury Portable Restrooms
When choosing a vendor for luxury restrooms, strong customer service is a critical factor to consider. When it comes to temporary or additional bathroom facilities, unexpected issues can arise, and having a reliable vendor with strong customer service can make all the difference.
A vendor with excellent customer service will be responsive and attentive to your needs, ensuring that any concerns or issues are addressed in a timely and effective manner. They should also be available to answer any questions you may have, provide recommendations, and work with you to create a customized solution that meets your specific requirements.
Strong customer service also means that the vendor is committed to ensuring the highest level of cleanliness, maintenance, and quality in their luxury restroom trailers. They should have a team of skilled professionals who are trained to service and maintain the trailers, ensuring that they are always in top condition and ready for use.
In addition to providing exceptional customer service, a vendor for luxury restrooms should be flexible and accommodating. They should be able to offer customized solutions and work with you to ensure that the restroom trailer is delivered and installed at the right location and time. They should also be able to provide additional amenities, such as attendants or luxury amenities, upon request.
VIP To Go: The Best Luxury Restroom Trailer Rental Company
VIP To Go is the best rental company for luxury restroom trailers, offering a wide range of luxury restroom trailers that are designed to meet the needs of any user. VIP To Go offers exceptional customer service for luxury portable restrooms, ensuring that every customer receives the support they need at any hour of the day. We are dedicated to serving each and every customer as if they are our only customer. We have kept the company large enough to compete with the big players, yet small enough to provide personalized service. We offer affordable options, making the luxury porta potty rental cost accessible to everyone.