Labor Day Party Ideas for the Best Weekend
Imagine a life with no weekends, paid leaves, sick days, and benefits — just a long stretch of endless and continuous work. Fortunately, this isn't a scenario we have to suffer. In the early 1800s, American union workers and leaders stood up to unfair labor practices and we have a lot to thank them for.
Labor Day honors the social and economic contributions of American workers. US citizens observe this major national holiday on the first Monday of September.
Over the years, we've come to recognize Labor Day weekend as a great time to spend with family and friends. Those who celebrate this day often have a Labor Day picnic or take a short vacation.
Have a go at our mixed bag of Labor Day party ideas that will give you one heck of a celebration to look forward to.
When Is Labor Day in 2022?
Labor Day in 2022 falls on September 5th, the first Monday of the month.
Labor Day Party Ideas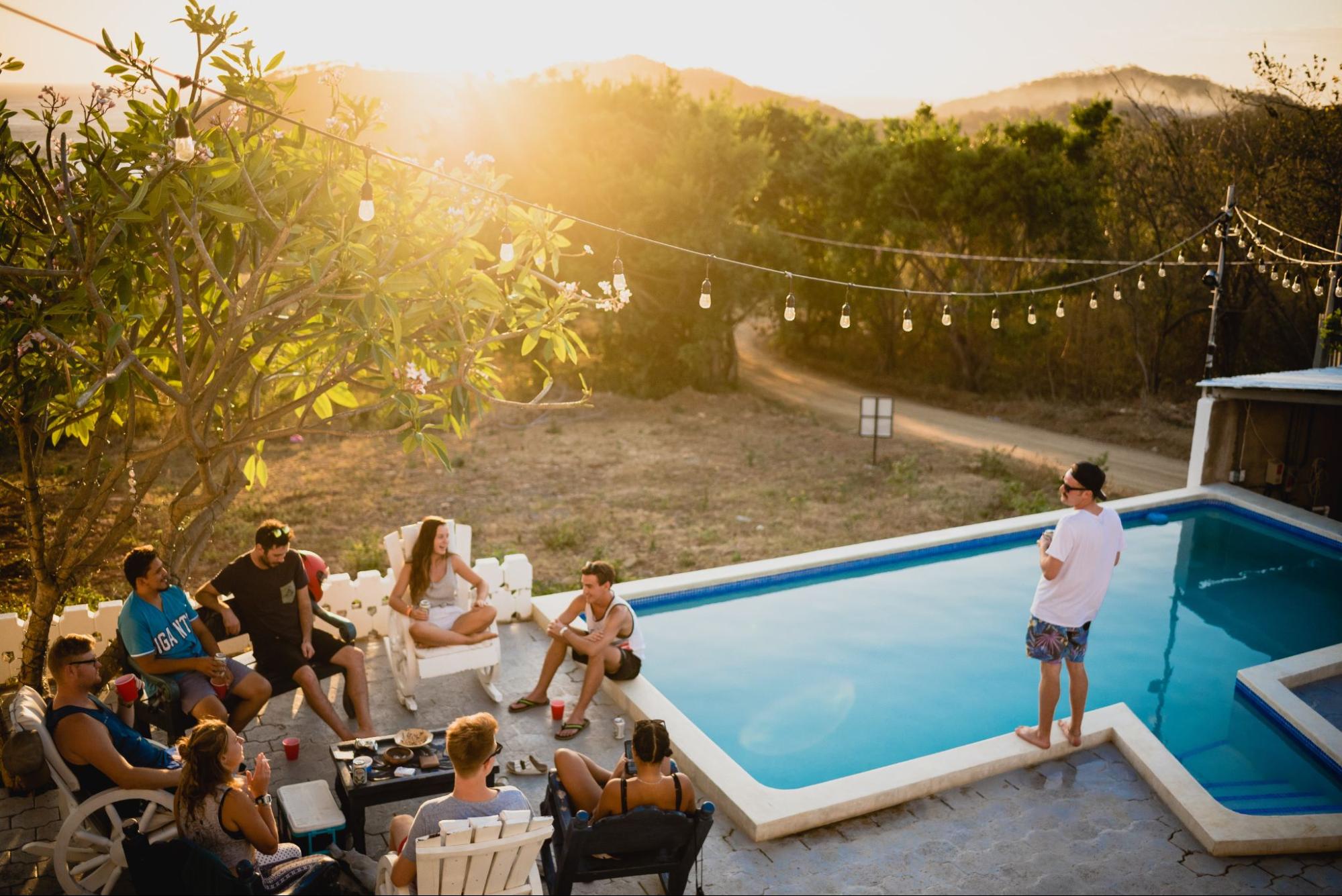 Discover some of the coolest Labor Day party ideas for the upcoming long weekend:
Labor Day weekend is the perfect time to throw a pool party with friends and family. You can have some neat Labor Day games for kids and adults.
Cannonball Contest: Whoever makes the biggest splash, wins! (play this game in the deep part of a pool to avoid injuries).
Treasure Dive: Scatter small gifts like keychains, sealed candy bars, or palm-sized toys at the bottom of the pool. Players should ideally wear goggles before diving and looking for treasure.
Air Ball: This game's an oldy but goody! All you need is a net separating the pool into two sections. Similar to volleyball, players on either side toss the ball between each other without hitting the net.
Warm days by the pool call for a fun round of Labor Day drinks! Sip on these refreshing cocktails as you unwind during the Labor Day festivities.
Serve Easy Labor Day Cocktails
-Blue Lagoon Cocktail
1 highball glass
2 ounces of vodka or gin
1 ounce of blue curaçao
1 ounce of freshly squeezed lemon juice
1 ounce of sugar syrup
1 maraschino cherry (optional)
Instructions:
Combine all the ingredients in a cocktail shaker and give them a good shake.
Pour the concoction into the highball glass and top it off with the cherry.
– Elderflower and Gin Cocktail
1 highball glass
2 ounces of gin
1 ounce of elderflower syrup
1 ounce of elderflower tonic
1 ounce of freshly squeezed lemon juice
A dash of salt and a lemon wedge
Instructions:
Combine all the ingredients in a large pitcher and stir well. Run the lemon wedge across the mouth of the highball glass and line with salt.
Pour the cocktail into a glass and drink chilled.
Pair these cocktails with the following delectable Labor Day side dishes for the perfect poolside party:
| | | | |
| --- | --- | --- | --- |
| Pepperoni pizza | Beer-battered fish and chips | BBQ chicken wings | Sticky honey-glazed lamb chops |
| Tortilla chips, guacamole, and spicy salsa | Classic fried chicken | Mushroom and cheese quiche | Chips, fried beans, and dip |
After the pool party ends and everyone's ready to call it a day, what better way to unwind than with a good movie and giant tubs of popcorn?
| | | | |
| --- | --- | --- | --- |
| Office Space (1999) | Norma Rae (1979) | Forrest Gump (1994) | The Help (2011) |
| Catch Me If You Can (2002) | Cheaper by the Dozen (2003) | Tortilla Soup (2001) | Soul (2020) |
Working on crafts with kids for a Labor Day themed party can be fun and educational. It's the perfect time to explain to kids what Labor Day is and why it's so significant. Take a look at these fantastic craft ideas for Labor Day that kids will be thrilled to try.
– Patriotic Clothespins
What You'll Need:
A handful of wooden clothespins
Red, blue, and white acrylic paint tubes
A cup of water
Three paint brushes with super-fine and stiff bristles
2 to 3 old newspaper sheets
What To Do:
Layer a tabletop with newspaper sheets to avoid staining the surface.
Lay a clothespin flat on the table and use one hand to keep it steady.
With the other hand, coat the narrow section of the clothespin beside the metal clamp with blue paint. Use the water to clean off paint from the bristles if you're using the same brush.
Once the blue paint dries, add a smattering of white dots to resemble the stars of the American flag.
On the wider section of the clothespin, add alternating red and white stripes and wait for the paint to dry.
These clothespins can be used to hang up banners, dress up laundry lines, or secure decorative twine. This is one of the best Labor Day activities for kids. It's quick, easy, and a ton of fun for the family.
– Fireworks Greeting Card
What You'll Need:
One A4 size sheet
Gold glitter (any bright color will do)
1 dinner fork
A pack of colored crayons or felt-tip markers
Blue and red acrylic paint tubes
What To Do:
Carefully paint alternating red and blue stripes across the back tines of the fork.
Fold the A4 size sheet size in half.
Hold the base of the fork at an angle over the A4 size sheet and gently sweep the painted tines in outward strokes (mimicking the way fireworks erupt in the sky)
Turn the sheet with one hand as you hold the fork on the surface several times in a circular motion. Keep reapplying paint on the tines of the fork to create vivid paint strokes.
Continue to do this across the sheet until you have 2 or 3 firework-type patterns.
Wait for the paint to dry. Then, use colored glitter to trace the lines of the fireworks to add a little dazzle.
Use crayons or felt tips markers to scrawl a big "Happy Labor's Day!" across the front of your folded A4 sheet and Labor Day wishes on the inside for someone special.
Your Labor Day greeting card can be given with a gift or on its own.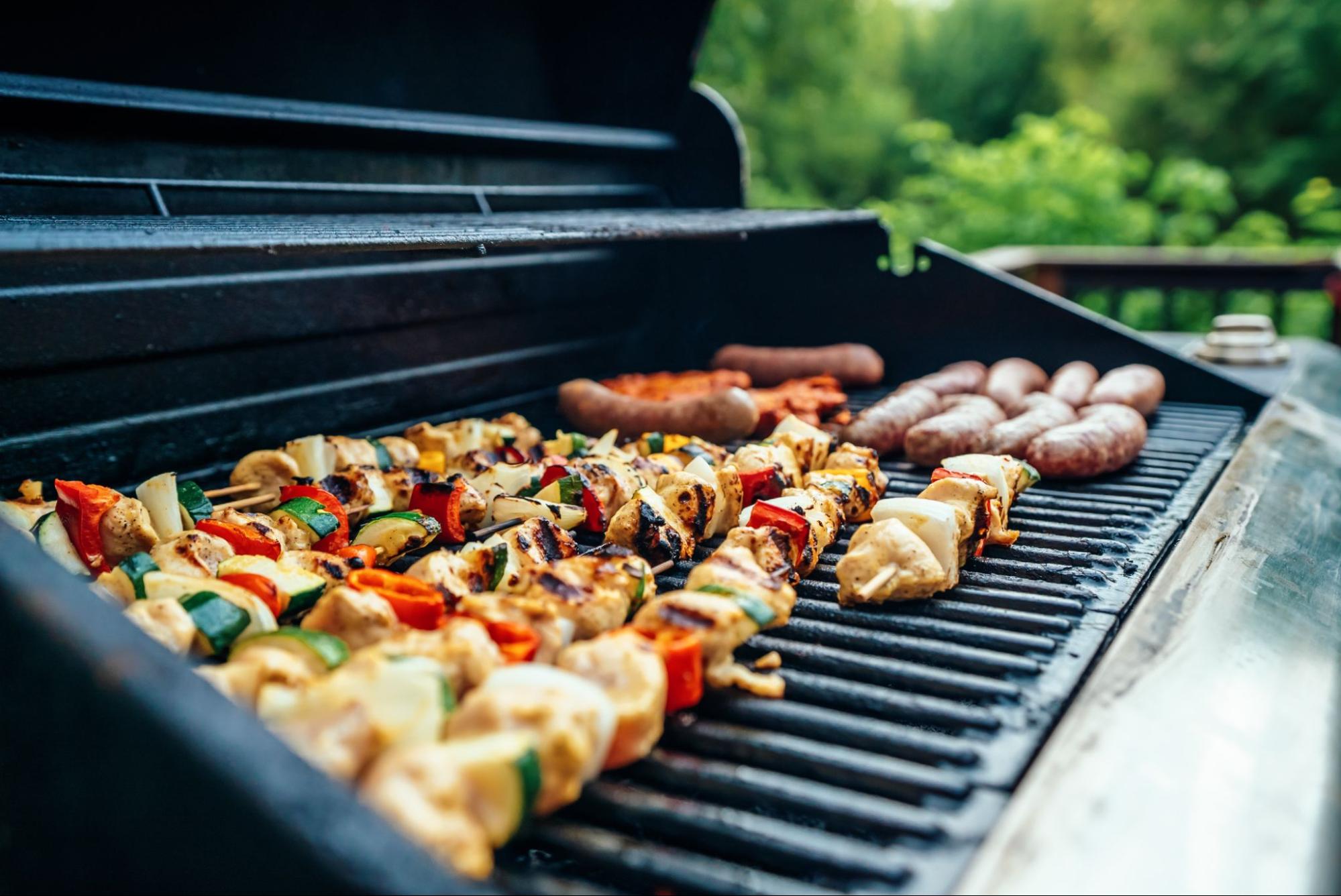 Hosting a barbecue party is one of the best Labor Day party ideas! Who wouldn't want to tuck into Labor Day barbecue with a side of chilled beer? Gather family and friends for a Labor Day barbecue party in your backyard or outdoor venue and bond over your favorite charred grub.
Labor Day BBQ Menu Ideas

Beef hamburgers with skewers of tender chicken and halved buttery corn cobs
Hummus, pita bread, and charred skewered meat with potatoes
Beef tenderloin steak with meat rub, mushroom sauce on the side, and creamy mashed potatoes
Charred tofu and portobello mushrooms served in tortilla wraps (filled with garlic mayo, relish, and pickles)
Fun Things To Do on Labor Day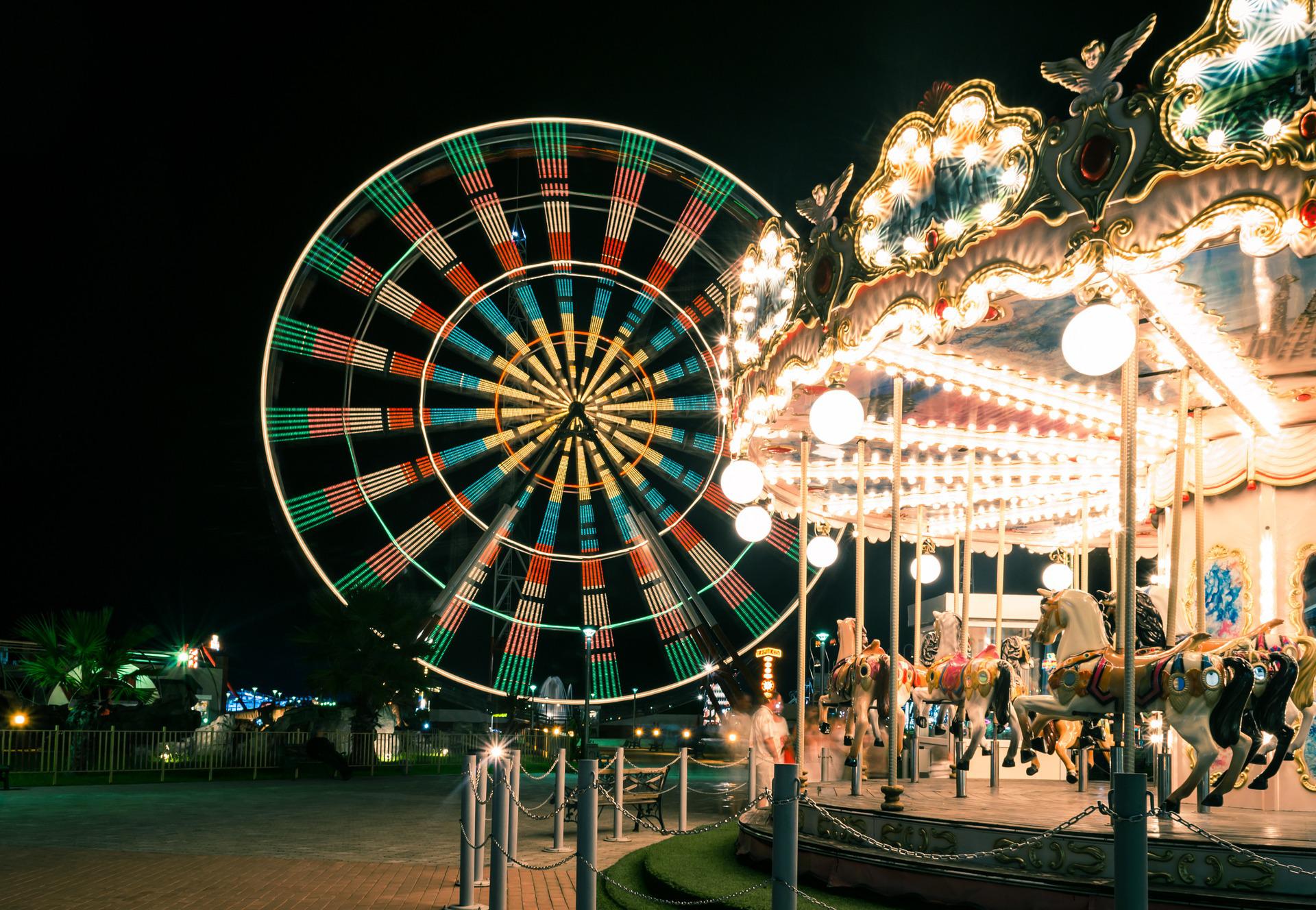 Labor Day fun happens a few weeks before the end of summer, allowing you to make the most of the warm weather.
Now that you've checked out our Labor Day party ideas, keep reading for more traditional Labor Day weekend plans:
The first Labor Day parade in New York City was organized by the Central Labor Union on September 5th, 1882. It kicked off a celebratory tradition, honoring the American workforce.
This year, Labor Day in NYC is all set to grace the streets of the Big Apple in September. Millions of visitors and locals partake in the annual celebrations. Whether you live in Brooklyn, Manhattan, or New Jersey, there are Labor Day festivities in your neighborhood. Gather family and friends to attend a parade across town or in another city.
Every year, the much anticipated West Indian American Day Carnival is celebrated on Labor Day in Brooklyn, New York City. Started by Jessie Wardell in 1930, the carnival evolved into a city-wide celebration of Caribbean ethnicities and locals from across America.
As many as 3 to 4 million people attend the carnival to celebrate Caribbean culture. The sky is punctuated with flags of Haiti, Barbados, Jamaica, and other Caribbean nations as citizens proudly celebrate their traditions and heritage.
At the Labor Day carnival, expect to hear lively reggae and calypso tunes, dig into soul-satisfying native foods, and watch paraders dance in vibrant costumes. You don't want to miss the J'Ouvert parade, a celebratory kick-off of the West Indian Day Parade. Attendees can head over to Brooklyn and be amazed at the events that will take place along Eastern Parkway.
Want a great view of the carnival? Watch the events from Grand Army Plaza or Brooklyn Museum. Attending the carnival is a great way to celebrate the Labor Day weekend in New York City.
Traditional Labor Day food like macaroni salad, cajun shrimp, Mexican beef tacos, cheeseburgers, and hotdogs are perfect picks for a warm summer day.
Whether it's reading a favorite book or observing Labor Day festivities in your neighborhood, you can enjoy it all with a delicious picnic outdoors in the company of good friends and close family.
Attending Labor Day weekend concerts is a great way to bond and create new memories with those you love. Labor Day weekend music festivals cater to a variety of tastes from jazz to country and EDM to pop. We rounded up some of the country's most high-octane and exciting Labor Day concerts and music festivals that are happening over the long weekend.
Top Labor Day Festivals and Concerts

Date

Name

Location

Music Genre

September 2-4, 2022
North Coast Festival
Chicago, IL
Jam band, house, electronic, and hip hop
September 2-4, 2022
Electric Zoo 3.0
New York City, NY
Electronic
September 2-4, 2022
Nelsonville Music Festival
Nelsonville, OH
Alternative, indie, jam
September 2-4, 2022
ARC Music Festival
Chicago, IL
Electronic and house
September 3-4, 2022
Made in America Festival by Jay-Z
Philadelphia, PA
Hip hop, rock, pop, and electronic
Does the idea of sitting in a lawn chair and watching the sky light up with fireworks excite you?
One of the best things to do for Labor Day is to explore outdoor locations that give you a front-row seat to Labor Day festivities and fireworks in your city or another state.
Thinking of traveling during the Labor Day weekend? It's the perfect time for one last hoorah before summer ends. Take a look at our list of top places for Labor Day weekend trips:
Labor Day Vacation Ideas For Travelers

Seattle, Washington

Bar Harbor, Maine

Lake Geneva, Wisconsin

Lake Tahoe, California

Where to go: Seattle Great Wheel, Chihuly Garden and Glass, and Museum of Pop Culture
Where to go: Cadillac Mountain, Ben & Bill's Chocolate Emporium, Land Bridge to Bar Island, and Acadia National Park
Where to go: Grand Geneva Resort & Spa (to see the fireworks), U.S. Mailboat Tour, and Walworth County Fair (August 29 to September 3)
Where to go: Sand Harbor State Park, Marcus Ashley Gallery, Tallac Historic Site, and Emerald Bay State Park
VIP to Go: Your Perfect Partner for Labor Day Events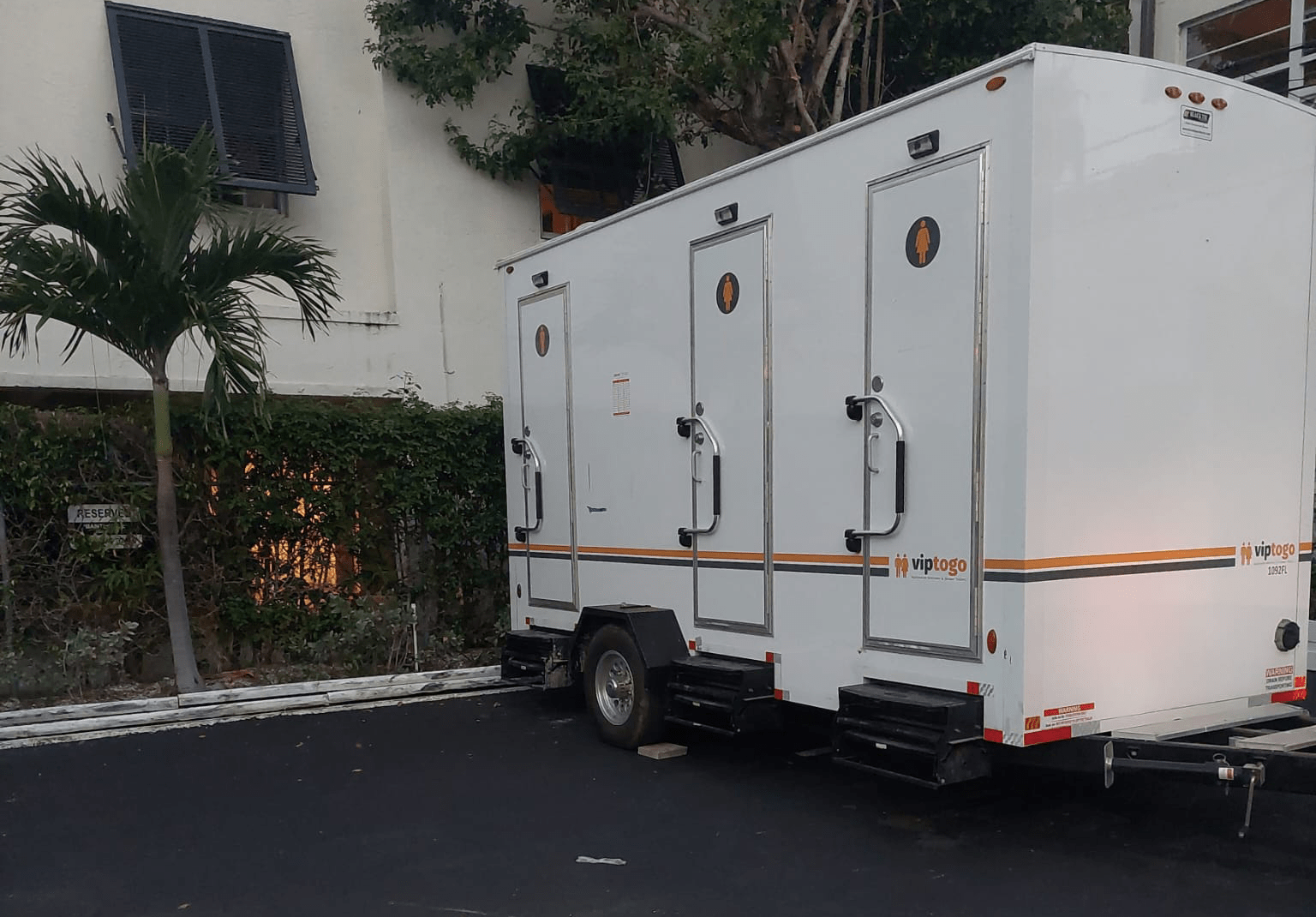 An outdoor event like those during the Labor Day weekend requires proper planning and time. Bathroom facilities shouldn't be an afterthought. It's a crucial facility for outdoor events and a priority that should be at the top of your list.
VIP to Go is a trusted provider of luxury portable restroom trailer rentals with a national presence. We aim to consistently deliver quality customer service and unmatched sanitary facilities. VIP To Go is proud to be the first choice of outdoor event organizers around the country. If you need restroom trailer rental for events, we're the ones to call.
Our quick booking feature helps you select as many restroom trailer rentals as you need. Every luxury restroom trailer is designed with sleek interiors, sanitary facilities, and modern amenities. Freshening up and powering down between fun activities are a lot easier and more sanitary when you have VIP To Go's restroom trailer rental on wheels.
Our website provides all the information you need, including the monthly rental rates of our units, however, we can also provide facilities and maintenance for single and multi-day events, as well as extended rental periods.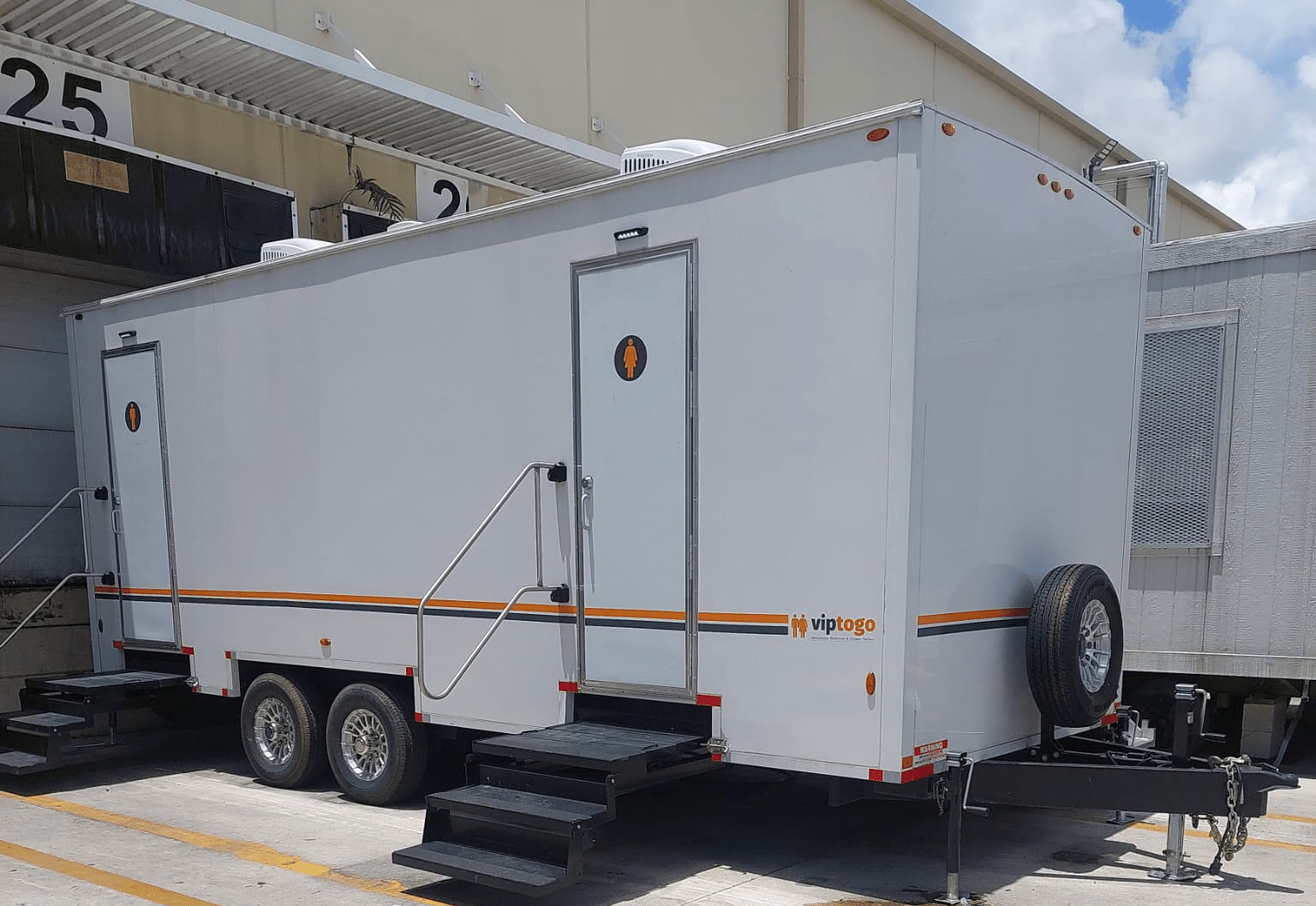 FAQs
How many portable toilets per person for an event?
How many toilets do I need for my event? The answer depends on how many guests you're expecting.
Enter a few details on our platform, and we'll tell you how many portable toilet rental trailers you need. Our 2-station to 10-station portable toilets for events have everything you require for a smooth and uninterrupted experience. Have a look at our ADA-compliant portable restroom trailer rentals, designed with bespoke interiors and thoughtful features.
Are the restroom trailer rentals fully stocked?
Yes! All our luxury restroom trailer rentals are fully stocked with hygiene essentials for your peace of mind and comfort. You can schedule VIP To Go's maintenance team for regular visits to the event venue. Our expert cleaning crew will restock, inspect, and disinfect the restroom trailer rental on location.
VIP To Go: For a Convenient and Comfortable Labor Day Celebration
Labor Day is a time of fun and relaxation. Your guests or attendees will appreciate having accessible restroom trailer rentals on-site. We hope that our list of Labor Day party ideas gives you plenty to think about before the big weekend arrives!
VIP To Go's luxury restroom trailer rentals will always be transported to a venue on time, even for last-minute, unexpected plans. Contact us today, and let's talk!