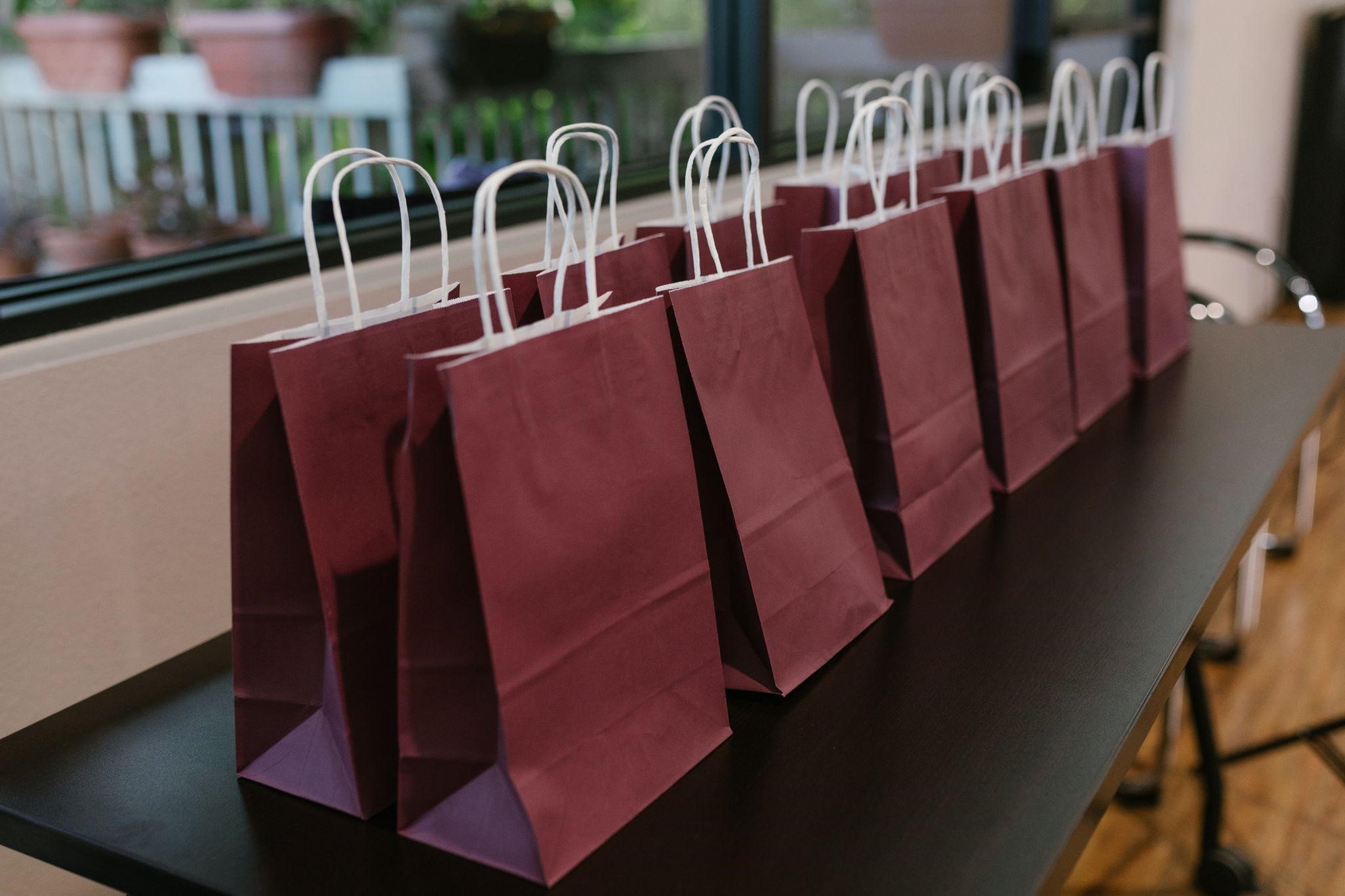 Covid Event Risk Assessment for Safe Events
The era of Covid has certainly impacted all areas of life, especially event planning. For the longest time, events of almost all sizes and types were shut down. Now that the world is beginning to open up, the risk of Covid is still present. This poses a challenge for event planners that want to get back to indoor and outdoor event planning but want to do it safely.
The good news for event planners is a viable Covid event risk assessment that can determine whether or not your event will be deemed "safe." Whether you're considering throwing fun school events, community events, or something for the office, knowing how to assess the risks will help determine if it's a good option – or not.
Risks to Take Into Consideration
There are many risks to consider when it comes to Covid and events. Before attempting to plan your event, consider critical elements:
Covid Cases in Your Community
It is imperative to stay on top of the infection rate in your community. You can do so by using the useful CDC Tracker tool. Needless to say, if infections are on the rise in your community, it may be best to hold off on all events – big and small.
Location of the Event
Recent studies have shown that indoor events present an 18.7 times higher risk to event-goers than outdoor events. This number can increase further in indoor spaces that do not have proper ventilation. That said, it is still recommended to hold events outdoors rather than indoors. This is true whether you are fully vaccinated or not.
Vaccination Rate in Your Community
Speaking of vaccinations, paying attention to the vaccination rate in your community can also help you assess whether or not to plan an event. Again, there is a CDC tracker that will present this data. In areas with a higher number of vaccinations, the risk of Covid is reduced.
However, keep in mind that some events will draw crowds from outside the community. This leaves specific data – such as Covid cases and vaccination rates – somewhat insignificant. For example, local events may be safer than a sports event or concert as they are less likely to draw large crowds from varying locations.
Length of the Event
The CDC has stated that being less than six feet apart from someone with Covid for more than 15 minutes dramatically increases one's risk of contracting the illness. With that in mind, there are a few things to consider, such as:
The length of your event. Overall, the longer your event is held, the more opportunity arises for Covid to be transmitted amongst event-goers.
The size of your event. Are you allowing for proper social distancing? If your venue can't provide this type of distance, it's best to find another option. Outdoor spaces are typically suggested as they offer more space for social distancing, and open-air cuts down on transmission.
Number and Age of Attendees
The CDC has made it clear, time and time again, that your risk increases when you're around a more significant number of people. That is why large gatherings are still recommended to be avoided, while small groups are now being deemed okay.
When it comes to Covid event risk assessment, don't forget to consider the number of attendees and their age group. Young children tend to have less severe infections than older folks, which means school events may be safer than large-scale local nonprofit events that include adults of all ages.
This isn't to say that proper precautions should not be taken, though. Regardless of age, event planners must adhere to local guidelines and ensure a safe environment for their attendees.
Health and Safety
Will your event be able to handle the risk? One of the most significant aspects of Covid event risk assessment is ensuring that attendees have access to masks, hand sanitizer, and proper ventilation.
Take it a step further by opting for touchless equipment and wiping down tools or machines that event-goers will use. Ensure that attendees maintain distance with markers. Anything provided at your event – especially food – should be handled and served with care.
Make it clear: sick guests should not attend, and those with fevers may be sent home.
Particular Concerns for the Elderly
Older adults are more likely to get seriously ill from Covid. And while vaccinations are helping to protect and slow the spread, that doesn't mean that elderly individuals are entirely in the clear. However, most older folks consider traveling during the winter months, many of them claiming they will return as "snowbirds" to events such as those held by Eventbrite Orlando, Florida.
Eventbrite is an excellent website used by event planners to publicize their events online to those in the area who may be interested. Snowbirds in Florida with extra time on their hands will likely search Eventbrite for local events they plan to attend, even as specifically as Eventbrite covid vaccine Florida event information. Of course, they'll need reassurance that Covid procedures and precautions are in place so they can feel comfortable attending, and you can provide this through posting the guidelines you have in place as part of your event listing.
Types of Events to Consider/Not Consider
Your Covid event risk assessment should consider all of the risks listed above. However, you might still wonder if certain events should be considered over others. While every event will have its determining factors (cases, vaccinations, etc.) related to location and venue, here are some general guidelines to consider.
Community Events
Community events are an excellent option during Covid. Most community events will include certain things, such as free handouts (masks, hand sanitizer) and education booths. Consider adding kiosks that will help to encourage your community to stay healthy. For example, you could bring vaccination booths to your community to help increase the vaccination rate. Have healthcare providers on the premises to discuss different aspects of health as well.
Non-Profit Fundraisers
In a time where people are struggling more than ever before, it's no wonder why event planners are considering special events for nonprofit organizations. As long as a safe and proper venue is set up, a non-profit fundraiser is a great way to help those in your community.
Corporate Events
Corporate events are still iffy, as many offices allow remote work due to the pandemic. This can lead to some uncertainty about safety for corporate events in person. When it comes to these types of events, there is more scrutiny, especially since they tend to be held indoors.
School Events
As mentioned previously, school events can be a safe and excellent way to bring children and their parents or caregivers together. Parent involvement is critical for success. Not only that, but school events can shed light on school for some students who may be struggling to get adjusted back to in-person schooling. School events also raise community spirit, which is also beneficial.
VIPToGo for Your Well-Sanitized Restroom Needs
The jury is in: outdoor events are far safer than indoor events, primarily when appropriately conducted. However, this leaves the issue of restrooms. Your event needs bathrooms, and a mobile restroom or luxury restroom trailers may be the best option.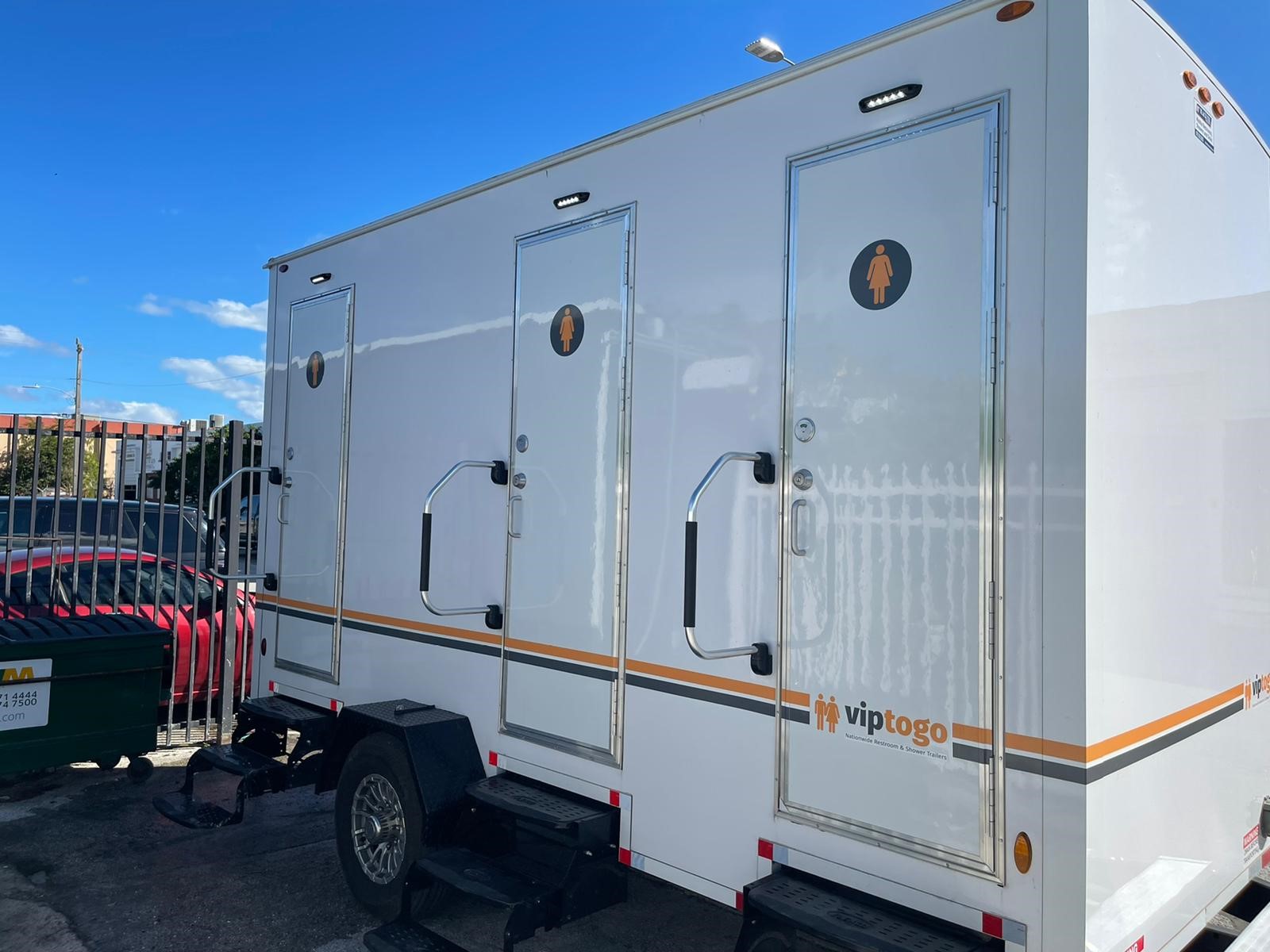 Just because your event is (likely) held outside, it doesn't mean your Covid event risk assessment should stop at the venue itself. You must also consider the safety of your attendees while they are using a portable restroom.
At VIPToGo, we pride ourselves on offering mobile restroom trailer options that are clean and well-sanitized. All of our bathroom trailer rentals come completely sanitized and ready to go. Not only that, but our portable bathrooms come complete with hands-free operation. This includes all areas of the mobile bathroom trailer, including the toilets, sinks, and towels.
To cater to a less mobile or handicapped need, we carry trailers with various options for ADA Units that feature an ADA-compliant handicap accessible bathroom.
Last but not least, our toilets flush waste to an external storage tank, rather than leaving the waste in an accumulation of chemicals like a porta-potty. This not only reduces the awful smell frequently associated with mobile toilets but can also lead to a safer environment for your event attendees.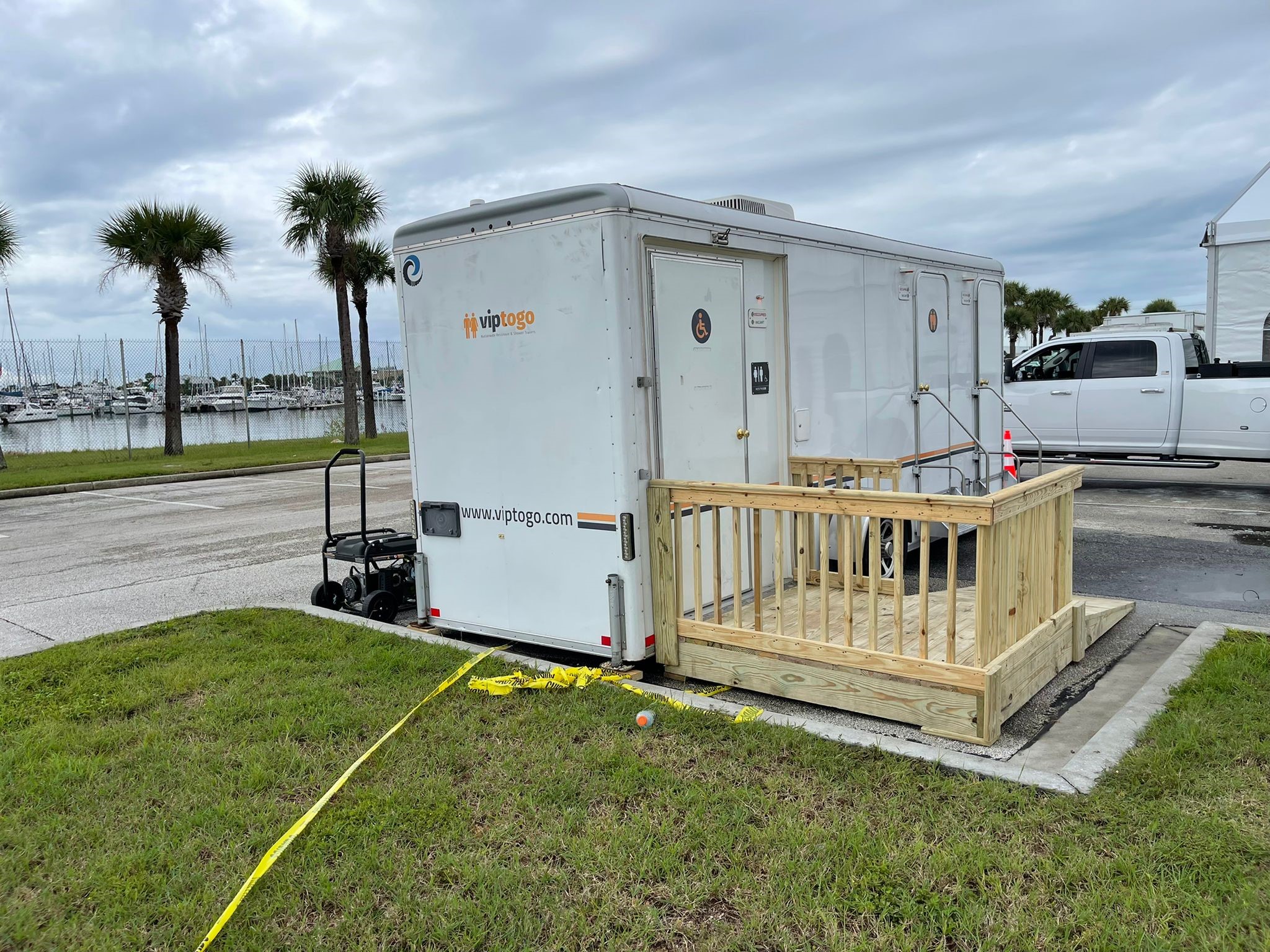 FAQs
What is the average mobile restroom rental price?
The cost of your mobile restroom will vary depending on the sizes and style of the restroom trailer model you choose. Our restroom trailers range from 2-station units to 10-station models that can accommodate over a thousand guests. We also carry several styles for each trailer size, so you can choose the level decor that suits your event and budget.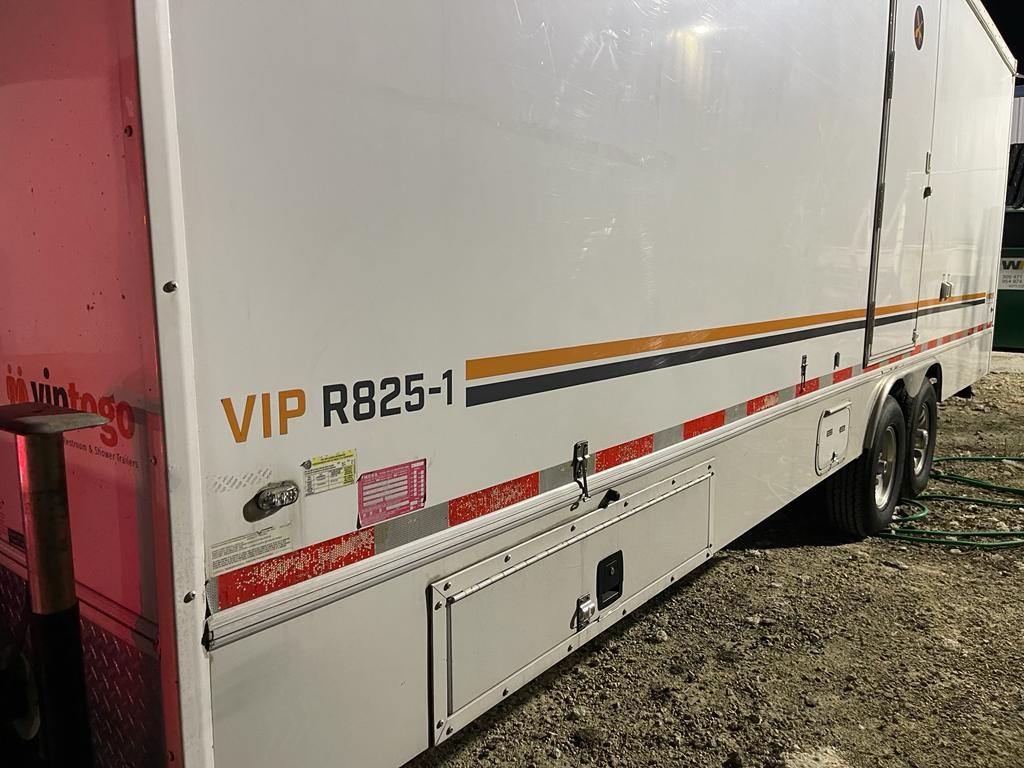 What are the CDC guidelines for event planning during the COVID-19 pandemic?
While the CDC offers suggestions on planning and attending an event safely, there are no specific guidelines. When performing your Covid event risk assessment, it's best to work with local health guidelines and pay attention to your particular location. For example, some places require vaccines for entry while others do not.
What is defined as a large gathering during the COVID-19 pandemic?
A large gathering is simply defined as multiple people from different households. Typically, a large gathering will be an event at an indoor or outdoor venue. There may be tickets, lodging, and long-distance traveling involved.
Final Words
Planning for an event during Covid-19 can be challenging but not impossible. Proper Covid event risk assessment will determine whether or not you should hold the event. Regardless, being safe (indoors and outdoors) is the Covid event risk assessment goal.