Whether it's the neighborhood barbeque, an upscale outdoor wedding, a rock concert in town, a political rally, a small employee event, or any other outdoor event, people need "to go". At VIP To Go, we understand that finding restroom trailers that suit your needs, fit well with your venue, and will be appealing to your guests, can be a difficult process. We are here to make it as easy and simple as possible.
No matter what the occasion is, VIP To Go is ready for you and all of your portable bathroom needs. Luxurious, comfortable, and convenient, VIP To Go has been serving satisfied customers across the country for over a decade. From outdoor weddings to chain stores, army bases to state fairs and trade shows, VIP To Go is present wherever a mobile restroom is needed.
We service disaster sites, industrial areas, educational facilities, recreational and entertainment venues, and residential areas across the nation. With service trucks stationed throughout the region, we consistently have representatives on standby near you to ensure that the restroom trailers are in perfect working condition for your users.
About Our Restroom Trailers
When searching for rental restroom trailers near you, you may assume that standard porta-potties are the only option available. At VIP To Go, we offer luxurious and comfortable portable bathroom trailers. With varying sizes and layouts, we have a large selection of trailer packages to choose from.
Our selection of rental trailers offers impressive, comfortable, and elegant options for portable restroom rentals. From our condensed eight foot bumper-pull trailers to our spacious fifty-three foot semi units, we provide trailers that suit your specifications and more. Instead of standard stand-up blue box chemical porta-potties, VIP To Go offers you and your guests or workers a fully outfitted restroom on wheels. With sinks, toilets, mirrors, and even showers in some of our special trailers, our portable restrooms are here to serve your basic sanitary needs with luxury. We are dedicated to providing new, clean, and comfortable bathroom solutions for our customers. Our trailers are rolled over every 18 months, which guarantees the highest quality for our clients.
With the ability to run off of provided gas generators and on-board water tanks, our fleet of restroom trailer rentals were made for reliability and ease of use. Our waste tanks are optimized for the highest capacity so that you can use our restrooms for many guests without needing frequent service.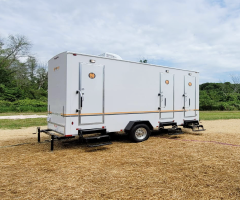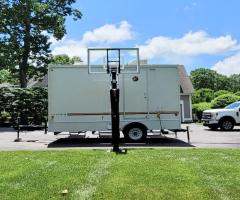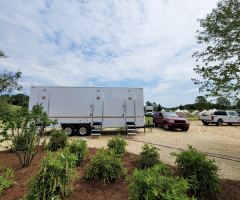 What Makes VIP To Go the Right Restroom Trailer Providers?
VIP To Go has been working alongside clients to make better portable bathroom solutions since 1998. With years of dedication and experience, we have perfected the delivery and set-up process like no other company. Chances are, we've serviced a venue like yours, or an event just like the one you're planning, right near you.
Whether you run a business or are bringing together the myriad pieces of an event, you have hundreds of details to tend to. VIP To Go is here to knock one thing off your list in moments — renting the mobile restroom trailers — and rest assured, your restroom trailer needs will be met exactly as you want them to be.
You can browse the mobile restroom trailers on our website, view the interior and exterior, see how many guests the restroom can service, read about our amenities, and request an instant and automated quote for your desired restroom trailer.
Our chat representatives are eager to help you out online with all of your concerns. When you sign on with VIP To Go for a restroom trailer, we will walk you through every single step of the process. Tell us about your desired venue, how many guests you'll be having, the duration of the event, and some more information about your guests, and we will find the solution that is right for you.
The trailer restroom specialists at VIP To Go have gone through the event and temporary restroom trailer rental and placement process countless times with our clients. They've worked with corporate, industrial, retail, and residential clients in various industries such as entertainment, construction, wedding, and more. At VIP To Go, we are here to 'hold your hand' and make sure you get exactly what your crowd will appreciate.
Whether this is your first time renting a restroom trailer, or you've rented restroom trailers numerous times in the past, VIP To Go will make sure that the process is a quick and efficient one. From choosing the right portable restroom for your crowd and venue, to setting up the restroom trailers, to ensuring that the portable bathroom is installed correctly and working to your satisfaction, to cleaning and maintenance, VIP To Go is here for every step of the way.
Serving clients nationwide in the continental US, Canada, Hawaii and Virgin Islands, VIP To Go is a national company with several local offices throughout the United States. This is where you'll get the best portable rental restroom options: a company that has experience nationally, yet has local offices and supplies near you. Day or night, rain or shine, we are here to serve your restroom trailer demands.
VIP TO GO Restroom Trailer Events We Service
Outdoor Lounges
Parades
Proms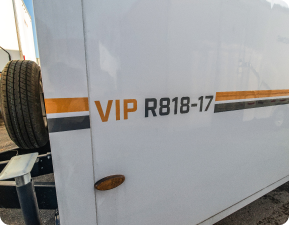 Restroom Trailer Rental Costs
Our large selection of restroom trailer rentals at a location near you means that you have a lot of flexibility to choose a portable bathroom within your budget. We have three lines of restroom trailers, and all of them are very well maintained, clean, in perfect working order and include many amenities
Our three restroom trailer styles are:
Rolls Royce
With our Rolls Royce style trailers, you will find the most extensive amenities and perks available for your restroom rental, with a luxury feel. This includes luxury lighting, marble look counters high end sinks, and more. The Rolls Royce models scream high end, and indeed, many guests using the bathroom at black tie events are wowed. The Rolls Royce line offers the most comfortable and luxurious experience for you and your guests.
Vegas
In our Vegas style trailers, we maintain added levels of comfort with efficiency. Outfitted with white marble designs, posh lighting and stylish sinks, the Vegas trailer makes your restroom experience upscale and convenient.
Stylish
Our Stylish trailers are clean and comfortable restroom trailers for standard restroom needs. With LED exterior and ceiling lights, black and white marble floors, and clean stainless steel sinks, the Stylish trailer offers basic comforts plus some bonuses.
Within each one of these 3 lines, you'll find options for smaller and larger restroom trailers, a mix of stalls and urinals, ADA restroom options, and shower/toilet restroom rental combos. Each unit is equipped with air conditioning and heat, a sound system, basic toilet amenities, and more.
No matter what you choose, at VIP To Go, we are proud to say that you'll get high-end customer service and real bang for your buck. With expertly trained personnel and free site inspections, we offer the most extensive accommodations at the most competitive prices. Luxurious restrooms do not have to cost a fortune.
Plus, at VIP To Go, you know that what you see is what you get. Our price quote to you is your final price quote. We will not add on supplementary costs for delivery, installation or anything else. VIP To Go provides estimations that cover the entire cost of your event, including installation of the trailers, general liability as the event occurs, and finally the pick-up after the event. When comparing VIP To Go to other rental toilet and shower companies, we are the leaders in all inclusive competitive pricing.
Our Customers Deserve Luxury Restroom Interior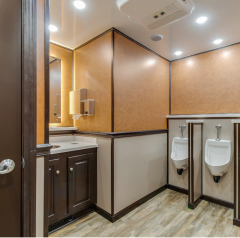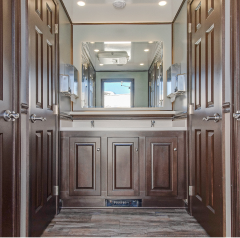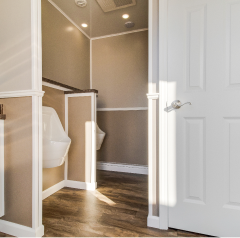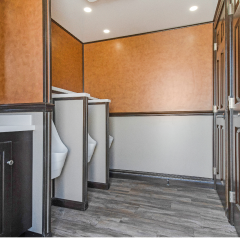 Restroom Trailer Setup for Success
VIP To Go is the top restroom trailer rental company because of the standards we continually exceed. When it comes to sanitary needs and sterilization, we offer better options than standard chemical toilets. Your VIP trailer will be delivered to you freshly cleaned and sanitized, without heavy chemicals and perfumes. Unlike standard porta-potties, the toilets in our luxurious trailers actually flush away waste to an outside storage tank, instead of allowing it to accumulate in gallons of chemicals.
Our VIP trailers also require little to no maintenance on the behalf of our customers. While it may be necessary to wipe down the counters or mirrors occasionally, VIP To Go will guarantee that your restroom is delivered completely clean and fully stocked with paper products, so you can focus on the more important things during your event. We will also service your restroom trailer and clean it well once a week — at no extra charge. If you want cleaning more often — be it several times a week, on a daily basis, or even throughout your event — we can do that as well. Our cleaning attendants know how to be discreet and get the job done well, every time.
Our trailers only require one or two standard 110 outlets to run properly, and if necessary, can even be outfitted with a generator provided to you by us. All of our trailers can operate off of a standard hose spigot, or a water storage tank can be filled to ensure you.inner-vip-contentr restroom or portable shower trailer operates even in the absence of a running water supply.
At VIP To Go, we want to put the "rest" in "restroom", so that you have nothing to worry about when you need "to go".
At VIP To Go, we stand by our products and are dedicated to offering our customers the top solutions to their portable bathroom needs. Making the process streamlined and easy, providing the most for the lowest prices, and ensuring 24/7 customer service, clearly VIP To Go is the company for you.
With simple delivery, free inspections, and guaranteed satisfaction, we are here to serve every need and solve any problem that may occur. Comfortable and sanitary restrooms are an essential part of modern living. To learn more about our large variety of toilet, sink, shower, and stall combinations, contact us and we'll be glad to help. When looking for a restroom trailer rental near you, know that VIP To Go is committed to providing the highest quality solutions.
Areas We Service
Alabama
Alaska
Arizona
Arkansas
California
Colorado
Georgia
Hawaii
Idaho
Illinois
Indiana
Iowa
Kansas
Kentucky
Louisiana
Michigan
Minnesota
Mississippi
Missouri
Montana
Nebraska
Nevada
New Mexico
North Carolina
North Dakota
Ohio
Oklahoma
Oregon
South Carolina
South Dakota
Tennessee
Utah
Virginia
Washington
West Virginia
Wisconsin
Wyoming