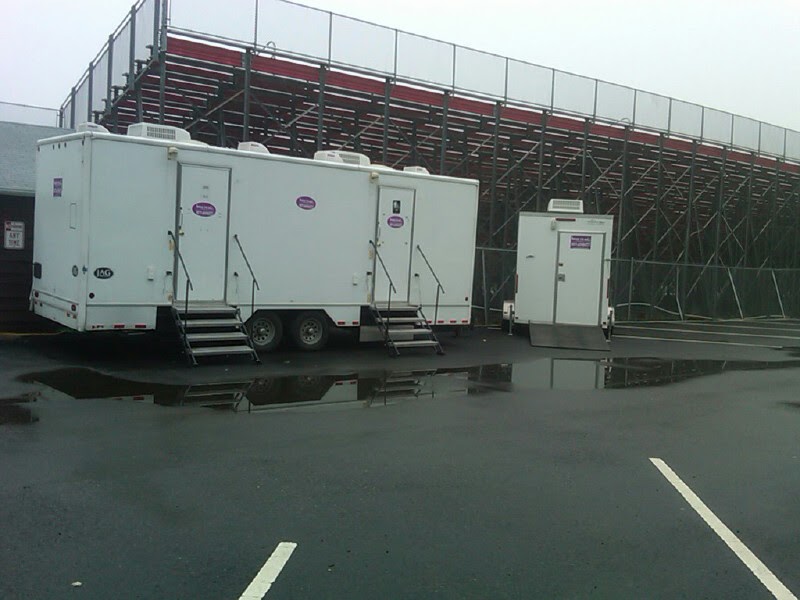 Portable Restroom Trailers for Your Event in Maryland
If you are hosting an outdoor event in Maryland, having a portable restroom trailer is vital. You want to ensure your guests have access to the amenities they need to feel comfortable at your event. At VIP To Go, we are committed to providing premium, updated, portable restroom trailers for Maryland businesses and residents.
The state of Maryland is home to a host of beautiful towns and natural wonders, such as the Chesapeake Bay, known for its blue crabs, Cunningham Falls State Park with its picturesque waterfalls, Deep Creek Lake, Baltimore Inner Harbor, Assateague Island, and much more. Amazing scenic views and plenty of natural attractions make the Old Line State a natural home to various outdoor activities, including weddings, festivals, sporting activities, concerts, parties, and construction works.
Find a Portable Restroom Trailer near You in Maryland
At VIP To Go, we care about your guests. That is why we provide extremely clean and well-maintained portable shower trailers and restroom trailers in Maryland that guests will enjoy using. Stocking restroom trailers units with toilet paper and hand sanitizers to guarantee your guests are protected from exposure to viruses and bacteria while using them is just a little bit of what we do to make the restroom trailer experience a very positive one.
Renting a portable trailer that meets your specific needs is easy with us. We offer an easy, hassle-free experience with convenient online booking and unrivaled customer services. To choose from a range of portable restroom trailer products for your Maryland event, contact us today.
Why Use VIP to Go for Your Portable Restroom Trailers in Maryland?
Easy, Streamlined Process
VIP To Go offers a convenient, easy, and streamlined booking process for restroom trailer rentals in Maryland. We boast of a quick, user-friendly, and informative online booking platform that allows you to easily select your personal details for easy quotes and bookings. The platform also allows you to view our full line of rentals and various add-on options. Best of all, we have agents online 24 hours a day, ready to answer your questions. Our goal is to make it as smooth and seamless as possible for you to book portable shower trailers and restroom trailers in Maryland.
Premium Units
VIP To Go offers spacious, hygienic, and well-maintained restroom trailer rentals for all your Maryland events and occasions. Our units are well-ventilated and equipped with hand sanitizers which make using the units safe and comfortable for everyone, from wedding parties to disaster relief teams to sports team fans. We also use the best and highest quality cleaning and deodorizing products to prevent bad odors and keep the units smelling fresh throughout the entire service period.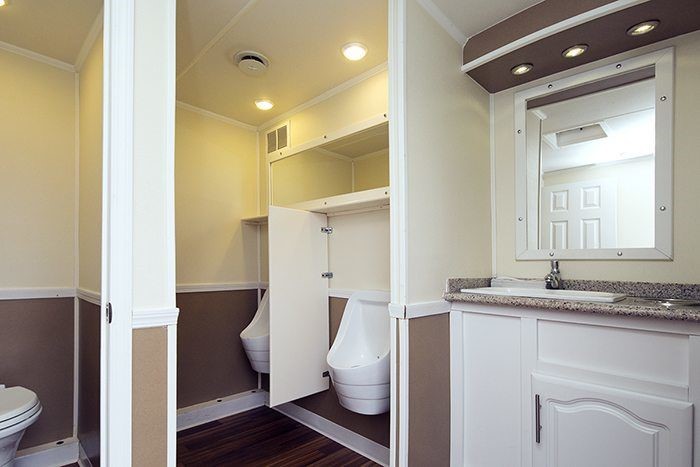 Competitive Rates
VIP To Go promises competitive quotes that fit your budget. Our top priority is the success of your event, and our prices are pretty affordable. One way we keep costs down is by leveraging a highly efficient internal system that removes unnecessary expenses. Most of our competitors in Maryland will charge you a fuel surcharge for your restroom trailer. However, at VIP To Go, we strive to limit any extra expenses so that portable shower trailers and restroom trailers in Maryland is an affordable experience for our customers.
Exceptional Customer Service
Portable restroom trailers in Maryland are an easy experience with VIP To Go. Our team of highly trained, experienced, and courteous staff offers outstanding service from beginning to end. We will be on standby to guide you in choosing the perfect unit with adequate amenities suitable for the number of your guests and type of event. Once you have secured your portable restroom trailer rental, we will continue to provide you with 24/7 customer service throughout the duration of your rental of portable shower trailers and restroom trailers in Maryland.
Fast Rental Delivery
Renting and installation of your restroom trailer in Maryland is a hassle-free experience. Once you have scheduled your portable restroom trailers and pickup, our team will take it from there. We boast a fleet of over 40 trucks on the road, and you can rest assured that your unit will be delivered to your location and installed well ahead of your event.
Updated Units
Our trailer units are designed to offer a luxurious and memorable experience for our users. The products are designed with different shapes and sizes that meet diverse space requirements and unique needs. We retire all our units every two years to ensure you receive luxurious products that smell, look and feel fresh all day, all night throughout the rental duration.
Customized Restroom Trailer Units for Your Needs
At VIP To Go, we have one of the largest selections and inventory of premium restroom trailer solutions in Maryland. Our units come in different shapes, sizes, and luxury levels to meet your specific needs. Some of the most popular products available with us include:
VIP Restroom Trailers
Our VIP trailer units can serve anywhere from 10 to thousands of people attending your event in Maryland. Depending on your needs and budgets, you can choose from a Two station VIP restroom trailer, Three stations VIP restroom trailer, Five stations VIP restroom trailer, Eight stations VIP restroom trailer, and Ten stations VIP restroom trailer. All of our units are equipped with top-notch amenities, including urinals, sinks, and stalls. They are also well ventilated, sanitized, and adequately well stocked.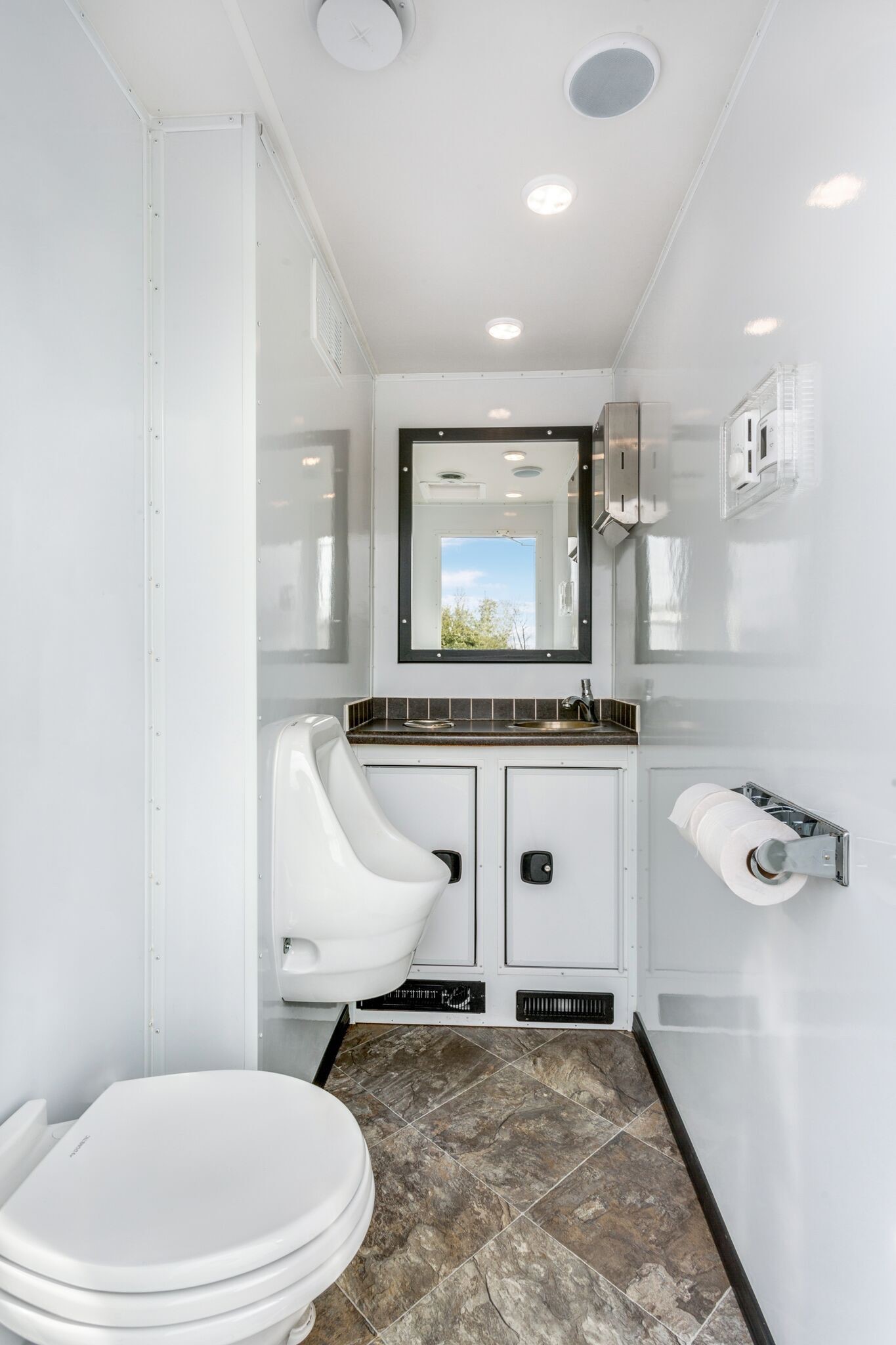 VIP Bunk Suite Trailers
Whether you are planning a camping trip to Assateague Island or a perfect family gateway in Deep Creek, Maryland, you can rely on our customized bunk suite trailers for an exceptional camping experience. We have put together outstanding units that offer guaranteed comfort, luxury, safety, and the help you need to meet your camping needs. All our bunk suite trailers are equipped with a 10-inch mattress, personal TV, private entry, and other high-quality amenities.
VIP Sink Trailers
Our sink trailer rentals in Maryland are immaculate, odorless, well-stocked, and sanitized. The units are designed to serve up to 100 persons attending your events. If you are looking for sink trailers that boast several stylish and luxurious features to guarantee the success of your event, you found the right place.
All units are equipped with hot and cold water, mirrors, and paper dispensers, and many more amenities.
VIP ADA Restroom Trailers
At VIP To Go, meeting the needs of your guests is our priority. We understand some of your guests in Maryland could be physically challenged, and that is why we provide ADA-compliant restroom trailers so you can host disability-friendly inclusive events. The trailers can serve up to 400 persons and feature more space, wider doors, larger interiors, and hand bars. They are also equipped with amenities such as sinks, stalls, toilet paper dispensers, mirrors, and many more.
What You Should Know When Renting a Portable Trailer in Maryland
The following are some of the factors to keep in mind when renting a portable restroom trailer in Maryland:
Duration of the Rental
You can secure a portable restroom trailer with VIP To Go for a few hours, days, weeks, or months depending on your specific needs. Typically, the duration of your event determines the number of units you will need to provide the users.
Number of Units Needed Adequately
Comfort is a top priority when deciding the number of units you need for your event. To arrive at an adequate number of restroom trailer rentals, use our online unit calculator and the expected duration of the event.
Maintenance Requirements
The maintenance schedule of the restroom trailers will be determined by the rental period of your portable shower trailers and restroom trailers in Maryland. Typical maintenance practices include checking water levels, removing wastes, restocking toilet paper and air freshener, as well as thoroughly cleaning and sanitizing the entire unit. Generally, we service your restroom trailers units once a week or more, depending on your needs.
Maryland Restroom Trailer Rental FAQs
How Do You Dispose of Waste from Restrooms Trailers Rental?
Our professionals attach a vacuum to the restroom toilets to suck out the wastes. The wastes are then pumped directly into sealed containers for safe disposal according to state and federal regulations.
How Do I Keep the Restroom from Freezing in Cold Water?
Maryland is one of the states that experience frigid weather during the colder months. VIP To Go has the perfect solution to preventing our trailers from freezing no matter what the weather is. For starters, we keep the units heated well. Another thing we do is that our staff mixes deodorizing water with antifreeze in the toilet tanks to keep the water fluid and unfrozen for the entire duration of your event. This will allow you to hold events or continue with your remodeling projects with peace of mind.
Which Unit Works Best for My Event?
VIP To Go offers a wide variety of portable trailers in Maryland. Each of our units is designed specifically to meet your needs. From a VIP two-station restroom rental to a VIP 10 station restroom rental, you can be sure to get the best option that meets your guest's needs.
Do Restroom Trailers Include Sinks?
All our rental trailer units include sinks, stalls, urinals, rolls of toilet papers, and hand sanitizers. We may also provide outdoor hand wash stations as an add-on at an additional cost. All the handwashing stations are self-contained and may either be connected to running water or fresh water from installed tanks.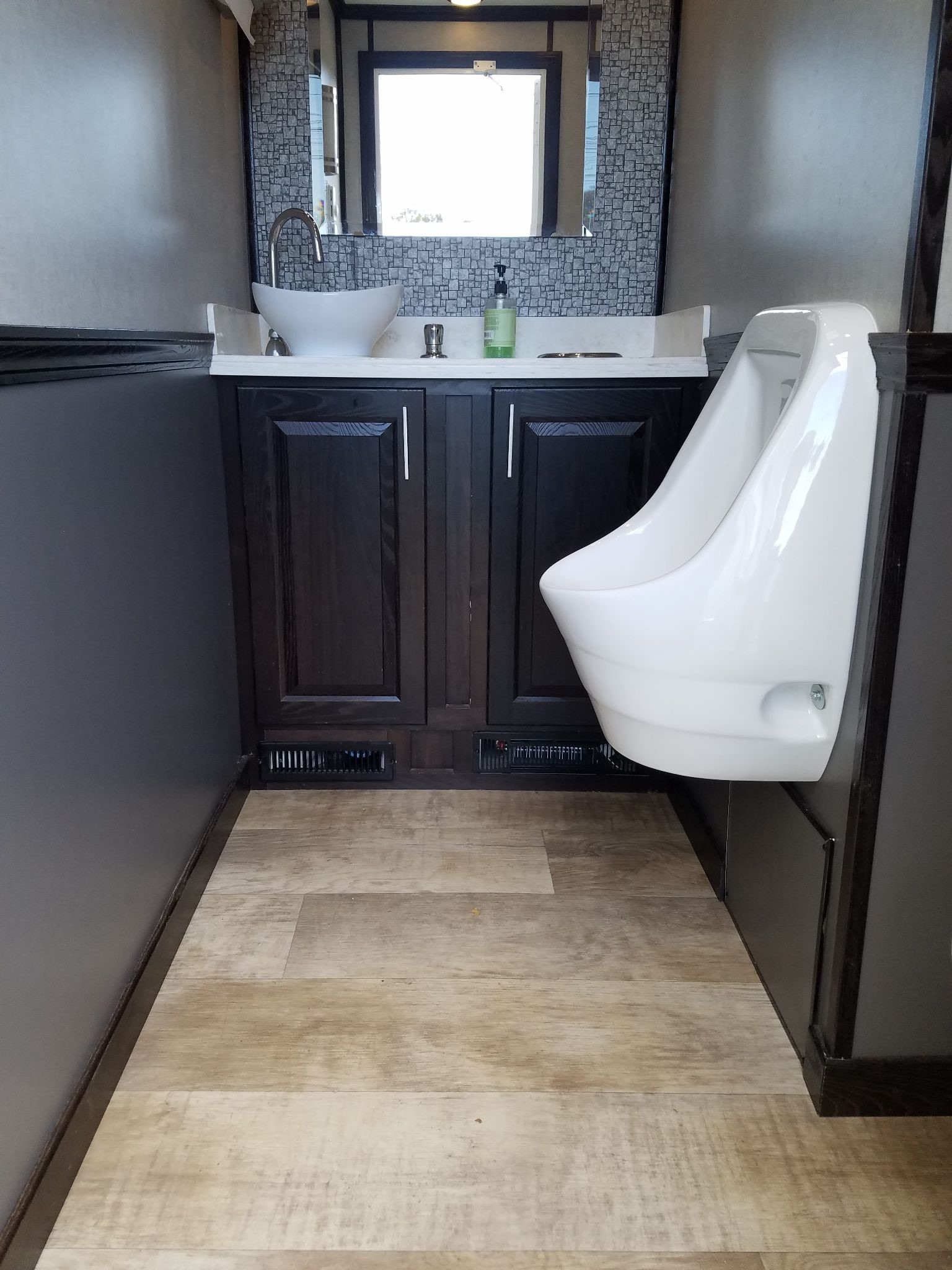 How much is a portable restroom trailer in Maryland?
The cost of your portable restroom trailer is determined by several factors, including the size, type, location, and amenities included. To get a better idea of pricing , visit the product page of our website where you can get detailed information about each restroom trailer's features, pricing, and availability.
Contact VIP to Go for All Your Restroom Trailer Rentals in Maryland
Planning an outdoor event needs many steps and attention to detail. Having a high-quality portable restroom trailer for your outdoor event in Maryland is one way to guarantee much success. Whether you are holding a small backyard event, a community event, a business occasion, or a remodeling project, trust VIP To Go to provide well-maintained, sanitized, and safe restroom trailers. Our team is ready to provide you with the ultimate rental experience.
If you need portable restroom trailer rentals in Maryland, reach out to our customer service representatives via online chat, by phone, or by filling out a contact form.