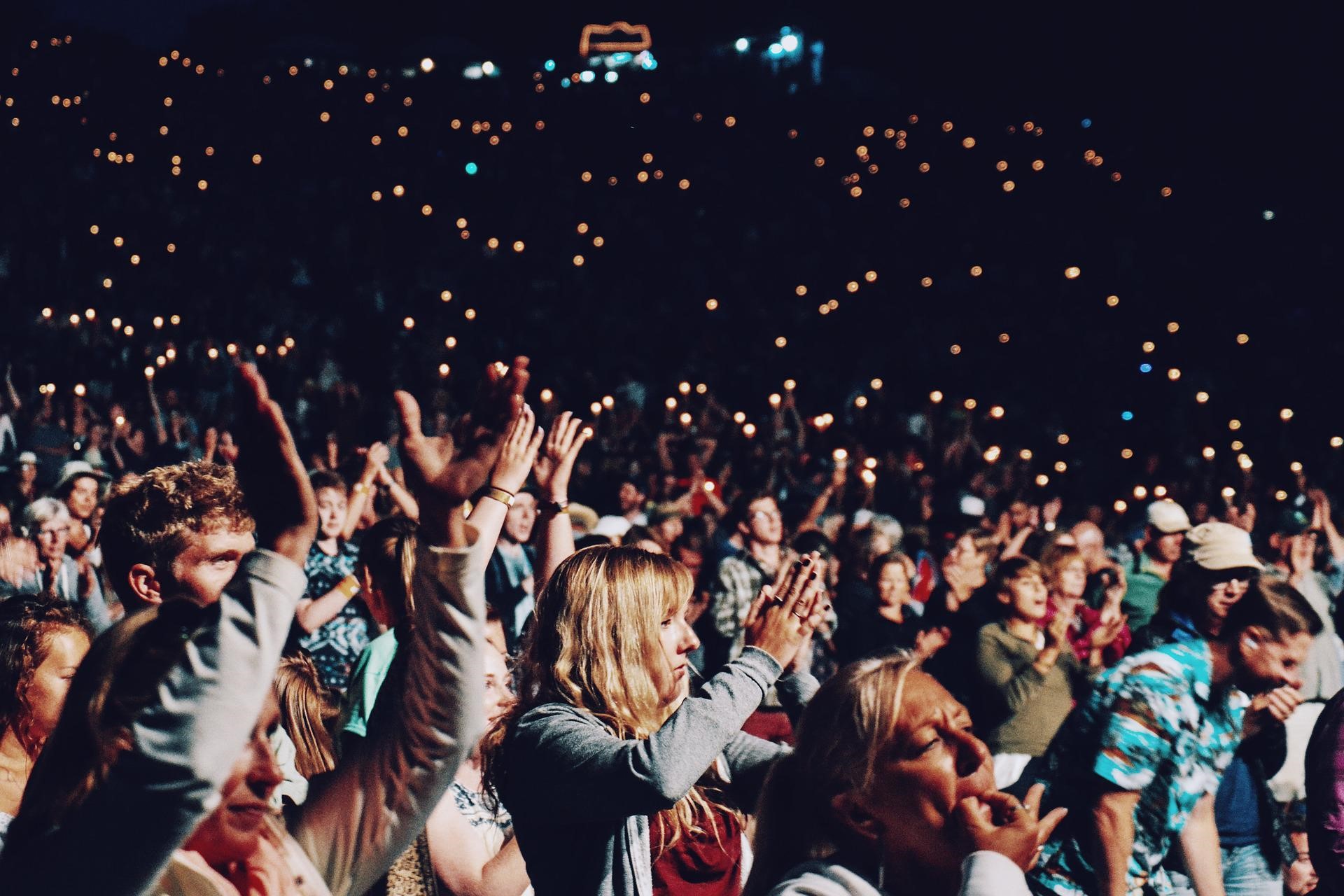 How to Go About Planning a Retirement Party Perfectly
When it comes to hosting a retirement party, you want it to be perfect. You want the retiree to feel special and honored as they complete their last days at work. When someone you cherish has invested years of effort into making a business or an organization thrive, whether as a friend, family member, or employee, they deserve recognition and honor for their achievements. That's why when someone retires, planning a retirement party to give them that recognition is important!
Retirement parties are all about the celebration of a job well done. They're an opportunity to recognize the long-term achievements of an employee, to honor someone for their years of service and dedication, and to have a party! But planning a retirement party can be a daunting task. With the many decisions and technicalities involved, it can be difficult to know where to start. And with all of these things going on, keep your focus on the most important part of the event: making sure your guest of honor has a good time.
If you're in charge of a retirement party, it's important to know what to do and how to plan the event. Whether you're throwing the party for the retirement of a family member, friend, boss, or co-worker, here are some great ideas to make the occasion memorable!
Why and for Whom Should You Plan a Retirement Party?
Are you wondering if you should be planning a retirement party for your favorite uncle, teacher, or friend who's just retired? Here's a list of special people you should plan a retirement party for: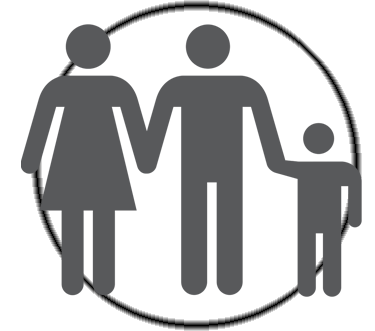 Relatives
Family is one of the most important relationships in your life, playing an important role in your upbringing and identity. Therefore, it's important to show them recognition by celebrating their retirement with a memorable and meaningful party.
When planning entertainment, take the interests of your retiring relative into consideration. If your relative loves watching movies and reading books, make sure there are plenty of fun retirement party game ideas that involve those things at their party! Some games you can play include Describe That Movie, Guess the Book Title Using Only Emoji, etc. You should also invite their old friends, co-workers, and acquaintances they would enjoy spending time with.
For retirement party favor ideas, consider ideas like retirement shot glasses, retirement mint tins, etc. You can also check out some other retirement party ideas on Pinterest for the best gift items that can be given to guests as a gesture of thanks for their attendance, such as gift baskets, personalized mugs, cards, survival kits, and so on.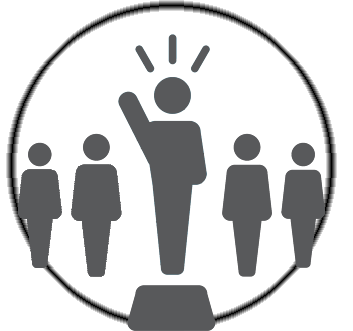 A boss or colleagues
If you have been with the same company for several decades, then you have probably had multiple bosses and colleagues throughout those years—and some were better than others! Some of your bosses and colleagues will always be your friends, no matter what happens next in your life. As they retire, they deserve to be thanked for everything they have done for you over the years. The best way to show that appreciation to them is by throwing them a party!
Before the party, work ahead of time to gather comments and notes from employees or co-workers so you can present a meaningful compilation showing their impact. And if the retiree or people that are willing to celebrate them are too far apart, you can host a virtual retirement party incorporating some virtual retirement party ideas like creating online tributes, mailing physical gifts, and so on. Other retirement virtual party ideas include launching a countdown clock, compiling a post-work bucket list, scheduling a reunion, and so on!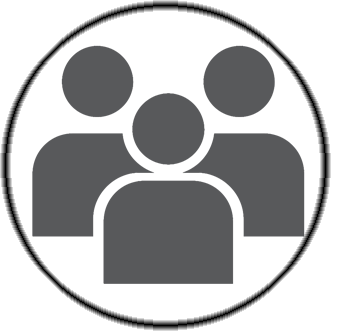 Your friends
Your friends are another group of people that deserve to be celebrated at your retirement party. These are the people who have seen you at both your best and worst times. They've been there through thick and thin and never left your side when things got tough, making sure that everything was okay when things went wrong.
When planning a retirement party for friends, you need many funny retirement party ideas that will make them laugh, relax, and simply have fun. Some funny retirement party ideas include picking a silly or nostalgic theme, like a groovy 60s-themed party.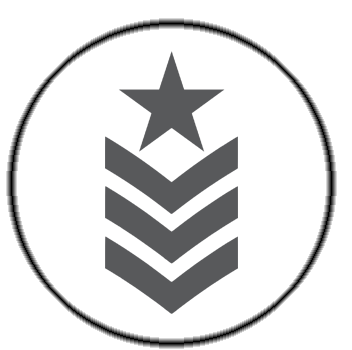 Veterans
Veterans deserve special treatment and recognition on a day like their last day of service because they have sacrificed so much for our country. Military retirement party ideas include getting a soldier's token such as a retirement plaque or shadow box, and thoughtful decorations, preferably with the colors blue, white, and red.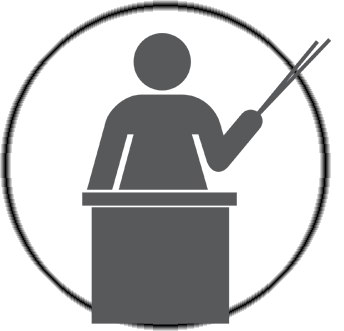 Teachers and principals
Teachers and principals are almost never in the spotlight. Many teachers' greatest achievements are seemingly insignificant gestures like words of encouragement, and moments of connection with their pupils and students. But these teachers are making a difference! By thoughtfully connecting with their pupils and finding ways to connect education to the world outside the classroom, teachers can transform their students, build their identity, and prepare them for their future.
Your teachers deserve a perfect retirement party after their long years of service, especially if they were particularly influential in shaping your life in some way or form. Planning a retirement party is the least we can do for these wonderful people, in gratitude for all they've done.
Teacher retirement party ideas include creating a retirement tribute video featuring past students, hosting a tea party, mock graduation, etc. Your retirement teacher party ideas can be inspired by the teacher's area of expertise, such as sporting events for a physical education (P.E) teacher.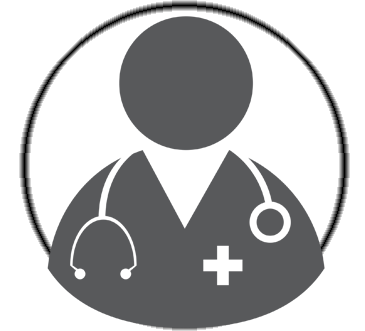 Retirees from a public service position
Every retired person deserves a retirement party, and you should be the one to give it to them. Whether they are retiring nurses, firelighters, correctional officers, and so, they've dedicated many years to the benefit of the public, often going above the call of duty to be there for others at a time of need.
If you are planning a retirement party for nurses, some nurse retirement party ideas include a canvas tote with sweet retirement words, a crystal plaque, foot massager, framed photographs, etc. If you want to plan a retirement party for firefighters, some firefighter retirement party ideas include a personalized firefighter hatchet, a fire hydrant birdhouse, firefighter party centerpieces, etc. And if you're hosting a retirement party for correctional officers, some correctional officer retirement party ideas include a travel mug, a cake with the badge, and lots more!
Ideas for a Perfect Retirement Party: 6 Tips for Planning a Perfect Retirement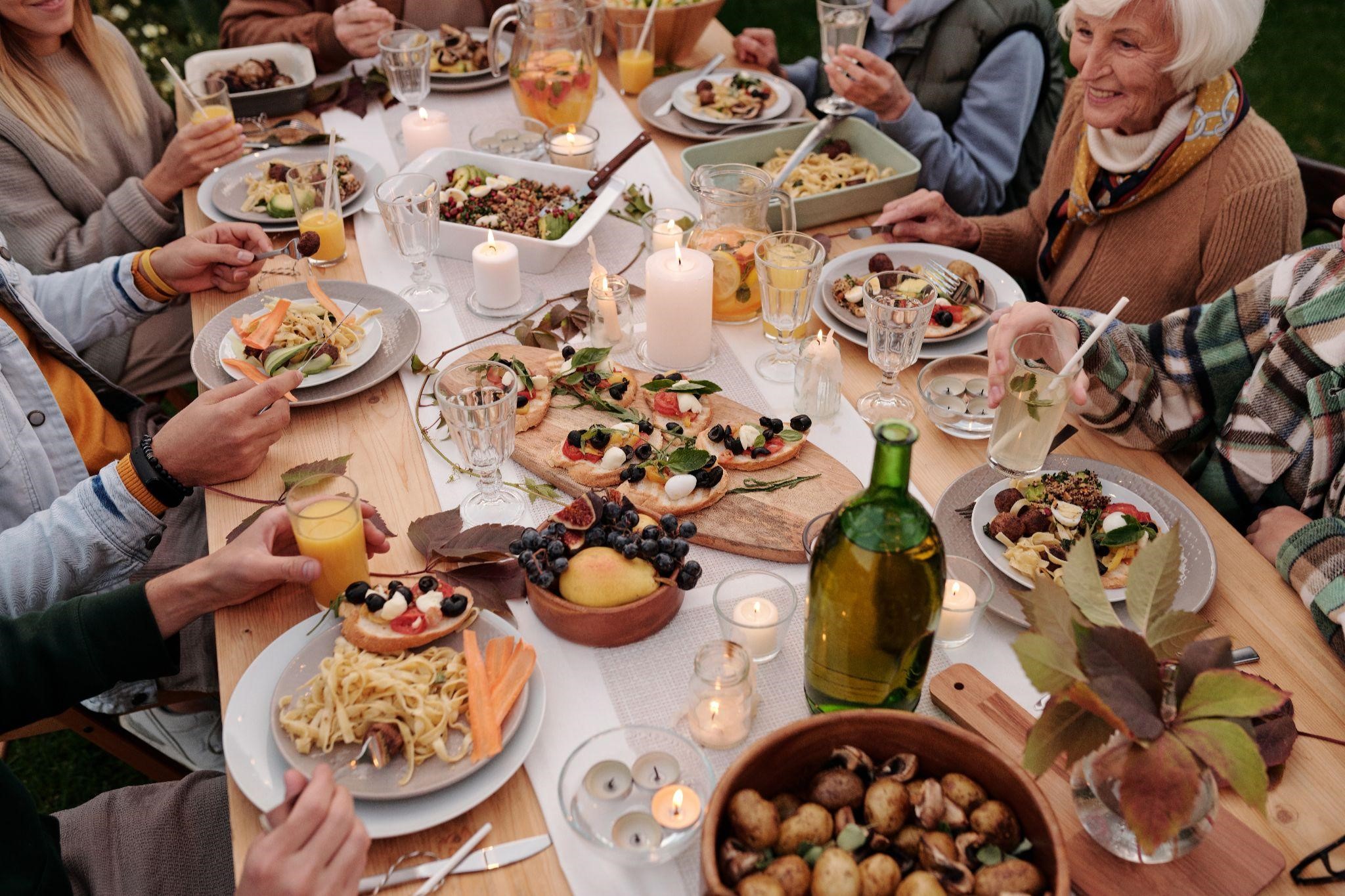 When it comes to planning a retirement party, there are a lot of things to consider. You might be wondering how to make sure not only the celebrants but also your guests have the best experience possible. Here are six tips for throwing the perfect retirement party:
1.    Make a guest list
You'll want to include all of the retiree's loved ones: family members, friends, coworkers, and even non-work colleagues. This is a great opportunity to bring together people who don't often get together in one place. If the party is not a surprise, ask the retiree who they'd like to include in the event and expand the invitations to include their contacts.
Be sure that everyone gets a chance to say goodbye before the retiree leaves for good! Also, make sure to inform everyone well ahead of time so they can plan on coming. Some retirement party flyer ideas include flyers with the retiree's name and picture.
2.    Choose an adequate venue
Make sure you choose a location that can accommodate your entire guest list comfortably without feeling cramped or crowded. If it's too small, you might have trouble getting everyone into the room at once! Weather-permitting, beaches are a good place to start. They give a relaxing atmosphere that both your celebrant and guests will love. You can use some beach retirement party ideas like a sand castle cake with edible sand.
Apart from these beach-themed retirement party ideas, you can plan to host the party at home, indoors or outdoors. Usually, outdoor parties may be more relaxing, with enough space to keep everyone comfortable during the event.
If there is not enough room in your home, consider renting out an area at a local restaurant or hotel that can accommodate everyone comfortably. If this option is too expensive, consider renting out part of someone else's backyard or having an outdoor picnic instead of an indoor dinner party.
3.    Prepare sufficient food and drinks
Make sure that when you throw a retirement party, there is plenty of food available so everyone can enjoy themselves! In addition, be sure to decide what kind of food you want served at your party before making other plans. Some great retirement party food ideas include finger foods or appetizers like mini tacos or mini quiches (if there are vegetarians in attendance).
For drinks, you can stick with something light like champagne or sparkling water with fruit slices floating on top. Don't forget cakes—cakes are best for celebrations! For retirement party cake ideas that are customized for the event, order creative cakes that match the theme of the party or the former duty of the retiree.
Another thing to consider is the table centerpiece design. Good centerpiece ideas for retirement party designs will add flair to your decorations and the party at large. Some table centerpiece ideas for retirement party include retirement wishes tags, mini balloons, work themes, old pictures of the retiree, etc.
4.    Use beautiful decorations and themes
When you're planning a retirement party, you have to take into account your guest of honor's tastes. If they're into gardening, you could go with a garden theme. If they love animals, you could go with an animal theme, and if they love traveling, you can use some travel themed retirement party ideas like a travel mug, travel cake, etc.
Once you've decided on a theme, the next step is to decide on decorations. Pick out some fun decorations from your local dollar store or get creative with hand-made decorations—they don't have to be expensive! You can check out some retirement party decoration ideas on Pinterest to help jumpstart your party decoration creativity.
5.    Get amazing gift items
A gift is an important part of any celebration—and it's no different when it comes to celebrating someone's retirement. You'll want to give the retiree something personal that reminds them of their successful years in the workplace. You can also consider having everyone chip in together to get a beautiful tribute-type of trophy, award, framed art, or other personalized memento.
Personalized items like mugs are a great choice because they can be used every day—and they'll remind your friend or loved one of all the good times they had while working. Other retirement party favors ideas include gardening kits, hiking boots, and so on!
6.    Plan for restroom trailers
If you're planning a retirement party, you'll surely want to make sure you have enough facilities for your guests. To ensure that everyone in attendance has access to a restroom trailer, we recommend reserving a two station trailer for every 100 people who are expected to attend the event.
VIP To Go Restroom Trailers: Adding Elegance to Your Event!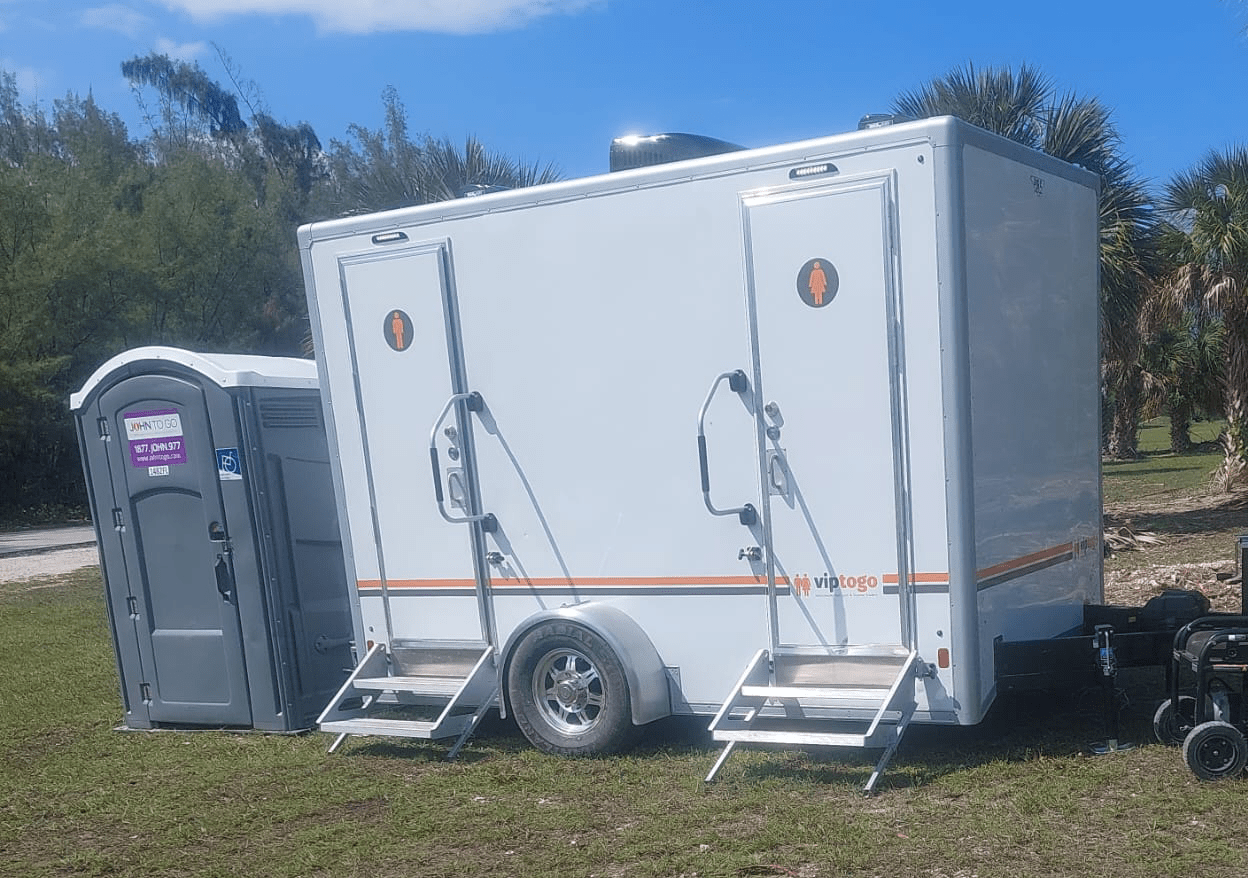 If you're planning a retirement party for your friend, family member, or colleague, one way to make it special and thoughtful is by getting a reliable restroom trailer rentals service for the event. And that is where VIP To Go restroom trailers come in!
Using a reliable restroom trailer rental service at your event is a great addition to your party because your guests can have access to clean restrooms. At VIP To Go, our mobile restroom trailers rental gives you luxury on a budget. So, if you're a fan of luxury and want something elegant and refined, our luxury restroom trailer rental units are perfect for your event!
With VIP To Go portable restroom trailers rental units, you don't have to worry about "restroom trailer rental services near me" as we can deliver restroom trailers across the country—just call us! You also do not need to worry about how much a restroom trailer rental costs, because at VIP To Go restroom trailers, our prices are reasonable.
We give you and your guests access to clean, high-quality restrooms at any time. Some of the trailer options you can go with include the 2 station restroom trailer rental for 100–150 guests, the 3 station restroom trailer rental for 150–250 guests, the 5 station restroom trailer rental for 200–399 guests, and so on to accommodate any number of guests!
So, when you need a reliable mobile restroom trailer rental company for planning a retirement party, look no further than VIP To Go!