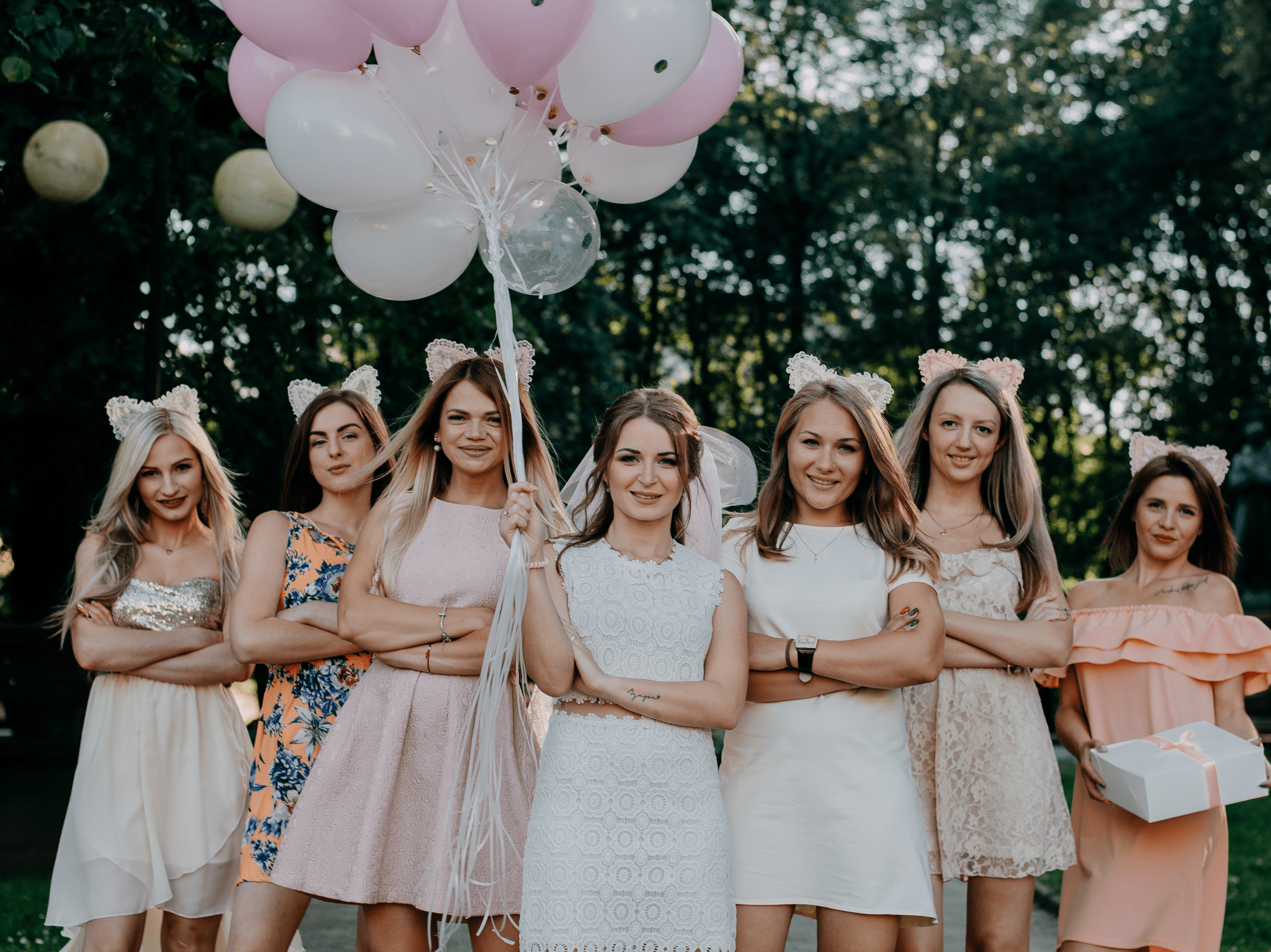 Planning a Bridal Shower: Everything You Need to Know
Celebrating a bridal shower is a long-standing tradition that family members or close friends of to-be brides follow to this day.
Hosting bridal showers dates back to the 16th century. An affluent Hollander girl fell in love with a miller's son, much to her father's disapproval. When she refused to marry a rich pig farmer, he withheld her dowry. Her friends offered small gifts to help her start a new life.
Centuries later, we still embrace the symbolic significance of showering a to-be bride with gifts. These can be either precious keepsakes or things she can use in her new home.
Bridal showers continue to be celebratory events involving gifts, food, drinks, and games to honor the bride's upcoming wedding. Anyone in her family can pick up the reins to plan the party.
In the coming sections, we reveal everything you need to know about planning a bridal shower.
Planning a Bridal Shower: Etiquette 101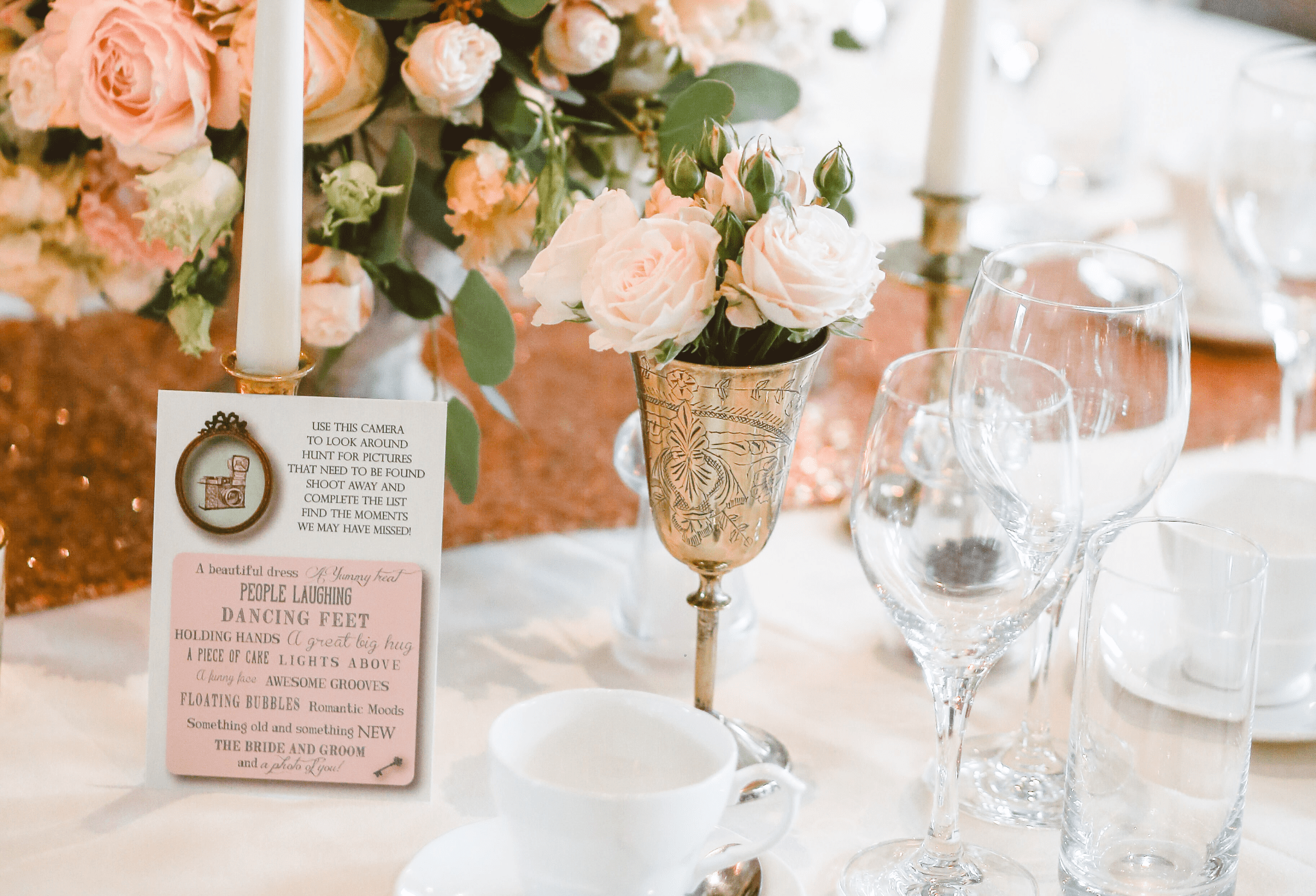 Planning a bridal shower takes time and forethought to be successful. Remember, you're not throwing an ordinary party.
Bridal showers usually happen in the daytime, followed by a bachelorette by night. To save you the trouble of planning two events on one day, we suggest throwing a bachelorette on a different date. Plus, the bride may wish to unwind after the shower.
Note: If you're planning a bridal shower as a surprise for the to-be bride, be sure to coordinate with a close friend or family member for a good idea of what she likes and dislikes.
Now let's dive into planning a bridal shower, shall we?
Budget and Planning Committee
Deciding on a budget is the first most important step in the planning process. It will help you comfortably navigate the next steps in planning a bridal shower.
The budget range for such an event would be from $10 to $100 per person, depending on the scale you desire.
Next, make a checklist of everything you'll need to put together:
Venue
Caterer and photographer (for bridal shower pictures and videos)
Entertainment (DJ or small band)
Cleanup crew (if needed)
Invitations (printing and distribution)
Decor and rentals (e.g. restroom trailer for an outdoor bridal shower)
Fun activity (like a pottery class or spa session)
From the above list, you can see why you need to create a committee of planners. It should include the bridesmaids and maid of honor. Invite anyone close to the bride who wants to be part of the planning.
Choose someone to take the lead as head of the planning committee. Delegate responsibilities to each member. Before moving forward, make sure everyone on the committee is on the same page about the final checklist and budget.
As you go along, regularly ask for updates to ensure everything is in progress as planned. Make coordination easy by creating a group on an instant messaging app.
Venues
Next up is deciding on venues for the bridal shower. While it's common for a close relative or family member to host it in their home, consider something unique and special, like an outdoor bridal shower.
An outdoor bridal shower has its share of perks:
Accommodating guests in a comfortable open-air space
Getting great natural daylight for selfies and group shots
Being able to erect a photo booth on location
Creating an intimate and classy setting that adds natural beauty to the outdoor bridal shower venue
Having plenty of space for guests to play games and indulge in fun activities
Setting up multiple mobile bathroom trailers on location for guests to freshen up and for the to-be bride to get ready for her event
Not leaving anyone with the burden of cleaning up after
Theme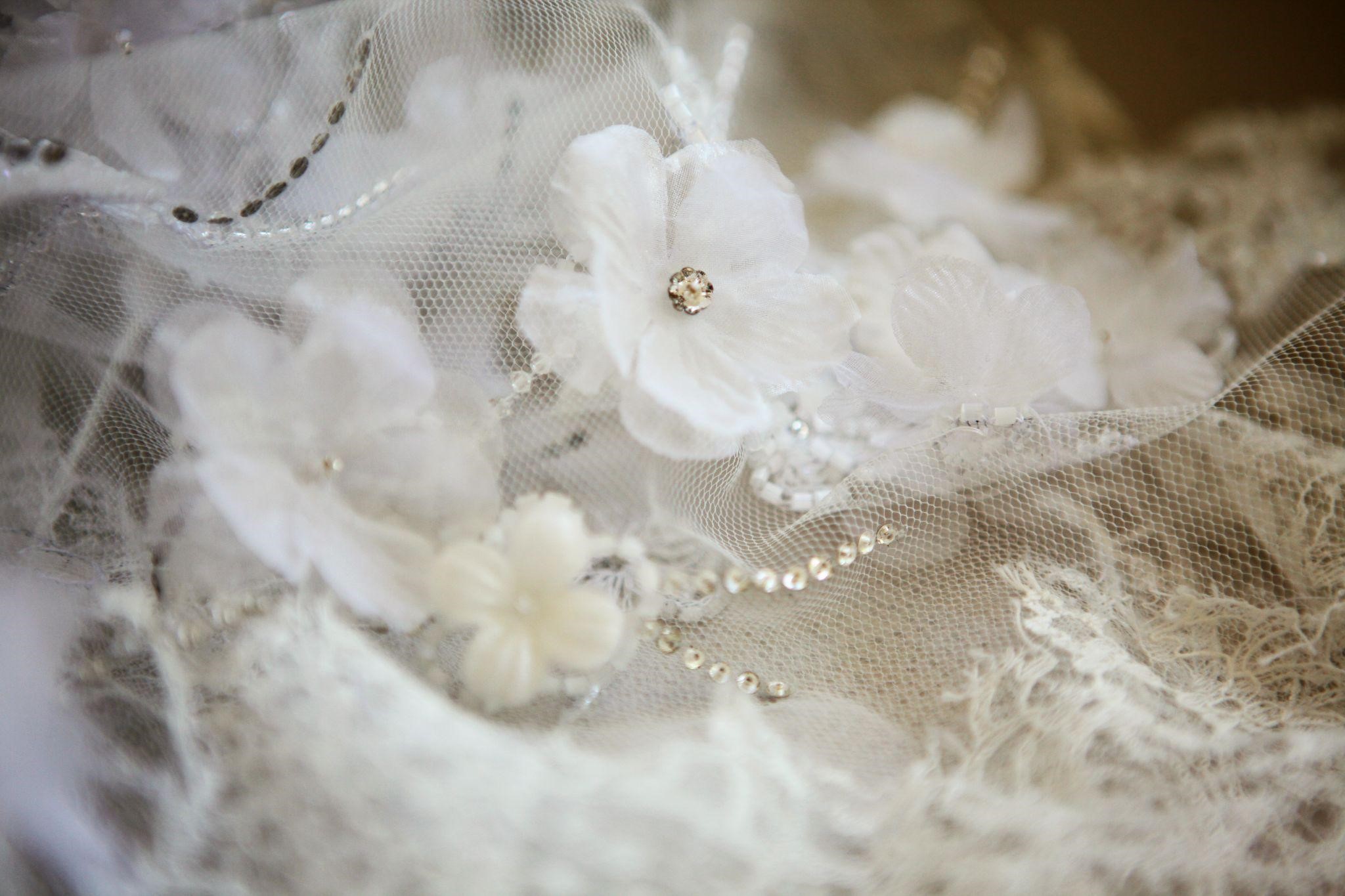 Deciding on the bridal shower motif is perhaps the most fun part of the planning process. Here are some popular themes to consider while planning the bridal shower:
●       Garden Theme Bridal Shower
Do up an outdoor bridal shower venue with seasonal blooms. A garden party bridal shower is not only a delightful idea but also a sustainable option for planet-conscious to-be brides.
If you'd like to create a special bridal shower chair for the to-be bride, you can dress it up with her favorite flowers. Flowers can be used as dramatic or minimal accents to highlight bridal shower chair decorations.
●       Wine Themed Bridal Shower
Perfect for wine lovers, a bridal shower based around wine is a classic and sophisticated idea. You can hire a caterer and sommelier to put together a tasteful menu with food and wine pairings.
Alternatively, you may hold the event at a vineyard for a real treat. The bride-to-be and her guests can indulge in wine tasting and explore the lovely property at leisure.
●       Travel Theme Bridal Shower
Create a perfect getaway to the countryside or a lovely remote outdoor bridal shower property. Remember, you want to keep expenses at a minimum so that guests are comfortable traveling to the outdoor bridal shower venue.
Find an idyllic place to implement some rustic bridal shower ideas against a stunning backdrop of nothing but bucolic and scenic pastures for miles.
●       Fall Bridal Shower
Fall is a time of pure joy as leaves change into autumnal hues and the weather gets cooler. It's also the ideal season to look for outdoor venues for bridal showers where you can take advantage of nature's transitional beauty.
There are plenty of fall bridal shower ideas that feature autumn's finest colors. For example, translate color-coordinated themes into your menu, food, decor, and even fall bridal shower invitations.
Similarly, a winter bridal shower can be fun to plan with a warm and cozy holiday theme that any to-be bride will love.
Invitations
Planning a bridal shower means paying special attention to the invitations. Once you zero in on a bridal shower venue and dress code, send them out to the guests.
Here are the details of what goes into bridal shower invitations:
Dear [Name of Guest],
[Short Invitation Message]
[Time, Date, and Venue Details]
[How to RSVP]
[Hosted by: Friends of the bride/Family of the bride OR __Name__, the Maid of Honor]
[To-be Bride's Registry Information]
Dress Code
To answer your question on what to wear to a bridal shower, choose a dress code based on a fun thematic idea. You want guests to feel comfortable from start to finish so it's best to leave it up to them to decide on their bridal shower attire.
Instead, mention the colors you'd like those outfits to be in by providing a color palette reference on the back of the invitation. Bridal shower dress code ideas give guests the flexibility to choose outfits of their choice that coordinate with your color palette choice.
| | | | |
| --- | --- | --- | --- |
| Summer Palette | Spring Palette | Autumn Palette | Winter Palette |
| | | | |
| | | | |
| | | | |
| | | | |
Decor
The decor of a bridal shower sets the tone of the occasion and is a crucial part of the planning process.
First, you want to erect a welcome to the bridal shower sign at the entrance of the venue to help guests locate the place. A bridal shower banner and bridal shower balloon arch are both great ways to dress up the venue with character, charm, and a welcoming vibe.
Include a smattering of bridal shower balloons with sweet messages on them such as 'Cheers to the to-be bride!' or 'Hoorah, she's getting married!' You can also hang a pretty bunting across the bridal shower dessert table to elevate the look of the displayed sweet treats.
Lastly, have a pretty monogram of the to-be bride's initials printed on the bridal shower napkins.
Adding a wishing well at the venue is sure to get guests and the to-be bride excited! Check out these cool bridal shower wishing well ideas where guests can place smaller gift items and well wishes.
Menu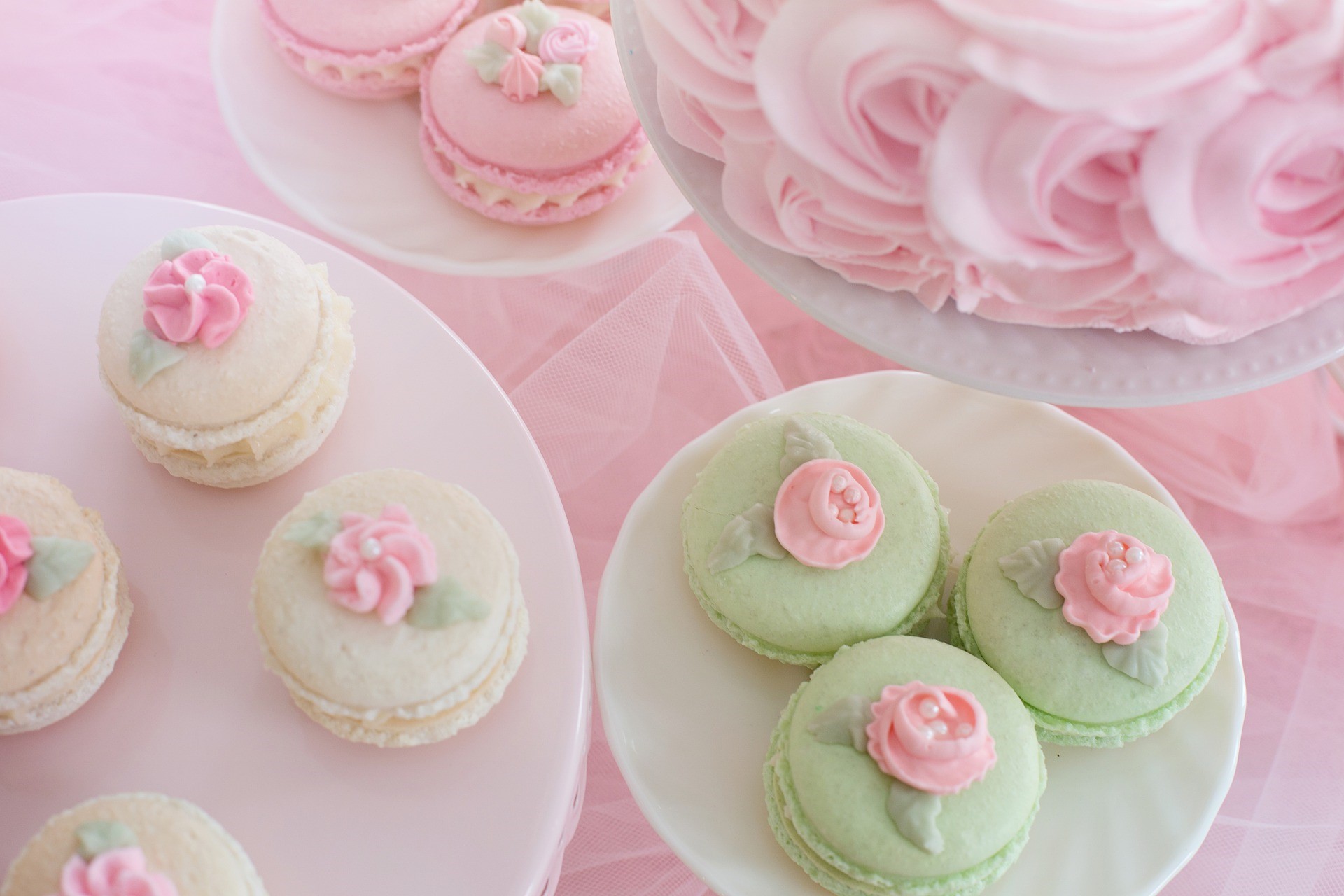 Arrange for a toothsome mix of fun and elegant bridal shower drinks, snacks, and meals. Get guests and the to-be bride stoked about exploring the variety of flavors on display.
You could have an array of sweet treats like bridal shower cookies with various playful and classic toppings. Another great addition is cupcakes for the bridal shower with pretty fondant or swirls of decadent buttercream. Also, who doesn't love bridal shower candy?
And what to-be bride won't be thrilled to see a bridal shower cake at her party? Sayings on bridal shower cakes such as 'Soon to be Mrs.!, 'From Miss to Mrs!', 'Fans of the to-be Bride!', and 'Cheers to Forever' will melt her heart.
Program
Enclose the bridal shower program in the invitation to create an atmosphere of anticipation for guests and the to-be bride. Create a card with the details to go with the dress code instructions.
Here's a sample lineup:
Welcome speech and toast by [Name]
Round of drinks and snacks
Let's eat cake!
Opening of the gifts
Games and activities
Time to put on your dancing shoes
Lunch followed by dessert
Closing speech and toast by [Name]
Planning a Bridal Shower with VIP-To-GO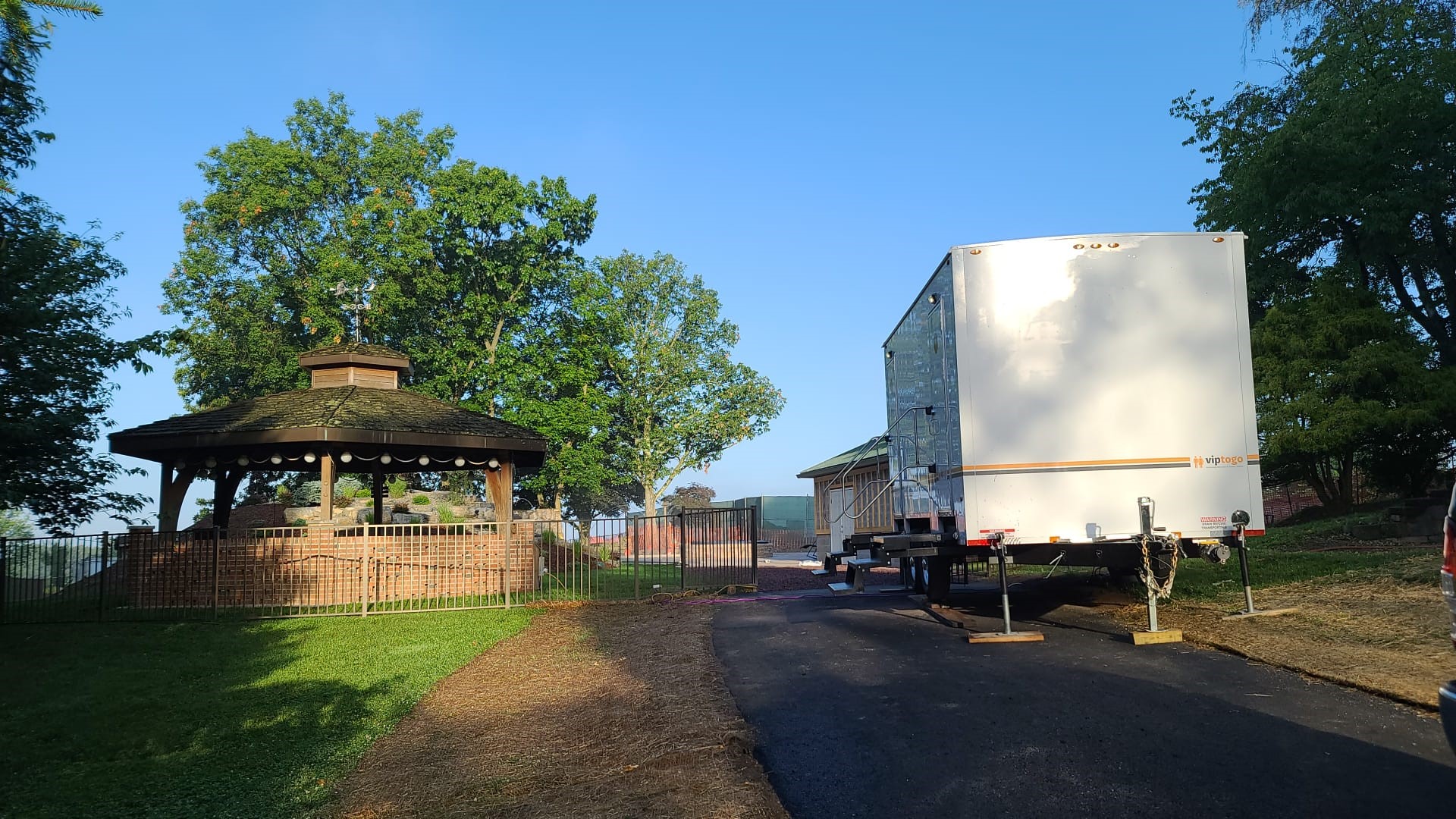 VIP-To-GO opens up possibilities when planning a bridal shower. Thanks to our services, you can now confidently consider an outdoor bridal shower!
We maintain an affordable, extensive fleet of restroom trailer rental options, complete with modern amenities and facilities. Our highly motivated team can deliver any number of porta potty trailer or mobile bathroom options on wheels to make your outdoor event a success.
The trailer bathroom doubles as a relaxation space for guests to freshen up and prep for the bridal shower festivities. No matter where you are in the city, our team can deliver the luxury restroom trailers and relocate them if needed.
Our well-stocked, reliable luxury porta potty and restroom trailer options meet all hygiene protocols. The cozy, state-of-the-art interiors are designed with modern aesthetics and creature comforts. You also get exclusive access to WiFi connectivity, music sound systems, air conditioning, and even a fireplace. As an optional extra, we offer a bathroom attendant who will maintain the restroom trailer throughout the shower, ensuring it stays clean and no garbage accumulates.
Having bathroom trailers on location ensures that guests and the to-be bride have access to clean stalls and a comfortable experience with no waiting lines. All attendees will be impressed by your exceptional and thoughtful planning skills.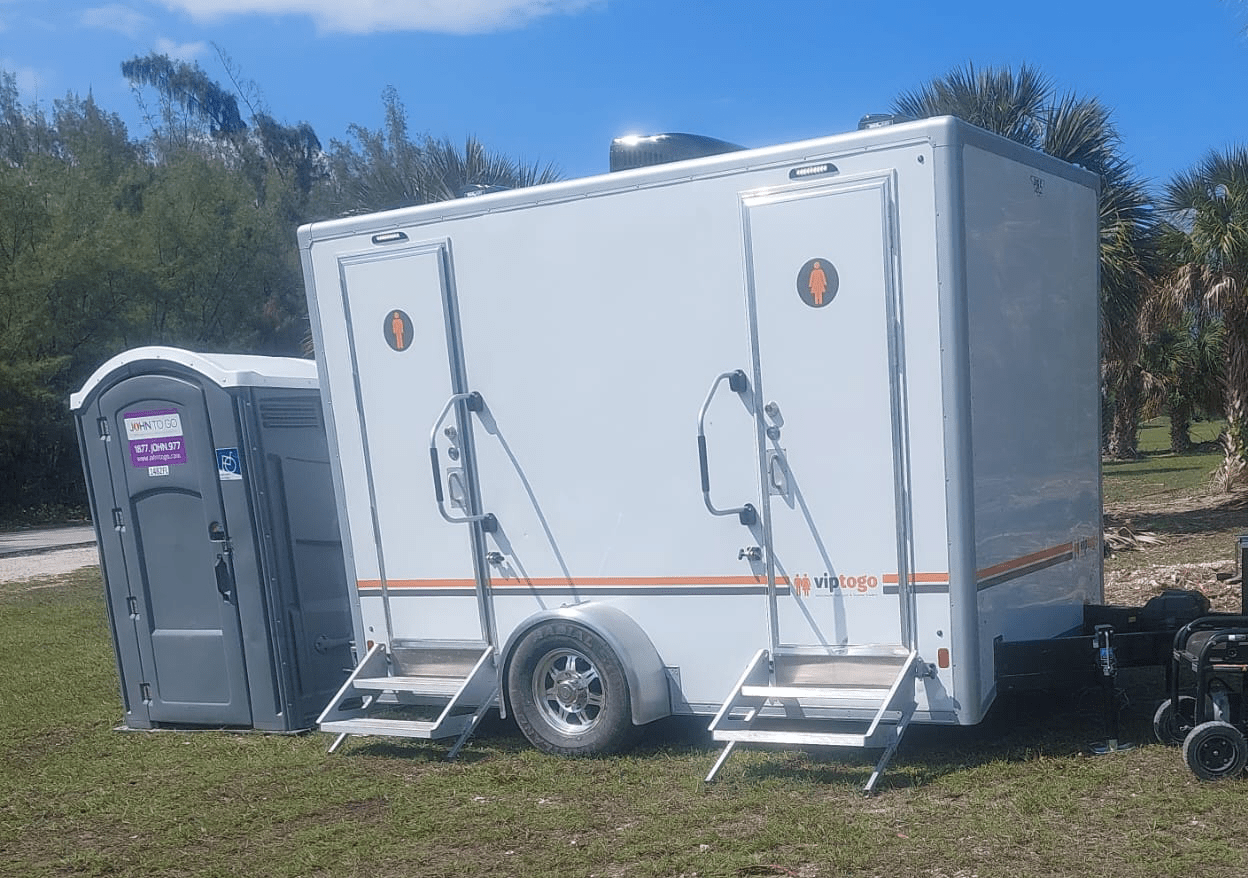 Conclusion
Planning a bridal shower is made easier when you have a clear idea of what you want to achieve. And with VIP-To-Go, everything is taken care of the moment you place a booking. Rest easy knowing you won't have to worry about restroom facilities at your outdoor bridal shower venue.
Get in touch with us today!
FAQs
Are you wondering…
…When to send invitations to the guests?
Invitations should be sent out 4 to 6 weeks before the event date.
…Who to invite to bridal shower?
Invite only close family and friends who are coming to the wedding. It's best to leave out uninvited folks to avoid any drama.
…Does the groom go to the bridal shower?
Ideally, the groom doesn't attend the bridal shower until the end, when he comes to pick her up with flowers and helps with taking the gifts home.