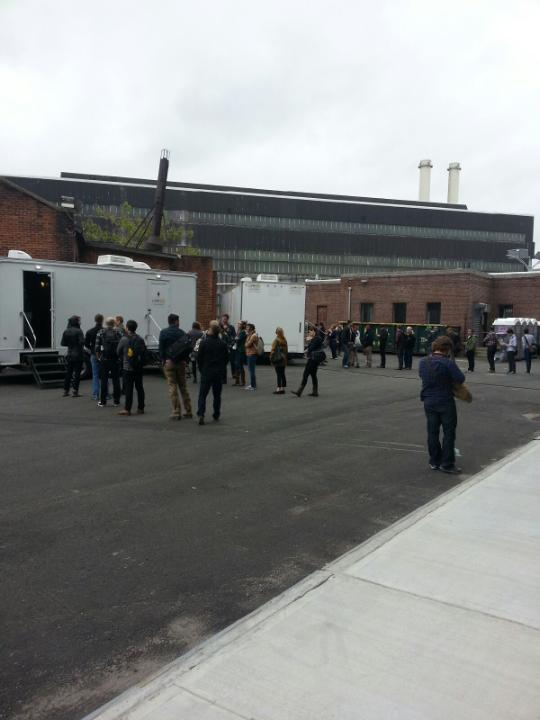 The best selection and service for Luxury Portable Toilets is NYC!
Are you looking to reopen your business or host an event with proper social distancing guidelines and are on a seemingly endless quest for portable potty rentals near me? Are you looking for a portable restroom trailer for long term use? VIP To Go's luxury restrooms or nice porta potty trailer options are the perfect solution or supplemental restroom(s) to get you going again with clean, safe fancy porta potty and luxury restroom trailer options. VIP To Go's luxury restrooms or nice porta potty trailer options are the perfect solution or supplemental restroom(s) to get you going again with clean, safe fancy porta potty and luxury restroom trailer options. VIP To Go's national restroom trailers have a reputation for their high-end impression that gives guests a luxury portable restroom experience. To prevent deterioration in decor or function and to maintain the standards of our fancy restrooms, units are replaced every 18-24 months. We provide regular servicing and waste removal for each luxury portable bathrooms rental. We remain as committed as ever to providing you with a totally-positive experience on each and every fancy portable bathroom rental.
We put true, indoor luxury accommodations  in all of our luxury bathroom trailers for limitless event possibilities.
Our fancy porta potty and portable restroom trailer options offer peace of mind and unparalleled convenience for your wedding or other upscale event. Our fancy restrooms have an impressive reputation, to the point where we've heard that guests at an event have made it a point to visit our luxurious trailers to take selfies! 
Delivering luxury portable toilets in NYC is different from servicing a nice porta potty rental in other areas of New York state, or the country. At VIP To Go we understand that you can't just run a garden hose or power cord over a crowded city sidewalk just to have functioning toilets. Yet, high end city events need fancy porta potties – NYC demands it!
Here are 3 reasons to make VIP To Go, provider of national restroom trailers, your company of choice for Restroom Trailer rentals and all your fancy porta potty needs:
1. Choose the largest luxury portable toilets NYC has to offer
As a national restroom trailer company based in New York, we have the biggest selection of luxury portable toilets and fancy porta potty options in the tri-state area and the most experienced portable restroom rental staff in the city. We have worked with many organizations to ensure that the fancy restrooms at their events included luxury restroom trailers that were problem free. In fact, our fancy porta potty options have been part of the New York City Fashion Show, various 9/11 memorials and more events than we can name. Your guests will enjoy the opulence and comfort that our fancy portable bathroom trailers offer. Our luxury portable restroom rentals come with marble floors, two-toned wood-like finishing, flushing toilets, vanities, a sound system, modern light fixtures, and many more amenities that create a fancy restroom experience.
2. Work with a luxury portable potty company who understands the challenges of working in the city
VIP To Go has been working with restroom trailer rentals in the tight confines of New York City for years. We know the challenges of moving luxury portable toilets around NYC and finding the best places to position your luxury portable restroom so you do not encounter any problems. In a city where space is at a premium, fitting a porta potty trailer in can be complicating. In fact, it goes even further than that. Accessing the porta potty trailer for maintenance and servicing is also an issue. To address these portable bathrooms rental problems we have had our trailers custom created with larger storage tanks. Even portable bathroom rentals long term do not require as much maintenance as far as filling the water tanks and emptying the waste tanks. We can also place restroom trailers anywhere without having to worry about running hoses and cords because our trailers have such large storage tanks. This allows us to easily accommodate trailer restrooms rentals needs the large scale events that the Big Apple is famous for. When it comes to NYC porta potty trailer rental prices, VIP To Go, based in New York, can offer some of the best prices in the area coupled with unparalleled service for all fancy porta potty rentals. When you choose VIP To Go, you can confidently put an end to your search for a "port a potty rental near me" for NY events big and small.
3. Prevent NYC's notorious rental portable potty fines
At VIP To Go we understand how the City permitting system works and how quickly fines can rack up if your restroom trailer or fancy porta potty isn't picked up on time. In fact, we had a customer who once decided to rent a portable potty from another company because of a discount offered on their luxury portable restroom. However, that customer quickly came back to VIP To Go, telling us that the fines they incurred because the competitor continually failed to pick up their porta potty trailer and equipment on time had made the entire project cost far more than they would have paid with VIP To Go rental porta-potties.
With VIP To Go you get value and service for all fancy porta potty and luxury portable toilets in NYC!
NYC Luxury Bathroom Rentals Fast and Easy
At VIP To Go we don't just buy our fancy portable bathroom trailers off the shelf. We custom order portable restroom trailers and fancy porta potty options for Long Island, NY and the other city areas that we work in. We have learned, through years of luxury porta potty NYC deliveries, and we use the past luxurious porta potty needs of our clients to create restroom trailers that will best meet your porta potty trailer needs today.
Remember- when you rent luxury portable toilets in NYC, you need to understand what can and cannot be done in the city. It is imperative that you work with a restroom trailer company who understands the permitting process, but will also provide you with a site walk through before your event to ensure that all the details for the placement of the fancy portable bathroom trailer are worked out ahead of time. Our goal is to streamline your luxury portable restrooms experience so that you don't have any unexpected surprises when you should be enjoying a great party with a nice porta potty trailer.
Whether it's a wedding or bar mitzvah, a company party or a street festival, VIP To Go is your place for fancy porta potty and restroom trailer options! We believe every customer deserves five-star luxury portable restroom accommodations. Our portable bathroom trailers, shower rentals, and nice porta potty trailer options reflect our commitment to quality and detail. And yes, you read that correctly – VIP To Go offers high-end portable toilets and showers to accommodate all of your needs beyond toilets.
We continually strive to bring you the highest-quality fancy porta potty or restroom trailer rentals, with a top-notch luxury porta potty rental customer service that is there to support your every rental porta potty need! Our ultimate goal is for you to have a nice porta potty experience, starting from your trailer restroom rental quote request through the luxury port a potty rental and pickup. And as proven by our 98% customer retention rate, we're fairly confident that your experience with our national restroom trailers will be as positive and pleasant as possible.

So wherever you are headed, we are ready to service your porta potty trailer needs with a wide selection of fancy portable bathroom options. We service the entire country with national restroom trailers and fancy portable bathroom options. Our many years of experience as providers of national restroom trailers has given us ample opportunity to develop a process that makes renting a luxury portable restroom seamless for you!
So whether you're heading out of NYC up north towards Rochester, or even further upwards towards Maine, where the atmosphere is more chilled, space is easier to find, and porta potty trailer restrictions are not as tight, we can meet your fancy portable bathroom rental needs, on time and on budget. 
What Are You Waiting For? Call VIP To Go to Set Up Your Quick and Easy Rental of Portable Toilets
The search for the best luxury porta potty rentals near me stops with VIP To Go. Give us a call today and one of our high end porta potty team members will help you every step of the way, whether you need a luxury portable restroom rental for a wedding,portable luxury toilets for outdoor events, or simply want to find out the typical luxury porta potty rental cost in the area.