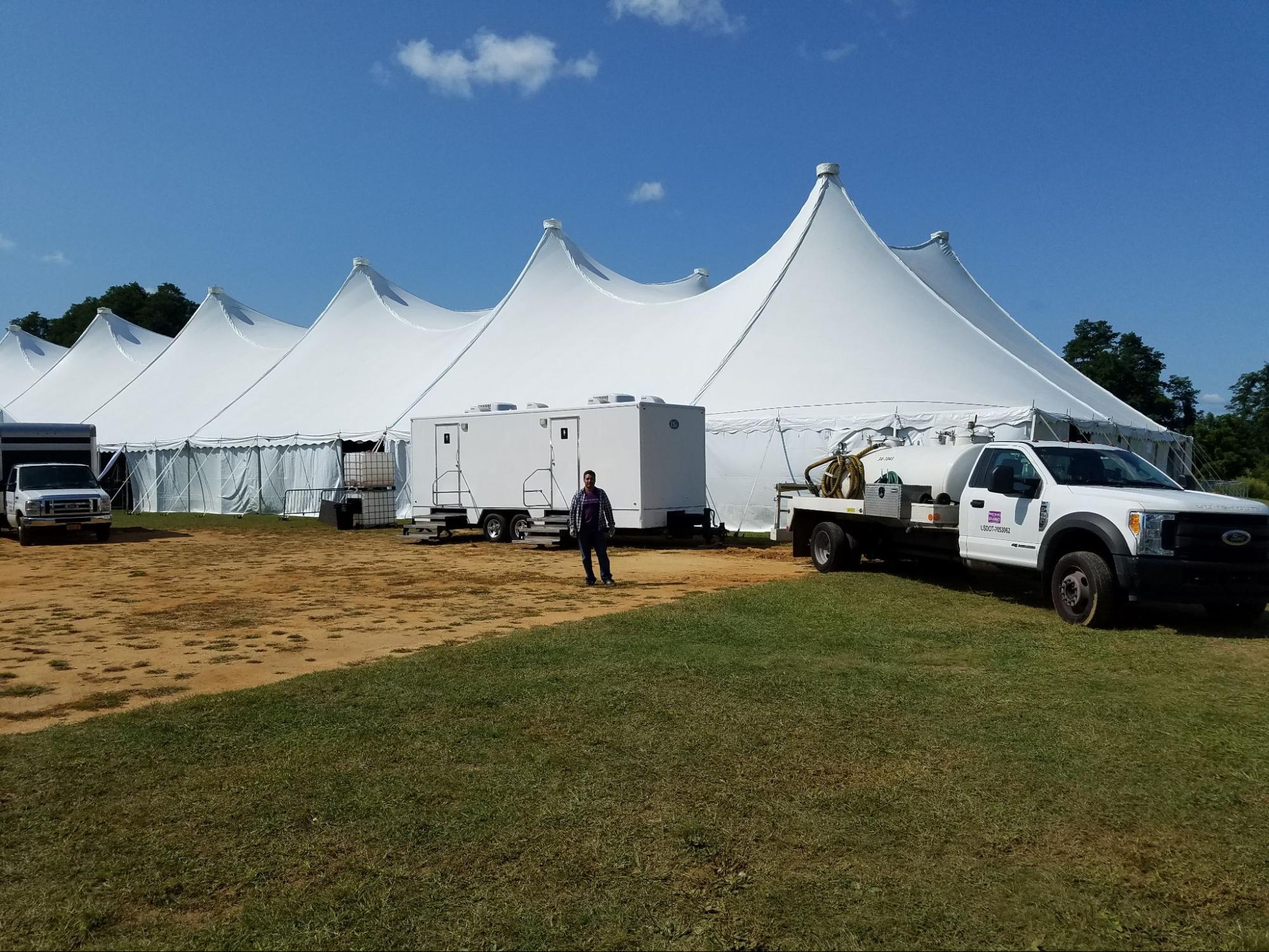 VIP Treatment: How Our Restroom Trailers Provide a Five-Star Experience
Whether you're planning a wedding, a corporate event, or a music festival, providing your guests with high-quality restroom facilities is essential to ensure that they have a comfortable and enjoyable experience. At VIP, we specialize in providing luxury restroom trailer rentals for a wide range of events, from intimate weddings to large-scale outdoor festivals.
In this article, we will explore how portable restroom rental can provide a five-star experience for guests. From the sleek and modern design to the high-end amenities, our trailers are sure to impress your guests and leave them feeling pampered and indulged.
How Luxury Portable Restroom Trailers Provide a Premium Multi-Sensory Restroom Experience
When it comes to providing the best experience for your VIP guests, every detail matters. From the food and beverages to the entertainment and decor, you want to ensure that every aspect of their experience is top-notch. That's where our luxury portable restroom trailers come in.
At VIP To Go, we specialize in providing high-end restroom facilities that offer a five-star experience for your guests. Our trailers are designed with amenities that appeal to each of the senses, making them the perfect addition to any upscale event.
Our restroom trailers are designed with an eye for detail, and the decor is no exception. The interior of our trailers is tastefully designed with elegant finishes and fixtures, creating an ambiance that is both sophisticated and inviting.
Our restroom trailers are designed with many high-end finishes that enhance the experience for your guests. Marble countertops not only look stunning, but they also provide a durable and easy-to-clean surface that can withstand the demands of heavy use.
Lighting is an essential element of any upscale experience, and our restroom trailers are equipped with modern lighting fixtures that provide a warm and inviting atmosphere. The lighting fixtures are strategically placed to create a comfortable and well-lit environment that is both functional and attractive.

Music has long been known to have a positive impact on mood, and it is a powerful tool for creating a relaxing and enjoyable environment. By installing a sound system in our restroom trailers, we provide your guests with the ability to listen to calming and soothing music while they freshen up and take care of their personal needs. This can help to reduce stress and create a more peaceful and comfortable atmosphere.
The sound system in the luxury portable restroom trailers can be customized to your event's needs, playing music that fits the theme or mood of the occasion. For example, if you're hosting a wedding, you can play romantic ballads or classical music to create a more elegant and refined atmosphere. Alternatively, if you're hosting a corporate event, you can play upbeat music that energizes and motivates your guests.
The calming effect of the sound system can also help to drown out any background noise or distractions that may be present in the surrounding environment. This creates a more private and intimate space for your guests, allowing them to focus on their personal needs and recharge in a comfortable and relaxing atmosphere.
The sense of touch is a critical aspect of the human experience, and at VIP To Go, we understand the importance of creating a comfortable and indulgent environment for your guests with luxury porta potty trailers.
One of the most important ways we design our trailers for comfort is by incorporating high-quality finishes. From the materials used in the construction to the fixtures and fittings, we use only the best materials to create a luxurious and upscale feel. For example, we use premium quality faucets, sinks, and other fixtures, as well as soft and comfortable seating, to ensure that your guests feel pampered and indulged.
Climate-controlled restroom trailers provide a comfortable and controlled environment for guests, ensuring a pleasant and enjoyable experience even in extreme weather conditions.
Cleanliness is another important factor when it comes to creating a comfortable restroom experience. Our restroom trailers are designed with cleanliness in mind, ensuring that your guests can enjoy a hygienic and germ-free environment. We use high-quality cleaning products and maintain strict cleaning schedules to keep the trailers spotless and fresh.
We know that unpleasant odors can ruin the ambiance of any event. That's why our restroom trailers are equipped with an advanced ventilation system that ensures a fresh and clean atmosphere at all times. Our restrooms are also equipped with premium scented soaps and lotions, providing a refreshing and invigorating experience for your guests.
Power and Water Supply for Restroom Trailers in Remote Locations
Now, let's get practical. When it comes to providing restroom facilities for outdoor events or remote locations, one of the key challenges is ensuring that the trailers have a reliable source of power and water. To address these challenges, our restroom trailers are equipped with generators and water tanks that allow them to function even in locations where there is no access to traditional power or water sources.
Our restroom trailers are equipped with generators that provide the power necessary to run the trailer's various systems and amenities. The generators are designed to be efficient and eco-friendly, providing the necessary power without producing excessive noise or emissions.
In addition to generators, our restroom trailers are also equipped with water tanks that supply the necessary water for the trailer's fixtures and systems. These water tanks can hold a significant amount of water, ensuring that the restroom trailer can be used even in locations where there is no access to traditional water sources. Our team regularly fills and maintains the water tanks to ensure that they are always clean and safe for use.
Together, generators and water tanks make it possible to provide luxury portable restroom trailers in locations where there is no access to traditional power or water sources. This allows for greater flexibility in event planning and ensures that guests have access to safe, comfortable, and hygienic restroom facilities no matter where the event is held.
Customer Service: A Personalized Approach
At VIP To Go, we understand that our customers are the foundation of our business, and we are committed to providing the highest level of service and attention to each one, treating each as if they're our only customer, fully focused on ensuring their positive experience from start to finish.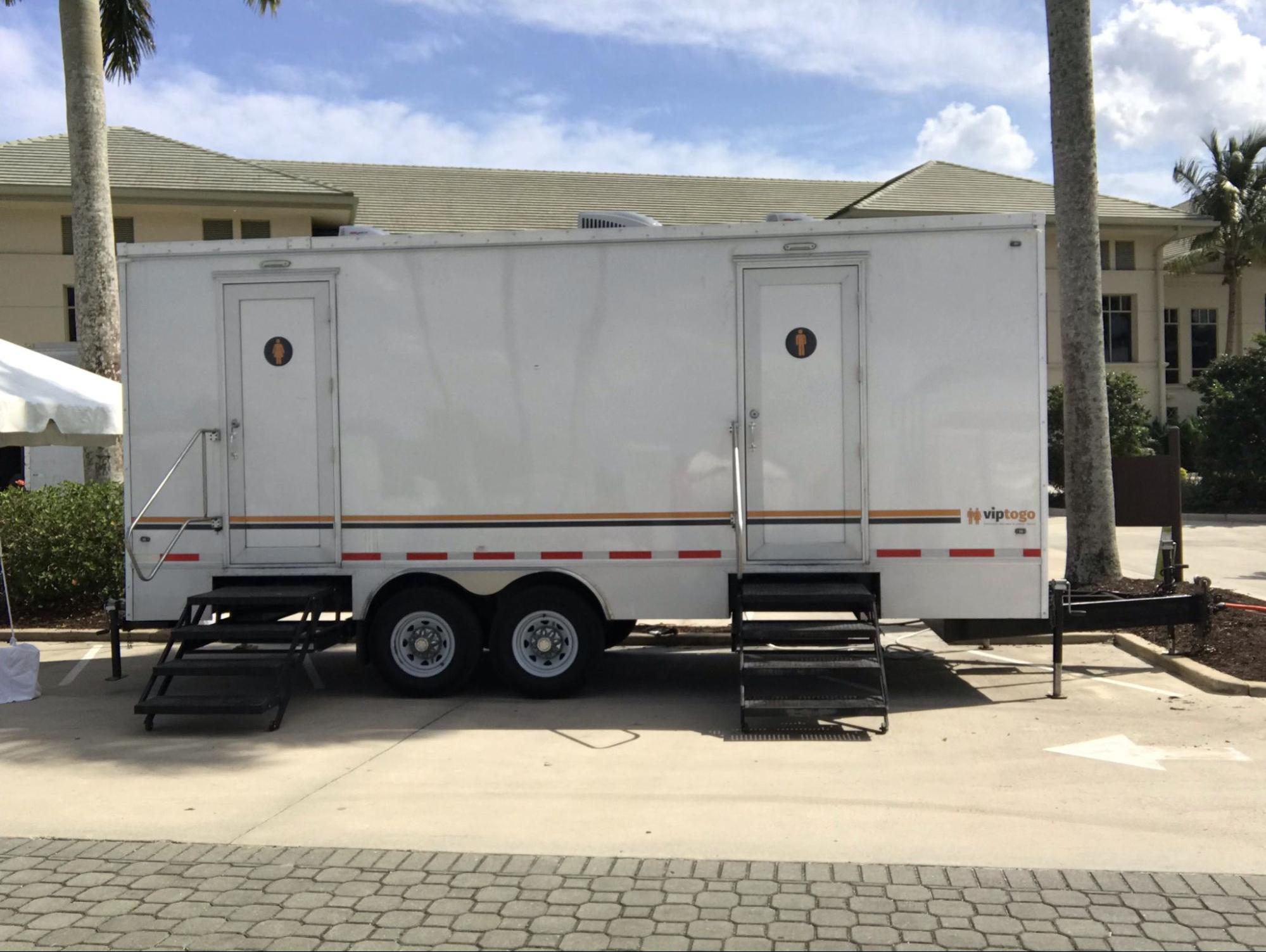 From the moment you contact us, our team is dedicated to providing you with personalized and attentive service. We take the time to listen to your needs and requirements, ensuring that we understand your event and its unique challenges. We then work with you to determine the best restroom trailer options that will meet your needs, budget, and expectations.
Throughout the planning process, we remain fully focused on your positive experience. Our team is always available to answer your questions and address any concerns you may have, providing prompt and courteous service at all times.
On the day of your event, we ensure that everything runs smoothly and efficiently. Our team delivers and sets up the restroom trailers with care and precision, ensuring that everything is in place and ready for your guests to use. We also provide ongoing support and maintenance throughout the event, ensuring that the trailers remain in top condition and fully stocked with all necessary supplies.
After the event, we follow up with our clients to ensure their complete satisfaction. We take feedback seriously, and we use it to continuously improve our service and enhance the experience we provide to our customers.
To ensure that our clients always have access to the latest and greatest luxury restroom trailers, we replace our product line every 18-24 months with new models that are in pristine condition. Replacing our product line frequently ensures that our clients have access to the newest and most advanced restroom trailers on the market, with the latest technology, the most efficient and eco-friendly systems, and the most luxurious and comfortable amenities.
Go VIP with VIP To Go!
At VIP To Go, we understand that every detail matters when it comes to providing a VIP experience for your guests. Our luxury portable restroom trailers are designed to provide a five-star experience that appeals to all of the senses, making them the perfect addition to any upscale event.
So whether you're hosting a corporate event, wedding, or other special occasion, our restroom trailers will ensure that your guests are comfortable, pampered, and impressed by the level of luxury that you provide. Contact us today to learn more about our restroom trailer options and how we can help make your event a success.