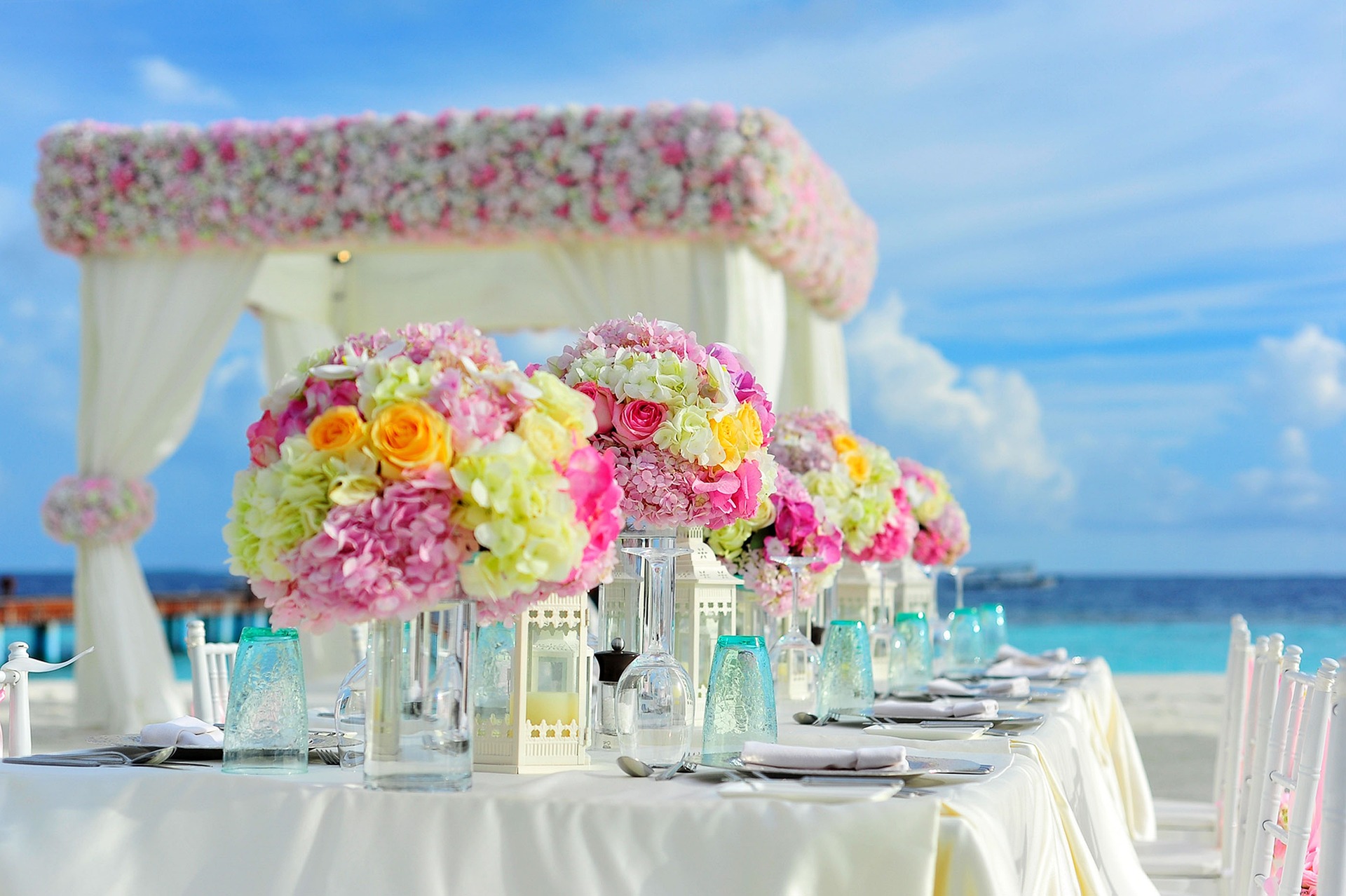 The Ultimate Destination Wedding Planning Checklist
Everyone has their idea of what their "dream wedding" entails, whether it's a low-key yet stunning ceremony in a church or an extravagant, impossibly rustic, and country-themed outdoor extravaganza. But for some, the idea of jet-setting to their "I, do" is the only way to go.
Destination weddings can be described as nothing less than a magical once-in-a-lifetime experience. However, whether you're traveling an hour away by car or across the world by plane, one thing is for sure – destination weddings come with their own slew of planning challenges, from increased costs to foreign regulations.
Though, don't let these minor issues stop you from planning your dream wedding. If a destination wedding is an absolute must, make the process simpler by checking out our comprehensive destination wedding planning checklist. (It's a lifesaver, you'll see!)
How to Choose a Destination
Before you begin planning your dream destination wedding, you need to figure out where it will take place. This can seem overwhelming – it's a big world out there, folks. But with a few simple steps, you can narrow down your ideal location.
1. What's Your Budget?
The first thing to consider is your budget. After all, some destinations are cheaper than others. If you have a limitless budget, you can go just about anywhere. Some of the most popular, budget-friendly options in the United States include Nashville, Tennessee; Tampa, Florida; and Anaheim, California.
2. How Many People Are Invited?
Next, consider how many people will be in attendance. If you're having a large and extravagant wedding with 100+ people, you'll want to ensure the venue can handle the crowd. For instance, a small village in Greece may not be as viable as a large city in India.
3. What Backdrop Do You Prefer?
While budget and guest lists play a vital role in deciding on a wedding destination, don't forget to consider your wants and needs. Are you itching to have a wedding on the beach, or do you want intricate architecture surrounding you? Where your wedding takes place will vary largely depending on your desired backdrop.
4. What Will the Weather Be Like?
Not every country is on the same "season schedule" as the United States. So, whether you're looking for a summery beach wedding or prefer tons of snow-capped mountains, you need to ensure you're traveling during the right season. This may lead you to change your destination or your wedding date!
How to Plan a Destination Wedding – Step-By-Step Guide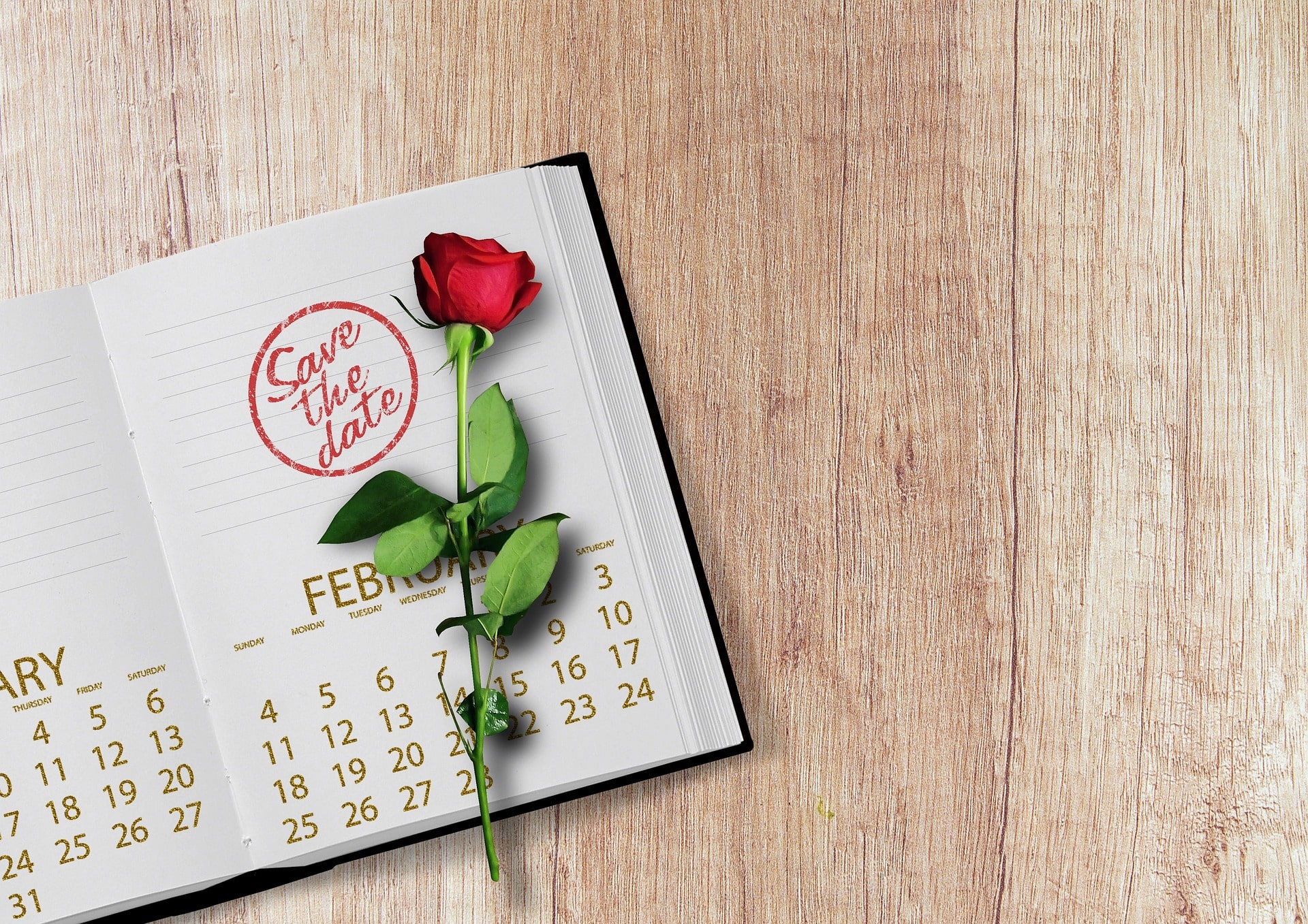 You got the most significant part out of the way – deciding on a location. But that's only half the battle. Planning a destination wedding is a bit more complex than a wedding held in the States. To help make your planning easier, we've put together this handy destination wedding planning checklist.
1. Set a Budget
When planning a destination wedding – or any wedding, for that matter – setting a budget is vital. After all, you don't want to go over-budget, which may mean you don't get that fancy new house you and your significant other have been eyeballing.
How much does a destination wedding cost? The final cost will vary depending on many things, such as where the wedding is held and how many people are attending. However, a quick search for "How much is a destination wedding?" shows that the average cost of a destination wedding budget hovers around $35,000.
If you want to save a buck or two, go for all-inclusive destination wedding venues. Some of the best yet cheapest all-inclusive destination weddings are found in Utah, Arizona, and North Carolina.
2. Check for Passports and Requirements (International Weddings)
Just like the seasons, not every country functions the same as the United States. So, having a ceremony at a Destin, Florida wedding venue may be different from your mountain destination wedding in another country. That said, double-check for any specific laws for wedding ceremonies before the big day.
(If the legalities are too complicated, you can always get "legally" married in the States either before or after the "non-legal" wedding ceremony!)
While you're at it, make sure that your passport isn't expired and won't expire for at least half a year after the celebration. The last thing you want to do is to realize you can't attend your own wedding due to an expired passport or visa!
3. Create a Guest List and Send Out Save the Dates
I know what you're thinking – "Save the dates this early?" And the answer is yes. Destination weddings have a different timeline compared to other wedding types. You need to give your guests plenty of time to get passports, book their hotels, etc. So, you should send out your destination wedding save the dates at least six months prior (although a year is ideal).
4. Set Up Your Priority Vendors
They say your wedding happens in the blink of an eye – and it's true. That's why having a photographer, and other vendors, is essential. That said, take some time to figure out which vendors you'll use for your destination wedding. Here are a couple of ideas:
Destination wedding photographer
Destination wedding videography
Destination wedding food options
Restroom rentals for weddings
The destination wedding coordinator is one important vendor you won't want to skip out on. After all, a destination wedding planning checklist can be overwhelming and exhausting. Your handy coordinator will ensure everything runs smoothly from start to finish.
5. Set Up Travel and Hotel Accommodations
There are many pros and cons of destination wedding venues. The pro is that you get the experience of a lifetime. The con is that there's a lot more added to the planning a destination wedding checklist, including setting up travel and hotel accommodations.
Whether you're opting for La Jolla, CA, or Destin, FL, wedding venues, you need to set up accommodations for your guests. You can ask the hotels for guest discounts and negotiate hotel blocks to keep everyone together. A destination wedding travel agent can be very handy for this process.
If your guests are going to drive to the location, you don't need to set up travel accommodations. However, if flying is required, it's recommended to keep an eye on flight alerts to update attendees with any specials or deals to cut down on costs.
(Your guests will appreciate it if you send them a destination wedding packing list, too!)
6. Finalize the Details
The oversized items on the destination wedding planning checklist are completed. Now, you can think about the wedding "basics," such as choosing a wedding dress, creating a wedding playlist, and putting together your destination wedding itinerary for the day of the ceremony.
How VIP To Go Can Help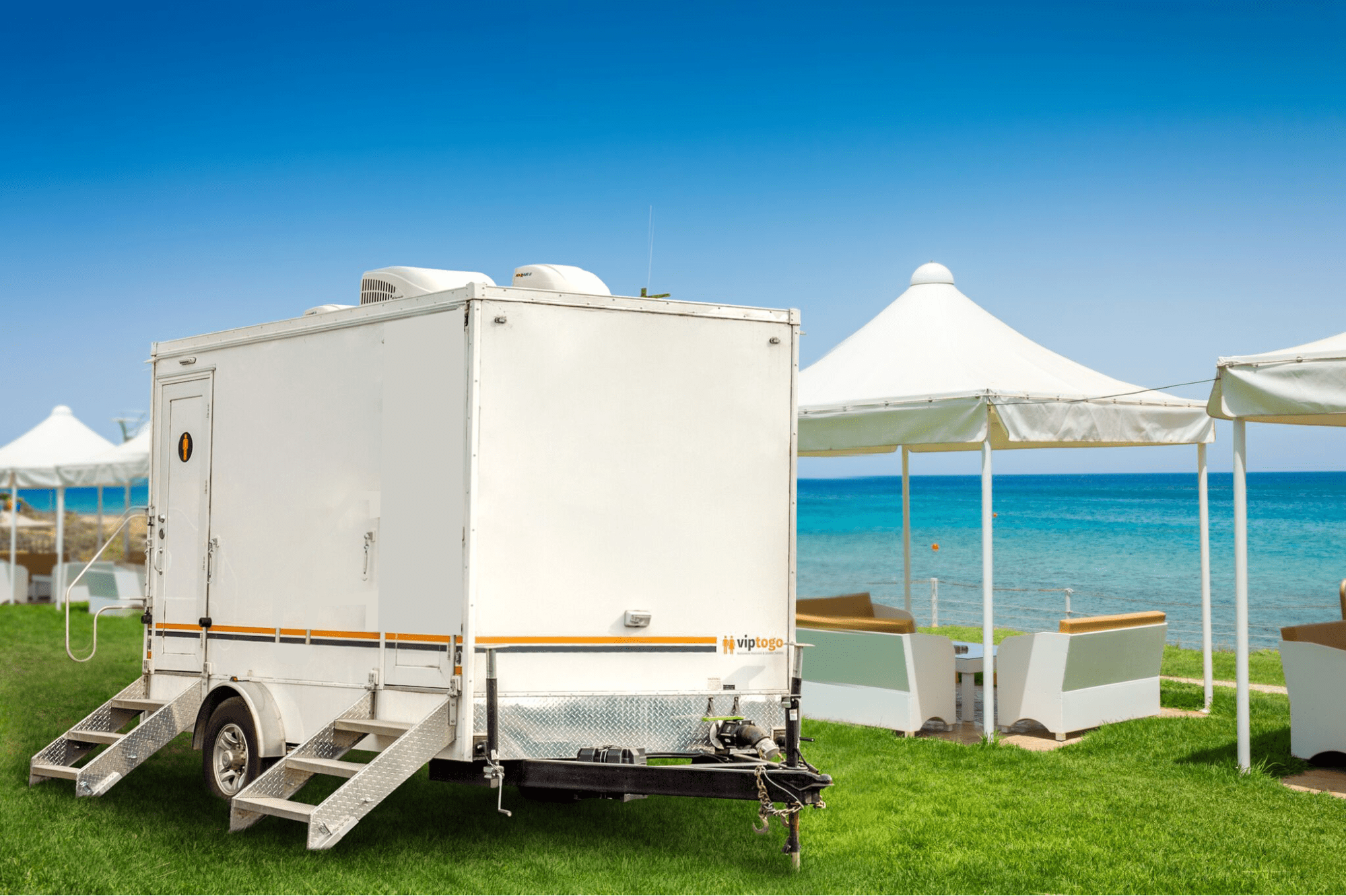 There are many essential pieces on your destination wedding planning checklist, from choosing a venue to setting up hotel accommodations. But one thing you don't want to look past is the wedding restroom. If you don't have enough restrooms for your guests, it's sure to be an annoying and hassling time for you and your attendees.
But don't panic – if you're deciding to keep your destination wedding within the United States, VIP To Go can help. We have a strong nationwide presence across the United States and over 20 years of expertise in upscale and luxurious portable restroom rentals. We have several lavish portable restrooms, from smaller two-station options for private ceremonies to over-the-top ten-station trailers for the grandest events.
I know what you're thinking – "luxury" and "restroom trailer rental" aren't two words commonly used in the same sentence. Yet, at VIP To Go, we have made it our mission to pride some of the most opulent event restroom trailers. They come with all the razzle-dazzle to wow and impress your wedding attendees, ensuring a fabulous time for everyone invited.
Aside from being an experienced, top-of-the-line company offering stellar portable restroom rentals for weddings, you'll be thrilled to discover we also offer concierge services for your wedding restroom trailers.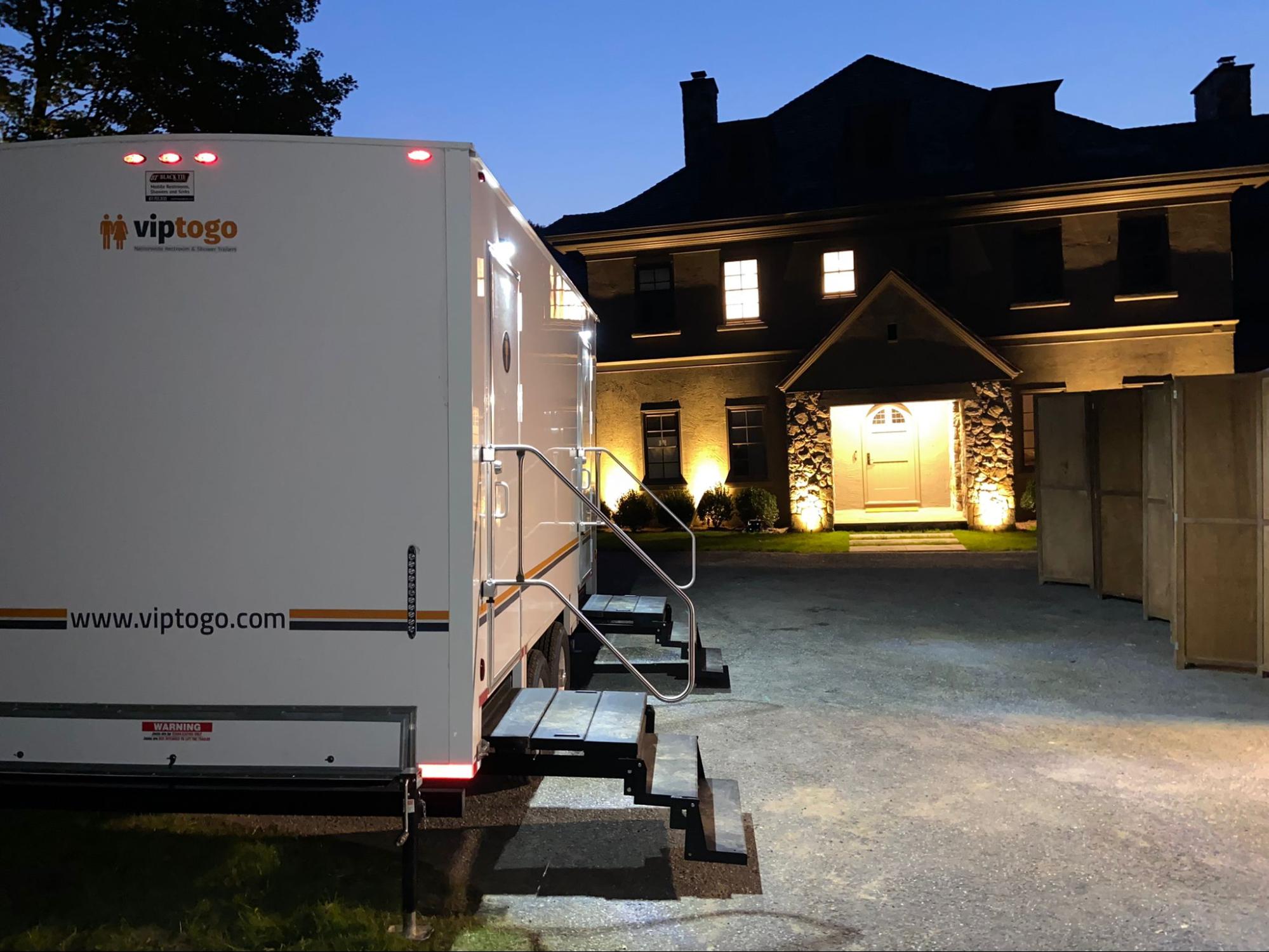 We help you through every step of ordering portable restroom trailers for weddings. Whether you're wondering, "How many restrooms do I need for my event?" or want to set up unique decor for your portable wedding restrooms, we can help.
Our highly retained staff will walk you through the process of ordering portable restrooms for weddings. They can discuss all of your needs, wants, and concerns, including a full low-down on our wedding restroom rentals sizes and styles. They will also set up delivery and pickup schedules for your portable restroom rental for wedding and find the perfect spot for your event restrooms at your venue.
At the end of the day, VIP To Go is the leading event restroom trailer business with one goal in mind: to ensure you have a restroom rental for wedding to create a lavish experience while also ensuring there are enough event restroom rentals to accommodate the needs of your guests.
Planning a Destination Wedding Doesn't Have To Be Cumbersome!
If you want to create the experience of a lifetime, a destination wedding may be the best choice. And while it may seem like an enormous undertaking, following along with our handy destination wedding planning checklist can make the job much easier.
Don't forget to add event restroom rentals to your destination wedding planning checklist, and give VIP To Go a call to accommodate your needs. We have gorgeous wedding restroom trailer options that are guaranteed to offer a pleasant experience from beginning to end.