The Importance of Accessibility: How Our Restroom Trailers Accommodate Guests with Disabilities
Inclusivity in restroom facilities is a critical aspect of event planning, and it is essential to ensure that all attendees have access to appropriate facilities. ADA restroom trailer rental makes restroom facilities more accessible for individuals with disabilities, creating a more inclusive and welcoming environment for all attendees. By using a handicap accessible restroom trailer at your event, you can ensure that everyone has access to appropriate facilities and that the event is inclusive and welcoming for all attendees.
Who Can Benefit From An ADA Restroom Trailer Rental?
People with disabilities have a wide range of needs that may make it challenging for them to use a regular restroom trailer. For example, individuals who use mobility devices, such as wheelchairs, or parents with strollers may have difficulty navigating narrow doorways, cramped stalls, or insufficient space to move around. Young children may require assistance from their parents or guardians, who may need additional space and privacy to assist them with their needs.
An ADA compliant restroom trailer is specially designed with wider doors, grab bars, low-threshold entryways, and wheelchair ramps to make it easier for individuals with mobility impairments to use the restroom. Additionally, it can benefit individuals with visual, cognitive, or temporary disabilities, as well as the elderly or those pregnant or with young children who require additional support or accommodations when using restrooms. By using a handicap restroom trailer, event organizers can create a more inclusive and welcoming environment for all attendees, regardless of their abilities or disabilities.
What are the ADA Requirements for Handicap Access for Restrooms?
The Americans with Disabilities Act (ADA) was passed in 1990 to prohibit discrimination against people with disabilities and to ensure equal access to public places, including restrooms. Under the ADA, all newly constructed and altered public facilities, including restrooms, must comply with specific accessibility guidelines. These guidelines are outlined in the ADA Accessibility Guidelines (ADAAG), which provide detailed specifications for the design and construction of accessible restrooms.
In order to comply with the ADA, restrooms must meet specific ADA bathroom requirements and include various features that enable individuals with disabilities to use them with the same level of independence and dignity as individuals without disabilities. Overall, complying with ADA regulations for handicap access in restrooms is not only the right thing to do, but it is also necessary to ensure that everyone has equal access to public places, including restrooms.
One of the most important requirements for ADA compliant restroom trailer is the minimum number of accessible stalls. According to the ADAAG, if a restroom has six or more stalls, at least one stall must be accessible. For every six additional stalls, one more accessible stall must be provided. In addition to the number of stalls, the ADA requires specific dimensions for accessible stalls, such as a minimum width of 60 inches and a grab bar on at least one side of the toilet.
Other ADA regulations for handicap access in restrooms include accessible sinks, soap dispensers, and paper towel dispensers at a certain height range, as well as grab bars near the sink and toilet areas. The ADA also requires that accessible restrooms have a clear floor space for wheelchair users to turn around, as well as accessible routes to the restroom and the restroom entrance itself.
Moreover, ADA guidelines also mandate that portable restrooms must be wheelchair accessible. This means that the portable restroom must have a ramp or an entrance that is no more than 1 inch above the ground, and that there must be at least 5 feet of clearance for a wheelchair to turn around inside the unit.
Here is a list of the ADA requirements for restrooms:
Wider doors (minimum 32 inches wide)
Grab bars (at least 42 inches long and 1 1/4 to 1 1/2 inches in diameter)
Low-threshold entryways
Wheelchair ramps (if necessary)
Appropriate signage indicating accessible features and location of restroom
Adequate space for maneuvering (minimum 60 inches diameter for a wheelchair)
Accessible fixtures, including sinks, soap dispensers, and toilet paper dispensers
Fixtures at an appropriate height (sink should be no higher than 34 inches, and toilet no higher than 19 inches)
Installation of an accessible mirror at an appropriate height
Adequate lighting for individuals with visual impairments
Accessibility features should be dispersed evenly throughout the facility, and not concentrated in one area.
Creating Inclusive Spaces: How VIP TO Go Meets the Needs of All Guests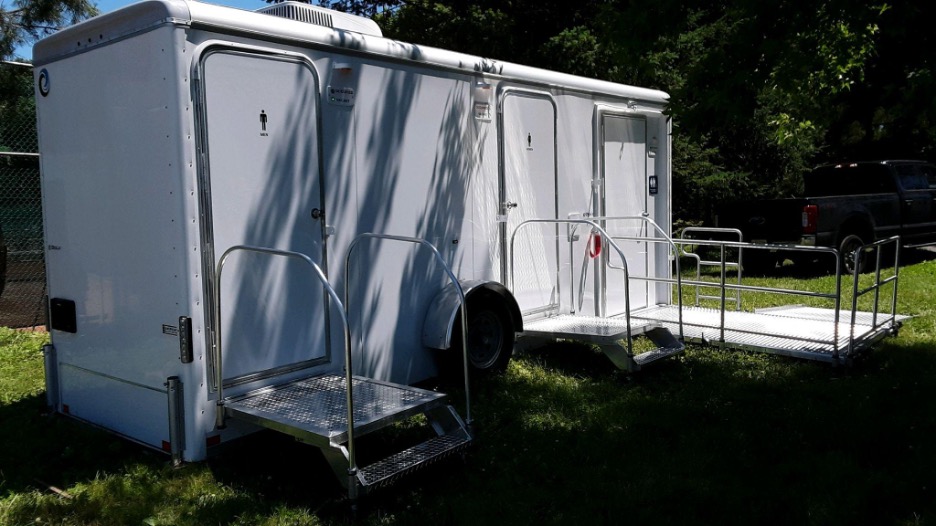 At VIP To Go, we believe that everyone should have access to safe, comfortable, and hygienic restroom facilities, regardless of their physical abilities. We understand the importance of accessibility and are committed to providing restroom trailers that are designed to accommodate guests with disabilities.
Here are some of the ways that our ADA compliant restroom trailers provide a comfortable and accessible experience for all guests:
We provide ramps and level entryways to the ADA portable restroom trailer that make it simple for guests in wheelchairs or with mobility issues to enter and exit the trailer safely and easily. Additionally, our trailers have wide entryways that can accommodate guests with mobility devices.
We understand that guests with disabilities may require additional space to maneuver inside the restroom. Our trailers are designed to provide ample space inside the stalls, ensuring that guests in wheelchairs or with mobility issues can use the restroom comfortably and with ease.
Our handicap accessible restroom trailers are equipped with grab bars and handrails that are strategically placed to provide support and stability for guests with disabilities. These features can be found in the stalls, as well as in the sink and mirror areas, making it easy for guests to maintain their balance and mobility.
Hygiene is essential, and we ensure that all of our fixtures are designed with hygiene in mind. Our trailers are equipped with touchless faucets, automatic soap dispensers, and hand dryers, ensuring that guests can maintain their personal hygiene without touching any surfaces.
Lighting is essential for guests with disabilities who may require additional illumination to navigate the space safely. Our trailers are designed to provide ample and well-lit space, ensuring that guests can move around the restroom easily without any risks.
Best ADA Portable Restroom Trailer Options for Every Event
VIP To Go offers several ADA trailer options to meet the specific needs of different events and scenarios. These trailers are designed to provide accessible restroom facilities to individuals with disabilities, ensuring that they can use the facilities comfortably and with dignity.
The first option is a standalone single ADA restroom trailer. This option is ideal for small events or locations where space is limited, and only one ADA-compliant restroom is required.
For example, this type of trailer might be appropriate for a small outdoor concert, a community fair, or a small construction site.
The second option for accessible restroom trailers combines an ADA restroom with two other bathroom stalls. This trailer is ideal for events where there is a larger crowd and more facilities are needed. This option provides an ADA-compliant restroom and two additional stalls, which can accommodate more people and reduce wait times. This type of trailer might be useful for a larger outdoor festival, a corporate event, or a wedding reception.
The third option is an ADA restroom trailer that combines an ADA restroom with four other bathroom stalls. This option is ideal for events with even larger crowds or events that span over multiple days. This trailer provides an ADA-compliant restroom and four additional stalls, making it suitable for larger events such as outdoor concerts, county fairs, or sporting events.
Overall, VIP To Go's range of ADA trailer options ensures that events of all sizes and types can provide accessible restroom facilities for individuals with disabilities. By offering these options, VIP To Go helps event organizers to comply with ADA requirements and ensure that all attendees can access the facilities they need.
Rent an ADA Compliant Restroom Trailer Today!
In conclusion, accessibility is an essential aspect of any restroom experience, and our trailers are designed to ensure that all guests can use the facilities safely, comfortably, and hygienically. VIP To Go is committed to providing high-quality, accessible restroom trailers that accommodate all guests' needs, regardless of their physical abilities.
At VIP TO Go, we understand that ensuring the comfort and accessibility of all guests, including those with disabilities, is essential to hosting a successful event. That's why our team is dedicated to guiding you every step of the way as you select the right restroom trailer rental for your needs. Our experts will work with you to understand your specific event requirements and help you choose the best ADA-compliant restroom trailer for your guests. From the initial consultation to delivery and setup, our team is committed to providing the highest level of service and ensuring that your guests have a comfortable and enjoyable experience.
Contact us today to learn more about our restroom trailer rental options and how we can assist you in making your event inclusive and accessible for all.