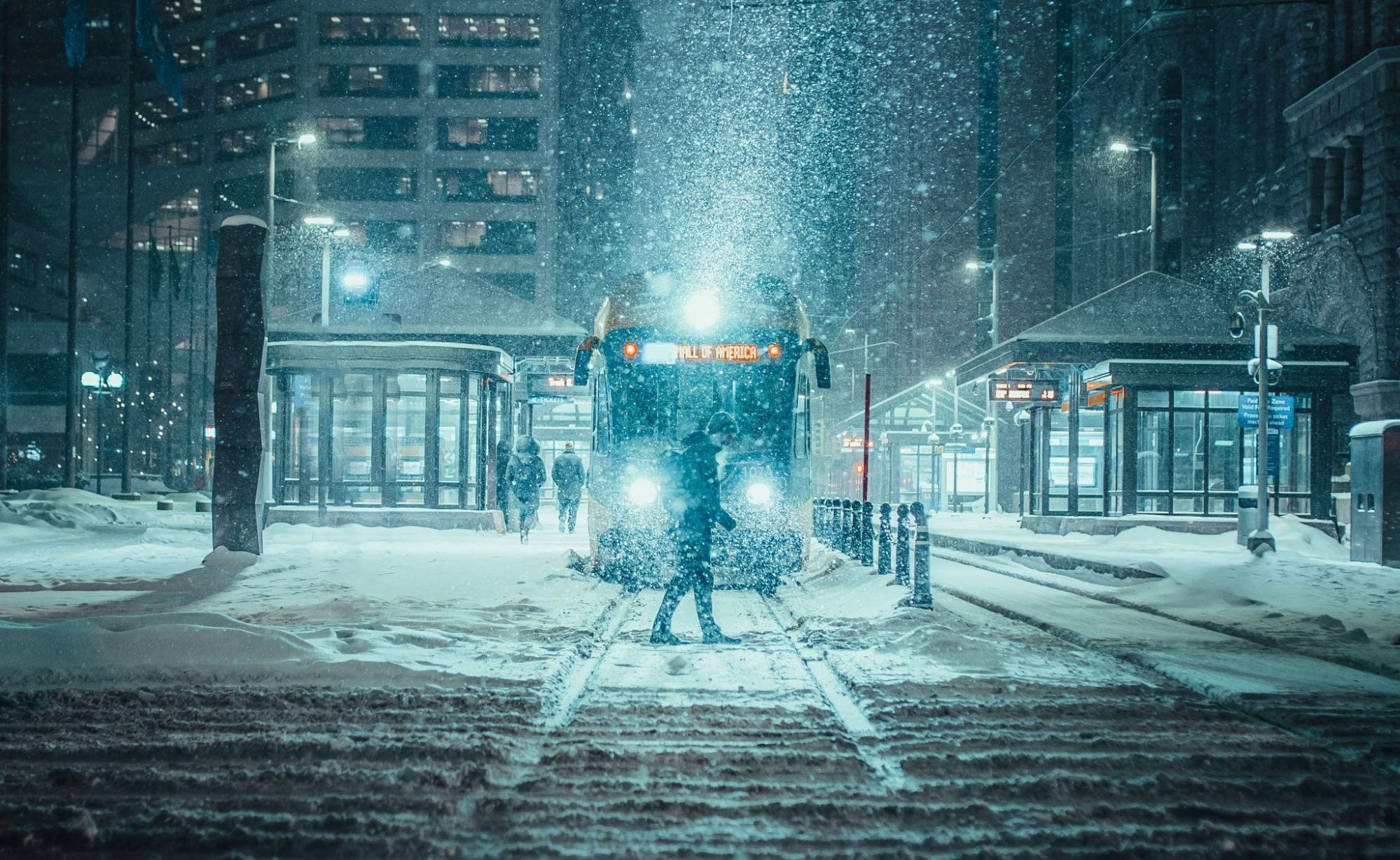 How VIP Will Always Be There for Your Winter Event Needs
For event planners and those hosting parties who are looking for portable restroom trailers, some questions may arise about winter events, winter weather, and how VIP To Go can handle more extreme weather conditions. In addition, our customers inquire as to what steps VIP takes to continue providing top-level restroom trailer services, even during the more extreme winter months.
Well, in this post, you're going to learn all about it.
If you're concerned about winter events and want to throw a holiday winter party, but aren't sure how to keep pipes from freezing in trailers (specifically, your mobile toilet trailer), this post will explain how VIP provides luxury bathroom trailers you can count on, always — even during extremely cold winter weather.
Winter Weather Impacts the Portable Restroom Business in a Number of Ways – But VIP Stays Ahead of These Challenges
In the winter, our East Coast office has a much lower demand for rentals, since there's less going on outdoors. However, it's also true that there are a lot of winter events going on that do require luxury restroom trailer rentals. Some such winter events include:
Thanksgiving parades
Christmas and New Years' events
Corporate retreats
Winter park holiday events
Winter wonderland events
Outdoor skating and skiing
Local winter festivals
Since the temperature in many of VIP's high service areas falls below 30 degrees at this time of the year (especially on ski resorts), our luxury restroom trailer rentals are specially-designed with a built-in winter system that's fully integrated into the fundamental design of the unit. This package includes:
Built-in heaters that warm each unit individually and keep users comfortable
Heating for the water tank, utility closet, and waste tank for removal to prevent freezing
In other words, as long as the trailer is plugged-in to electricity for the entire duration of the rental, the trailer will operate smoothly and the user shouldn't be affected by dropping temperatures.
But even beyond this, VIP stocks all parts (pipes, valves, etc.) in the office in case a problem does arise. If a frozen or broken part needs to be replaced, we can handle it on a case-by-case basis.
Regardless of the time, day or night, each trailer that's returned from any job site in the winter is hooked up to a tank with antifreeze, which is run through all the pipes, showerheads, urinals, and sinks to prevent cracking or freezing while the unit is not being used.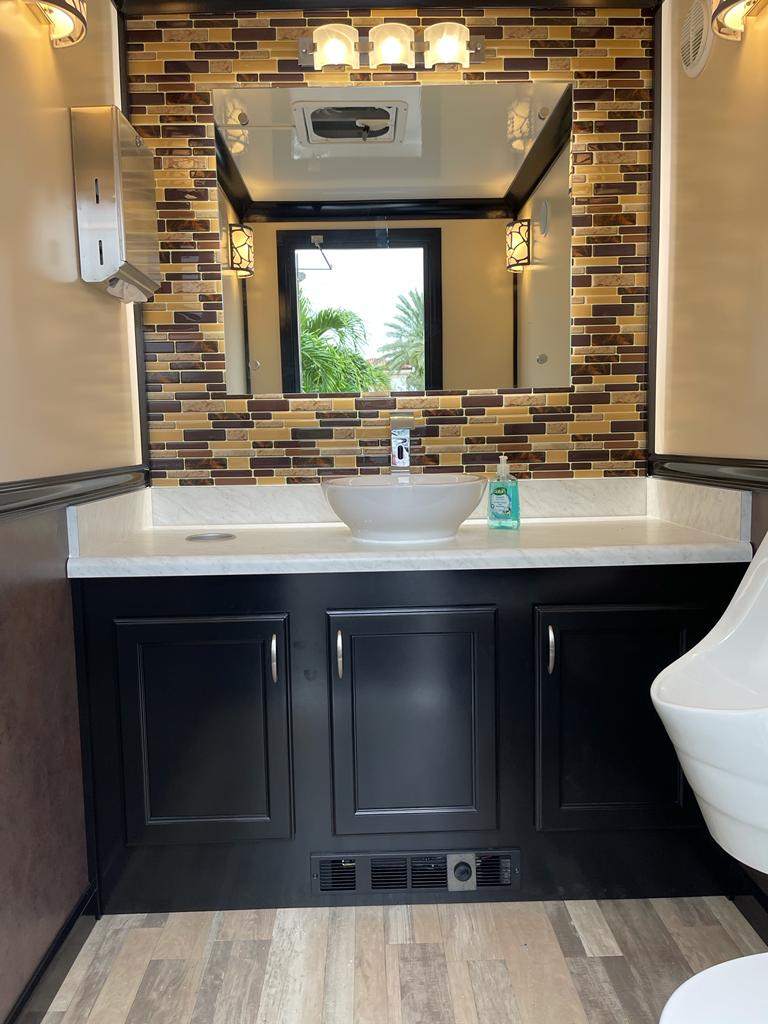 In Case of Extreme/Severe Weather Conditions
When emergency weather conditions are expected, we can provide customers with a tie-down package—which includes big metal screws that go into the ground, and heavy-duty chains that can be used to tie each trailer down.
With that being said, because our trailers weigh 5 to 15 thousand pounds, if you're not dealing with hurricane-level conditions, the wind won't pose a problem.
Our goal, in all cases, is to prioritize our existing clients and take care of them, regardless of the situation.
We're truly committed to doing whatever it takes to help each individual client, under any condition, and in any circumstance.
And severe weather doesn't change that.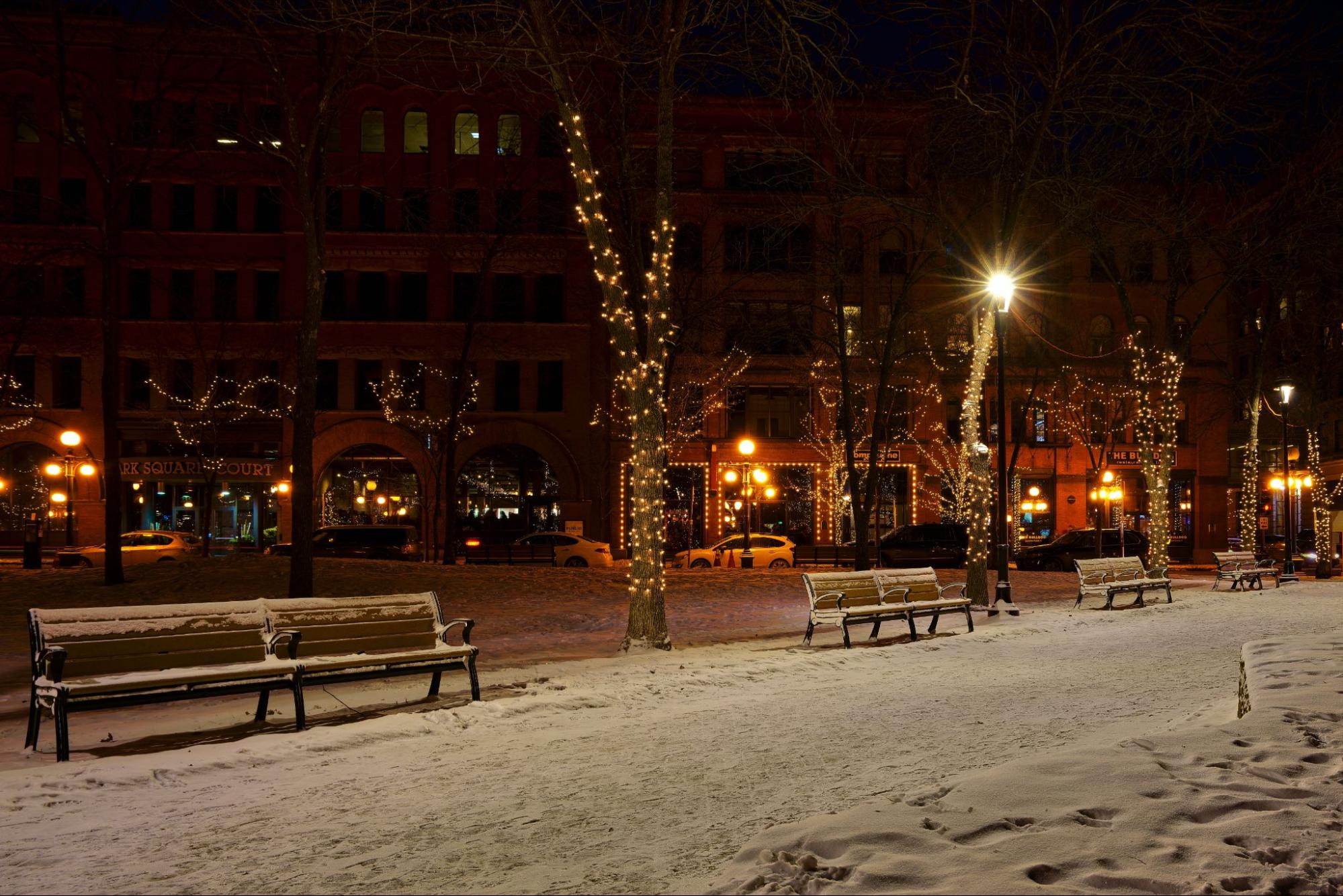 Trailers Are Built with Everything in Place for Smooth Events Year-Round, with Comfort and Safety at the Forefront
VIP is a water-based business. We clean with water, utilize water in tanks and sinks, etc.
And to be honest, there's a lot that can go wrong with water in the cold weather.
When it gets cold enough, it's not at all uncommon to end up with cracked/frozen tanks, cracked valves, and other types of frozen-water damage.
This is why it's so important for VIP To Go to be available to customers 24 hours a day.
Our services are in-demand during these times because this is precisely when our customers may need the most on-call support. In this sense, our services aren't so different from those offered by big road/utility companies; we can't/won't just close if it gets too cold.
Our trucks are ready to leave extra early during this time of year. We also keep extra staff on backup, and even keep people in the office at all times (around the clock – literally) so that we can get to any service location if support is needed.
During these slower winter months we take advantage of the slow-down to focus on a few different things:
We reflect on what to do better for the summer, and prepare for the busy season ahead
We make sure that every trailer that's out there, that is affected by cold weather, is well serviced
VIP Will Be There 100% For All Your Winter Event Needs
When there's a storm, VIP will maintain a crew of drivers to sleep on-premises for as many days as is necessary, with showers, sleeping arrangements, and catered food—just to be ready to respond to winter emergencies as quickly as possible.
The same is true for summer. As sole provider of portable restroom trailers to major utility companies and other essential service providers, we are always on call.
Even if the weather doesn't seem that extreme, and even if it's just getting a little bit windy or if the temperature starts to drop, VIP will get on the phone with our customer's tactical team to prepare for the worst-case scenario.
This is how we always stay a step ahead of the weather, to make sure we show up for our customers – always, no matter what the weather.
We Can Be There for any Emergency Because we Anticipate Needs and Plan Ahead
VIP is a FEMA-approved (Federal Emergency Management Agency) major provider to utility companies in New York, the Tri-State area, and South Florida. We also provide restroom trailers for oil refineries in Texas.
Simply put, we operate 24 hours a day and stand prepared to respond to any client needs or emergencies.
We have alerts that go into place if something comes up with bad weather in one of those areas, and always have action plans in place in case the weather turns severe. This process starts with getting customers on the phone to see what they're anticipating. And then, based on that, we'll prepare trailers accordingly.
For example:  If the coast gets hit hard by a storm, and if our utility company client estimates that they may need to run a dozen extra crews, we prepare extra equipment and bring the necessary trailers out to those areas to service those crews.
We even utilize our own snow-plows so we can dig our trailers out of our premises without delay, which empowers us to get trailers in place for our customers as quickly as possible.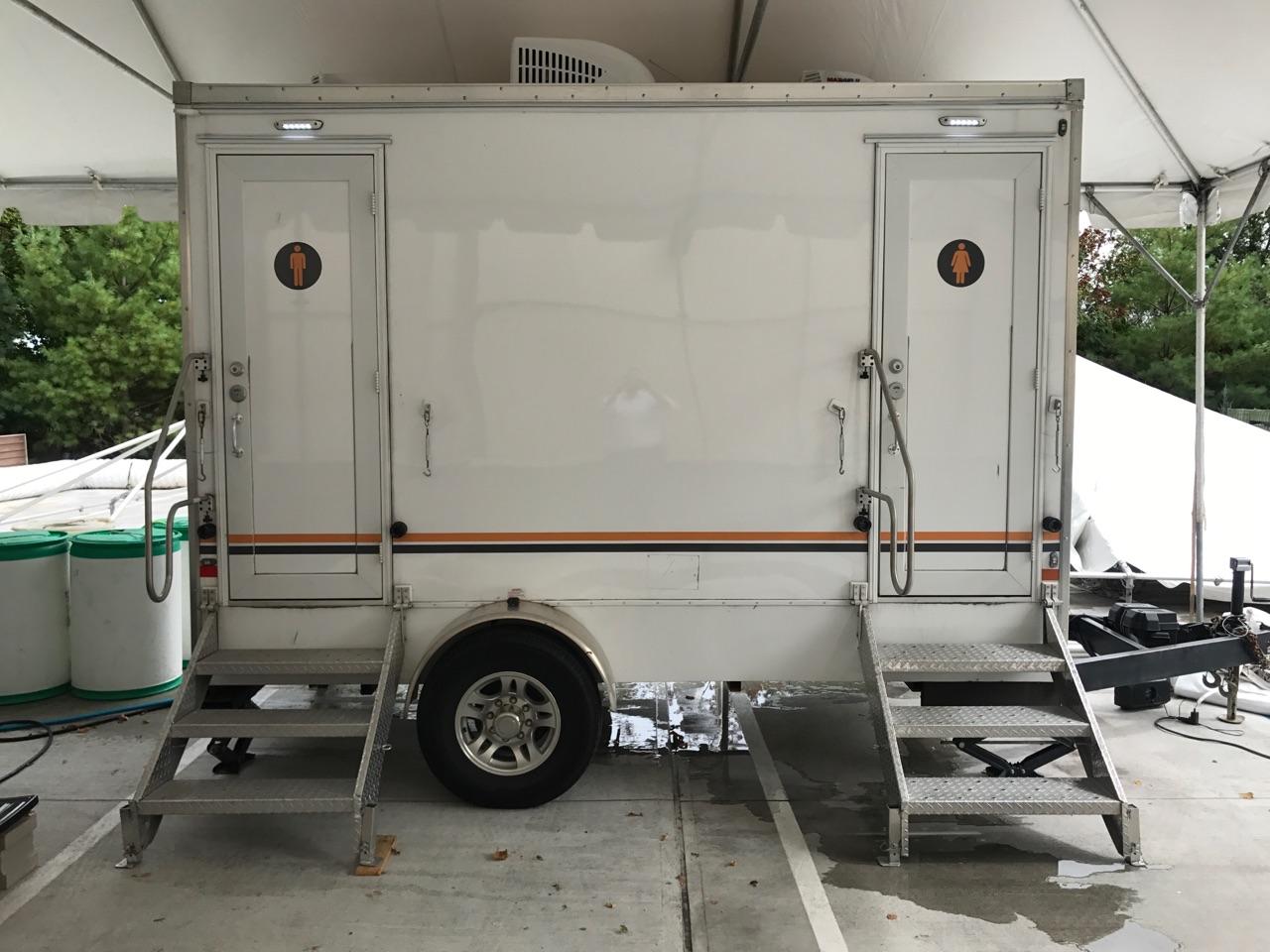 Customer Satisfaction Is Our Primary Focus
For many years, VIP has been providing restroom trailers for NBC and Macy's Thanksgiving Day Parade.
Last year, the night before Thanksgiving, everything froze. A cold weather storm had unexpectedly set in.
At 5:30 am, VIP got a call that the water wasn't running in the restroom trailers.
Just 45 minutes later, our crew was on-site to fix the problem.
Here's the thing.
Anytime a customer or client has a problem, VIP always follows up with a solution.
In some cases, this may mean sending out a crew for maintenance.
In other cases, the problem can't be fixed quickly enough and we may need to send out new trailers.
In this specific case, the problem couldn't be resolved quickly so we pulled out those frozen trailers and replaced them.
By 7:30 am, the venue was up and running with new trailers, and the show went on without a glitch.
Now, servicing ski resorts presents the opposite type of challenge.
They actually wait for cold weather and storms to set in, and then they get super busy.
VIP, therefore, stays flexible so that we can perform these deliveries at last minute notice.
Last year in January, for example, a big snowstorm ended up swamping one of the ski resorts we service, which doubled and then tripled their normal restroom trailer orders.
But we were still able to meet their needs because we remain ready 24/7 and we expect the  unexpected, so that we can do what's necessary to take care of our clients.
That's just how we manage things here at VIP.
There's nothing as important as taking care of our customers, and extreme weather definitely won't keep us from doing that.
Finding Disaster Response Trailers for Winter Weather or Winter Events
If you've found yourself typing "portable restroom trailer rental near me" or "how much does a porta potty trailer cost to rent" into your internet search browser, you can feel confident that VIP can help you.
For portable toilet trailer rental prices, check out this page.
If you need more information on what to plan for in terms of restroom trailer rental costs, check out our rental info page.
Need portable showers, even in the winter? Check out our specialized Eight Station Shower Units.
If you're needing to figure out how to figure up the cost of a restroom trailer rental, check out our Portable Toilet Trailer Rentals Guide.
For some other examples of specific VIP restroom trailer rental costs (or for more information on portable restroom trailer rental prices/quotes), check out our 2 stall portable restroom trailer (or whichever size you require), and click on the 'book this trailer' button to get specific price information.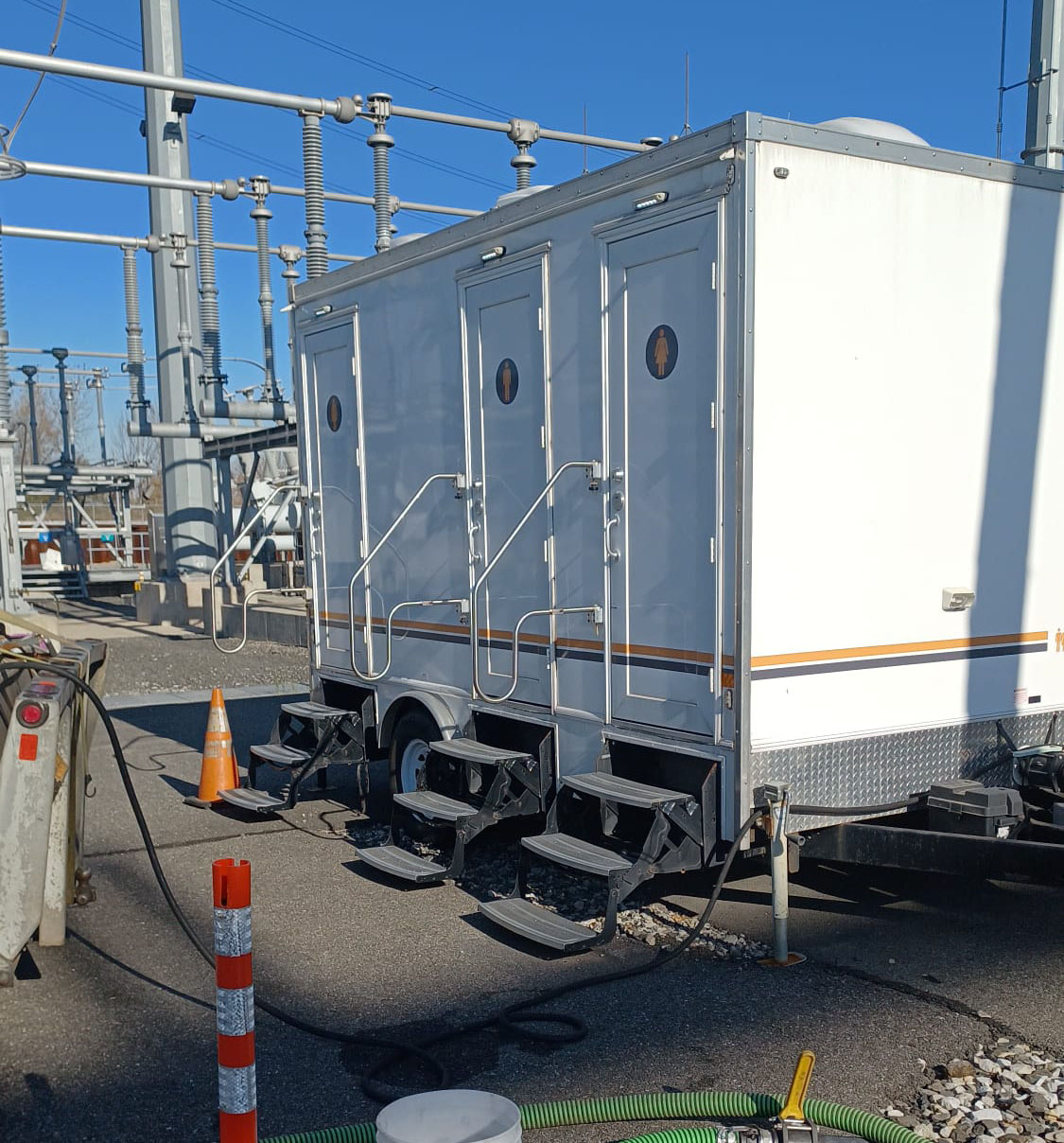 Conclusion
Winter events require restroom amenities that you can count on, even in unpredictable weather.
And this is exactly what VIP To Go can do for you.
Obviously, every job site and event is going to need restrooms.
And in this post, we've discussed how VIP goes to whatever lengths necessary to make sure to take care of their customers—even for the coldest weather, and even for winter events that take place below freezing.
In other words, VIP has your back!
Contact us today if you have any questions, or if you would like to reserve a world-class restroom trailer today.