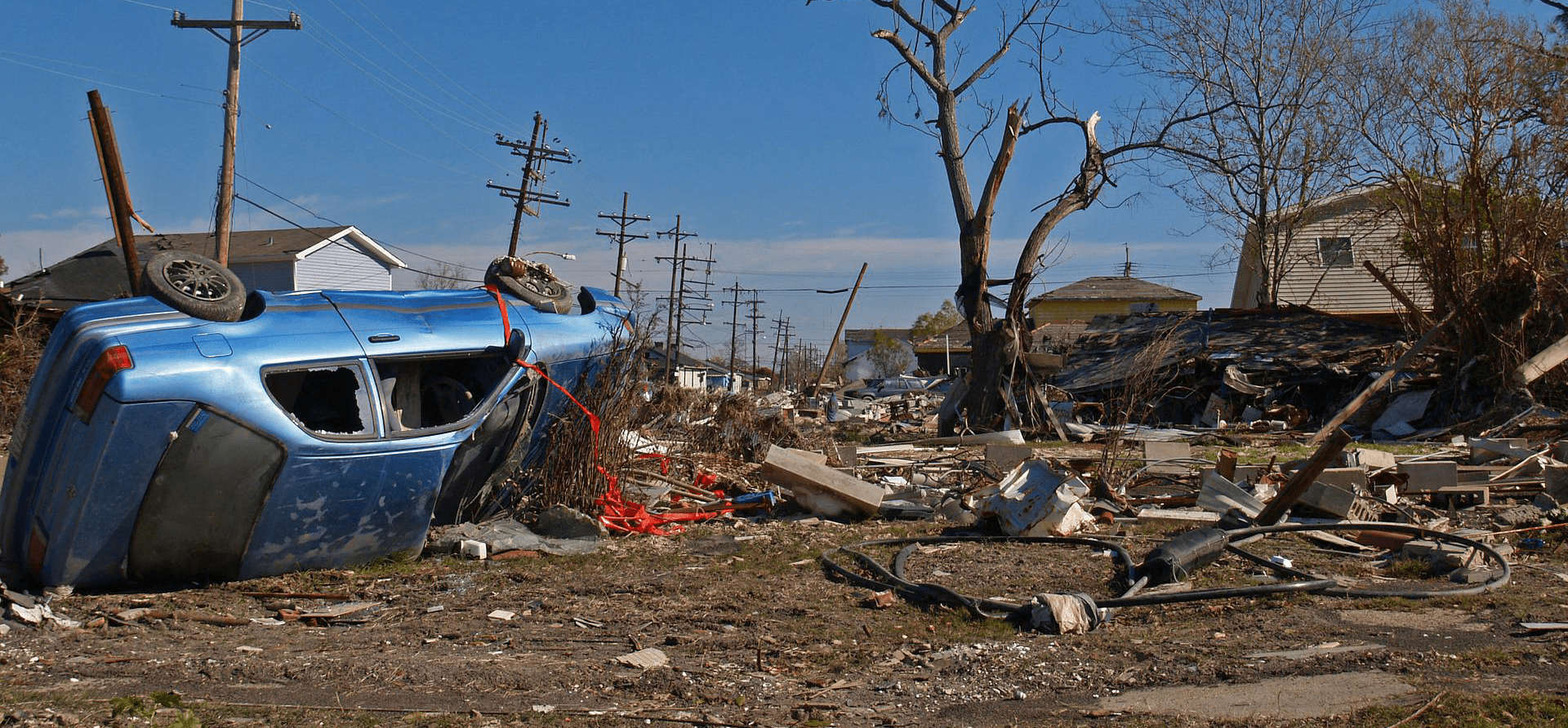 Disaster Relief Restroom Trailers for Natural Disasters in Louisiana
Louisiana has a rich history and culture that it can be difficult to learn all about in just one lifetime. It has been home to everything from pirates to big storms to voodoo queens.
Bordered by the Gulf of Mexico, Louisiana is known for its beautiful weather, captivating scenery, fascinating culture, and enthralling festivals, but it doesn't stop there. This state also has a history of getting pounded by storms and other devastating natural disasters.
Natural disasters in Louisiana are a common occurrence, as this state has its fair share of tropical storms, flooding, hurricane devastation, and other natural disasters Louisiana. In fact, Louisiana ranks third in the United States in terms of the number of hurricane landfalls it receives per year. And it's easy to see why: states located along the Gulf of Mexico are at greater risk from hurricanes and other natural disasters like tornadoes and floods.
In this article, we will discuss the damage that's left by Louisiana natural disasters like storms, hurricanes and other weather-related challenges. We will also cover recovery efforts, Louisiana clean up, and the need for a service-based company to provide emergency response trailer shower units, and other relief and recovery services.
Damages Caused by Louisiana Natural Disasters
Storms happen every year in Louisiana, with damaging effects on the oceans, land, people, and economy. Of the serious hurricanes in Louisiana history, recovery efforts take years to complete, as individuals, businesses, local agencies, and the economy struggle to resume normal functioning.
Here are a few examples of several recent Louisiana hurricanes and the extent of their damage and devastation:
Hurricane Katrina: Hurricane Katrina in 2005 was one of the worst storms to ever hit the United States and one of the worst hurricanes in Louisiana. The storm caused $125 billion in damage and killed an estimated 1,800 people. The strength of Hurricane Katrina was especially surprising because its effects were so widespread. The storm spread out over hundreds of miles of land and water, causing flooding everywhere from New Orleans to Arkansas City and causing lots of injuries, including damage to buildings and infrastructure.
Hurricane Rita: Hurricane Rita was a Category 3 storm when it made landfall in 2005. It caused about $24 billion in damage and killed about 120 people. The impact of Hurricane Rita was felt from eastern Texas to Alabama. Rita's winds, rain, and tornadoes caused extensive property damage, including damage to coastal areas in southwest Louisiana.
Hurricane Ike: In 2008, Hurricane Ike was one of the strongest storms to ever hit the Gulf Coast. The damage and effects of Hurricane Ike were crippling. It caused $30 billion in damage and killed more than 200 people. It caused lots of damage to homes, schools, and other buildings.
Recovery Efforts
Federal government agencies like the Federal Emergency Management Agency (FEMA) and the United States Coast Guard (USCG), as well as state and local agencies, federal and National Guard soldiers, non-government organizations, charities, and private citizens, all helped in the Louisiana clean up and gathering disaster recovery resources after Hurricane Katrina and other hurricane outbursts.
Some of the basic needs that were met by these organizations and charities include:
Food
Shelter
Hygiene
Dental care
Medical services, and so on
Disaster Recovery Response Services by VIP To Go
As a service-based provider of disaster relief restroom trailers, VIP To Go will rush to accommodate whatever or wherever disaster relief services are required. So, whether there's a pandemic, hurricane flooding, earthquake, or any other natural disaster Louisiana, we are always ready when a need for disaster relief restroom trailer
s comes up. We will meet and deliver whatever the need is, and we are here to help you prepare for whatever comes up next!
At VIP To Go, we work hard to ensure that our services are reliable and effective. We understand how important it is to quickly get disaster recovery resources into place after an emergency or disaster strikes, so we're ready to go at a moment's notice.
So, what's the disaster relief response process at VIP To Go? As soon as there is a forecast of an impending storm, we help you prepare for the worst scenarios by gathering units from other areas and keeping them nearby in secured lots where they are safe till after the storm hits. We also line up emergency staff who can assist with preparing and deploying disaster recovery resources if that becomes necessary.. Some of our staff are even prepared to sleep over at the office if their assistance servicing customers is necessary and road conditions become unsafe for driving.
VIP To Go prepares restroom trailers for disasters, designed with the specific needs of people in emergency situations in mind. The trailers come with everything users need for basic hygiene: water, electricity, a toilet and sink, hand sanitizers, etc. We also provide emergency shower trailers to help victims freshen up. Generators and water tanks are available in case access to running water and electricity are not available.
Here's a quick rundown of the scene that has replayed itself many times at the VIP headquarters following a natural disaster.
Calls for disaster relief restroom trailers start pouring in from disaster relief sites, FEMA, individual county emergency management departments, utility companies, crews servicing damaged sites, etc.

VIP responds immediately by deploying as many units as required. When our services are required in a state of emergency situation, we work around the clock and ensure that there's enough staff and portable restrooms available for the disaster relief effort. Our drivers are experts at navigating through hard to access areas to provide relief to stranded or displaced people.

We provide continuous servicing and maintenance of the emergency restroom trailers for as long as needed.
At VIP, our reputation precedes us. With our strong reputation as a reliable service vendor committed to providing disaster relief resources, one call for emergency restroom trailers or emergency shower trailers takes care of it all. We always come through! Usually, when there's a state of emergency in Louisiana, other portable toilet suppliers are swamped with work. Sadly (and this happens more often than not), they start raising prices to the point of price gouging. But that never happens at VIP.
By being honest, we have gained a lot of business and have kept many customers for years afterwards. While we get paid for our work, we do not take advantage of others in times of need. And we make sure to always deliver on time.
Emergency Shower Trailer Units and Services for Disaster Relief in Louisiana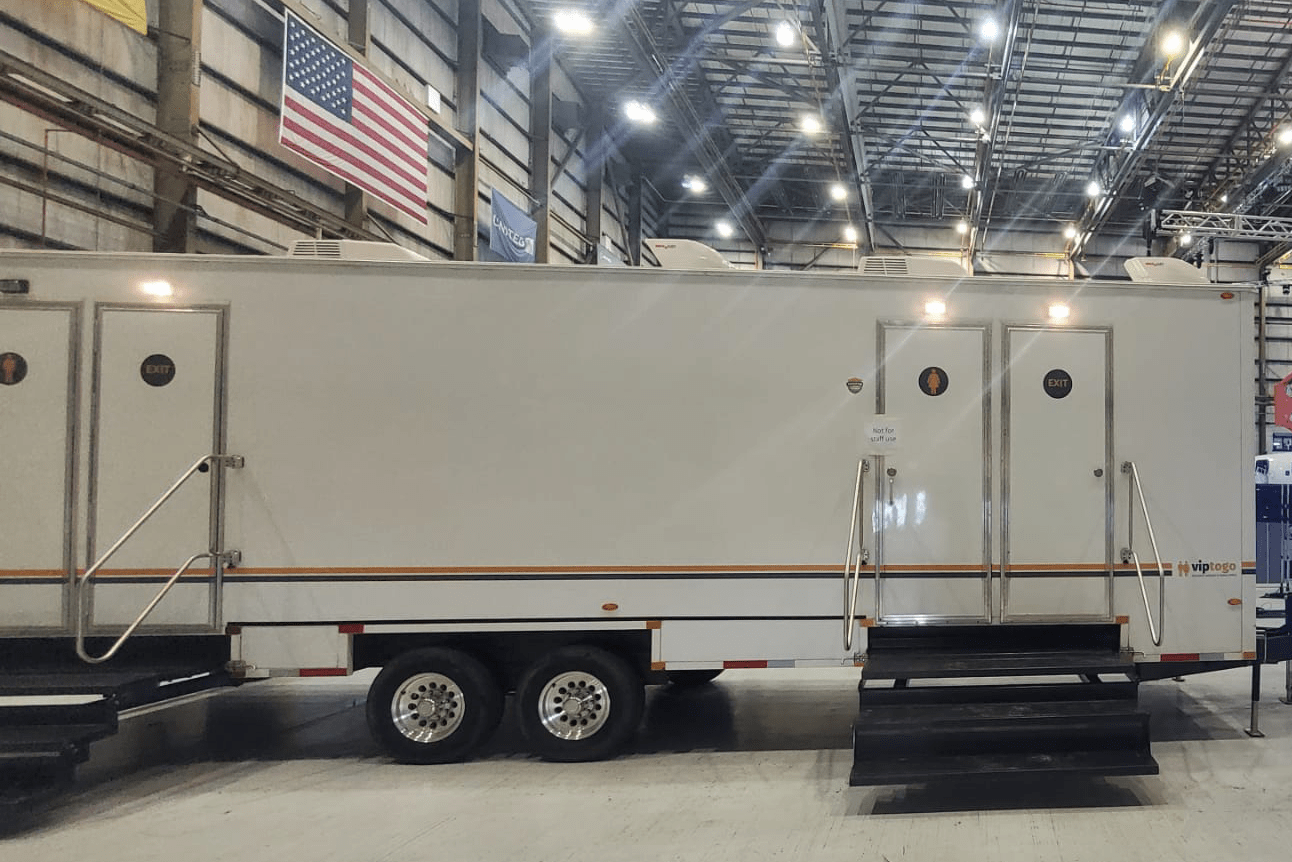 At VIP To Go, we do our best to meet all restroom and bathroom needs during natural disasters. Here are some emergency shower trailer rentals and disaster relief porta potty units and services that are often needed during natural disasters in Louisiana.

Restroom Trailers
Disaster relief restroom trailers are an excellent choice for refugees or those who have been displaced by natural disasters such as hurricane flooding, and are in need of using restrooms. These disaster relief porta potty trailers come in various sizes and styles and have sinks, toilet paper, hand sanitizers, etc.
Our portable restrooms for disaster relief are built with durability in mind, so they can withstand the wear and tear that comes with this type of use.
Shower Trailers
Schools, churches, medical facilities, and other buildings are converted into shelters during a natural disaster. But while people have a place to sleep, there's often a shortage of places to use the restroom or shower. And this is where our shower trailers come in.
People who are displaced from their homes and live in shelters without showers can use our emergency shower trailers. Choose from smaller or larger disaster relief showers that are equipped with several shower stalls and provide a clean and comfortable temperature-controlled environment for victims to clean up and refresh. We can provide shampoo, soap, towels, and other necessities that may be difficult to obtain under the circumstances.
We have a variety of emergency shower trailer combos that will allow our users to feel comfortable. These trailers combine shower stalls with toilets, sinks, and other restroom necessities. These shower trailer combos have everything you need in a full bathroom, contained in a small space.

Sink Trailers
Sink trailers are an important component of your disaster relief plans because they provide a safe, sanitary place for people to wash up during a natural disaster. At VIP To Go, our sink trailers allow a large number of people to wash their hands with touchless faucets and hot or cold water. They're built to handle crowds and are easy to use.

Pumping Waste from Trailers and Recreational Vehicles (RVs)
When a storm hits, thousands of people are forced to evacuate their homes and leave behind everything they own. Heavy use of restroom trailers and RVs creates a lot of waste water that needs to be regularly pumped out and disposed of.
Final Thoughts
Natural disasters in Louisiana are quite common. Louisiana has been ravaged by storms, floods, hurricanes, and earthquakes over the years, and there's always a need to prepare for an impending storm or disaster. When it comes to portable toilet emergency preparedness for any disaster relief, VIP To Go is one of the best choices you can make.
At VIP To Go, we can help you prepare for the worst scenarios by servicing hundreds or even thousands of individuals in need with disaster relief restroom trailers, emergency shower trailers, and more.