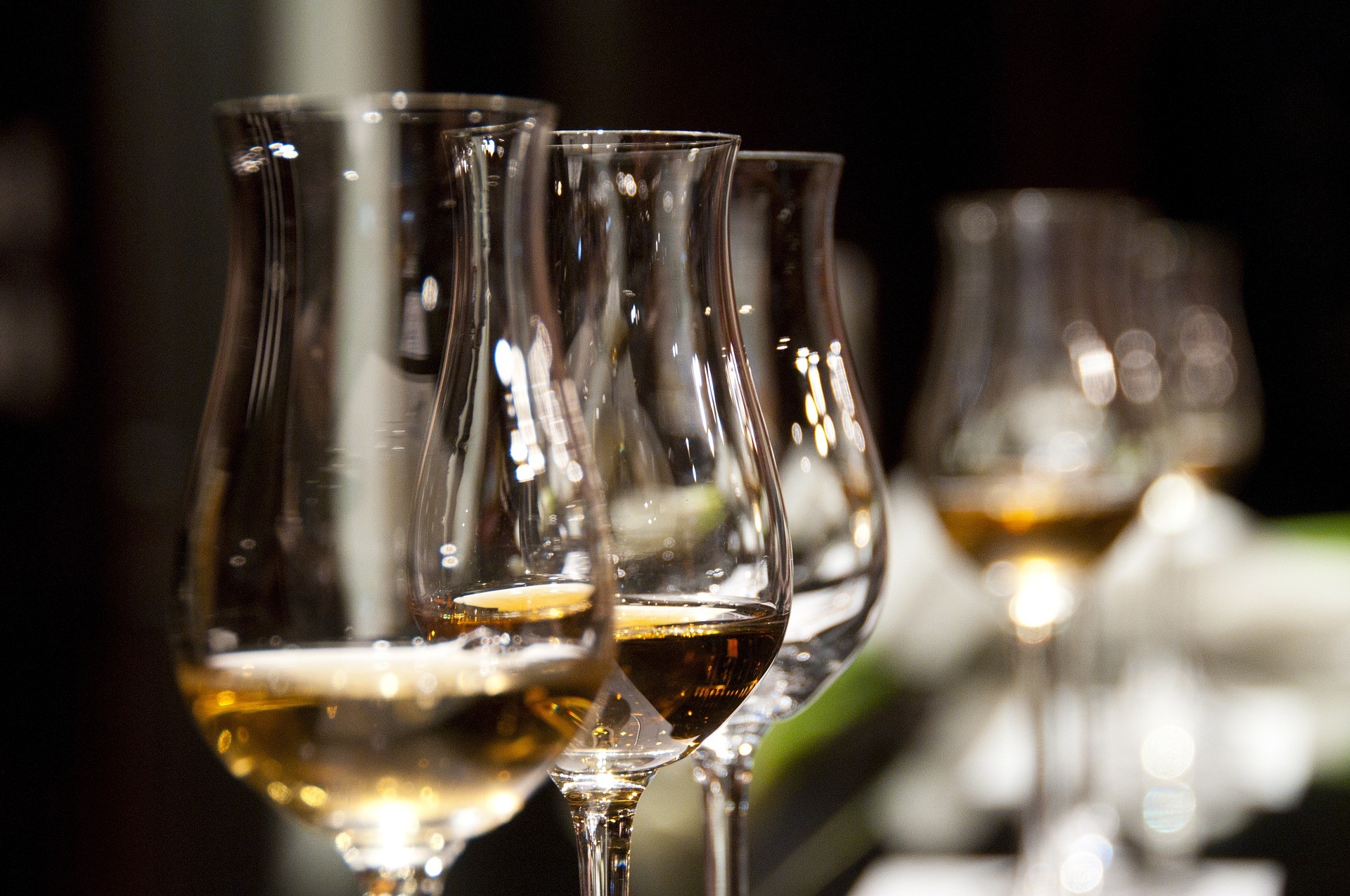 Restroom Trailer Rental for a Wine Tasting Event
Hosting a wine tasting lets you share your love of this delightful beverage with friends and family. If you are not very familiar with wines, you can hire a wine tasting host from a local vineyard, but being the host at a wine tasting party is a great way to learn from others. You can learn some tips and tricks by visiting vineyards that offer wine tasting in New York, go to an event for wine tasting in NYC, or join a tasting room wine club. Once you feel more comfortable with the practices of wine tasting, you are ready to organize your own event. Here are some tips for planning a successful wine tasting event.
Venues for Wine Tasting Events
Wine tasting events can be held indoors, such as at a wine tasting room at a vineyard that offers wine tasting in upstate NY, or outdoors. Because wine making has such a close connection to agriculture, planning your event outdoors is a wonderful way to celebrate the lifestyle.
Some unique venues for hosting a wine tasting are:
Troutbeck, a 250-acre private estate that combines nature, luxury, and creativity
The Wild Walk in the Adirondack Forest, featuring a human-sized woven bird's nest with spectacular views
Letchworth State Park where you can host a wine tasting next to a waterfall or along the Genesee River
Frank Lloyd Wright's Graycliff, an architectural masterpiece along the shores of Lake Erie
The Secret Sidewalk, a location just outside Rochester that feels inspired by the artistic greats
Griff's Sculpture Park, where your guests can enjoy their wines while wandering through open meadows adorned with 250 sculptures
If these locations are a bit out of the way, check out 1 Hanover Square and Pratt Mansions Fifth Avenue. These venues will certainly impress your guests.
Setting Up the Venue for a Wine Tasting Event
Once you have a clear vision for your ideal wine tasting event, it's time to plan the logistics. Go through the details as if you were a guest arriving at the event. You will need to have plenty of parking, so consider valets or self-park with a shuttle option if the venue is far from the parking area. The next area for your guests is the reception area where they are greeted, given gifts, and introduced to the venue layout. The rest of the location should be set up with an area for the wine tasting, restrooms, and open areas for mingling.
Having restroom facilities at your outdoor wine tasting venue does not have to detract from the aesthetics or theme. Be sure to work with a vendor that offers luxury restroom trailer rental units. Restroom trailer rental is a nice convenience to have for your guests rather than having them searching for the nearest public bathrooms. For small gatherings, you can have a single two-stall portable restroom trailer that is ADA-compliant with an exterior ramp, handrails in the stalls, and sinks that can be used while in a wheelchair. For larger wine tasting events, your restroom trailer rental should include a combination of regular and ADA-compliant facilities.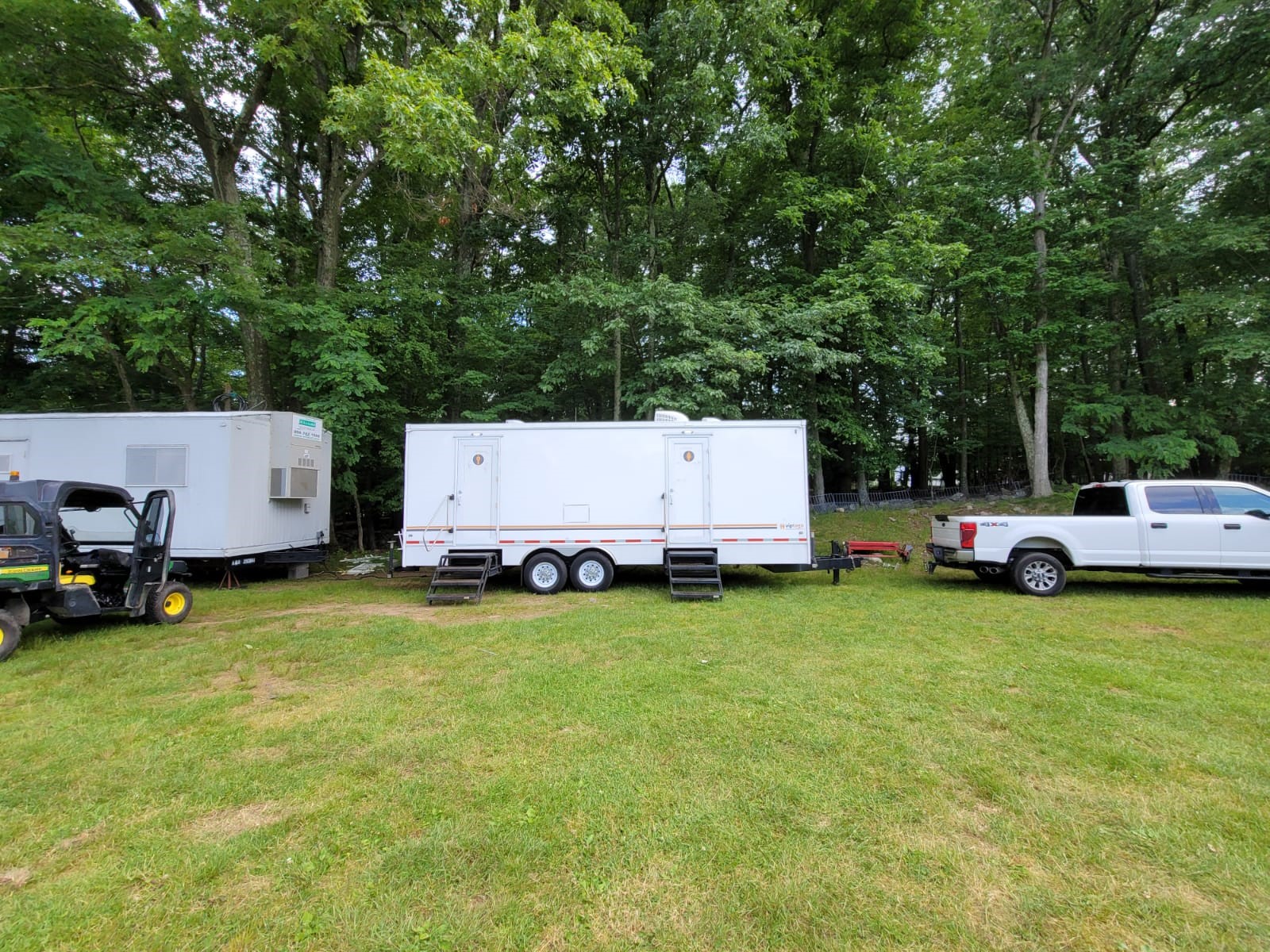 The vendor can help you find the best locations for your restroom trailer rental units at the venue. The trailers should be set up away from any food and beverage stations, yet easy for guests to find without walking a great distance. In addition to your restroom trailer rental units, handwashing is another consideration for hosting a wine tasting event outdoors. A 12-station sink trailer is a great option for managing the traffic flow at the venue. Your guests can freshen up while keeping the restroom trailers open for people who need to use the bathroom.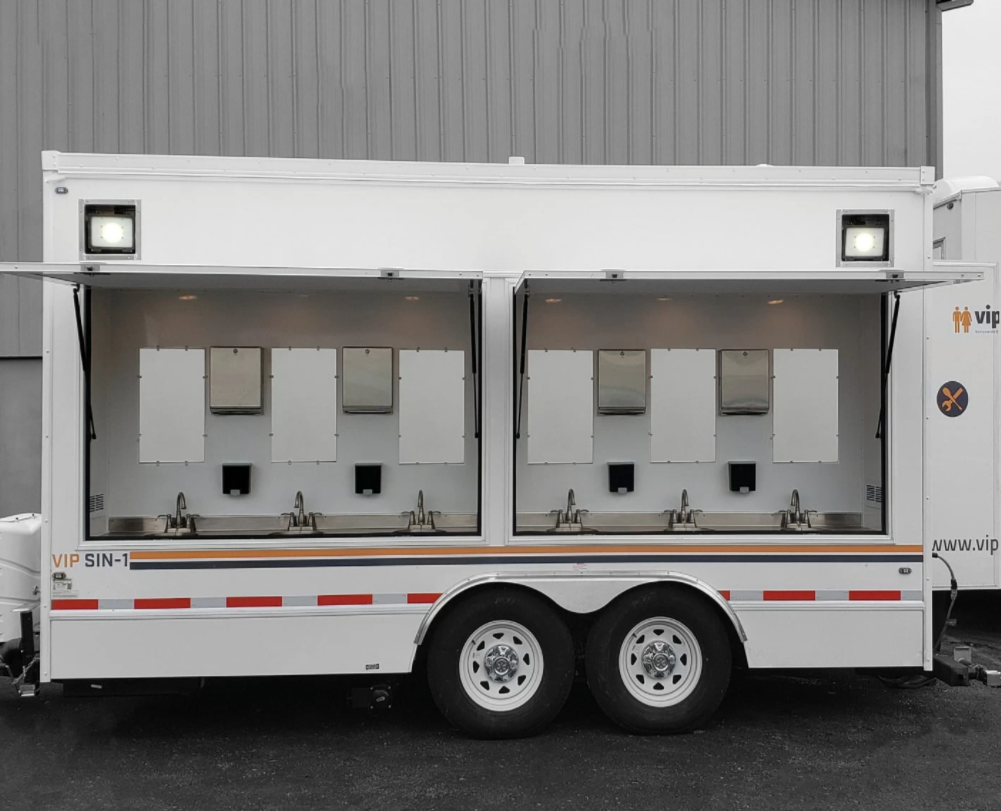 Wine Tasting Party Ideas and Themes
Once you have the venue selected for your wine tasting event, start to think about the theme of the party. Wine tasting parties have four general themes:
Horizontal wine tasting means that you offer wines from different wineries, but the same vintage (the year that the grapes were harvested)
Vertical wine tasting means that you offer different vintages from the same winery
Blind wine tasting is one of the best wine tasting games where your guests taste wines from the same varieties of grapes, and they have to decide the region
Double blind parties are another of the more popular wine tasting party ideas in which the bottles are hidden inside a bag and your guests have to guess the varietal, vintage, and region
If most of your guests are new to wine tasting, the theme of your event can be to identify the individual notes, or flavors, in each of the wines. For example, a sweet tasting wine may have hints of honeysuckle, hibiscus, jasmine, and chamomile. Give each of your guests a wine taste chart that lists the various flavors that they may detect in the wine, and they can list them on wine tasting cards. Whoever has the highest number of correct flavors wins a gift, such as a bottle of wine or a collection of the wines featured at your tasting.
Selecting the Wines
Selecting the wines is one of the most rewarding parts of hosting a wine tasting. Use your theme to guide your choices. If you are offering wines from a single vineyard, discuss your plans with them so they can offer suggestions. Another resource is a local specialty wine store that offers wines from different regions of the world. You should not trust your wine tasting event to a liquor store because these shops do not specialize in wine. In addition to wines from the greats in winemaking – Italy, France, the United States, and Spain – offer wines from other regions, such as Australia, Chile, New Zealand, Argentina, and Switzerland.
Wine Pairings
You want to keep the wine as the centerpiece of your event, but there are reasons for offering pairings with appetizers and cheeses. The traditional technique for wine tasting is to take a small amount into your mouth, pick up the flavors, and then use the spit bucket, but not everyone is comfortable with this practice. Therefore, the most practical reason to have food at your wine tasting event is to reduce the likelihood of someone getting inebriated. The more creative reason to have food for your wine tasting event is that food and wine go great together. The best approach is to have appetizers for wine tasting that complement the flavors in the bottle, or you can host a cheese and wine tasting since these two culinary delights go well together.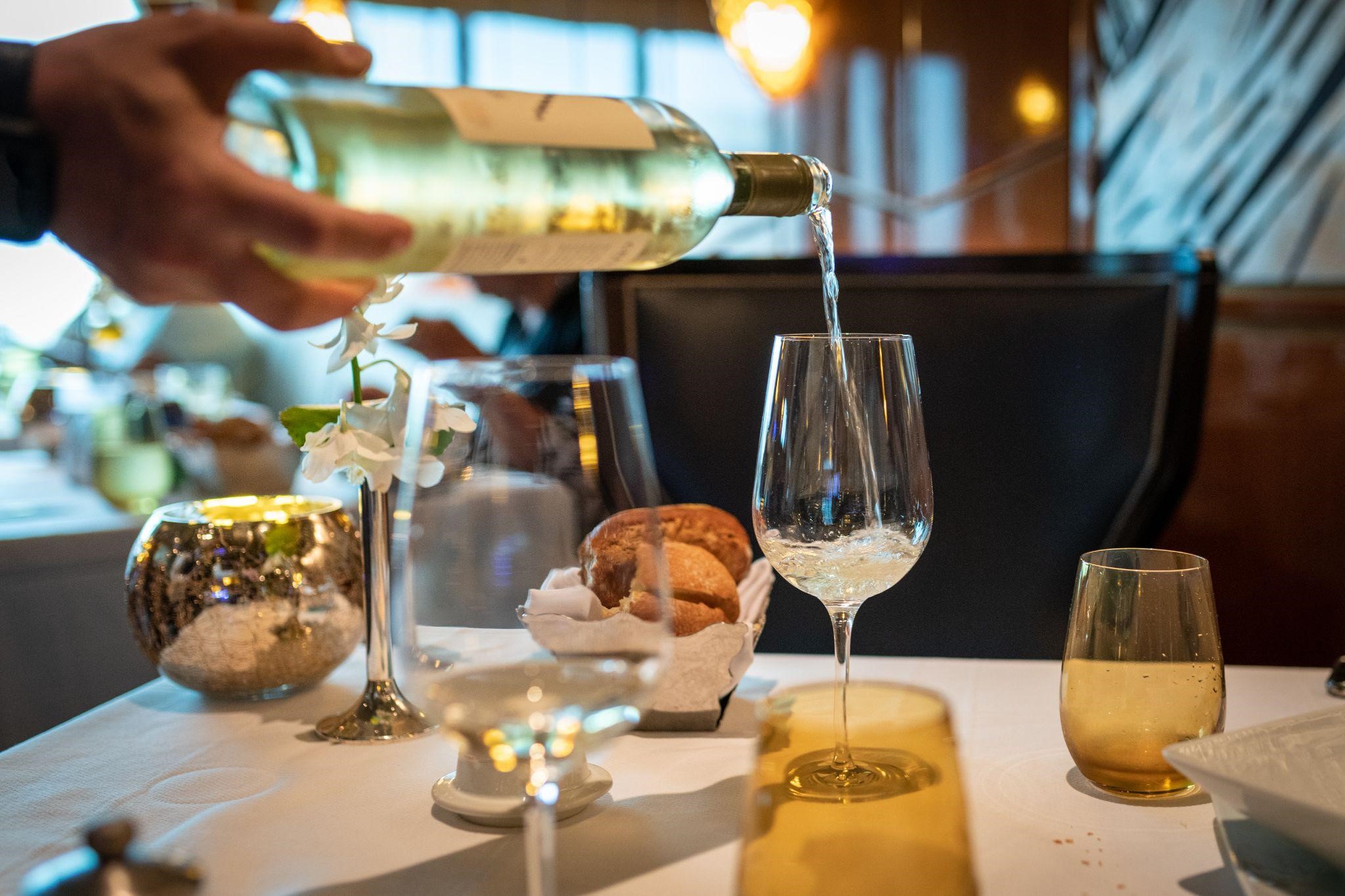 Here are some suggestions for what to serve when you are hosting a wine tasting.
Mushrooms, truffles, and Gruyere with Pinot Noir and Dolcetto
Seafood with Chardonnays
Salty foods with Spanish cava and Champagne (also great with Brie)
Beef and lamb with California Cabernet
Citrus and goat cheese with Sauvignon Blanc
Aged cheddar with Cabernet Sauvignon
Havarti with Provence Rosé
How Much Does Hosting a Wine Tasting Cost?
Hosting a wine tasting in NJ, NYC, or upstate New York gives you many options for venues, wines, themes, and pairings for a sensational and impressive event that will be enjoyed by all your guests. If budget is a consideration, be sure to include all aspects of the party in your wine tasting cost. Check with local wineries, wine shops, and caterers to see if they offer any special wine tasting prices. For the bathrooms, find a vendor that includes all the necessary services in the restroom trailer cost, including set up of the mobile restroom trailer, cleaning, maintenance, and removal of the restroom trailer rental unit from the venue. Also be sure that the company offers a variety of styles so the restroom trailer rental units fit well with the venue.
How to Host a Blind Wine Tasting Party at Home
Blind wine tasting is perfect for when you want to hold the event at home rather than hosting a wine tasting at a venue. Determining how to host a blind wine tasting party at home just takes some creativity and organization.  First, get one or two bottles of each type of wine, depending on the number of guests. Place each bottle in a bag so your guests cannot read the label. During the party, give each person a small sample of the wine. You can ask them to guess the vintage or region, or have them write down the flavors that they taste. As an alternative, you can have each guest bring a bottle of wine that is hidden in a bag.
FAQs
Where do I find wine and cheese tasting near me?
You can look online for wine tasting events and tours in New York, upstate New York, and in New Jersey. Online reviews are a great place to start because you can find an event that suits your individual preferences for venue and style of event.
How much does a portable restroom trailer cost?
If you are planning a wine tasting event, wedding, birthday party, or other, check with a vendor that specializes in restroom trailer rental units. The best vendors have various sizes and styles to fit any venue, as well as the number of guests, so you can work within your budget to include portable restroom trailer rental prices. The service should also include setting up the restroom trailer rental units, cleaning, and removal from the site.
What size restroom trailer rental unit do I need for my wine tasting event?
An experienced restroom trailer rental company can help you decide the best size and quantity of portable restroom trailers for your wine tasting event. Discuss your plans with them, including date, location, number of guests, and theme, and they will guide you through the process.
Restroom Trailer Rental Units for Wine Tasting Events
If you are planning an outdoor wine tasting event, VIP To Go can provide your guests with safe, clean, convenient facilities onsite. Contact us today to learn more about our restroom trailer rental services.