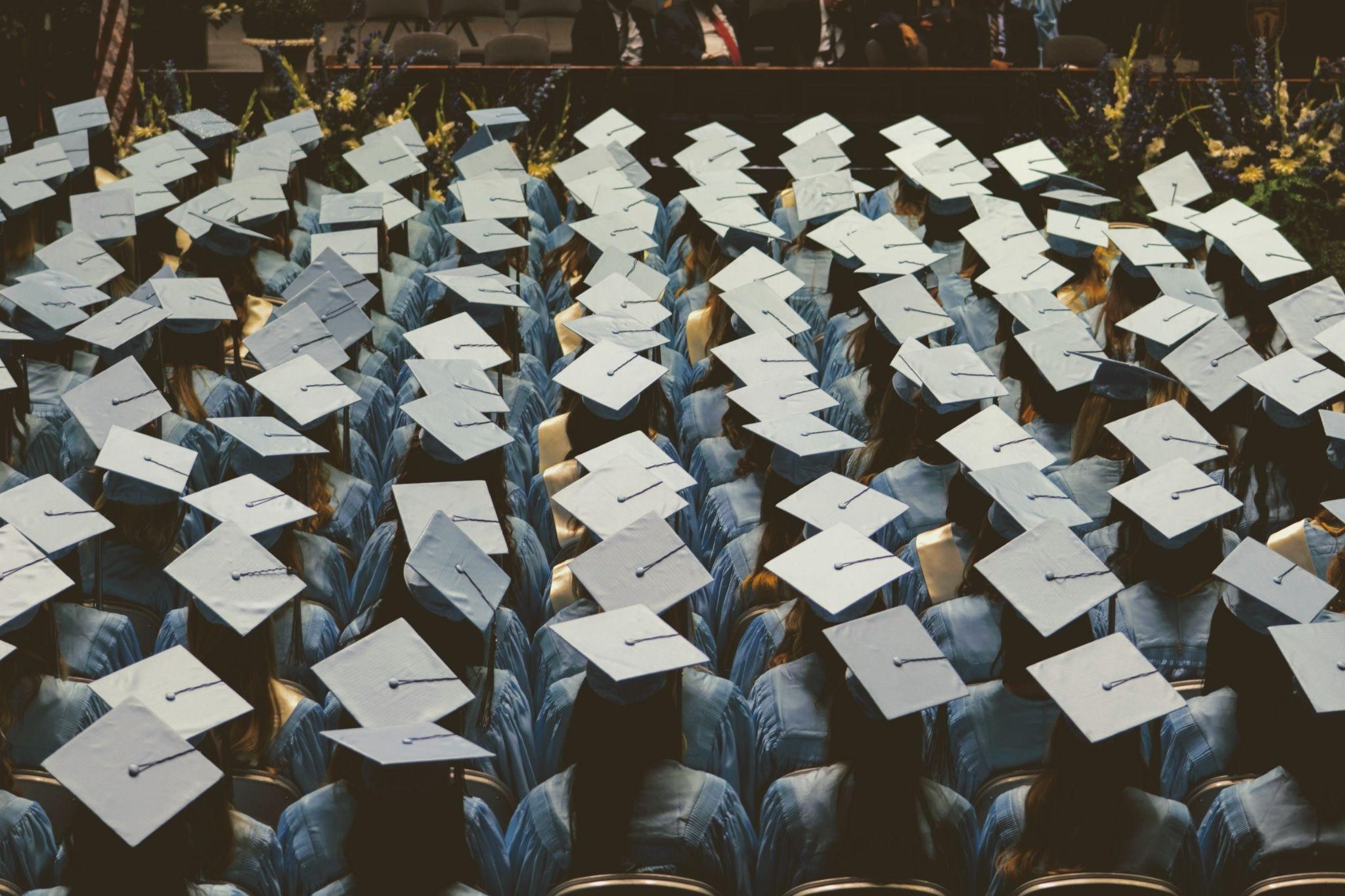 Tips On How To Organize A College Graduation Ceremony
College graduation is a milestone event that seniors look forward to with a vision of a diploma in their hands and proud smiles all around.
As a school administrator, the commencement ceremony is more than just an annual ritual. It is the school's way of rewarding and honoring the students' hard work to finish their coursework and edify themselves with education.
Organizing events on college campuses of this scale requires detailed planning and enough lead time. Anything less could lead to lapses and glitches that could potentially spoil this once in a lifetime moment for graduates and their families.
The success of the college graduation rite hinges greatly on the school administrators' ability to design, organize, execute, manage, and assess the event's elements. While a college or university may have already gained ample experience from organizing graduations yearly, it is still best to approach it like a professional event planner.
In this guide, we will help you fine-tune your planning and make it more strategic so you can save on time, energy, and financial costs while ensuring a well-executed ceremony.
Plan Graduation Event Like a Pro With These Tips
Master how to prepare for graduation to organize an event that passes with flying colors – impressive, memorable, and engaging.
Rationalize Your Event Fund and Flow
First, make sure that the fund and the plan fit. Overspending or underspending means that the ceremony has not been optimally planned and executed.  While graduations are formal events, you don't need ostentatious displays of pomp and pageantry. However, components like procession activities, aesthetics, and logistics must be sufficiently funded.
Eliminate frills and make sure to stay true to the essence of the event – that is to recognize and celebrate your students' achievements. They've earned it and they deserve to be given a proper tribute with an unforgettable college graduation experience that keeps them in focus.
After four years (or more) of hard work, the students have been anticipating this and are expecting it to be a defining moment for them.
You don't have to go beyond your budget to deliver expectations. It can also help to boost the event's visibility to raise funds. You can do this by fostering a sense of community and nostalgia among your alumni that will inspire them to give back and make meaningful donations to your event.
Make It A Safe Space For Everyone
Safety should be your top priority whenever you hold events, especially on campus. Make sure that you have properly designated security personnel especially at entry and exit points, a smooth flow of traffic, ADA-compliant pathways and facilities, and clearly designated and comfortable spaces for everyone from the school officials to the graduates and their guests.
Another way to ensure safety and convenience during the college graduation is by pointing the way to facilities. Along with easy, unobstructed access to facilities, there should be clear signage posted in areas like the entrance and exit, registration desk, canteen, drinking water fountains, and restrooms.
VIP restroom trailers have become staple portable fixtures in college graduation events in the US especially in bustling states like New York, New Jersey, and Florida. Many prominent colleges and universities here and across other states partner with VIP To Go to reinforce health, safety, and sanitation in their major events on campus.
As part of their graduation ceremony logistics preparations, many colleges and universities begin reserving units for restroom trailers as early as February or March. It is best to ensure that essentials like these are ready and in place before supplies run out due to the high demands of the season.
Plan your logistics thoroughly with a detailed graduation planning checklist and tracker. Highlight safety measures during each graduation planning meeting to ensure that all relevant personnel understand their respective tasks and their role in the safety plan.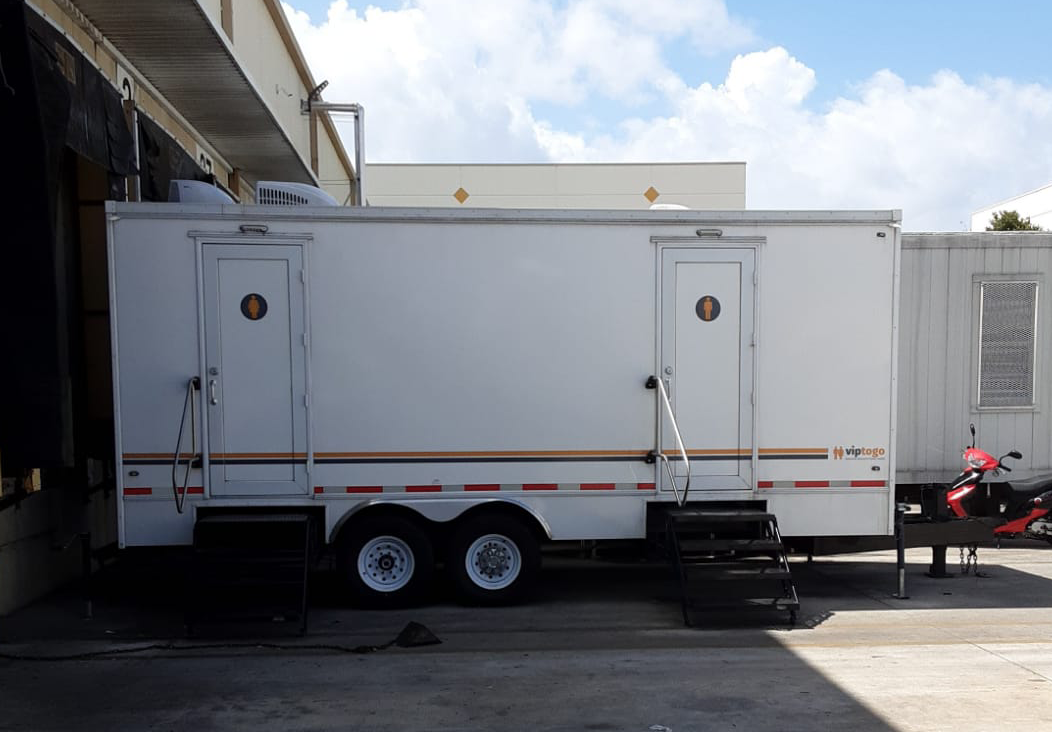 Create A Theme For The Graduation Ceremony
Make each college graduation extra meaningful and special by having a theme for the ceremony. You can base this on the highlights of the academic year, or on a powerful message that relates social issues with the struggles of being a student.
Design a thematic aesthetic for your stage and venue spaces. You can also ask your guest speaker to speak on the theme during his or her speech.
Center the graduation theme on a positive narrative that honors this batch of graduates' unique set of experiences. It's something that can motivate them as they transition to the real world and face the challenges of building their career and responding to their calling.
Gather Graduation Stats and Stories
Create an event that feels alive with meaning and real-life context. You can inject some interesting facts and figures to share with your graduates and audience during the ceremony. You may add some bits of inspiring student stories, the school's journey, and other relevant human interest stories.
Try to incorporate these seamlessly into your program to reinforce your college graduation theme. Make the event more personal and intimate, not simply ceremonial. It should be an empowering and defining experience for your students and should not feel like a clinical exercise they have to participate in.
To do this, you can gather information from graduation records. Do interviews if necessary. You may also prepare graduation questions that the students can answer and use these as sources for your theme and narrative.
Gleaning inspiration from graduation information will drive home the message that the ceremony is specifically about and for your students.
Ensure Ceremonial Details Are Done Right
While shining the spotlight on your graduates and engaging your entire audience gives some leeway for creativity, ceremonial traditions that make a graduation a graduation shouldn't be neglected. From the regalia to the processions to the main ceremony, proper details and decorum must be observed. The order of conferring of the degrees must be set and followed and speeches should be structured and within set time frames.
Conduct graduation rehearsals to ensure that protocols are followed and that there are no surprises on the big day.
Make sure to find a reputable graduation regalia supplier that can personalize and capture your school's spirit like Herff Jones tassels, caps, gowns, crests, and insignias. After all, a successful college graduation ceremony isn't complete without caps thrown in the air.

Proactively Manage Technical and Miscellaneous Matters
No matter how experienced you are, you can't do it alone. Forge partnerships with reliable suppliers and service providers like videographers and photographers, venue designers, audio-visual teams, facilities and materials suppliers to help you cover all your bases. Provide for contingency supplies like medical kits, extra VIP restroom trailers, tents, backup generators, and other amenities in case of emergencies.
Assign technical personnel from the school to take care of broadcast feeds if you opt for a college virtual graduation ceremony or a hybrid ceremony.
Remember that your technical and logistical requirements will vary depending on the size of the graduating class, the weather, the location (whether indoors or outdoors), and health protocol restrictions.
You also need to prepare for last minute adjustments like speech revisions, a VIP guest suddenly showing up, or changing weather conditions.
Make sure that all the little details and big bucket items are ticked off. Be proactive and make sure there are extra chairs, early web streaming test runs, pre-event meetings of all vendors and volunteers, fully set-up facilities and enough supplies, and that you've complied with all permits and security requirements.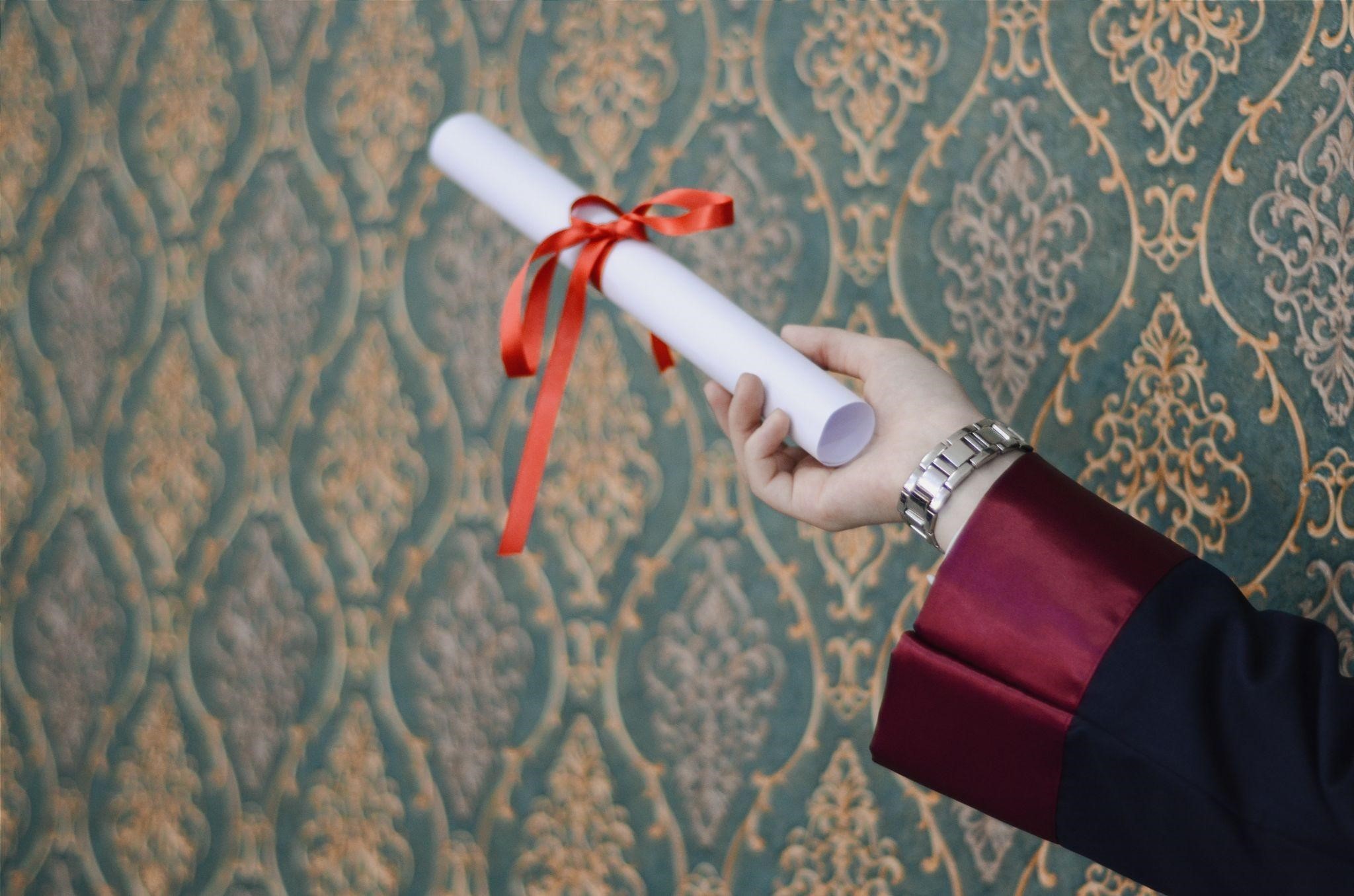 VIP To Go Service For Your VIP Event
When it comes to graduation ceremonies, the graduates, their parents, and faculty are the VIPs. They deserve to be honored for all the dedication and sacrifices they have made leading to this college commencement milestone.
Meticulous planning is necessary to ensure your attendees' utmost convenience and to comply with health and safety protocols. Cutting corners on this day only compromises the ceremony's success and safety.
To ensure your guests' convenience, you'll need portable toilets designed for large graduation events. VIP To Go offers various configurations and sizes of VIP restroom trailers that are suitable for any graduation event.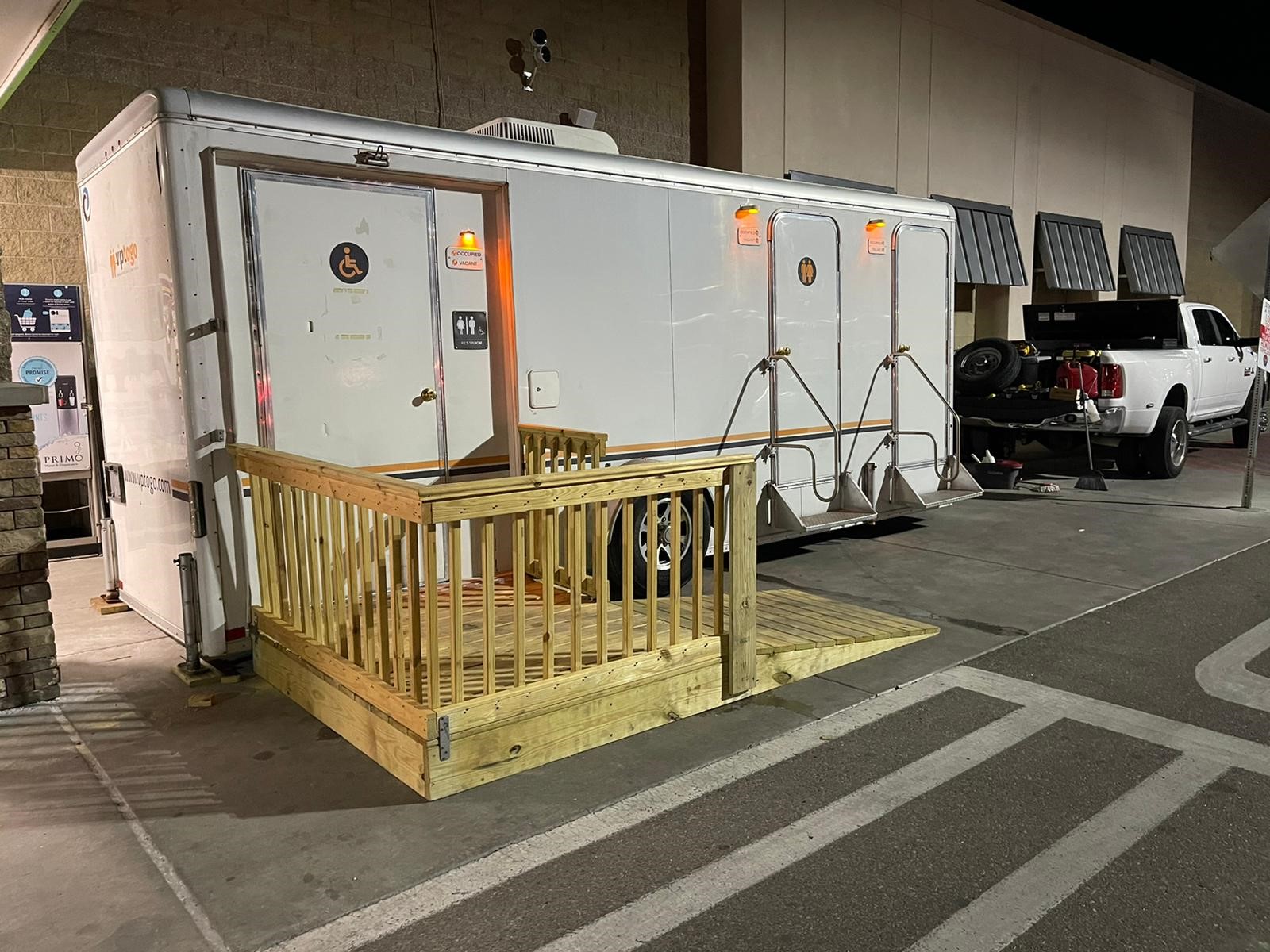 Here are some of our most popular portable potty rentals:
3- 12 station VIP Restroom Trailers
– Can accommodate up to 150-250 users for the whole rental duration
– Feature urinals, sinks, and stalls in various combinations
5-station VIP Restroom Trailers
– Can accommodate up to 200-399 users for the whole rental duration
– Feature urinals, sinks, and stalls in various combinations
8-station VIP Restroom Trailers
– Can accommodate up to 400-650 users for the whole rental duration
– Feature urinals, sinks, and stalls in various combinations
12-station Sink Trailers
– Feature wash sinks, hot and cold water, mirrors, paper dispensers
4-station ADA-Compliant VIP Restroom Trailers
– ADA-compliant sinks and stalls
VIP To Go has been a reliable event restroom trailer supplier for many events including graduation ceremonies at various American schools, universities and colleges. We also provide luxury restroom trailers for high profile events or private parties with VIP guests, shower trailers, and air-conditioned restroom trailers. All VIP restroom trailers are equipped with air conditioning and heating and are fully stocked with hand soap, paper & towels, mirrors, and sinks.
VIP To Go provides a comfortable en-suite bathroom experience for your guests. Our restroom trailers are regularly maintained by our team of engineers and sanitation experts so you can focus on your event.
Job Well Done
Getting ready for graduation takes research and planning. There is no shortcut to getting it right but you can build on past experiences, learn how the professionals do it, and apply their best practices. VIP To Go can be your partner in making your graduation event a job well done.
For inquiries, visit our website where you can find more details about our products, portable restroom trailers prices, and how we can help you cater to your event's comfort needs.
Backup Plan for Indoor Restroom Location
While meticulous planning goes into every event, unforeseen emergencies related to existing facilities can sometimes occur. To ensure the uninterrupted flow of the graduation party and to cater to the comfort of all attendees, it's prudent to have a backup plan in place. This includes the strategic location of indoor restroom trailers as an alternative. Such proactive measures guarantee that students, faculty, and guests have uninterrupted access to restroom facilities, even in the face of unexpected challenges. Communication is key in such scenarios; always notify students and all guests at the graduation party about any changes to the restroom locations to maintain a seamless and enjoyable experience for all.
How to plan the number of restroom trailers required for the graduation ceremony?
Planning a successful graduation ceremony involves ensuring the comfort and convenience of your attendees, and restroom facilities are a critical part of this equation. To determine the number of restroom trailers needed for your event, a general guideline to follow is to provide one restroom stall for every 25 guests. By adhering to this ratio, you can ensure that wait times are minimized, and your guests and students have a pleasant experience throughout the ceremony. Remember, it's always better to err on the side of caution and have a few extra facilities than to fall short. Proper planning will ensure that your graduation ceremony is memorable for all the right reasons.
Why To Choose VIP To Go Restroom Trailers for Graduation Ceremony?
Graduation ceremonies mark a significant milestone in a student's life. As such, every detail of this special day should reflect excellence, dignity, and comfort. When it comes to restroom facilities for your graduation ceremony, there's no better choice than VIP To Go Restroom Trailers. Here's why:
Convenience: VIP To Go Restroom Trailers understands the intricacies and importance of large-scale events like graduation ceremonies. Our trailers are designed to be quickly set up, ensuring minimal disruption to the event proceedings. They come equipped with all the necessary amenities, reducing the need for frequent restocking or maintenance checks. With easy accessibility and efficient layout, guests and students can quickly get in and out, ensuring they don't miss any part of the ceremony.
Hygiene and Cleanliness: At VIP To Go, we prioritize health and safety. Our restroom trailers are not just functional; they adhere to the highest standards of hygiene and cleanliness. Each unit is thoroughly cleaned and sanitized before deployment. During the event, our dedicated team ensures that the restrooms remain spotless, well-stocked, and fresh, providing peace of mind to all attendees.
Luxury Experience: Graduations are momentous occasions that deserve a touch of luxury. VIP To Go Restroom Trailers offer more than just basic facilities; they offer a luxurious restroom experience. From modern interiors, spacious stalls, to premium toiletries, our trailers ensure that guests and students are treated to a restroom experience that matches the grandeur of the day. Every detail, from the lighting to the fixtures, is designed to provide comfort and a touch of class.
In summary, when you choose VIP To Go Restroom Trailers for your graduation ceremony, you're not just providing a facility; you're elevating the entire event experience for your esteemed guests and proud graduates.