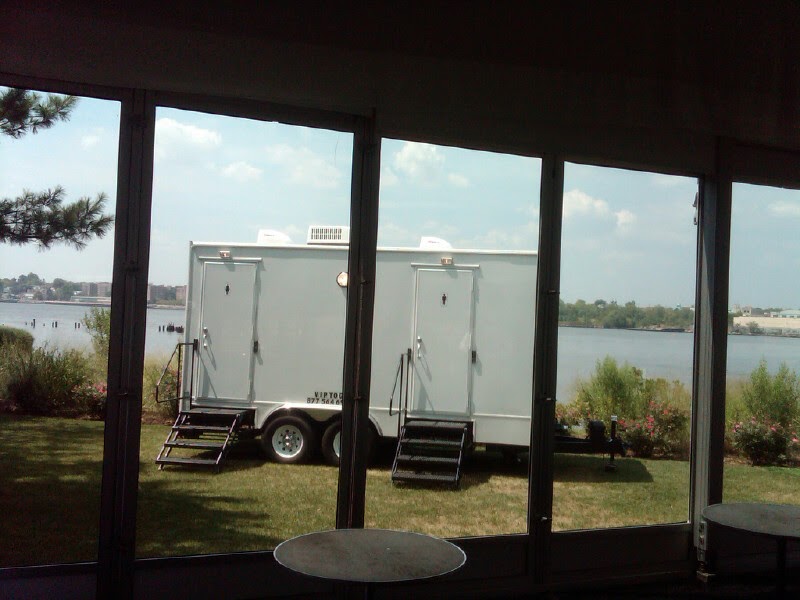 Bathroom Trailer Rental Prices in Pennsylvania
A Broad Selection of Trailers to Choose From
VIP To Go has furnished political conventions, celebrity events, VIP soirees, weddings, military bases, and many other events with luxurious restroom and shower trailers and wash stations for decades. When you need to make an impression while you cover guests' needs, our posh trailer models can help. They come complete with fireplaces, music, climate control, and all the amenities you could ask for.
VIP To Go is a national company with a large fleet of portable restrooms, showers, and wash station trailers. The state of Pennsylvania is very large and we have customers all over the state, whether it's at a convention in Philadelphia, a COVID testing site in Meadville, or a university in Pittsburgh: Our well-supplied luxury restroom trailers can be found all over the Keystone State.
The luxury designed restroom rentals are appropriate for any type of event anywhere in the state. Our current models offer up to  ten restroom stalls in a trailer, and each one comes equipped with several sinks. Our shower and restroom combo trailers are also popular for resorts and other events where people welcome the chance to fully freshen up. Depending on the size of the trailer, you'll find that each trailer can accommodate between 50-1,000 guests. By booking VIP restroom, sink or shower trailers for your event, you know that your guests will be served well.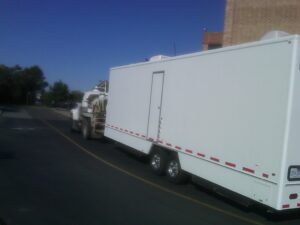 When you contact our customer service representatives, they walk you through the best rental options to fit your space, traffic, budget, and service call needs. We offer discounts to commercial customers who rent multiple trailers on a long-term basis, customers who clean and supply their own restroom trailers, and those who rent more than one trailer at a time. Our quotes are comprehensive and all-inclusive so you never receive hidden costs or fees.
Simple Site Hookups
Like any restroom trailer, our portable toilet rentals need to be connected to electricity and water to function. A standard garden hose connecting a hydrant to the water adapter connection on the trailer is all you need to establish running water.
When hydrants aren't available, we can provide onboard water tanks. These tanks can store enough fresh water to fully supply restrooms until the next expected service call. Trailers come with  septic systems for waste water to make sure that your 'plumbing system' functions smoothly. If the fresh water runs out or black water fills up, it's important to let our customer service agents know immediately so we can get help to your site quickly.
Our portable bathrooms need to be connected to dedicated 20 amp circuits as well. Whether you need one or two dedicated circuits depends upon the size of the trailer you choose to rent. We understand that access to power hookups are very difficult or almost impossible. In these cases, the restroom trailers can then be connected to gas-powered generators. You can even ask our service people if your solar generator setups are appropriate for your rental units. If you'll require onboard water or gas generators, you'll need to arrange that with a customer service representative during regular business hours.
Servicing and Cleaning Your Portable Restroom, Shower, Sink, and ADA Compliant Restroom Trailer Rentals
Our luxurious bathrooms, showers, and sink trailer rentals are perfect for music festivals, concerts, outdoor wedding venues, rustic retreats, summer camps, construction sites, events, schools, carnivals, fairs, farmer's markets, and more.
When restrooms are in frequent use, they need to be serviced on a frequent basis. Our cleaning agents generally stop by once a week to service your trailer, but it may be a good idea to service it more frequently if you have a large crowd. In that case, you can request extra cleaning service for your trailers. What does a service call for your restroom trailer rental entail? During our service call, we'll resupply your unit with paper towels, toilet paper, and soap. We'll refill your fresh water supply, empty your black water tank, and ensure the restroom is clean and in perfect running order.
During busy events, many event organizers will request that our bathroom attendants service the restroom area throughout the event. This ensures that your restroom, shower, and sink trailers remain clean and well stocked at all times. However, most long-term rental restrooms, showers, and wash stations won't need to be serviced daily.
Free On-Site Walk-Throughs
VIP To Go wants you to have the best possible experience with your rentals from planning through final pickup. When our PA-based customers are sometimes unsure about where to place mobile restroom trailers and whether a specific site is appropriate, we're happy to provide a free on-site walk-through to advise you on how best to proceed. Keep in mind that sites should be flat to prevent runaway trailers and other potential problems.
If you need water delivery and a rental generator, it's our pleasure to help you. Whether you want your trailer to connect to the grid or remain off-grid, we can make it happen.
How We Price Restroom Trailer Rentals
Our restrooms have all the amenities our clients have come to expect in a luxurious restroom trailer, from well-stocked toilet paper, paper towels, and soap dispensers to waste cans and easy-to-access platforms.
VIP To Go's smallest portable restrooms are just eight feet long but have a mirror, two sinks, one urinal, and two stalls. Prices for our standard eight-foot models rent for less than a few hundred dollars per month plus service charges, and you can get a discount for renting more than one trailer at a time.
Our larger units have mirrors, four sinks, three urinals, and seven stalls, and are flushable. Each unit is well-lit and climate-controlled. Our unisex family restrooms even come with baby changing stations.
You can choose from Stylish, Vegas and Rolls Royce trailers for each unit size. While all three styles are clean, comfortable, and well stocked, the Stylish restroom trailers are more basic; the Vegas trailers have several trimmings, and the Rolls Royce is an all out luxury trailer.
Pricing is based on size of trailer, duration of rental, amount of trailers you need, and whether you need ads on (such as a water tanks or electricity). You can easily find out how much a trailer will cost by using our quick quote system. Simply put your address and the dates of your preferred rental into the required fields on viptogo.com and you'll get an accurate quote based on your needs.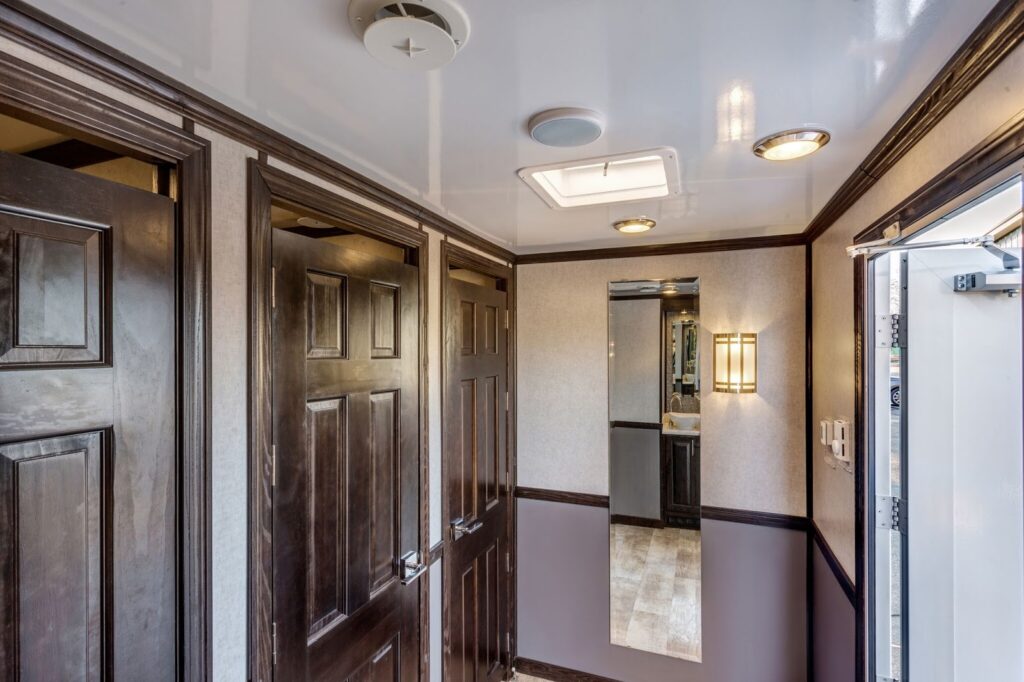 ADA Trailers
VIP To Go did not forget about your guests which may require wheelchair accessible restrooms.  Our luxurious ADA-compliant trailers come in several sizes:
Each of those gives you solid surface sinks, wall recessed towel dispenser, safety glass mirror, fluorescent lighting, LED exterior lights, and more. This his ADA compliant trailer is a must at every job site or event where wheelchair accessibility may be needed. All of our trailers feature modern, updated style and comfort. Our trailers usually rent on a long-term basis, but we can accommodate shorter-term contracts, too. If you have questions about our trailers, need more information, or want a quote, fill out our contact form or give us a call at 877.564.6977.
VIP To Go Rental Program and Service In Pennsylvania
When we deliver long-term trailer rentals to our clients' sites, we send our representatives out to your location to make sure that everything will be set up well. One thing we will NOT do is have our driver just drop your delivery off at your location; we get way more personal than that! Your on-site coordinator will meet up with our representative to show us where you want the restroom units. Then, our representatives will make sure the units are well secured, attached to a water and electricity source, and that all is in perfect order. They will not leave the job site until they are 100% confident that all is as it should be. Our clients are important to us, and we want to ensure you're happy with your unit and service schedule. If problems arise, contact us day or night, seven days per week.
We have a 24-hour customer service hotline to ensure our clients can get help when they need it. We're available to you day or night. Our service people are sent into the field with high-tech two-way communication devices so they can receive client requests sent through our dispatcher.
Sometimes, the venues where we set up our rental units are much busier than anticipated. We understand that when your account needs servicing emergently, you need us to get all hands on deck to help you out. We have trailers and personnel in major cities across the state. Wherever you need a trailer or servicing in the State of Pennsylvania, we can accommodate you, even if it's on short notice.
Waste Water Tanks and Fresh Water Refills
We set our clients up with waste tanks that are large enough to minimize service calls and keep costs low for us both. At the same time, we don't want to bring portable cisterns that are so large that we don't come often enough to ensure bathrooms are well-stocked and clean. We balance the size of waste water and fresh water needs with the anticipated demand for service calls for the account. If anything changes, we're happy to make adjustments.
When we service our restrooms, showers, and sink trailers that aren't connected to a fresh water source and electricity, we bring fresh water and generators with us. Our hallmark is our detail-oriented service and devotion to being the best in the business.
Restroom, Shower, and Sink Trailer Specifications
Our most compact restroom rental trailers are eight feet long, and our longest trailers are 53 feet long. We have rentals available in states across the continental US, Canada, Hawaii, and the Virgin Islands. We have dozens of daily-service trailers set up across the country, and we're ready to supply dozens more.
To view detailed spec sheets for each of our 21 types of trailers, view our All Stations page and click on the type of trailer you're considering renting. You can find information about trailer size, water tanks, electric hookups, and FAQs.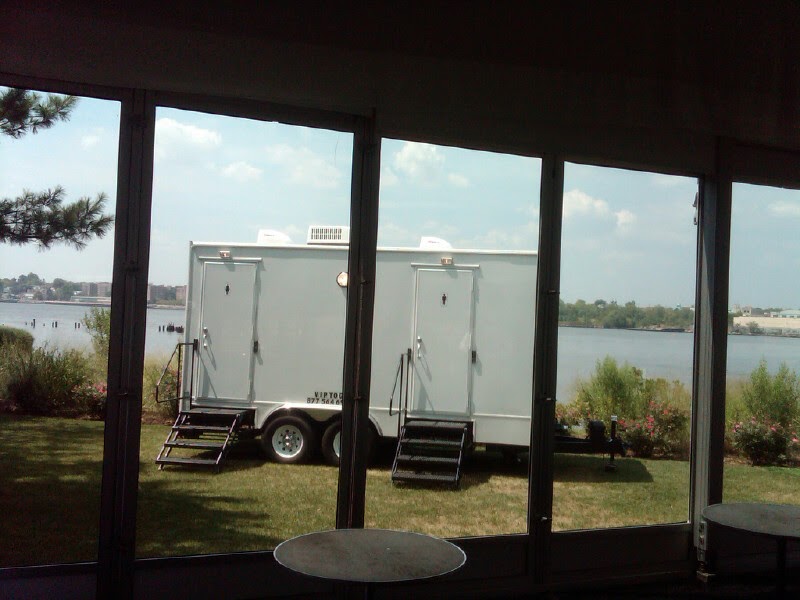 Quality Rentals and Service Since 1998
We have been in the luxury and commercial portable restroom business since 1998. Over the years, we've worked with engineers, designers, and manufacturing architects to perfect restrooms that are at once luxurious, lavish, functional, and comfortable. Our units are perfect for special events and commercial usage. Guests love how nice our restrooms are compared to standard porta potties. We understand that customers have unique needs and goals, and we're happy to rise up to meet their demand whenever possible. When you need a great rental price for a state-of-the-art luxury restroom, sink, and shower trailer rental in Pennsylvania, VIP To Go is here to help.