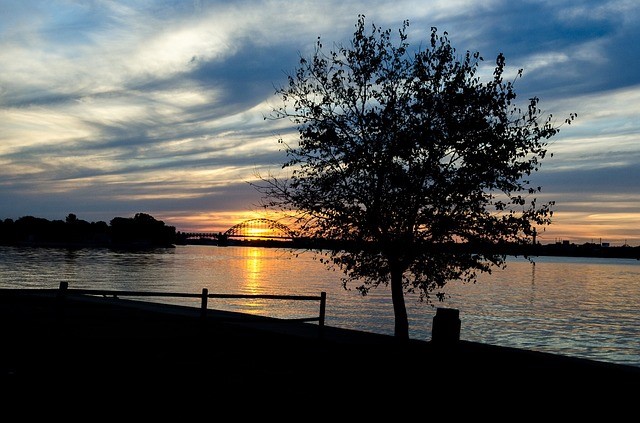 Restroom Trailer Rental in Delaware
Delaware is a beautiful place to live, visit, celebrate special occasions, enjoy historical sites, and even start your own business. The state has many gorgeous venues for weddings and parties, as well as excellent locations for new construction of homes and commercial properties. Many of the small businesses, such as the tree farms, produce markets, and antique markets, invite the public to stop by and browse the splendid array of goods. Delaware state parks, waterparks, beaches, and harbor districts provide the communities with places to enjoy the great outdoors. There's even plenty to do indoors thanks to the malls, museums, and trampoline park. With an abundance of amazing places in Delaware, many people are planning to host an event, wedding, party, or other special occasion, while others are managing construction projects to bring in new properties and revitalize older buildings. The logistics of these efforts is exciting at first, but eventually you need to get down to some of the details.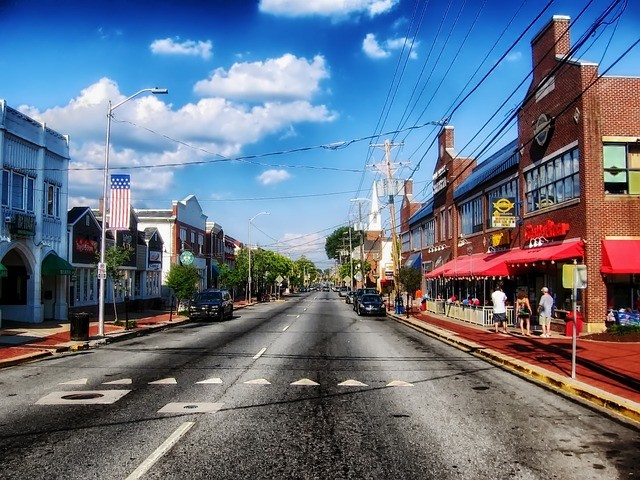 Whether you are hosting an event for or making arrangements for employees and workers, having access to bathrooms is a priority. Why take the risk of leaving your guests, employees, and workers to find their way to the nearest bathroom when you can provide ultra-modern, clean, safe, and convenient portable restroom trailers right on site?
Restroom Trailer Rental in Delaware
When most people think of portable toilets, the image that comes to mind are the unattractive blue or tan plastic sheds that are found alongside a busy highway or at a construction site. This solution is less than appealing. Fortunately, you have a better option. Luxury bathroom trailers have a modern exterior aesthetic that fits into any setting. Most people don't realize what the trailers actually are until they step inside to find stalls with flushing toilets, private urinals, sinks with running water, mirrors, lighting, climate control, and much more. The design of these high-end bathroom trailers for Delaware residents and businesses look much like public restrooms that you find at the many restaurants, amusement parks, and other public places in the state that have high traffic volumes. From tiled floors to hardwood cabinetry, the finishes are impressive, and every detail has been included in the design. Not only are the aesthetics of portable bathrooms pleasing, but the units are also functional and practical.
What Types of Restroom Trailer Rental is Near Me?
Now that you see the benefits of having portable bathrooms onsite, you may be wondering how to find these units for your venue or job site. VIP To Go offers delivery and setup for units that are perfect for the number of guests or workers you'll need for your restroom trailer rental in Delaware, as well as the type of event and location.
We offer three levels of units – Stylish, Vegas, and Rolls Royce. Construction sites need basic facilities for workers, as well as visitors. Our Stylish portable toilets are designed with tile floors, porcelain toilets and urinals, chrome faucets, durable countertops, and dark laminate walls and stall doors.  The Vegas portable bathrooms feature wood-grain laminate floors, two-tone neutral wall coloring with wainscoting, white cabinetry, contemporary light fixtures, and brushed chrome fixtures. For weddings and other elegant events, we recommend our Rolls Royce portable bathrooms that features ceramic tile, dark wood cabinetry, porcelain vessel sinks, brushed aluminum faucets, and neutral two-tone grey walls. In addition to having portable restrooms onsite, you may also want to consider sink trailers for handwashing. Shower trailers are great to have if you are hosting an event at one of Delaware's beaches. If you are planning a multi-day outdoor event in one of the state parks, construction project outside of town, or oversee disaster recovery in the state, bunk suites offer privacy and comfort with sleeping areas, private entries, and personal televisions. We even cater to production companies that are shooting films, television programs, commercials, and documentaries in the state.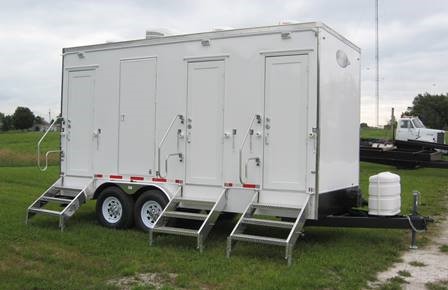 How Expensive is Restroom Trailer Rental in Delaware?
Cost is always a factor for restroom trailer rental in Delaware. At VIP To Go, we have units for every budget. Choose from our smaller units with two stations for 100 to 150 people all the way up to our largest units with 10 stations for 500 to 1,150 people. For events that are open to the public, we have ADA-compliant portable restrooms. All of units include delivery and setup of your restroom trailer rental in Delaware, according to the delivery and pickup preferences you specify. We even help you decide on the best spot at your venue to worksite. Our team takes care of cleaning the units, as well as stocking paper towels, toilet paper, soap, and other hygiene products. The units are completely self-contained, complete with large storage tanks, electricity, and water tanks.
Restroom Trailers and Fresh Water Systems in Delaware
You may be wondering if bathroom trailers are safe and hygienic. When you entrust VIP To Go with your portable toilets needs, the answer is, "Absolutely, yes!" Unlike drop toilets and those unsightly plastic sheds that you see so often, all of our units are designed to safely and efficiently remove human waste in the same way as the plumbing in your home or business. The waste and water are moved into storage tanks, and there is no odor or mess. For your guests and workers, we ensure that each unit is clean and stocked with sanitizing soaps, paper towels, hand sanitizer, and toilet paper.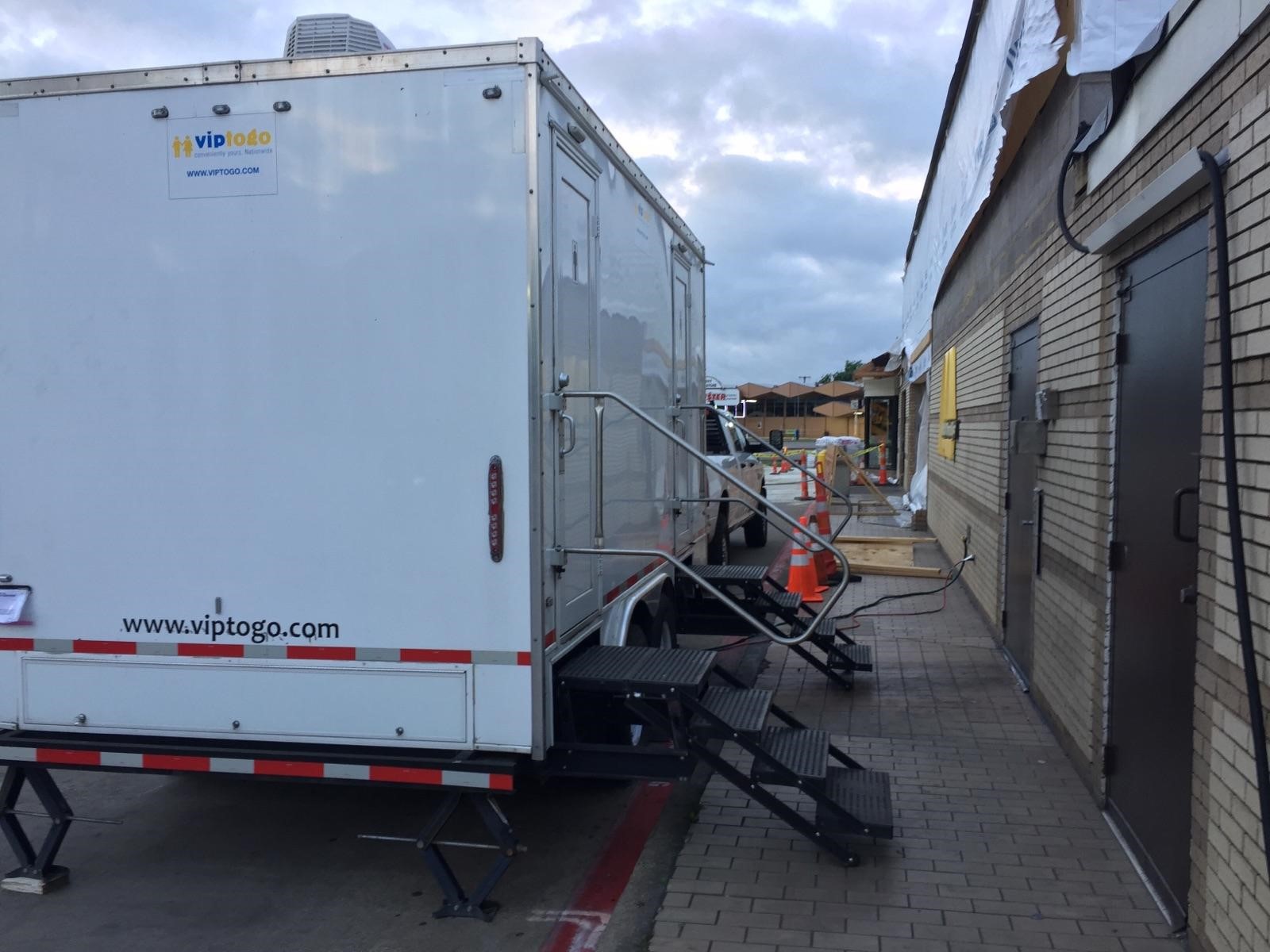 Why Choose VIP To Go for Bathroom Rental in Delaware?
You may be asking yourself, "Where do I find bathroom trailers near me, and who do I trust?" VIP To Go is a reputable company that is known for top-notch services for restroom trailer rental near Delaware and around the state. We can help with bathroom trailers for weddings, birthdays, family reunions, construction projects, community events, natural disasters, and much more. For more than 15 years, we have provided communities and businesses with short-term and long-term portable restrooms across Delaware. Our units are safe, environmentally-friendly, and hygienic. Our attention to detail is unparalleled in the industry. There is a lot of misinformation out there that have led to myths about portable toilet trailers in general, and we help you unravel fact from fiction so that can make an informed decision and feel confident that your guests and employees have a safe and convenient place to use the facilities.
Restroom Trailer Rentals in Delaware FAQs
How do I know what size portable toilet trailer I need for my restroom trailer rental in Delaware?
There are several considerations for choosing the best size bathroom trailer rental for your venue and job site. Here are just a few:
Number of guests
Male vs. female
Food and beverage service, including alcohol
Length of the event or job
When ordering a restroom trailer rental in Delaware, our website provides guidance to help you determine the best size of units for your needs. This simplifies the process and allow you time to focus on other aspects of planning.
Do the portable toilets smell?
The reason that porta johns and drop toilets smell is the chemicals that are used to break down waste. Portable toilet trailers have separate storage tanks instead of breaking down waste in the same space. Much like your home plumbing system, the waste and used water are carried through pipes and tubes to a tank that contains the chemicals. People who use the restroom notice no smell, except the deodorizer that is automatically dispensed.
Are the tanks emptied during my event?
Depending on the size and length of your event, the service company may empty the tanks. This is not typically the case, though. If you have the right number and size of units, the tanks should not need to be emptied unless there are more guests than expected or the event runs longer than scheduled.
Can I use restroom trailer rentals during the winter?
Delaware winters can be cold, so you should choose luxury bathroom rental trailers that are designed to protect plumbing from freezing conditions. Additionally, look for units that have heating for climate control to keep your guests and employees comfortable.
How long do I have to keep the portable toilets on the property?
If you have a specific timeframe in which the portable toilet trailers need to be delivered and picked up, discuss this at the time that you are booking the trailers. The company can advise you about how long setup and takedown will take. Look for a company that is experienced in this type of service to ensure that the delivery and removal is performed efficiently and safely.
What if I need the restroom trailer rental in Delaware longer than expected?
A good company that offers luxury portable bathrooms will understand that special events run longer than expected and that construction jobs and disaster recovery efforts can take more time. Contact the company as soon as you know that you will need the units longer than expected, and they will work with you to reschedule the pick up and arrange for any additional cleaning and emptying of the storage tanks.